Metal Detecting in Alabama: 50 Secrets You Need to Know
There are many great places in the state of Alabama to metal detect. You can find jewelry, coins, Civil War artifacts, and even gold! It is important to do your research before metal detecting in Alabama. Make sure you know the laws, regulations, and areas where you are prohibited from metal detecting. 
Also, research what you can find and where you can find it. Continue reading to learn about metal detecting in Alabama. 
50 Big Secrets About Metal Detecting in Alabama
Let's dive right into it!
1) Metal Detecting on historical grounds is prohibited
It is not allowed for any person to remove, excavate, or damage any archaeological resource on public lands or Native American Lands.
2) You Can Still Metal Detect for Coins
The law in Alabama exempts the collections of coins for personal use, but only if the coins are not in any way archaeologically important.
3) Alabama May Take Your Finds
Any excavation on any aboriginal mounds, burial sites, or earthworks is strictly prohibited, and if any objects are found in these places, ownership belongs to the State of Alabama. 
4) Alabama Follows the Archaeological Resources Protection Act
The Archaeological Resources Protection Act states that activities that remove, excavate, damage, alter, or deface archaeological resources on public or Native lands are prohibited. Alabama strictly follows this law, as do most states. 
5) Avoid Metal Detecting on Federal Lands
Federal lands almost always ban metal detecting. Any area of federal land should be avoided. If you are unsure, contact your local authorities to see who owns the land and what the metal detecting rules are.g
6) Metal Detecting in State Parks
It is forbidden to metal detect in any State Park in Alabama with the purpose of finding and removing objects that do not belong to you. You may not metal detect in any State Park in the state without permission from the Park Manager. 
7) Alabama Forbids Metal Detecting on Land Trust Lands
The Land Trust of North Alabama features 70 miles of public trails that are open to the public. However, metal detecting is prohibited on these lands, so ensure you do not bring yours along on your hikes here. 
8) Metal Detecting Beaches
Alabama is home to over 50 miles of coastline, and as such, detectorist flock to the beaches. You can find lost jewelry and coins easily in these areas. 
9) GOLD!
Did you know Alabama has its own Gold Rush? In the 1830s, gold was discovered, and can still be found throughout the state today! Many areas have produced good-sized gold nuggets. There are plenty more waiting to be found.
10) Civil War Sites
There are many Civil War battlefields in Alabama. Keep in mind, you cannot metal detect on these sites without express written permissions. However, you can search near them to find some great relics.
11) Find Areas Where People Gather
Anywhere people gather you have a good chance of finding treasures with your metal detector. Look for places like recreation areas, local parks, and sporting venues for some great coins, jewelry, and relics. Ensure you have the proper permission prior to detecting.
12) Metal Detect in Ghost Towns
Again, with proper permission, you can metal detect in once thriving, now abandoned ghost towns. You can find some real historical treasures in these areas. Some of these are privately owned or are now incorporated into other cities. 
13) Find Old Wagon Train Routes
There are old wagon train routes all over the state of Alabama. Any route where people frequently travelled, you have a good chance of finding treasures.
14) Find Old Native American Trails
As with old wagon train routes, Native American trails can offer some amazing finds. Make sure you investigate the rules for finding Native American artifacts in your part of Alabama. 
For example, the Great Indian Warpath, also called the Seneca Trail, was a network of ancient Native American routes that ran through several states including New York, Maryland, Pennsylvania, West Virginia, Virginia, Tennessee, and Alabama. 
15) Look for Old Mountain Trails
Some trails, especially in remote areas, can be difficult to find. This can be good for an avid metal detectorist. Look at old maps and see if you can find old trails through the mountains. You may even stumble upon an old, abandoned homestead site in the woods. 
16) You Can Search for Gold in Several Public Places
Gold mining and treasure hunting locations in Alabama start in Chilton County and continue northeast to the Georgia State line. The Talladega National Forest has great public gold prospecting opportunities, with the proper permit.
17) Make Sure you Have the Proper Detector
Metal detectors come in all types. Some are made specifically for coins, relics, gold, and silver. Others are made to find all metals. Depending on what you will be searching for, make sure you metal detector is up to the task. You will also need to figure out if you will be beach detecting. 
Saltwater beaches are notoriously difficult for many metal detectors to search. You will want a beach specific metal detector if you plan to hunt in these areas.
18) Use the Proper Search Coil
Areas with high amounts of trash may require a different search coil to compensate. Make sure your metal detector has the right search coil for the soil type and the amount of trash in the area you want to search in.
19) Understanding Alabama Terrain
Alabama is known for its diverse terrain. There are a variety of soil types in different areas of the state. Make sure you understand the soil type so you can pair a metal detector with this soil type. In a state like Alabama, I would recommend an all-terrain metal detector like the Minelab Equinox 800 or Fisher F75.
20) Bring the Right Accessories
A few things I take on every metal detecting trip are a handheld pinpointer, a good quality shovel, a good quality hand digger, and a finds pouch. Each of these items makes hunting for treasure in any location much simpler.  
21) Private Land
Most land in Alabama is private. This can be a good thing and a bad thing. The good news is you just need permission from the property owner to metal detect on the land. The bad new is you cannot go freely metal detecting as there is not much public land in Alabama. 
22) River Detecting
Alabama has many rivers, streams, and creeks. These are great places to find some gold or relics. Make sure you have the proper metal detector, and at least the search coil is waterproof. 
I use the Nokta Makro Simplex+ when searching near water. It is fully waterproof up to 10 feet, so I do not have to worry about dropping it in the river while prospecting!
23) You Can Find Old Coins
Old coins can be worth quite a bit of money. Alabama has been a state since 1819, so your odds of finding old coins is quite high. Remember that older coins can contain different metals, so they may read differently on your metal detector. 
Always clean coins carefully and be sure not to mar their surfaces or they could lose their value.
24) Check Exposed Bedrock Areas
Gold tends to hang out on or near bedrock. Check these areas carefully with your metal detector to see if you can find yourself a gold nugget. Gold can also be found in crevices. Check these areas carefully.
25) Find Gold Where it Has Already Been Found
As mentioned, and as I will elaborate on later in this article, Alabama has much gold to offer metal detectorists. The best places to find gold are where it has already been found. Find areas where old timers did gold mining. They almost always left behind gold nuggets. 
26) Check Tailings Piles
Tailings piles are left over from old mining operations. There is typically more gold in these piles. They either missed some, or the gold was too small to worry about. Either way, tailings piles are great places to use your metal detector. 
27) Where to Detect in Northern Alabama
Northern Alabama is home to many countries, and metal detecting is popular in this area. Many detectorists love to hike around the hilly and mountainous terrain with their detectors in search of treasure. Check out the Cumberland Plateau, an elevated and slightly flat region, which draws treasure hunters in. It is dissected by the massive Tennessee River system and its tributaries, which are great places to metal detect. 
28) Where to Detect Near Athens
Athens is one of the larger cities in Limestone County. It is home to many metal detector enthusiasts and clubs. This area is known for the Tennessee River and Elk River, both of which are popular metal detecting locations near Athens. 
29) Metal Detecting in the Dothan Area
Dothan is one of the larger cities in Houston County. This city is a transportation and commercial hub for southeastern Alabama. Dothan offers many places to metal detect including Landmark Park, Forever Wild Trails, and Dothan Aera Botanical Gardens. Ensure you have permission to detect all these locations.
30) Detecting in Baldwin County and Gulf Shores Area
Gulf Shores is a popular tourist destination. It is a resort city in Baldwin county and the geography is favorable for treasure hunters. The large tourist population increases the chances of finding lost coins or jewelry. 
31) Metal Detecting in Lawrence County
Lawrence County is in the northern part of Alabama. The Tennessee River and Sipsey Fork of the Black Warrior River are 2 of the most popular places you can metal detect in this county. Relics and Native American artifacts are common finds in Lawrence County. It should be noted, however, that metal detecting is prohibited in the William B. Bankhead National Forest, so stay away from that area. 
32) Alabama is Home to Many Metal Detecting Clubs
Many metal detecting clubs are found throughout the state of Alabama. Joining one of these clubs can be a great experience and can help with your metal detecting. 
33) There are Many Stories About Buried Treasure in Alabama
Tales have been told for decades about buried treasures in Alabama. Although some stories lack supporting evidence, treasure hunters remain adamant. There is the Fort Payne treasure, the Perdido River Treasure, Athens Treasure, and even a Napoleonic City! It would be great to come across one of these while out metal detecting. 
34) You Can Do Good Deeds
The South Alabama Historical Research and Recovery Association reunited a man with his lost ring 30 years after he lost it. You can have these opportunities, too, when you metal detect in Alabama. 
35) You Can Learn About Alabama History
Check the local library archives for old maps of the state. These can be an invaluable resource and can show you where old homestead and towns once stood. Some of these areas you will be able to metal detect with the landowner's permission. 
36) You Could Find Enough Treasure to Pay for Your Detector
Especially if you are searching for gold in Alabama, you may be able to find enough to completely cover the cost of your metal detector and your other tools. Many people say that their detectors are paid off within 1 to 2 years, depending on the frequency of hunting. Because of Alabama's rich gold history, you may just find enough small nuggets to pay yourself back for your detector!
37) You Can Take Your Detector on Camping Trips
Alabama has some beautiful camping destinations. Ensure you are not in one of the many State Parks that disallows metal detectors, and you will be all set. I have found some great things while detecting at or near campsites. They are one of my favorite metal detecting spots!
38) You Can Get Outside More
Getting outdoors more was one of the main reasons I purchased my first metal detector years ago. I was looking for a way for my family and I to unplug and get away from it all for a little while. We got started metal detecting and it has helped us get outside more, go camping more, and enjoy the wilderness and each other's company more. 
39) Alabama Weather is Great for Metal Detecting
The average temperatures for Alabama are very mild most of the year. Although chilly in the winter, the temperatures are usually still good enough for outdoor activities. This makes Alabama a great place to metal detect all year round. Just be sure to bring plenty of water during those hot, humid summer months. 
40) You Can Get More Exercise
Getting more exercise is something most of us need. The adult obesity rate in Alabama in 2019 was 36.1%, which is the 7th highest in the country. Getting a metal detector and going outdoors can help you get more exercise and be healthier overall. I know it has done wonders not only for my health, but my metal state, too!
41) You Can Learn to Appreciate all Alabama Has to Offer
As mentioned, Alabama is a beautiful state with amazing landscapes. Getting outdoors with your metal detector is a great way to appreciate the natural beauty of any state. You gain a new appreciation for the rolling hills, grass covered meadows, beautiful beaches, and picturesque lakes and rivers. 
42) As a Metal Detectorist, You Can Help Keep Alabama Beautiful
When we metal detect, we find trash. A lot of trash, usually. I try to keep a plastic bag with me to pack out trash. This helps keep the environment clean for me, for other people, and for wildlife and plants. It is important to leave an area better than you found it, so help keep Alabama beautiful by packing out trash you find while metal detecting!
43) Metal Detecting is Fun in a Group
Metal detecting is a great way to connect with friends and family. My whole family goes out together, including my in-laws. We love to come back to camp or our trucks and show each other our finds. It is a great way to get kids interested in the outdoors. They love finding treasures, too!
44) Find New Construction Sites
Cities all over the US seem to be in a constant state of construction. Look around Alabama for areas with new construction. Construction sites tend to disturb several soil layers so coins and artifacts that were deeply buried are now closer to the surface. Seek permission from the land or building owner to metal detect when the construction crew is not on site. 
45) You May Find Confederate Coins
Alabama has a rich history, and during the Civil War, many Confederate gold and silver coins were stashed or buried to keep the Union Army from getting them. These are still out there, just waiting to be discovered!
46) You Could be the Next "Greatest Find" Title Holder
The biggest Alabama treasure ever found was inside an old can in Demopolis. It contained Civil War gold worth $2.6 million in today's money. If you find your own stash of Confederate coins or gold nuggets, you may dethrone Gayus Whitfield of his title as the greatest monetary find in Alabama!
47) Remain Aware of Your Surroundings
When metal detecting in Alabama, or anywhere for that matter, remaining aware of your surroundings is of the utmost importance. Keep headphones on if you will be detecting in populated areas. Do not use headphones if you are out in the woods. Be aware of how close to roadways and water sources you are.
48) Keep a Logbook
Keep a logbook of what you find while metal detecting in Alabama. This can help you create patterns of where to search, where to avoid, and allows you to keep track of what you found in each location. 
49) Follow Metal Detecting Etiquette
It is important to remember when metal detecting, you are an ambassador of the sport. So be on your best behavior, follow the laws, remove all trash you find, do not disturb private property, wildlife, or plants, and be courteous.
50) Have Fun!
The final secret to metal detecting in Alabama is just to have fun! This sport is incredibly rewarding, and a lot of fun. So, get out there and explore your beautiful state!
Metal Detecting Laws in Alabama
Like all states in the US, Alabama has laws governing metal detecting. For example, you may not hunt on Civil War battlefields, historic sites, or Native American lands. Sometimes, permissions can be sought for these areas, but they are typically off limits to detectorists. In Alabama, most lands are private. This is better for treasure hunters because you can detect, dig, and keep whatever you find if you have the landowners' permission.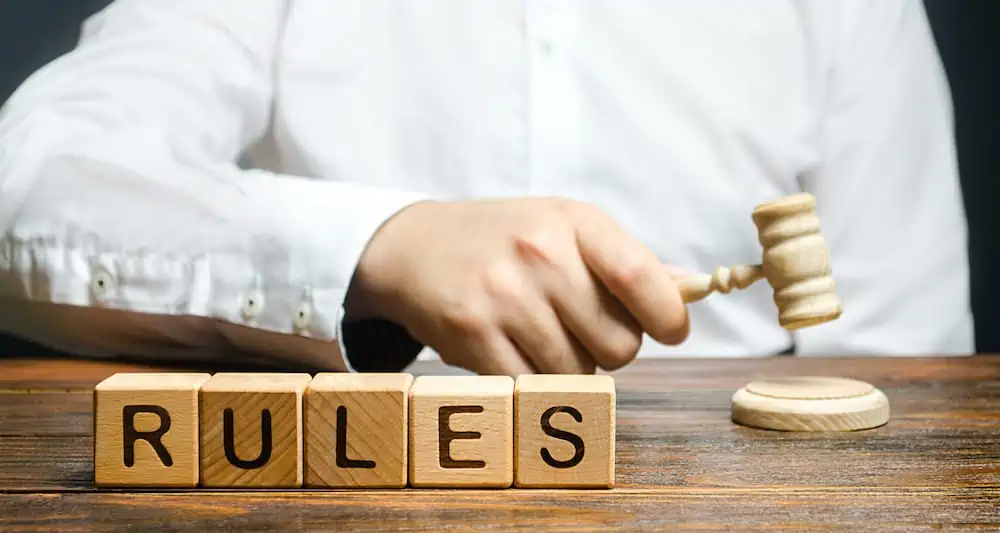 It is of the utmost importance that all metal detectorists understand the laws that protect artifacts. Ignoring these laws can land you in serious trouble with fines or even jail time. It is worth taking the time to study the laws. Many people have already been arrested for unknowingly (or knowingly, in some cases) violating the Federal Antiquities Act. 
When I detect in a new location, I like to contact the city, county, and state officials to ensure I am following all pertinent laws. They differ by area, so one city may allow metal detecting, another may require a permit to detect, and yet another may ban it altogether. Do some research and utilize various resources to ensure you are staying within the law. If you metal detect outside the law, you can be fined or even jailed. 
Metal Detecting in Alabama State Parks
It is illegal to metal detect in any of the State Parks in Alabama with the purpose of finding and removing objects that do not belong to you. The law states that you cannot metal detect without express permission from the Park Manager. You can request these permissions by promising not to cause damage to the park and surrounding areas. Many State Parks in Alabama allow metal detecting on the swimming beach. But you should still seek permission from the Park Manager first. 
Many State Parks in Alabama expressly forbid metal detecting as they are designated as historic sites. Some of these include:
Bladon Springs State Park 
Brierfield Ironworks Historical State Park
Buck's Pocket State Park
Cathedral Caverns State Park
Chattahoochee State Park
Cheaha State Park
Chewacla State Park
Chickasaw State Park
DeSoto State Park
Florala State Park
Frank Jackson State Park
Gulf State Park
Historic Blakeley State Park
Joe Wheeler State Park
Lake Guntersville State Park
Lake Lurleen State Park
Lakepoint Resort State Park
Meaher State Park
Monte Sano State Park
Oak Mountain State Park
Paul M. Grist State Park
Rickwood Caverns State Park
Roland Cooper State Park
Tannehill Ironworks Historical State Park; and
Wind Creek State Park
You can still try your luck by requesting permission from the Park Manager, but do not be surprised if the answer is a resounding NO!
Metal Detecting on Alabama Beaches
Many detectorists flock to the picturesque beaches of Alabama for treasure hunting. Alabama has 53 miles of coastline. The beaches and waters off the coast of Alabama are frequently searched for silver, gold, and other treasures. 
Alabama has a rich Civil War and Native American history, so chances are high that you will find a valuable bit of history when hunting the beaches. There are several beaches that are the popular for metal detecting:
Gulf Shores West Beach
Gulf Shores West Beach extends from Mobile Bay to the Fort Morgan peninsula. There are many fine hotels along the coastline, so the chances are increased that you will find some lost jewelry or coins here. 
However, you may consider contacting the local police station if you find missing jewelry so it may be reunited with its owner. This is not mandatory, however. But if you find it playing on your conscious, turn in the items. If they are not claimed within a certain time period, they will be returned to you.
Orange Beach
Orange Beach is likely one of Alabama's most famous beach destinations. It draws families and travelers from all over. This beach is popular for water sports and fishing. You can also use your metal detector in the adjoining Adventure Island Amusement Park and Arcade, with permission. Again, these are a great place to find lost jewelry and coins. People drop things on the beach all the time. 
Dauphin Island Public Beach
Dauphin Island is south of Mobile and is a 14-mile island with stretches of undeveloped beaches. You take a causeway to get to the island from southern Alabama. There is also a public beach at the west end of Dauphin Island with plenty of amenities. Again, ensure you have permissions to detect on Dauphin Island. 
Best Beach Metal Detectors
Let's begin with the Garrett ATX.
The Garrett ATX is one of my all-time favorite metal detectors. This is ruggedly built pulse induction metal detector that is fully waterproof up to 10 feet. Being a pulse induction metal detector, it is inherently immune to the effects of saltwater, which is quite conductive, and has excellent sensitivity on all targets. 
This detector has little trouble finding even fine jewelry or small bits of gold. The ATX has 2 search modes: All Metal and Discriminate. It features adjustable sensitivity, Fast Track and Continuous Ground Track ground balancing, and Iron Audio. 
The Garrett ATX features an LED target ID, Voltage Controlled Oscillator (VCO) audio, and emits 730 pulses per second. This detector is heavier than a lot of other metal detectors at 6.9 pounds. This can lead to arm fatigue on longer hunts. This detector is not very beginner friendly and is more tailored to intermediate or advanced metal detectorists.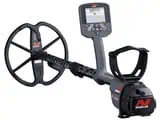 Minelab CTX 3030
The Minelab CTX 3030 is another of my favorite metal detectors. This is by far one of the best metal detectors for beach hunting. Have you ever watched The Curse of Oak Island? Metal detection specialist Gary Drayton uses this model on the show, and he has found some "Bobby Dazzlers," as he is fond of saying. 
The CTX 3030 is a multi-frequency metal detector, meaning it operates on multiple frequencies at one time, ranging from 1.5 kHz to 100 kHz. This means this detector is fantastic for finding all treasure types. The high operating frequencies are great for gold and jewelry, while the lower frequencies are perfect for silver and coins. The CTX 3030 is packed full of advanced technologies:
Wi-Stream: Creates quick wireless audio with no sound quality distortion
Smartfind 2: Gives digital signal processing and iron discrimination with color target info
FBS 2: Uses multiple frequency transmission ad coil to detector communication to find targets
GPSi: Extremely high sensitivity GSP for accurate geo locating
GeoTrails: Shows areas already detected
WayPoints: Marks areas of interest
FindPoints: Allows users to mark treasure locations
GeoHunts: Records entire hunt
FeCo: Ferrous and Conductivity (FeCo) target resolution which combines adjustable Tone ID Profiles allowing users to detest desired targets and ignore undesirable targets
Target Trace & Target Separation: Allows identification of multiple targets at one time
The GPS features on the CTX 3030 allow you to see where you have been and where you are going. Locations can be viewed in Google Maps and data downloaded from Google can be added for future hunts. This model features multiple languages, quick menu, adjustable sensitivity, noise cancel, audio, and ground balance. 
It comes with an 11" Double-D smart coil and weighs 5.2 pounds. Other coil options are available for the CTX 3030. This model is completely waterproof up to 10 feet. This is a great option for metal detecting in Alabama, especially on the beaches.
Nokta Makro Multi Kruzer
The Multi Kruzer offers great performance and depth and is completely waterproof up to 16.4 feet. This makes it a perfect option for beach hunting. This metal detector features new advanced beach mode that provides a stable performance on wet salt beaches and underwater. Saltwater is highly conductive, and the Multi Kruzer does a great job at counteracting this. 
It has excellent discrimination and unmasking ability, deep searching, fast recovery speed, 3 selectable target ID depth levels, and new E.U.D. (Extra Underground Depth) function, which detects metals masked by ground conditions or at fringe depths.
The Multi Kruzer features 6 modes: Gen (All Metal), 2 Tone, 3 Tone, 4 Tone, Beach, and Deep. It is a VLF metal detector operating at 3 frequencies: 5 kHz, 14 kHz, ad 19 kHz. It features Iron Audio, automatic, manual and tracking ground balancing, pinpoint mode, and numerical target ID. It can be used with wireless headphones and has online firmware updates. 
Vibrate upon detection is one of my favorite features of Nokta Makro's metal detectors. This model is lightweight, at 3 pounds, and has rechargeable battery packs. It comes standard with an 11" by 7" waterproof Double-D search coil.
Metal Detecting for Gold in Alabama
Northeastern Alabama has seen some decent sized gold nuggets over the years. In fact, Alabama was one of the first states where gold was found and there was a gold rush there in the 1830s. In order to find gold nuggets with your metal detector, do some research about the rivers and creeks where gold has already been found. 
Most gold-bearing waters have already been found in the 200 years of mining history of Alabama so research where the gold has already been found.
You can also use your metal detector to scan rock piles and tailings piles that were left behind by old miners. Typically, they were searching for large nuggets and left behind some smaller ones. Or they simply missed some. It can help to have a gold-specific metal detector to help you find nuggets. Some of these are super sensitive to even the smallest gold nuggets and can be hugely helpful. 
Best Gold Metal Detectors
For great gold detectors, let's begin with the popular Fisher Gold Bug 2.
Fisher's Gold Bug 2 is one of my top favorite gold hunting metal detectors. This detector is designed for intermediate to advanced detectorists. The Gold Bug 2 is extremely sensitive and offers the highest operating frequency of any gold specific metal detector I have seen at 71 kHz. This means this metal detector can find even small gold nuggets and flakes. 
Lower frequency metal detectors have a hard time finding small gold, but this model does an excellent job. The Gold Bug 2 features adjustable sensitivity, adjustable discrimination, audio boost, and easily rejects iron and hot rocks typically found in gold bearing areas.
The Fisher Gold Bug 2 is lightweight, at 2.9 pounds This model is not fully waterproof, but does features quartz crystal lock, which improves reliability and stability while protecting the control box from moisture and dust. It comes standard with a 10" waterproof elliptical Double-D search coil. 
It does not have an LCD screen but is controlled by a series of knobs. The knobs offer Battery Test/Sensitivity, Ground Rejection, and Volume. It also shows iron discrimination, audio boost mode, and soil mineralization level.
Minelab's Gold Monster 1000 was specifically designed for finding gold nuggets, gold flakes, and even gold dust. Minelab is an Australian company, so they know how to make a good gold specific metal detector! The Gold Monster 1000 features almost fully automatic operation, so prospectors only need to adjust the volume and sensitivity. This makes it a great choice for beginning prospectors, but more advanced detectorists will appreciate its reliability and consistency.
The Gold Monster 1000 is a VLF metal detector operating at 45 kHz. This high frequency makes it sensitive to small pieces of gold. The detector features Gold Chance Indication, ranging from low to high, indicating the probability of finding gold in an area. This model features a monochromatic LCD screen with automatic Easy-Trak ground balance, discrimination, and automatic noise cancel. 
It features 2 detection modes: Gold (iron reject) and Deep All-Metal. The Gold Monster 1000 comes with 2 search coils: a 10" Double-d and a 5" Double-D. The larger coil will cover more ground and search more deeply, while the smaller coil will allow prospectors to get into hard-to-reach places. This is a lightweight metal detector at just under 3 pounds. It also features improved ferrous/non-ferrous discrimination and easily copes with highly mineralized or salty soil conditions. 
White's Goldmaster 24k
White's Goldmaster 24k is a perfect option for prospecting. This VLF metal detector operates at 48 kHz, slightly higher than the Minelab Gold Monster 100, and much lower than the Fisher Gold Bug 2. This model features an all-new XGB ground balancing system. This means it can handle highly mineralized soils. It features TracLock and Ground Grab, which can be used to ground balance the machine. The Goldmaster 24k has a large LCD screen with backlit display. It has a Target Graph at the top of the display to show Ferrous, Gold, and High Conductor ranges, which is mirrored with numerical target ID.
If you are hunting in dry washes, the 24k features Ground Scan, which shows where paystreaks are located. It has adjustable sensitivity, adjustable audio with boost feature, adjustable discrimination, pinpoint mode, tone ID mode, and vSAT (Variable/Self Adjusting Threshold). Iron Cancel will silence hot rocks and iron rich soils. 
Ground scan shows the ground mineralization strength, ground type, and can be used for finding paystreaks, as previously mentioned. 
The Goldmaster 24k comes with a 6" by 10" waterproof Double-D search coil and weighs 3.6 pounds. The detector is dust proof and weatherproof, but not fully waterproof. 
Metal Detecting Clubs in Alabama
Because metal detecting is a popular hobby in Alabama, there are many metal detecting clubs located throughout the state. Some of these include:
Alabama Gold Camp
Central Alabama Artifacts Society
South Alabama Historical Research and Recovery
Southeast Treasure Hunters
Tri-State Coin and Relic Hunters Club
Warrior Basin Treasure Hunters Association
Rocket City Relic Hunters; and 
Madison County Coin Club
Joining a metal detecting club has many perks. You can get techniques for fine tuning your metal detector, tips on where to search, learn what has been found in your area, develop a sense of fellowship, get help identifying your finds, swap war stories, and even help your community. Metal detector clubs can be contracted to find missing items. 
Some clubs even have a metal detecting evidence search assistance team to help law enforcement. Sometimes, the police, sheriff, state agencies, and park rangers need help from trained detectorists in evidence searches. 
Best Places to Metal Detect in Alabama
Metal detecting is all about location. Where you choose to metal detect will dictate what you find. As mentioned earlier, metal detecting on beaches in Alabama is a great choice. There are a variety of lost items on the beaches just waiting for you to find them! Refer to the section regarding beach metal detectors for good tips on the best detectors for beaches. Not all metal detectors work well on beaches, so if this is your goal, make sure you are prepared!
While you may not be able to hunt directly on Civil War sites as they are historic locations, you can metal detect outside of them. Areas near Civil War battlefields have yielded bayonets, buttons, bullets, buckles, and other pieces of military equipment. With some luck you may even find canteens or rifles! It is important to do your research so you can ensure you are not detecting on the historical grounds, but rather outside of them. There are many private properties located near Civil War sites. You can obtain permissions from the landowners to metal detect these areas. Do not trespass, however. That will get you in a whole lot of trouble!
Do a little research on your local area, or desired detecting area. Go to the library and ask to see past articles detailing celebrations, significant sporting events, political events, and the location of closed businesses. Anywhere people gathered or were consistently around, you will find items. Old maps and land records can show how your area was once set up, and you can find old roadways, fields, meeting halls and homes. Old home sites are great places to find artifacts.
Alabama's rivers, creeks and streams are great places to metal detect. Ensure your detector is at least partially waterproof if you will be detecting in these areas! Other good places to look are old sidewalks, railroad tracks, fairgrounds, schools, churches, and recreation areas. 
Detecting in Alabama's Ghost Towns
There are many ghost towns in Alabama that were once teeming with life. Most of these were founded due to some type of precious stone or ore being mined in the area. Other were smaller cities with thriving residents who left for a variety of reasons. 
Now they are empty, and another part of Alabama's rich history. Ghost towns can be a great place to metal detect. There are many historical artifacts in ghost towns. You may even be able to find a coin spill, fine jewelry, or other expensive items in ghost towns. It is important, however, to make sure you have permissions to detect in ghost towns.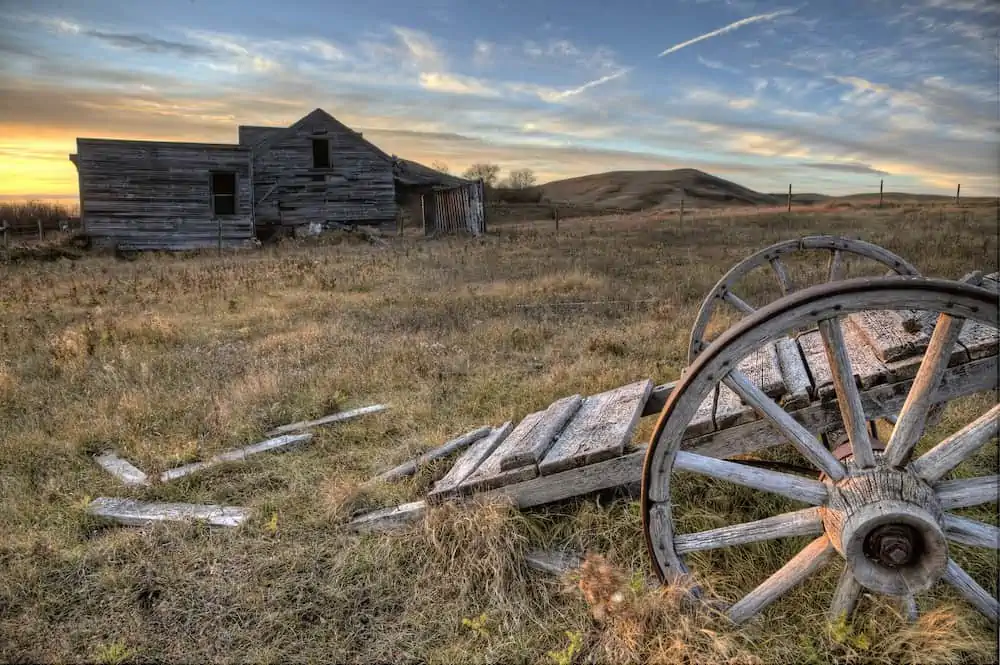 Battelle, Alabama (DeKalb County)
Miners from Ohio discovered limestone, ore, and coal on what was later named Battelle. The Lookout Mountain Iron Company was the town's main economic powerhouse for many years. Pig iron ingredients of better quality were found in Birmingham in 1905. The government purchased the company and moved it from the area. This led to the eventual collapse of the town as the residents has no work opportunities. No buildings remain in Battelle. 
Beaver Mills, Alabama (Mobile County)
Beaver Mills was the location of a large paper mill. During the Civil War, the mill was used as a clothing depot. After the war ended, the clothing was used to make bonded paper. Beaver Mills is now home to the remains of the paper mill, overgrown with woods. The property is privately owned, and permission must be obtained to visit the area and to metal detect. 
Gantts Quarry, Alabama (Talladega County)
Gantts Quarry was incorporated after Dr. Edward Gantts discovered white marble in 1830. The Washington Monument is home to one of the blocks of marble from Gantts Quarry. The population steadily declined as the demand for marble declined in the post Great Depression era. 
Gantts Quarry had 542 residents, but according to census data, in 1990, it had a population of 7, and by 2000, it had a population of zero. Much of the town has been annexed into the city of Sylacauga. 
Cahaba, Alabama (Dallas County)
Cahaba was the first capitol city of Alabama, so it seems strange that it would be a ghost town now. The town founding began in 1819 and was a fully functioning capitol by 1820. It was soon realized, however, that the location of Cahaba was not ideal for the state capitol. The city sits extremely low and near 2 rivers that caused flood damage regularly. 
The first flood, in 1825, was so bad it caused part of the statehouse to collapse. Several buildings survive in Cahaba today, including the Civil War federal prison and a farmhouse built in the 1840s, but the town has long been uninhabited. 
Again, I will mention the importance of seeking permission before detecting in ghost towns. Some may be designated as historical locations and others may be privately owned. Always double check before you metal detect!
Tales of Buried Treasure in Alabama
There are many great places to metal detect in Alabama. However, there are a few tales that may influence where you decide to hunt! In Fort Payne, legend states that a wealthy businessman named John Willismith, buried $100,000 worth of gold. He owned over half the town, so his buried treasure could be anywhere in the area!
A man named Henry Nunez was a ferry operator on the Perdido River during the Civil War. He is reported to have buried over $200,000 near a point where Route 90 crosses the river. Many believe he buried this treasure here due to the proximity to his home (it once stood on the Alabama side of the river).
Another local legend states that Confederate treasure may be hidden near Athens. IN 1865, $100,000 worth of gold and silver was placed in metal boxes by troops and tossed in the swamp to keep the Confederate money away from the Union Army. 
There is an abandoned town called Demopolis near the Tombigbee River, near the intersection of Route 80 and Route 43. This area was founded by Napoleon Bonaparte's followers, who were exiled in the early 1800s. The area was abandoned by the 1830s and a town nearby, White Bluff, was resettled a few years later. Many wealthy plantation owners lived in the area and are said to have buried a significant amount of treasure before abandoning the area in the 1860s.
Conclusion
Alabama is a beautiful state with a rich history. There are many amazing places to metal detect here. Make sure you do your research and stay within the law. As mentioned, much of Alabama's land is privately owned, so ensure you are gaining the proper permissions before heading out to metal detect in Alabama!
FAQ
Q: How do I know if I can metal detect in my area of Alabama?
A: The first thing you should do is go to or call your city and/or county and find out the rules for metal detecting. They can vary widely depending on which part of the state you are in. Some government entities will have information about metal detecting rules on their websites, but this is not always up to date. If you plan to metal detect in a state park, make sure you receive the proper permissions previously. If you plan to metal detect near a Civil War site, again, make sure you obtain the proper permissions. Private property can be accessed with permission from the owners. Make sure you are following the laws!
Q: Are there any public places to prospect or treasure hunt in Alabama?
A: Yes! There are mining and treasure locations in Alabama starting in Chilton County and continuing northeast to the Alabama/Georgia state line. You can also prospect and pan for gold in the Talladega National Forest. However, you need to seek permission to prospect in the forest. You can obtain permission at the Shoal Creek Ranger Station. There is also the Alabama Gold Camp, about 10 miles from Lineville. This camp lies between Wesobugla and Crooked Creeks and covers 179 acres of Alabama gold country. Per may pan, sluice, dredge, and metal detect here. You can also find Citrine, red garnets, Native American artifacts, and fossils. Be aware, there is a pay per person fee charged daily for metal detecting on camp property. Dredging requires an additional fee. 
Q: Where are some places of interest I can metal detect in Alabama?
A: As mentioned before, the Alabama Gold Camp is a great option. You can also check out Lake Wedowee, where there are 369 nearby mining deposits. The town of Wedowee in Randolph County is one of the largest sources of gold in the whole state. Within the Talladega National Forest, you can metal detect at the Talladega Campsite. This is a good option for those looking for coins or jewelry. Wherever people recreate you have a good chance of finding treasure! I personally enjoy metal detecting in the forests. It is so peaceful, and I always find something interesting! 
Q: If I am new to metal detecting, should I join a club?
A: That is entirely up to you. Metal detecting clubs can offer you a lot of great information. They can help you understand how to best tune your metal detector for your area and can help you find places to detect (do not expect them to give away all their secrets, though). Alabama is home to many metal detecting clubs. Some even have online activities, so you do not have to be there in person if you do not want to. Keep an open mind and these clubs can really help you become a great metal detectorist!
If you enjoyed this article, please "like" our Facebook page and be sure to revisit Discover Detecting for new content surrounding the metal detecting hobby!
You Might Also Want to Read: