Garrett's ATX is one of my all-time favorite metal detectors. Unlike many metal detectors, this machine runs on pulse induction (PI) technology (more on that in the next section). Most traditional metal detectors are very low frequency (VLF), which uses a single set frequency (or multiple single frequencies on some models) for detection.
The ATX is an all-terrain metal detector with a military style design. It has been in production since 2013 and is still being manufactured and sold today. This model has Garrett's highest performance PI technology which allows for maximum sensitivity on all targets in all conditions.
Controls are easily accessed with one hand and it has several advanced features. This makes the machine very good at overcoming extreme environmental conditions such as saltwater, wet sand, black sands, hot rocks, and highly mineralized soils.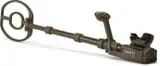 The ATX's detection frequency is 730 pulses per second, which is adjustable. The more pulses per second a PI metal detector sends out, the more sensitive the machine is. This machine is excellent at finding small, low conductivity metals like tiny gold nuggets and fine jewelry. Ground tracking is done via Fast Track technology, which allows users to quickly balance ground mineralization. It also has 4 automatic ground balancing settings: off, slow, medium, and fast. This allows users to control the amount of noise from difficult ground conditions or allow the machine to do the work for you with the Fast Track system. PI machines are inherently immune to saltwater conditions normally, but the machine can also be ground balanced if necessary.
Please take a moment to view the interactive table below, where you can directly compare the Garrett ATX to other notable detectors on the market:
Notable Features for the Garrett ATX
The ATX has a built-in pinpointer allowing you to zero in on a target easily. It also has 25 settings of Audio Threshold and 13 Sensitivity settings. As with most PI machines, the ATX has great immunity to electromagnetic interference. It also features an automatic frequency scan and selection to provide the quietest possible operation.
Electromagnetic interference can cause a lot of detector noise and even overload the machine if it is too high. The ATX does not have this issue as it constantly scans for interference and self-adjusts. It also features 25 Discrimination settings and Iron Audio (with a Double-D search coil only; you have your choice of different coils when purchasing).
This model does not have an LCD screen, but the control panel is easy to use and easy to change settings. Search modes can be motion or non-motion, meaning the detector does not have to be in continuous motion to function. The stem is adjustable from 20" to 68", allowing users to customize the length. It operates on 8 AA batteries, and rechargeable batteries can be used. It is heavier than most VLF machines, at 6.9 pounds. The ATX is fully submersible up to 10 feet.
What is PI Technology?
PI systems use a single coil as both transmitter and receiver or can have 2 or 3 coils working together. PI sends powerful short bursts, or pulses, of current through a coil of wire. The pulse generates a brief magnetic field. When the pulse ends, the magnetic field reverses polarity and collapses suddenly.
This results in a sharp electrical spike. The spike lasts a brief few microseconds and causes another current to run through the coil. This is the reflected pulse. Another pulse is sent and the process repeats. 
When the metal detector is over a metallic object, the pulse creates an opposing magnetic field within the object. When the pulse's magnetic field collapses, creating the reflected pulse, the magnetic field of the object makes it take longer for the reflected pulse to disappear. This process is like an echo. If you yell in a room with only hard surfaces, you will hear a brief echo sometimes. If you yell in a cave you will hear a longer echo. 
PI machines have built in sampling circuits, which allows them to monitor the length of the reflected pulse. By comparing the incoming reflected pulse against what was expected, the circuit can determine if another magnetic field has caused the reflected pulse to take longer to dissipate.
So, when the magnetic field from the metallic target adds their echo to the reflected pulse, making it last a fraction of a microsecond longer than normal, the machine shows a detected object.
Garrett offers a 2-year warranty on the ATX.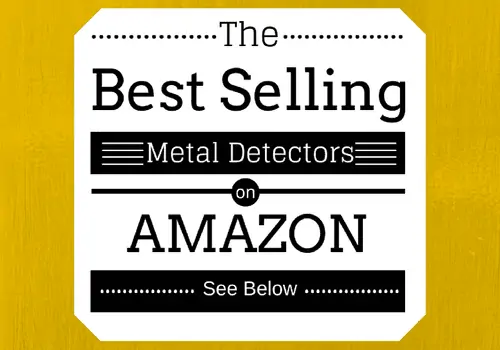 Below, please take a moment to view some of the best selling metal detectors currently on sale at Amazon:
Price of Garrett ATX
The Garrett ATX is more than most VLF machines, as are most PI machines, at $2,500. The price is the same regardless of which search coil is chosen. There are 3 options for search coils: a 10" by 12" Double-D, an 11" by 13" Double-D, or an 11" by 13" Mono search coil. There are also 3 DEEPSEEKER packages available, each with a 20" Deepseeker search coil and your choice of one standard search coil for $2,995.
Both the standard package and DEEPSEEKER packages come with Garrett MS-2 headphones (not waterproof; waterproof headphones are sold separately), a detector sling, coil cover, battery charger, AA alkaline and rechargeable batteries, a storage and travel case, and owner's manual. The DEEPSEEKER package contains the additional large search coil as well as a military grade hard case, coil covers for both search coils, and a DVD. 
Garrett's AT Max is a VLF machine operating at an adjustable frequency of 13.6 kHz. This frequency is high enough to detect some bits of gold but will not be great at finding tiny bits of gold or fine jewelry, like the ATX.
The AT Max has 44 iron discrimination segments, true All Metal Mode, backlit LCD screen, volume adjustment, adjustable notch discrimination, 4 search modes, proportional audio, iron audio, 8 sensitivity and depth adjustments, and adjustable threshold. It has automatic and manual ground balancing and a pinpoint mode.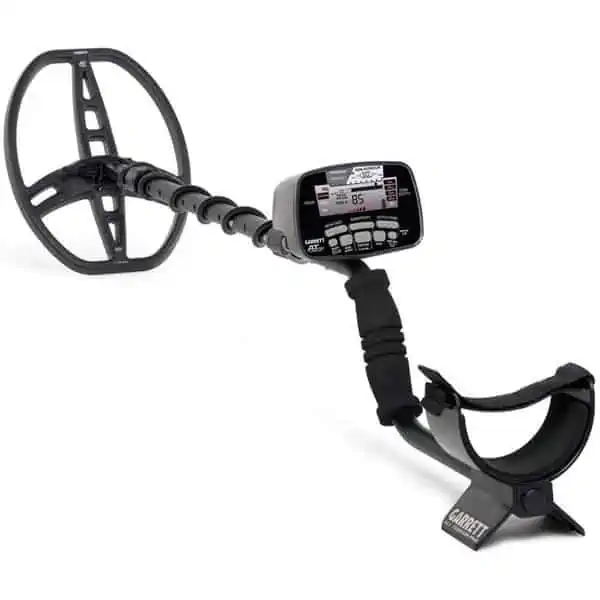 As with the ATX, the AT Max is fully submersible up to 10 feet. This model is made to work in saltwater conditions, even though it is VLF. VLF machines are notoriously unreliable in saltwater. But the AT Max has numerous adjustments that make it easier to search on saltwater beaches. The stem is adjustable from 43" to 56", and the unit weigh 3.03 pounds (compared to the 6.9 pounds of the ATX). It operates on 4 AA batteries. 
This model also has Z-Lynk wireless technology for use with Garrett MS-3 Z-Lynk wireless headphones. This technology is over 6 times faster than traditional Bluetooth connectivity. This means that you will get a signal when you are directly on top of your target, which has been difficult to accomplish when using wireless headphones in the past. It also keeps you from having to deal with wires when detecting. 
Both the AT Max and ATX are great for combing over previously searched areas. Both machines have great depth and can find signals missed by your previous searches or other detectorist's searches. It may seem like the AT Max has more features, but remember, a PI machine like the ATX does not require as much fine tuning as a VLF machine. So, a lot of the features on the AT Max are unnecessary on the ATX.
Garrett offers a 2-year warranty on the AT Max.
Minelab's CTX 3030 is one of my favorite high-end metal detectors. This thing is a beast of a machine! It features FBS 2, which is Minelab's multiple frequency rectangular wave transmission, with frequencies from 1.5 kHz to 100 kHz.
The higher end frequencies make it perfect for finding small bits of gold and tiny, fine jewelry. Like Garrett's ATX, the CTX 3030 is waterproof up to 10 feet. This model is recommended for coin shooting, relic hunting, jewelry hunting, and beach hunting.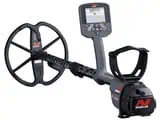 The CTX 3030 features 10 fully customizable detection modes, along with 5 preset search modes:
Coins
Beach
Relic
Silver
High Trash
This makes the CTX 3030 a great option for all search areas. This model has a built-in pinpointer and accurate depth indictor. It uses Smartfind 2™-dimensional color discrimination which provides digital signal processing and precision FeCo (Ferrous and Conductivity) discrimination along with color target information.
The CTX 3030 has 10 tone profiles allowing users to accept the desired targets and ignore the rest. Target Trace and Target Separation allow users to identify multiple targets simultaneously for more accurate detecting. 
GPSi on the CTX 3030 tracks your location and allows for accurate recording of geolocation. This feature contains GeoTrails which show the ground you have covered, WayPoints which allow you to mark points of interest, FindPoints where you mark your treasure locations, and GeoHunts which record the entire metal detecting hunt.
You can upload all detector settings and treasure locations to your PC using the Xchange 2 app, allowing you to attach photos and texts and organize them into categories. Google Maps locations can be viewed and downloaded to the detector. Wi-Stream creates a quick wireless audio response with no loss of sound quality.
The CTX 3030 comes standard with an 11" waterproof Double-D smart search coil. It features a full color LCD screen with backlight and adjustable brightness. Memory saves settings automatically when the detector is turned off or the batteries die.
It features Quick Menus for adjustments on the go, and include quick changes to sensitivity, noise cancelling, audio, and ground balancing. This model also has 9 different language options: English, German, French, Polish, Italian, Russian, Portuguese, Turkish, and Spanish. 
The CTX 3030 weighs 5.2 pounds and operates on a lithium ion battery pack with fast charging capabilities. Fast charger and 12 V car adapter come with the detector. Length is adjustable from 37" to 55.3". Minelab offers a 3-year warranty on the CTX 3030.
Minelab's GPZ 7000 is designed to find gold of all shapes and sizes. This machine has great depth and maximum sensitivity. Minelab uses its ZVT (zero voltage transmission) technology on this model, which detects up to 40% deeper than their GPX series metal detectors. ZVT creates a constant high-powered opposite polarity magnetic field increasing sensitivity to gold.
It also includes the 14" by 13" waterproof Super-D search coil with the GPZ 7000, which finds everything from sub-gram gold through "retirement nuggets." This model accurately ground balances itself and tracks even the most sever ground conditions. These difficult ground conditions are where most gold is found. 
This model has 256 Noise Cancel channels and picks up less atmospheric noise. This enables quite and smooth detecting. Menu Pages are simple and easy to use. They group functions together under Detect and Map section, allowing quick accessibility.
This model has wireless technology, so you can use the built-in speaker, supplied headphones, or your own favorite headphones. As with the CTX 3030, the GPZ 7000 uses GPS location and PC mapping using the Xchange 2 app and Google Maps. The search coil is waterproof on this model, but the entire detector is not submersible. 
The GPZ 7000 features a full color visual display with backlight. It features 3 gold modes: high yield, general, and extra deep. It also has 3 ground type settings: normal, difficult, and severe. Audio tones range from 1 to 100, it has all metal discrimination, and automatic and manual ground balancing with the Quick-Trak trigger button.
Sensitivity is adjustable from 1 to 20, and threshold and target volume are also adjustable. Batteries are lithium ion rechargeable packs and the unit weighs 7.32 pounds.
Minelab offers a 3-year warranty on the GPZ 7000.
The Minelab SDC 2300 is a compact, high performance mid-range gold metal detector. It is specifically designed to find even sub-gram gold nuggets underwater and on land. This is PI machine, like the ATX, but features Minelab's MPF (multi period fast) technology. This is an extremely fast PI technology that switches between transmit and receive detector signals.
Minimal residual transmit signal is present during the receiving cycle, allowing for clear and sharp gold detection. This is a ruggedly designed machine, built to military standards and requires no assembly. 
This machine is incredibly compact, folding up to just 8.5" so it can fit into any luggage and most backpacks. Like the ATX and CTX 3030, this model is fully submersible up to 10 feet. As with most PI machines, the SDC 2300 is very sensitive to gold even in highly mineralized soil conditions.
This model comes with an 8" monoloop search coil. It can use standard headphones but does not have wireless technology. It has 2 detect modes: Normal, with 5 sensitivity ranges, and Salt, with 3 sensitivity ranges.
Audio is adjustable to low or high, it can automatic fast ground balance and automatic scanning for noise cancellation. Batteries are 4 C-cell rechargeable batteries. This model weighs 5.1 pounds; slightly lighter than the ATX.
Minelab offers a 3-year warranty on the SDC 2300.
Minelab's Equinox 800 is a great multi-frequency VLF machine. This metal detector operates on Minelab's patented Multi-IQ technology. This allows the machine to use multiple frequencies simultaneously. This model uses the following frequencies: 5 kHz, 10 kHz, 15 kHz, 20, kHz, and 40 kHz. This machine can also use each of these frequencies individually or use them all simultaneously.
This makes it a great all-purpose metal detector. The lower frequencies are best suited to highly conductive metals like silver, while the higher frequencies are best suited to lower conductive metals like gold. This metal detector has shown very good stability and depth in highly mineralized soil conditions.
The Equinox 800 has 4 detect modes: Park, Field, Beach, and Gold, and each detect mode features 2 Custom search profiles so you can save your favorite settings. This makes it a well-rounded machine, and one of the very few VLF metal detectors with true multiple frequency technology. This model has wireless audio capabilities and can be used with aptX Low Latency headphones or Bluetooth headphones.
The Equinox 800 is fully submersible up to 10 feet, like the ATX, CTX 3030, and SDC 2300. The LCD screen is large and easy to read with numerical Target ID so you can see your targets immediately begore diffing. Detect modes and operating frequency can be instantly changed at the push of a button. 
Noise cancelling on the Equinox 800 is adjustable from -9 to 9, sensitivity is adjustable from 1 to 25, and target volume, threshold pitch, and threshold level are all adjustable from 0 to 25.
This model has notch discrimination with 50 segments. It also has tone pitch, tone volume, and tone break between ferrous and non-ferrous targets. The Equinox 800 has 5 depth indicator levels and weighs just 2.96 pounds (by far the lightest on this list). This makes this detector easier to swing for longer periods of time than the others.
The standard search coil on the Equinox 800 is an 11" Double-D Smart coil with skid plate. The display is monochromatic and features adjustable backlight (low, medium, high, or off). Batteries are built-in and rechargeable. Software is upgradeable on the Equinox 800 by connecting the device to a computer (Windows or OSX). 
Minelab offers a 3-year warranty on the Equinox 800.
Conclusion
The Garrett ATX has some features that make it one of the top competitors on the market, especially for PI machines. It is an expensive machine, for sure. But the Minelab CTX 3030 is the same price as the ATX. Garrett's AT Max and Minelab Equinox 800 are cheaper, at $850 and $900, respectfully.
Now, Minelab's SDC 2300 and GPZ 7000 are much more expensive than all the others on this list, at $4,000 and $8,000, respectively. Both most expensive models are designed specifically to find gold in extremely harsh soil conditions. The other machines are more tailored to general metal detecting and can all find gold. 
If you are specifically looking for gold, and have the budget, the SDC 2300 and GPZ 7000 are amazing gold metal detectors. If those prices are out of your price range, I would highly recommend the Garrett ATX or Minelab CTX 3030. They are both amazing metal detectors from reputable companies.
I would have no hesitation recommending Garrett's AT Max or Minelab's Equinox 800 to anyone who doesn't want to spend thousands on a metal detector. Garrett's AT line has been one of the most popular and successful metal detector lines. The Equinox 800 with its multiple frequency technology is amazing and would work very well in all terrains and all soil types.
Overall, Garrett's ATX is, and will always be, one of my favorite metal detectors. It has great features, great sensitivity, and is a PI machine so it will work well even in wet saltwater beaches or highly mineralized soils. All the places I metal detect (Utah and Idaho) are highly mineralized and a detector like the ATX makes finding a quality signal so much easier.
Traditional VLF machines struggle in these soil conditions. They can have extra noise and even overload. It causes you to miss some targets. But the ATX solves that problem with its PI technology. Plus, you can't go wrong when dealing with a company with a great reputation like Garrett. This machine is well worth the price as it will perform year after year, so long as you don't damage it terribly. 
The ATX is sensitive enough to find even tiny bits of gold or very fine jewelry. While this machine is tailored to advanced detectorists, an intermediate detectorist could also operate the machine very well. Garrett has made the ATX a great choice for a seasoned metal detectorist.
And I really like how it is completely waterproof up to 10 feet. This opens so many river and stream hunting options. Now you won't have to worry about dropping your metal detector in the water while river hunting.
Just be aware this is not the proper metal detector for diving. There are specialized metal detectors for those wishing to deep dive. The Garrett ATX is an amazing metal detector if you are ready to invest in a super versatile machine with flexible tuning and PI technology.
You Also Might Like: