10 Metal Detecting Accessories Needed for Treasure Hunting
Once you have gotten bitten by the metal detecting bug, it is hard to stop looking for gold everywhere you go. After your initial purchase of your machine, you will find that there are several accessories for metal detectors that will make your hunting trips more fun and less work.
Below, take a look at a few accessories that really help you while searching for everything from coins and gold to jewelry and old relics.  In fact, to better help you find what you need, we've created an interactive table that makes it easier to compare accessories like pinpointers and headphones against one another.
When your detector indicates a metal object, you use the pin pointer by pushing the pointer into the ground. It has 360 degree scanning so it will tone, both via audio and vibration, and increase in sound and vibration as you get closer to your object. This pin pointer has a flashlight too, so you won't have to try to hold the pointer and a light while you are digging. It also has a scraping blade to help you uncover your treasure.
It is water resistant so you can easily clean the dirt off and can be used in tight places where your metal detector can't reach, even around salt water.
2) Headphones: Not only does using metal detecting headphones save the battery of your metal detector, but because you are not using the built in speakers, you also have more privacy as you are hunting. Most hunters do not like other people to hear when they have found an object.
When you are wearing headphones, it's easier to hear any quiet "ding" you might miss if you were just using the built–in speakers. With all of the background noise blocked, it is less likely you will miss the tone you are listening for.
When you are searching for headphones, think of comfort first. Purchase a pair that is adjustable with plenty of cushioning around the ears. You will also want volume controls on your headphones and a coiled cord that is at least 6' long.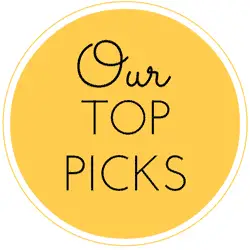 Below, please take a look at some of the best selling metal detectors currently available on Amazon:
3) Sand Scoop: If you have any plans of searching on the beach, you will definitely need a sand scoop. Just like its name implies, it is a small plastic scoop with small holes in the bottom. When your detector indicates an object has been found, you simply scoop the sand around the area and slowly shake the scoop to allow the sand to filter out and uncover your treasure.
Obviously, the scoops work much better in dry sand than wet, but if you must use it in wet sand, scoop your area and carefully shake the scoop under water to reveal your treasure. Just remember to not shake too hard or you may drop your treasure back into the ocean. You can usually find a good sand scoop for around $12.
4) Bag to carry your detector in: This may not sound like something you will need, especially if you tend to hunt mostly around your home, but it is a necessity. Not only will it help protect your metal detector when it is not being used, it will make it easier to keep all of your equipment together.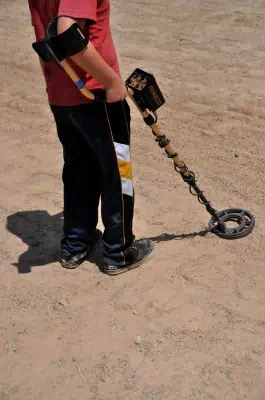 Choose one with several small pockets so everything you have will have its own space and you will be able to quickly find what you are looking for. Having a bag will also make it easier for you when you want to travel somewhere else and hunt.
5) Gold pan kit: Anyone who plans to search near water for gold should have a gold pan kit as part of their accessories. Once your metal detector has indicated it has found gold, you can use your gold pans to carefully sift through the rocks and dirt to find your nuggets or small flakes of gold. There is simply no other way to get the flakes out of the ground. You can often find gold pan kits (with 2 – 3 different size pans) for around $15.
6) Gold Bottle Snifter: Again, anyone who plans to search for small pieces of gold will want one of these wonderful bottles to aid their search. Once you have found gold in your pans, you can use these squeeze bottles to suck your gold from the pan. This is so much easier than trying to get it out with your finger or even with tweezers. Don't forget to bring along a small container to keep all of your gold in, too.
7) Digger or trowel: If your object is only a few inches in the ground, a small digger or a trowel will often be enough to dig the hole you need to find your treasure. No treasure hunter would leave home without a small trowel to help retrieve any metals that are found. Even in soft soil, the trowel will make the job quicker and much easier on your hands.
8) Shovel: For those of you who like to dig relics or who are determined to dig the deepest coins up, a shovel is a definite accessory you cannot be without. Some hunters choose to use a regular garden shovel, but many opt for a shovel that was created just for metal detecting, such as the Lesche T-Handle Shovel.
It has a serrated blade to help you scrape away the last dirt around your object and it's much smaller in size so you are less likely to damage the object you are trying to retrieve. With the smaller head on this shovel, you will damage less area in search of your metal and will have less to fill in. This shovel sells for about $75, but will be worth every penny.
9) Pouch: Many hunters have a dedicated pouch they use to carry home all of the treasures they dig up. This is a great idea to have, even if you think you will only be hunting around your home. You don't want to find a great old coin, only to have to slip out of your pocket as you continue to hunt for more. Put a few small Ziploc bags in your pouch for small objects and never worry about losing your treasures again.
10) Rechargeable batteries. While this isn't really an accessory for metal detecting, it is definitely mentioned many times by expert hunters. You will go through a lot of batteries as you hunt and rechargeable ones could save you a lot of money. However, some detectors won't work as well (or at all) with rechargeable batteries, so check your detector before purchasing a set. If your detector won't use them, be sure to always pack extra batteries before you leave home.
If you are just starting out with the metal detecting hobby, you shouldn't feel you need all of these accessories right away. That can get expensive and some are more important than others. Make sure you have extra batteries, a pouch and a trowel every time you leave the house to hunt and add the other accessories as you see the need. Once you learn how to use your metal detector, treasure hunting will be your favorite hobby.
For more great articles, be sure to bookmark our metal detecting website Discover Detecting.
You Also Might Like:
Image courtesy of Bill Longshaw at FreeDigitalPhotos.net