Minelab Equinox 800 review
Minelab has been making metal detectors specifically for difficult soil conditions for 35 years. They have created some industry changing technology. The Equinox 800 is the top tier of the Equinox line. This detector features Minelab's patented Multi-IQ technology combined with SFx8.
Multi-IQ is a simultaneous multiple frequency technology that allows the Equinox 800 to utilize a total of 5 frequencies at the same time. SFx8 (five frequency times eight) gives the Equinox 800 5 individual transmission frequencies in a single detector without changing search coils. Each transmission frequencies optimizes the detector for different targets and conditions.
Multi-IQ is short for Multi-Frequency In-phase and Quadrature Synchronous Demodulation (that's why they shortened it!). Multi-IQ achieves a high level of target ID accuracy at maximum depth. This allows the Equinox 800 to search deeper and more accurately than single frequency metal detectors, including those with switchable single frequencies.
Simultaneous frequencies allow for maximum target sensitivity across all target types and sizes while minimizing ground noise in saltwater and highly mineralized soil conditions. For each signal the metal detector emits and receives, there are 2 extracted signals referred to as I and Q. The Q signal is sensitive to targets, while the I signal is sensitive to iron content. 
Please take a moment to view the interactive table below, where you can directly compare the Minelab Equinox 800 to other notable detectors on the market:
Impressive Technology in the Equinox 800
When designing the Multi-IQ system, Minelab aimed to create a true multiple frequency metal detector that could be used in all terrains, all soil types, and was suitable for all types of detecting.
They sought to create a machine that would outperform even specialized machines, like those made specifically for coins or gold, by making a machine that would accurately detect all treasure types in all soil conditions. They achieved this by going beyond a single frequency and onto the next generation of multiple frequency technology.
Having selectable frequencies allows the versatility of having 5 single frequency metal detectors all in one. The Equinox 800 individual selectable frequencies are:
5 kHz – Great for large silver coins
10 kHz – Good for small Roman hammered coins
15 kHz – Great general treasure hunting mode
20 kHz – Perfect for general treasure detecting and gold prospecting
40 kHz – Optimum sensitivity to very small gold nuggets and fine jewelry
Multi-IQ technology runs all 5 individual frequencies and more at one time. Operating the detector in single frequency can be helpful if you are experiencing ground noise from difficult soil conditions. But the detector has been meticulously balanced to ensure that nearly all treasures can be found in multiple frequency mode, making it easier to use for detectorists of all skill levels. 
The Equinox 800 has 4 detect modes: park, beach, field, and gold, along with 8 custom search profiles (2 for each detect mode). This allows users to save their preferred settings within the custom profiles. This model has automatic and manual noise cancelling, and automatic and manual ground balancing. Sensitivity is adjustable from 1 to 25, threshold volume, level, and pitch are adjustable from 0 to 25. 
Target identification contains a 50-segment notch discrimination with 4 target tones. Tone break, tone pitch, and tone volume indicate ferrous and non-ferrous targets. The Equinox 800 also has 5 depth level indicators.
The Equinox 800's Multi-IQ Detect Mode profiles can be broken down as follows:
Park 1 and Field 1: Process a lower weighted frequency combination, and algorithms that will maximize ground balancing for soil to achieve the best signal to noise ratio. These are best for general detecting and coin shooting.
Park 2 and Field 2: Process a higher weighted combination of Multi-IQ band while ground balancing for soil. These modes will be more sensitive to higher frequency, low conductive targets, but can be more susceptible to ground noise.
Beach 1: Process a lower weighted combination as above but uses a different algorithm to maximize ground balancing for salt. Best suited for both dry and wet sand conditions.
Beach 2: Processes a very low weighted frequency combination using the Beach 1 algorithm to maximize ground balancing for salt. This profile is best used in the surf and underwater.
Gold 1 and Gold 2: Process the higher weighted combination of the Multi-IQ band while ground balancing for soil conditions. These modes use different parameters best suited for nugget hunting.
These highly specialized modes create more data points which gives the user more accuracy and better specialized settings in difficult ground conditions.
The Equinox 800 has a monochrome LCD screen with adjustable brightness backlight (low, medium, high, and off). This model operates on rechargeable built-in batteries and will operate for approximately 12 hours on a charge. It also comes with a USB charging cable, and multi-language screen protectors. Software on the Equinox 800 is upgradeable via USB to computer (Windows of OSX). 
This is a lightweight model, at just 2.96 pounds, so it is easy to use for several hours without arm fatigue. This model comes with an 11" Double-D Smart search coil with skid plate. The Equinox 800 is fully submersible up to 10 feet, so it is perfect for use in rivers and streams, or even in the surf or shallow lake water.
This model comes with Bluetooth and aptX Low Latency headphones (not waterproof). You can also use the external speaker or standard plug in headphones. 
Minelab offers a 3-year warranty on the Equinox 800.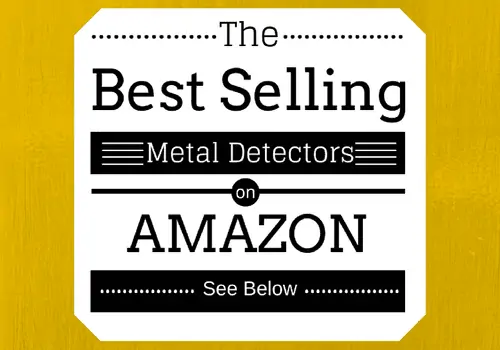 Below, please take a moment to view some of the best selling metal detectors on the market (and see how well they compare to the Minelab Equinox 800):
Price of Minelab Equinox 800
The Equinox 800 is a mid-priced metal detector starting at $899. Purchase includes the wireless headphones with hard shell case, WM 08 wireless audio module, USB charging cable with magnetic connector, USB charging cable, Auxiliary cable, and ML 80 instruction sheet.
Detectors are not available for purchase directly from the Minelab website, so an outside website or store is necessary. Minelab warns customers to be on the lookout for counterfeit metal detectors being sold under their name. Be sure to purchase your Minelab metal detector from a reputable dealer, and not from a known counterfeit manufacturer.
Minelab Equinox 800 vs Equinox 600
The Minelab Equinox 600 has a lot of the same features as the Equinox 800. This model also utilizes Multi-IQ technology, so it can operate on multiple frequencies at one time. However, the Equinox 600 can only operate on 3 single frequencies (the lower 3: 5 kHz, 10 kHz, and 15 kHz) whereas the 800 can operate on 5.
The 600 has 3 detect modes: park, beach, and field, and 6 custom search profiles (2 per detect mode). Noise cancelling is automatic and ground balancing can be automatic or manual.
Sensitivity on the Equinox 600 is adjustable from 1 to 25. Target volume and threshold level are adjustable from 0 to 25. Target identification consists of 50 segment notch discrimination. Threshold pitch is fixed, and tone break, tone pitch, and tone volume are only ferrous (the 800 has ferrous and non-ferrous). There are 5 levels of depth indication on the 600 and 800. The weight of the Equinox 600 is the same as the 800, at 2.96 pounds.
The Equinox 600 comes with the same search coil as the Equinox 800: an 11" Double-D Smart coil with skid plate. Both models are fully submersible up to 10 feet. Audio output is the same on both with built in speaker, standard headphone jack, and Bluetooth and WM 08 Wi-Stream compatibility. This model comes with the standard wired headphones, not waterproof.
The LCD display is monochrome and backlit. The Equinox 800 has adjustable backlighting while the 600 does not. The batteries are built-in and rechargeable, like the 800. Both models have upgradeable software with USB connection to a computer. This model is cheaper than the Equinox 800, at $650.
Both the Equinox 600 and 800 have the same warranty from Minelab: 3-years.
Minelab Equinox 800 vs Garrett AT Pro
The Garrett AT Pro is a great, fully submersible (up to 10 feet) metal detector. The AT Pro has 40 iron discrimination segments, adjustable notch discrimination, and 6 search modes. This model features Garrett's Pro audio (proportional audio). This allows users to hear subtle changes in a target response. It also helps better judge the target's size, shape, and depth and is leads to faster recovery time.
Multiple simultaneous tones representing the characteristics of the target will convey information like the target's conductivity, shape, and depth. Mastering Pro Audio Mode will help you dig less trash and more treasure. The 6 search modes on the AT Pro are 3 Standard audio modes with full-strength beeps regardless of amplitude, and 3 Pro audio modes.
Along with Pro Audio, this model features Iron Audio mode. When this feature is turned on, it allows users to hear discriminated iron, so you know there's iron in the ground. It will emit a low grunting tone indicating the target is ferrous and likely trash (unless you are relic hunting).
This can be hugely helpful for coin shooting when you hit a questionable signal and can't decide if you should dig or not. The AT Pro uses Fast Track ground balancing, which is an automatic feature that allows users to quickly ground balance in highly mineralized soil condition. The LCD screen uses numerical target ID but does not have a backlight.
 The AT Pro has an electronic pinpointer built in. This model has 8 sensitivity and depth adjustments. This model is a single frequency metal detector, operating at a single, adjustable frequency of 15 kHz. A single frequency metal detector can have difficulty in saltwater areas.
It will certainly work in saltwater, but it will have more chatter. It comes standard with an 8.5" by 11" Double-D PROformance search coil. The AT Pro is lightweight, at just 3.03 pounds (just slightly heavier than the Equinox 800 and 600). It runs on 4 AA batteries. The AT Pro is less expensive than the Equinox 800, at $650.
Garrett offers a 2-year warranty on the AT Pro.
Minelab Equinox 800 vs XP Deus
The XP Deus (pronounced day-uhs) is a great all-purpose metal detector. It features exceptional comfort, speed, and performance, and is extremely lightweight. The ergonomic design of the Deus' stem makes it more comfortable and easier to maneuver. The stem is also foldable, so it is easy to store and go. This is the first wireless metal detector and can be customized with 3 wireless elements: the search coil, digital LCD display remote control, and headphones.
The 3 devices communicate by a digital wireless link specifically designed for this metal detector. This give crystal clear audio while delivering efficient power consumption. The detector can be completely controlled by the remote or with XP's specialized headphones. 
The wireless LCD controller features a backlight and hip mount case. Menu options include iron level, tones, notch, discrimination, audio response, and advanced features. There are 4 ground balancing options on the XP Deus: tracking, pumping, manual, and beach. This model operates at 4 kHz, 8 kHz, 12 kHz, and 18 kHz.
The entire detector is built into the search coil on the Deus, which is completely different than any other metal detector. No wire is required to send target signals. Instead, the signal is digitized and instantly analyzed at the source by specified circuitry. 
The Deus' software can be upgraded with a USB plugged into the remote and a computer (like the Equinox 800). Because this model is completely wireless, the only weight is the stem and coil, which is just 2 pounds. This model comes standard with a 9" by 11" Double-D waterproof wireless search coil and rechargeable battery pack.
There are several package variations for the XP Deus: the Deus WS4, RC, and RC WS$/WS5. Each has a choice of search coil (9", 11", or 13"), and comes with different accessories. You can also customize your kit and add or delete any item in the kits. This model is easy to use for beginners but has enough features and new technology to appeal to more advanced detectorists. It is more expensive than the Equinox 800, starting at $1,234.
XP offers a 5-year warranty on the Deus.
Minelab Equinox 800 vs Teknetics T2
The Teknetics T2 metal detector was one of the company's most successful models, so they brought it back. This classic, high-performance, multi-purpose metal detector set the tone for advanced electronic technology and functional design in the metal detecting market. The T2 is designed for coin shooting, relic hunting, and gold prospecting.
This model features a large LCD screen with numerical target ID. It has a straightforward menu design making it simple to operate. The T2 has 5 search modes: All Metal, Auto Tune, Coin & Treasure, Discrimination, and Gold. The amount of adjustable settings makes this model have a good range of abilities. 
This model comes with a pinpoint mode that is trigger actuated with variable audio pitch. It has double filter discrimination modes for searching in high trash areas and trigger actuated FASTGRAB™ instant ground cancelling with manual override. The T2 also features continuous ground monitoring with ground mineralization bar graph readout. It comes with a weatherproof 11" open frame Bi-Axial search coil.
This works very well in highly mineralized soil conditions. Be aware the entire metal detector is not waterproof, only the search coil. So, you need to be very careful when detecting in and around water sources. There are also 7 different search coils that are compatible with this model.
The T2 operates on 4 AA batteries. It features 5 preset audio tones, and tones from 1 – 99. Discrimination is adjustable from 1 to 79 and sensitivity is adjustable from 1 – 99. The T2 operates at a frequency of 13 kHz, and is single frequency, not adjustable.
The Equinox 800 has the advantage here, as it operates at 5 single frequencies and multiple simultaneous frequencies. The T2 weighs a little bit more than the Equinox 800, at 3.5 pounds. It does not have wireless technology, so only wired headphones can be used. The T2 is less expensive than the Equinox 800, at $499.
Teknetics offers a 5-year warranty on the T2.
Minelab Equinox 800 vs Nokta Anfibio Multi
The Anfibio Multi is a VLF metal detector designed to find all types of treasure in all locations. It works well in parks, fields, and beaches, and finds coins, relics, and jewelry easily. The Anfibio Multi features a simple to use menu design and is fully submersible up to 16.4 feet.
This model operates at 5 kHz, 14 kHz, and 20 kHz. 14 kHz has been shown to be the best operating frequency to find treasure, while 19 kHz to 20 kHz is the best for finding cold, small coins, and jewelry. 
A lot of VLF machines only have a single operating frequency, so the fact this model has 3 frequencies makes it more universal. It has 3 frequencies whereas the Equinox 800 has 5, and the Equinox frequencies can be used simultaneously. 
The Anfibio Multi has 9 different search modes:
GEN – All Metal Mode – No differentiation for different metals
2 Tone – Good for usual treasure hunting
3 Tone – Increased sensitivity
4 Tone – Very sensitive mode, but creates more noise
5 Tone – Less noise than 4 tone, but does not search as deeply
99 Tone – Creates a lot of signals, but is useful when identifying the type of metal
Beach – Quiet mode with a high level of discrimination
Deep – Scan slowly to scan deeper
Cache – Reacts to small and big objects
It also has tone volume, tone break, notch filter, and notch volume. Ground balancing can be done automatically, manually, and tracking. The Anfibio Multi comes with a pinpoint mode. One of my favorite features on this model is the vibration on target identification. This is a great feature when underwater metal detecting or for hearing impaired detectorists. This model also comes with a wireless headset.
The LCD screen on the Anfibio Multi features numerical target ID, is backlit, and has a backlit keypad. Gain settings are adjustable from 1 to 99. It comes standard with an 11" Double-D waterproof search coil. This model is slightly heavier than the Equinox 800, at 3.7 pounds. This model is the same price as the Equinox 800, at $899.
Nokta Makro offers a 2-year warranty on the Anfibio Multi.
Conclusion
While all the detectors on this list have their pros and cons, it is hard to beat the features of the Equinox 800. The Equinox 600 has less features than 800.Garrett's AT Pro is one of the top machines on the market and is a fantastic metal detector. One main drawback when comparing the AT Pro to the Equinox 800 is the AT Pro is a single frequency machine.
Although the frequency is adjustable, it is not a true multiple frequency machine. This means it will not perform as well in certain soil conditions or on certain target types. XP's Deus is a cool machine.
I like the wireless capabilities of this metal detector, but the price is quite a bit higher than the Equinox 800. And the machine is not multiple frequency. It operates on different single frequencies, but the frequencies cannot be used simultaneously. Teknetics T2 has been a great machine since it was first manufactured. Again though, it is not a multiple frequency machine. The Anfibio Multi has multiple frequencies of operation, but they cannot be used simultaneously.
Minelab's Equinox 800 is a fantastic multiple frequency machine, which is one reason it stands apart from other VLF detectors. Even detectors like the Anfibio Multi, that use different frequencies, are not true multi-frequency metal detectors. The Equinox 800 has several advantages over the Equinox 600, and other detectors on this list, because it can use multiple frequency simultaneously, and use 5 different single frequencies.
Minelab's Multi-IQ technology has set this detector apart from the rest. The Equinox 800 is lightweight, waterproof up to 10 feet, features wireless headphones, has 4 preset search modes, 8 customizable search modes, clear display, and updatable software. This makes this machine a great purchase. 
Multi-IQ has more data points equaling more sophisticated processing. This leads to better ground noise rejection and more finds for metal detectorists! The number of settings on the Equinox 800 make this metal detector more suited to an intermediate or advanced detectorist.
The price is a little high on this model, but it does have a lot of features and Multi-IQ. So, if the price of the Equinox 800 is within your range, and you are looking for a true multiple frequency metal detector, you will not regret the Minelab Equinox 800! 
You Also Might Like: