50 Exciting Metal Detecting in Georgia Tips You'll Love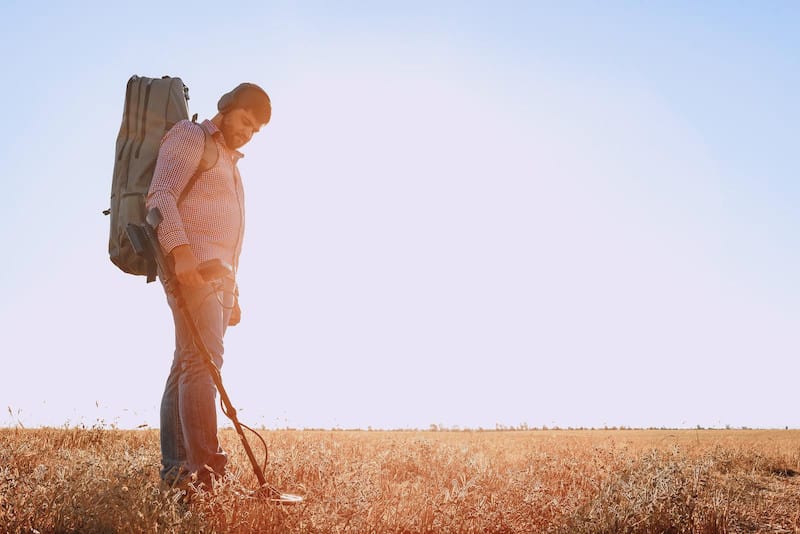 Georgia is one of the most populous US States and is steeped in rich history. Founded in 1732, Georgia had the largest number of plantations of any state in the south. The state also saw a gold rush in 1829, when prospectors from all over the country came to prospect gold in Georgia.
The landscape varies as it sweeps from the Appalachian Mountains in the north to the marshes of the Atlantic coast to the southeast to the Okefenokee Swamp to the south. With this varied terrain and rich history, there is much to discovery while metal detecting in Georgia.
50 Tips for Metal Detecting in Georgia
1) Georgia has a long and rich history, meaning there are artifacts from hundreds of years of Native American and European colonization.
2) Georgia has many rules and regulations for metal detectorists. Always ensure you are following the law to the letter to avoid fines.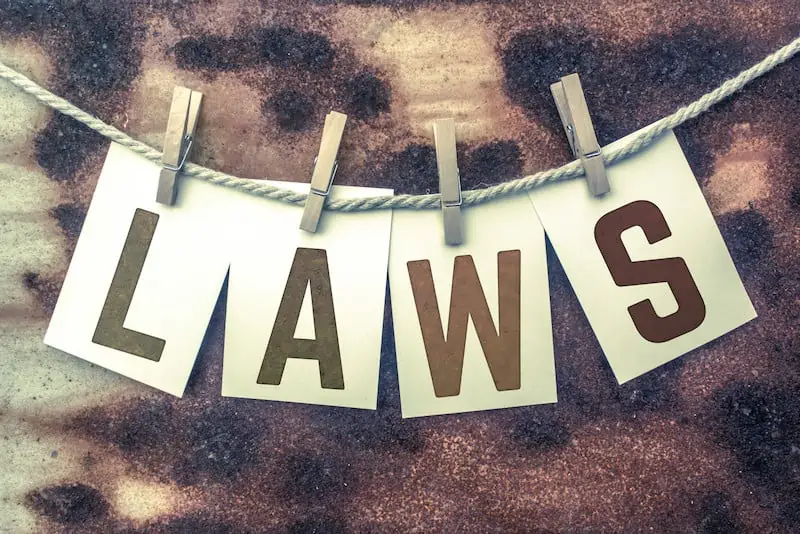 3) It is illegal to metal detect on any state lands.
4) Federal permits are necessary to metal detect on any federal lands in Georgia.
5) Metal detecting and artifact collecting can be done on private property with written permission from the landowner.
6) When detecting in waterways or on beaches, you must determine who the landowner is, whether private or government, and obtain the proper permissions prior to metal detecting.
7) Check with the Georgia Archaeological Site File to determine the locations of known archaeological sites.
8) Report archaeological finds to the property authorities. This can be done by contacting the University of Georgia Laboratory of Archaeology.
9) Professional archaeologists using metal detecting equipment are exempt from certain restriction if they have the proper permits and permissions.
10) If you need help identifying an artifact you have found while metal detecting, you can contact a university anthropology department, contact the Society for Georgia Archaeology, send a photograph to the Georgia Department of Natural Resources, or search a local library for similar objects.
11) Check with each town, city, or county to ensure you have the proper permits and permissions to metal detect.
12) Try metal detecting in city parks. Always ensure you check with the city, county, and individual park to obtain the proper permit and that you are following all rules and regulations.
13) No digging tools are allowed in city parks when metal detecting. This means you are relegated to whatever you find on the surface only.
14) Try detecting in National Forests in GA. Certain areas of the forest are off limits to detectorists, but there is still plenty of land to scan.
15) Consider joining a metal detecting club. These clubs are full of members with a wealth of knowledge to help you become a better detectorist and learn the laws and regulations.
16) Georgia soils contain clay, sand, silt, and loam. It is highly mineralized in many locations.
17) You will need the right kind of metal detector to compensate for soil mineralization. 
18) If you are metal detecting an area near the ocean, you will need a metal detector that is not only water resistant or waterproof, but also counteracts the effects of saltwater. Saltwater is highly conductive and can throw off a metal detector.
19) Don't abandon iffy signals. If your detector keeps hitting on a signal briefly, investigate it further. It could be a deep or small treasure!
20) At one time, Georgia was the biggest gold producing state in the country. Prospecting is a great way to utilize a metal detector in Georgia.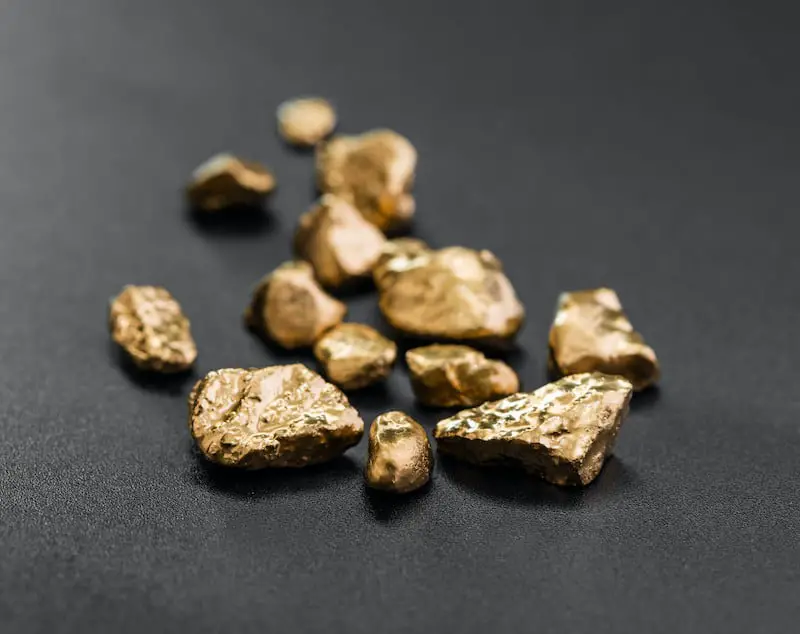 21) Try metal detecting in Lumpkin County near Dahlonega. This is where gold miners and treasure hunters have found gold nuggets.
22) The gold deposits in Georgia are vast and typically digging along rivers and creeks will yield some gold. 
23) Some rivers known to contain gold are Etowah, Little, Chattahoochee, Tallapoosa, Chestatee, and Nacoochee. As mentioned above, make sure you know who owns the waterway and seek proper permissions.
24) Gold nuggets are commonly found with metal detectors in Georgia since many old gold mines still contain gold.
25) Check tailings piles near gold mines. Sometimes bits of gold are left over as the old timers were looking for larger nuggets.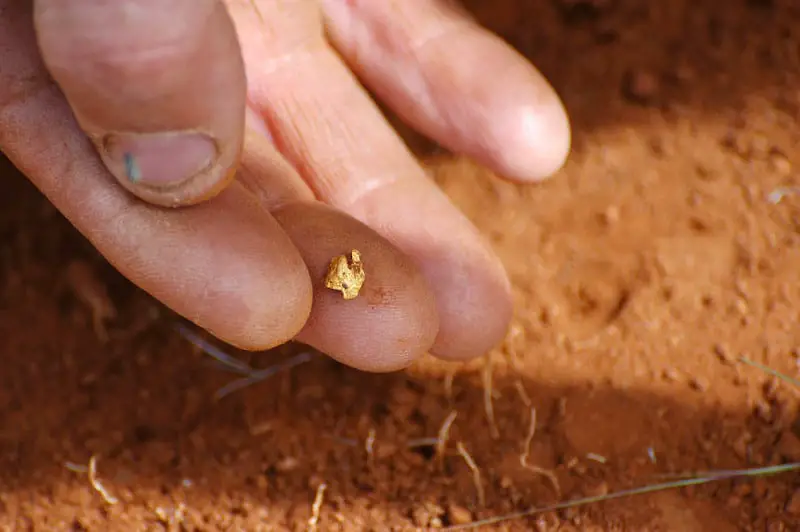 26) Georgia is a great place to find Native American artifacts. 
27) Georgia is also home to many early Spanish and English artifacts.
28) Civil War relics are commonly found while metal detecting in GA. 
29) Bullets are one of the most found items in Georgia.
30) There are many historic homes in Georgia. See if you can get permission from the landowners to metal detect on old home properties.
31) There are many stories of lost treasure in Georgia.
32) Stories state that the north forks of Mule Creek and Okapilco Creek are home to 2700 pounds of pure silver that French explorers buried during the late 1700s.
33) Near Kingland, legend states that Union troops buried $2 million in gold and silver coins in 1865.
34) According to an enduring myth, it's believed by some that Confederate President Jefferson Davis buried roughly millions in gold in Georgia.
35) During the Civil War, $100,000 in gold was supposedly buried 300 yards northeast of Nashville, Chattanooga, and St. Louis Railroad track in a hollow near a spring in the Cobb County area of the Chattahoochee River.
36) There are said to be millions of dollars in buried treasures in Savannah. The citizens are said to have buried their valuables before the arrival of Sherman's troops when the city fell into ruin.
37) Old coins are commonly found in Georgia. One pair of detectorists came upon a 1772 – 1789 Carlos III ½ real minted in Mexico for Spain.
38) Dig every target you find. 
39) Be prepared to find trash. All metal detectorists find more trash than treasure. But when you do find treasure, it is worth every soda can and pop tab.
40) Try detecting after rainfall. The freshly moistened soil seems to conduct better, and the freshly moved soil can yield new treasures.
41) Be sure to take plenty of water when metal detecting. Summer months are hot and muggy, so you will need to take extra water during this season.
42) Make sure you do plenty of research before metal detecting. There are lots of rules, laws, and regulation, and you need to learn about the history of the area you want to detect.
43) Be a respectful detectorist. Be courteous to those around you.
44) Pick up and pack out any trash found while detecting.
45) Remember to report any historical or archaeological finds.
46) If you are a new detectorist in Georgia, make sure you have a metal detector that matches your capabilities. You will do yourself no favors by buying a detector that is too advanced.
47) Bring your kids along for a day of fun in Georgia's beautiful landscapes!
48) Always be aware of your surroundings. 
49) Always plug all holes you have dug and leave the area as undisturbed as possible.
50) Most importantly, HAVE FUN!
Metal Detecting Laws in Georgia
There are many metal detecting laws that regulate or prohibit aspects of artifact collecting on Georgia state, federal, and private lands. Artifact collecting is not outlawed, but there are several restrictions. 
State Lands
In Georgia, it is illegal to metal detect, dig, or surface collect on state property, including Civil War sites. State property includes state parks, historic sites, wildlife management areas, recreation areas, forests, state highways, navigable river and streams, and the coastline, out to three miles. 
Federal Lands
It is generally illegal to metal detect, surface collect, or dig on any federal lands without a federal permit. Federal lands in Georgia include Army Corps of Engineers lakes, United States Forests, National Parks, National Wildlife Preserves, and military bases. The Archaeological Resources Protection Act and Native American Grave Protection and Repatriation Act deal with the protection of archaeological materials on federal lands.
Other Lands
It is legal to metal detect and surface collect non-burial related artifacts with landowner permissions on private property in Georgia. It is illegal, however, to metal detect and dig on archaeological sites on private land without written permission from the landowner and notification to the Georgia Department of Natural Resources prior to digging. 
You may not expose, remove, or disturb human burial sites, except when it is part of a legitimate archaeological excavation. If suspected human remains are encountered, they must immediately be protected from harm and reported to local law enforcement agencies.
Waterways and Shorelines
It is legal to metal detect and collect artifacts with permission from the landowner of privately-owned waterways. It is illegal, however, to remove artifacts from the bottom of state-owned waters. If the body of water you intend to metal detect is owned or managed by a local or federal agency, contact the agency directly to obtain their policy on metal detecting and artifact collecting. 
When metal detecting on beaches in Georgia, you must also obtain information about the landownership, as they may be privately owned, or the government agency that owns the land. You can find landowner information in Georgia by contacting the DNR Law Enforcement Region VII Office in Brunswick.
Archaeologists working in a professional capacity and in compliance with the National Historic Preservation Act are exempt from some restrictions but must have landowner permission and proper permits to work state or federal lands. The Georgia Archaeological Site File is a repository showing archaeological sites in Georgia. This is located on the campus of the University of Georgia in Athens. You can report archaeological finds and sites to them using an online form, by visiting the University, over the phone, or via email.
Metal Detecting in GA State Parks
According to the Georgia Department of Natural Resources, it is illegal to metal detect on any state property. State parks and historic site are strictly off limits to metal detectorists. During a 2015 county meeting, County Manager Jim Wheeless stated that many citizens had inquired about metal detecting at state parks. 
The Department of Natural Resources stated that the use of metal detectors was strictly prohibited and anyone using one on state lands would be subject to a ticket for the violation. The reason for this is the state does not want artifacts disturbed. The DNR websites states that wildlife, plant life, driftwood, artifacts and other natural or man-made features are fully protected and may not be disturbed or removed, and that possession of metal detecting equipment is prohibited.
Your best bet would be to find privately owned lands and contact the property owners to seek permission to metal detect. Georgia does have about 1.7 million acres of public land, but this is less than 5% of the state's total land area. Even on public lands, ensure you have the proper permits and permissions to metal detect.
Best Metal Detecting Places in Georgia
Let's first begin by discussing the topic of detecting in national forests.
National Forests
One of the best places to go detecting is national forests. Much of the land area of national forests in Georgia restricts the use of metal detectors, but there are public land areas where metal detectors can be used. In most national forests in Georgia the use of metal detectors in developed campgrounds, swimming beaches, and other developed recreation sites is allowed unless there are historical or archaeological resources in the area. 
Recent vintage coins or small objects (less than 50 years old) may be removed. Archaeological remains on public land are protected by federal law. If you come upon such resources, you must leave them undisturbed and notify a Forest Service office immediately. 
As a side note, the Forest Service recognizes the importance of allowing the public to be involved in historical and archeological finds. They offer a program called Passport in Time, which invites the public to work with the agency archaeologists on historic preservation. This is a great opportunity to put your metal detecting skills to work for the good of others!
If you would like to metal detect in the Chattahoochee-Oconee National Forest in Georgia, you can check out the Blue Ridge Ranger District, which includes Boggs Creek, Brasstown Bald, Deep Hole, and Toccoa River Sandy Bottoms; Chattooga River Ranger District, which includes Andrews Cove, Lake Russell, Low Gap, Oakey Mountain, and Wildcat Creek; Conasauga Ranger District, which includes Hickey Gap and Jacks River Fields; or Oconee Ranger District, which includes Lake Sinclair, Miller Lake, and Oconee River. 
City Parks
Again, you must ensure you have the proper permissions to metal detect at any city park. Each city and county will have its own regulations, while keeping in line with federal regulations to protect artifacts. Central City Park in Macon is a great place to metal detect. The Macon-Bibb Parks and Recreation department allows the use of metal detectors in developed parks that do not contain archaeological sites or are not designated natural Areas. Certain parks are completely off limits. 
A permit must be obtained prior to detecting, and it must be always kept on you. When detecting in parks, you cannot use the detector in ball fields or fenced locations that require a permit for access. One caveat to detecting in parks is no digging tools of any kind are allowed, so you are only going to be able to take surface finds. 
West Point Lake
Use of metal detectors at West Point Lake is relegated to those areas designated as "open." All other public property is classified as "closed." Be aware, however, that all identifiable items like rings, watches, wallets, archaeological or paleontological item must be returned to a Park Ranger at the Management Office. Digging tools are limited to hand tools. The following areas are designated "open" areas: Earl Cook Recreation Area ball field, playground, and beach, Hardley Creek Park ball field and playground, Anderson Park playground, R. Shaefer Heard Day Use Area ball field, Rocky Point Recreation Area ball field, playground and beach. 
Old Buildings and Grassy Areas
Check towns and cities for old buildings, meeting places, churches, and park areas. Ensure you have the proper permissions and permits necessary to metal detect in whichever city, town, or county you are detecting in. You can contact local authorities for more information. 
Metal Detecting Clubs in Georgia
As with all states, there are several metal detecting clubs in Georgia. Joining a metal detecting club can be a rewarding experience. You will get exposure to people who have been enjoying the hobby for many years and have a wealth of knowledge about metal detecting. They can give you tips and tricks to more successful recovery and hunting.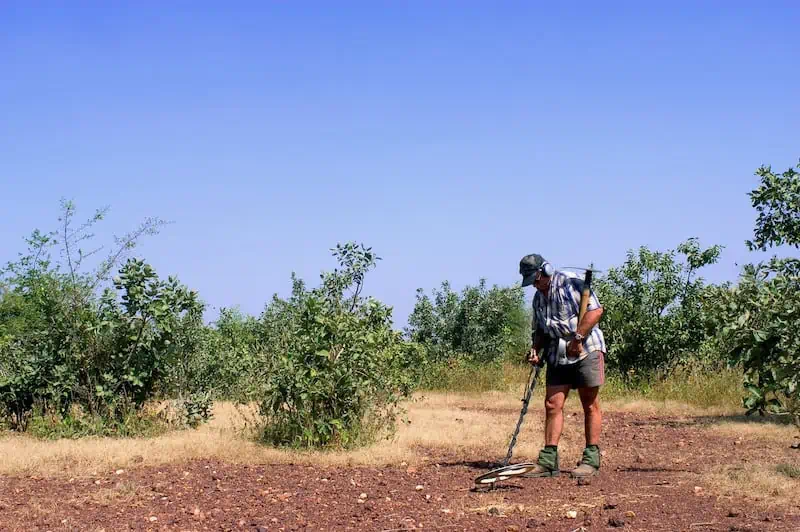 They can give you information about metal detectors, accessories, and possibly even locations to explore. They can also give you information about laws and regulations, as these can be confusing and hard to find.
Here are some metal detecting clubs in Georgia:
Dixie Relic Recovery Club in Ringgold
North Georgia Relic Hunter Association in Marietta
Georgia Research and Recovery Club in Marietta
Stone Mountain Treasure Hunters in Lawrenceville
Weekend Gold Miners Prospecting Club in Dahlonega
GPAA Augusta Chapter in Augusta
GPAA West Georgia Chapter in Buchannan
Georgia Relic Hunters in Jefferson
Georgia Gold Prospectors Association in Acworth
Coastal Empire History Hunters Association in Savannah
Georgia Treasure Seekers in Dallas
Georgia Historical Artifacts and Research in Hampton
NW Georgia Recovery Club in Lafayette
Even though there are many restrictions for metal detecting in the Peach State, there are multiple metal detecting clubs throughout the state. This shows that you still have plenty of opportunities for detecting in Georgia.
Happy Hunting!
FAQ
Q: Do I need a permit to metal detect in Georgia?
A: Most areas of the state require permits to metal detect, or it is banned outright. If you do not seek the proper permit or permission to metal detect, you will be fined.
Q: Why are there so many laws for detecting in GA?
A: Georgia has a long, rich history and because of this, there are many artifacts left behind by those who came before us. The state is concerned with the destruction of such artifacts, and the destruction of culturally or historically sensitive/important sites. Keeping metal detecting restricted is their way of protecting these sites. 
Q: What is the best metal detector for Georgia soil?
A: Because of the high clay content and high soil mineralization in Georgia, I would recommend a metal detector that has good discrimination and can filter out interference from these sources. Detectors like the Garrett ATX, Nokta Makro Simplex+, and Minelab Equinox 800 are great at filtering out interference in gold rich soils. 
If you enjoyed this article on metal detecting in Georgia, please "like" our Facebook page and be sure to revisit Discover Detecting for new content surrounding the metal detecting hobby!
You Might Also Want to Read: