Minelab Gold Monster 1000 review
In this article, we're going to review the Minelab Gold Monster 1000.  You'll learn what notable features this detector has that warrants its pricetag, as well as see how well it compares to other popular detectors in its class.
To better help you, we recommend taking a look at the guide below.  You'll be able to directly make comparisons between the Minelab Gold Monster 1000 and other popular metal detectors on today's market:
Meet the Gold Monster 1000
The Gold Monster 1000 is an easy to use, high performance VLF (Very Low Frequency) metal detector built to find small gold in rugged environment and difficult soil conditions. This detector features automatic noise cancelling, automatic ground balancing, and automatic sensitivity adjustments. It operates at an ultra-wide dynamic range 45 kHz and features a 24-bit signal processor. This is intended to boost sensitivity to gold beyond most single frequency metal detectors over a wider range of nugget sizes without excess noise and false signals. 
The Gold Monster 1000 features 2 detection modes: Gold (Iron Rejection) and Deep All-Metal. It also has a built-in Gold Chance Indicator and 6 adjustable volume levels. Along with automatic sensitivity, the machine also has manual sensitivity adjustments and auto + sensitivity. The Gold Monster 1000 has improved ferrous and non-ferrous discrimination, so it adjusts very well to conductive soils like salt water than some high frequency metal detectors. 
This detector features a monochrome LCD screen and waterproof 10" and 5" Double-D search coils. The control box is weatherproof, but not fully waterproof, so the detector should not be fully submerged in water. The Gold Monster 1000 weighs 2.94 pounds (without the battery, with the 10" search coil) and can be used with 1/8" headphones. While using the 5" search coil, users have reported finding gold weighing less than one grain (there are 480 grains in one Troy ounce).
The Gold Monster 1000 is geared toward beginning metal detectorists and is easy to use for anyone wanting to enter the gold prospecting side of metal detecting. Detectorists wishing to find more than gold may be dissatisfied with this detector as it is specifically geared to find gold and does not have a Target ID scale for identification of other metals. The discrimination indicator only shows ferrous or non-ferrous targets so users can quickly determine if a target is gold or not. 
Minelab offers a 2-year warranty on the Gold Monster 1000.
Minelab Gold Monster 1000 Battery
The Gold Monster 1000 can use a rechargeable lithium ion battery pack or 8 AA batteries. It comes standard with the rechargeable pack and AC charger. The rechargeable battery pack can be used for 8 to 12 hours continuously. Most people have no difficulty running on the battery pack all day during a hunt. Users also have the option to use the AA battery holder, which will deliver more run time in the event the detector was not fully charged, or if users wish to hunt longer than the battery pack lasts.
Minelab Gold Monster 1000 Depth
As with any metal detector, depth is dependent upon coil size, settings, and ground conditions. When using discrimination, or All-Metal mode, this detector has shown great results finding a sub-gram piece of led at 4 inches in iron rich coils. It can easily find a 5-gram nugget at 10" with the larger coil.
The detector bottoms out around 10" and was shown to miss a 3-gram gold nugget at 12" depth. The smaller coil will find smaller gold but will have reduced depth. This performance is very respectable for a metal detector in this classification and price range ($850). 
Gold Monster 1000 vs Fisher Gold Bug 2
Fisher's Gold Bug 2 has been in production for 25 years and is still a top selling metal detector for gold. This detector operates at a whopping 71 kHz, much higher than most gold detectors and higher than the Gold Monster 1000's 45 kHz. This higher frequency makes the Gold Bug 2 extremely sensitive to small gold. It has no problem finding a gold piece weighing less than 1/10th of a grain (there are 480 grains in one once, so that is 4800th of an ounce!). The Gold Bug 2 works well in difficult ground conditions and can easily filter out ferrous targets. 
The Gold Bug 2 comes with 3 search coil options: 6.5" elliptical, 10" elliptical, and a 14" elliptical. This detector only weighs 2.9 pounds, but the control box can be hip mounted, making it weigh only 1.9 pounds. As with the Gold Monster 1000, this detector is not waterproof, but the search coils are. The Gold Bug 2 does not have an LCD screen and is controlled by a series of knobs. It features 3 search modes: Iron Discrimination, Normal Mode (All-Metal), and Audio Boost. Audio Boost mode enhances faint signals so users will miss less targets.
Fisher offers a 5-year warranty on the Gold Bug 2. 
Gold Monster 1000 vs Equinox 800
Minelab's Equinox 800 is a different type of metal detector. Rather than the traditional single frequency, the Equinox 800 features Minelab's Multi-IQ technology. This is a multiple frequency metal detector which can operate with simultaneous multiple frequencies or 5 individual frequencies:
5 kHz – Good for large silver coins
10 kHz – Good for small Roman hammered coins
15 kHz – Great general treasure hunting mode
20 kHz – Great for general treasure hunting and gold prospecting
40 kHz – optimum sensitivity to small gold nuggets and fine gold jewelry
Being able to use a single frequency can help in areas with a lot of ground noise. Nearly all types of treasure can be found in multiple frequency mode making this an easy to use detector for all prospectors. The Equinox 800 has 4 detect modes: Park, Beach, Field, and Gold, and 8 custom search profiles. This model has automatic and manual noise cancelling along with automatic and manual ground balancing. It features 25 sensitivity adjustments, threshold volume, level, and pitch. 
This model has an LCD screen with numerical Target ID, 50 segment notch discrimination, tone break, tone pitch, tone volume, and 5 depth level indicators. The screen is also backlit. It comes with a rechargeable battery pack that can go for approximately 12 hours on a single charge. Software on the Equinox 800 is upgradeable with a computer. It is lightweight, at just 2.96 pounds, comes with an 11" Double-D Smart search coil and skid plate. It is fully submersible up to 10 feet and can be used with wireless headphones.
Minelab offers a 3-year warranty on the Equinox 800.
Minelab Gold Monster 1000 vs Garrett AT Gold
Garrett's AT Gold is great for beginning or intermediate prospectors. This is a variant of the Garrett's well-known AT line. It operates at 18 kHz, much lower than the Gold Bug 2 or Gold Monster 1000. Despite this, 18 kHz is the lower end of threshold for gold metal detectors so it will still be good at finding gold. One advantage to the AT Gold over the Gold Monster 1000 is it is fully waterproof up to 10 feet. It should be noted that this detector performs better in freshwater areas and has some difficulty in saltwater areas or transitions between wet and dry sand.
Ground balancing can be done automatically or manually. Fast Track automatic ground balancing is hugely helpful in areas with changing mineralization. This detector has 3 search modes: All Metal, Discriminate, and Customizable Notch. With All Metal mode, users will experience the greatest level of sensitivity and depth. With Discrimination mode, iron targets will be filtered out. With Customizable Notch mode, users can notch in or out specific metal types. The AT Gold is lightweight, at 2.8 pounds and operates on 8 AA batteries. It comes standard with an 8" Double-D search coil with 8 depth and sensitivity adjustments. Discrimination features 44 segments to allow users to truly customize their detecting experience.
Garrett offers a 2-year warranty on the AT Gold. 
Gold Monster 1000 vs Xterra 705
The Xterra 705 uses Minelab's patented VLEX technology. This technology allows users to change the detector's operating frequency by simply swapping the search coil. The 705 can operate with low, mid, and high frequency search coils. All Minelab's Xterra search coils work with this metal detector. The operating frequency is dependent upon the search coil and ranges from 3.75 kHz to 18.75 kHz. The standard package comes with a 9" concentric search coil that operates at 7.5 kHz.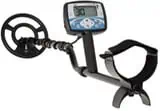 This metal detector is made for coins hooting, gold prospecting, beach hunting, jewelry hunting, and relic hunting. The lower frequencies are best for higher conductive metals like silver and coins while the higher frequency search coils will find gold and other lower conductive metals better. The 705 features automatic ground balancing and is great at eliminating ground interference so users can hear faint and small targets easier. Along with automatic ground balancing, the 705 features beach ground balancing, manual ground balancing, tracking ground balancing, and tracking offset ground balancing. Using the tracking ground balancing feature is great for prospecting because gold is often found in areas with high mineralization.
The 705 features 2 pinpoint modes: sizing and auto. Sizing pinpointing allows users to obtain the size and shape of targets before they dig them. It also has memory to save user's settings, even when the batteries are removed. The 705 features 5 depth indicators and 2 detect modes: Coin and Treasure & Prospecting. The factory discrimination patterns can all be personalized and the 705 features All Metal and Iron Mask. It has a 28-segment discrimination scale. Sensitivity, threshold, and volume are all adjustable. The 705 operates on 4 AA batteries and weighs 2.9 pounds.
Minelab offers a 3-year warranty on the Xterra 705.
Minelab Gold Monster 1000 vs Garrett AT Max
The AT Max is one detector in Garrett's AT line. This detector operates at 13.6 kHz, so it will detect some larger pieces of gold but will struggle to find fine gold or fine gold jewelry. The AT Max features 44 iron discrimination segments, All Metal mode, backlit LCD screen, adjustable notch discrimination and volume, 4 search modes, proportional and iron audio, adjustable threshold, and 8 adjustable sensitivity and depth levels. Ground balancing can be done automatically or manually, and the detector features a pinpoint mode.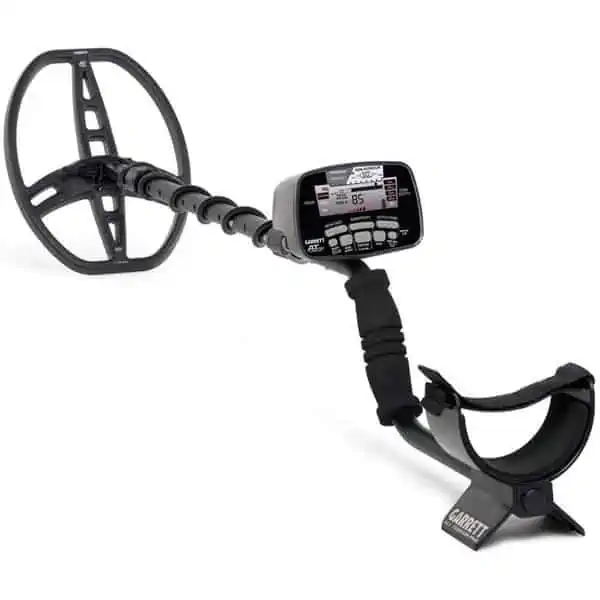 One benefit of the AT Max is it is fully submersible up to 10 feet. Although this is a VLF metal detector and they are notorious for struggling in saltwater areas, the AT Max has many adjustments and settings to allow it to search in saltwater areas and wet sandy areas. This model features Garrett's Z-Lynk wireless technology for use with Garrett's MS-3 wireless headphones. This technology is much faster than traditional Bluetooth technology so signals will alert directly on top of a target, which as been notoriously difficult when using wireless headphones in the past. 
The AT Max weighs 3.03 pounds and uses 4 AA batteries. Garrett offers a 2-year warranty on the AT Max.
Price Comparison
Minelab Gold Monster 1000 – $850
Fisher Gold Bug 2 – $900
Minelab Equinox 800 – $900
Garrett AT Gold – $750
Minelab Xterra 705 – $500
Garrett AT Max – $850
Conclusion
The Minelab Gold Monster 1000 is a fantastic prospecting metal detector that will help turn beginning prospectors into experts with its fully automatic operation. Users have a choice of search coil, battery options, and shaft configurations. The Gold Monster 1000 has particularly good depth with the largest coil. The operating frequency of 45 kHz is a great middle of the road gold detecting frequency that will give users the best chance at finding gold and maintaining a good balance. The Gold Chance Indicator goes from low to high and aids in spotting gold nuggets. 
Fisher's Gold Bug 2 has consistently been one of my favorite gold prospecting metal detectors due to the high operating frequency of 71 kHz. This makes the Gold Bug 2 able to find even the smallest gold nuggets, flakes, or fine jewelry. As with the Gold Monster 1000, the Gold Bug 2 has options for search coils, each designed to give users the detection depth and sensitivity they need. Neither the Gold Monster 1000 nor the Gold Bug 2 are fully waterproof, so caution should be exercised when detecting in washes containing flood waters or near rivers and streams. 
Minelab's Equinox 800 is another fantastic metal detector for gold or any other type of treasure. One of my favorite features on this detector is the Multi-IQ technology. There are not a whole lot of true multiple frequency metal detectors on the market. The Equinox 800 also has the advantage of being able to operate on 5 separate single frequencies. This makes the machine adjustable to changing soil conditions or difficult soil conditions. Another unique feature of this machine is the upgradable software. I have seen only a handful of metal detectors out there with upgradeable software. It also has wireless technology so it can be used with wireless headphones.
Garrett's AT Gold comes from a respectable line of AT detectors, but is specifically tailored to find gold. This detector operates at a lower frequency than the Gold Monster 1000, at 18 kHz. This is really the lowest end of frequencies for finding gold. All metal detectors will find larger gold, but the higher frequencies will find smaller gold and fine gold jewelry easier. One advantage of the AT Gold is it is fully waterproof up to 10 feet. This makes it great for prospecting in rivers and streams without fear of water damage.
Minelab's Xterra 705 does not have a set operating frequency. The frequency is dependent upon the search coil chosen and has a range of frequencies from 3.75 kHz to 18.75 kHz. The higher frequency search coil will do the best at finding gold. Automatic tracking ground balancing is helpful in the mineralized soil conditions typically associated with gold bearing areas. It also has a range of adjustments to allow users to customize their search settings.
Garrett's AT Max also comes from the Garrett AT line. This detector operates at 13.6 kHz, so this detector will not find small gold like the Gold Monster 1000 or Gold Bug 2. Gold is a lower conductive metal than silver or copper, so it requires a higher frequency to efficiently find it. The AT Max features wireless technology for use with wireless headphones. This is something the Gold Monster 1000 lacks. The AT Max, however, has shown its effectiveness in saltwater areas, which is something single frequency metal detectors often suffer at. 
Minelab also offers a wide range of accessories for use with the Gold Monster 1000, including a gold panning kit, pinpointer, harness, AA battery carrier, and replacement lithium ion battery pack. For gold prospecting near water, the panning kit would come in very handy. This kit features 2 different sized gold pans, a classifier, gold transfer pipette, vacuum suction bottle, iron separator magnet, micro gold storage vials, a double loupe magnifier, and a carrying case. 
The Pro-Swing 45 harness aids in distributing the detector's weight evenly across the user's body, which eliminates arm fatigue from swinging the detector with the full weight. The harness works for left or right-handed users and features 8 adjustment points so you can carry the full detecting kit with you. It fits other Minelab detectors, too, thanks to the universal S-cuff. The detector will come with the AA battery carrier and rechargeable pack, but replacements can be purchased, too.
I always recommend a handheld pinpointer when metal detecting. One of these little units can save detectorists from digging unnecessarily and more accurately show the location of a target. 
I would recommend the Minelab Pro-Find 35 pinpointer for use with the Gold Monster 1000. This pinpointer has adjustable sensitivity, 2 mode operation, water resistant construction, and Detector Interference Free technology. Detector Interference Free technology is great because the frequency of the pinpointer will be less likely to interfere with the metal detector.
The Pro-Find 35 also features a lost alarm that will sound periodically during periods of inactivity. This is helpful if users have left the pinpointer turned on, but on the ground somewhere. This pinpointer is Waterproof up to 10 feet, is high visibility, features ferrous tone ID, and has audio and vibratory indication. It even has a built-in LED flashlight for use in low light or under water situations. It operates on one 9-volt battery which will give users around 30 hours of use and is very lightweight at just 6.82 ounces. The Pro-Find 35 costs $129.
Each of these metal detectors would be a great option. For those specifically seeking gold, I would highly recommend the Minelab Gold Monster 1000 or the Fisher Gold Bug 2. These are 2 of my favorite metal detectors for prospecting. Each operates at a higher frequency than most VLF metal detectors. This makes them more sensitive to finer gold pieces and jewelry. The Equinox is also a good metal detector for gold because of the multiple frequencies and ability to use single frequencies.
It is important to remember that buying a gold prospecting metal detector does not guarantee you will find gold. You must know your search area and whether it has historically produced gold. Much of the gold left out there is small and found in highly mineralized soils. It is also important to note that prospectors should research local laws pertaining to metal detecting and prospecting. You must ensure that you are not only a courteous metal detectorist, but that you follow all laws pertaining to detecting and/or prospecting. 
Where I live in southwestern Idaho, much of the gold producing areas are claimed. Be sure you are not hunting on another prospector's claim! This is a great way to get yourself into some hot water. Claims must be clearly marked, so check nearby trees, posts, fences, and the like. If in doubt, stop by a claims office or ranger station to be sure. 
So, in conclusion, know your laws, know your gold producing areas, know your metal detector, and get out there and find that gold!
You Might Also Want to Read: