How to Go Metal Detecting in California Successfully
California has a rich history with a lot of amazing things you can find with your metal detector. Early Spanish explorers were in California as early as the 1500s looking for gold and other precious ore. In 1848, the discovery of gold at Sutter's Mill started the California Gold Rush and brought hundreds of thousands of people to the state hoping to strike it rich. 
Many of these early people left behind relics, coins, gold, and other metal items that are perfect for metal detectorists to find today. There are still areas with a lot of gold that older prospectors never got to, skipped over, or simply missed. You can look for old mining camps, old settlements, ghost towns, and parks to start your adventure. Continue reading below to find out the ins and outs of metal detecting in California. 
Let's begin by discussing the laws surrounding metal detecting in Cali.
Metal Detecting Laws in California
As with most states, California strictly follows the Archaeological Resource Protection Act of 1979. This act states that you could be charged with a felony if you disturb, alter, damage, or remove archaeological sites and objects that are over 100 years old on federal lands. You can, however, metal detect in national forests in California. This law does not apply to private lands, although permission from the landowner is required. On private lands, detectorists may remove any object of any age or origin (again, with permission from the landowner).
Using a metal detector to find gold and silver deposits on National Forest lands is considered prospecting and therefore subject to the General Mining Law of 1872. Permits are not required for prospecting; however, a Plan of Operations is required if prospecting methods will involve ground disturbing activities like digging holes or moving rocks. You also need to ensure you are not on someone else's active mining claim. Claim jumping is a serious offense. Prospectors should check mining claim records at the Bureau of Land Management Offices or contact the Minerals Officers. 
The search for buried treasure, also called Treasure Trove, is any search with a metal detector that turns up intentionally buried money, gems, precious metals, coins, plate, or bullion. These searches are seen as damaging to natural and cultural resources, and thus, require a special-use permit from the Forest Service. Each permit request is evaluated before the permit is granted and can be denied for any reason the Forest Service sees fit. 
Using metal detectors to find objects of historical or archaeological value is permitted in accordance with the Archaeological Resource Protection Act and the Secretary of Agriculture's Regulations. This activity requires a special-use permit issued for legitimate research conducted by qualified professional archaeologists only. Unauthorized use of metal detectors to find and collect historical artifacts is a federal violation. 
Searching for recent coins and metal objects having no significant historical value, such as traditional recreational metal detecting, does not require a single use permit in California's national forests so long as the equipment is confined to areas that do not possess historic or prehistoric resources.
Gold panning on an active mining claim is strictly forbidden, but technically, metal detecting is not. However, metal detectorists must restrict themselves to only surface level loot. Digging on an active mining claim is forbidden. There are over 20,000 active mining claims in the state of California. You can contact the Bureau of Land Management's California Department if you are uncertain about a location you wish to detect. I typically avoid areas that are claimed. It is difficult to leave behind a good target, and I am not about to get in trouble for claim jumping by digging!
As it is in all states, the use of metal detectors in national parks or national monuments is forbidden. State parks are less strict, however. 
Metal Detecting in California State Parks
Per California regulations regarding metal detectors, disturbance of any plant, animal, geological feature, or archaeological feature is strictly prohibited. The act of passing a metal detector over the ground in a state park is not against the law, but the digging of an object may be if it disturbs any of the features. 
Permits may be obtained to dig in California state parks, but at the department's discretion. You will need to contact personnel for the various state parks within California to find out the rules and regulations, as these vary by location. 
Metal Detecting on California Beaches
When I think of California, the first thing that comes to mind is mile after mile of beautiful sandy beaches. Because beaches are so heavily visited, there is a higher chance of you finding something left behind with your metal detector. 
People often lose coins and jewelry on the beaches. If you have a fully waterproof metal detector, or at least a waterproof search coil, you can safely search the shallow waters as they lap at the sandy beaches. Some of the best beaches in the state to metal detect are:
Coronado Beach
Hermosa Beach
Huntington State Beach
La Jolla Shores
Laguna Beach
Manhattan Beach
Newport Beach
Redondo Beach
Santa Monica State Beach
Treasure Island Beach; and
Venice Beach
Beaches under the management of the State of California allow metal detecting. Southern California beaches see a lot of traffic day after day, so they are always great options for metal detectorists. Orange County beaches are also quite popular. 
I found an article from Redondo Beach, California from 2010. It details 2 men who had hunted the South Bay Beach areas for a couple of decades. These men had amassed approximately $250,000 in their 20 years of searching! You likely will not find this much all in one day, but if 20 year of a hobby could rack up that much money, I will see you down at the beach!
The best time to search the beaches is after a holiday weekend. Many people travel to beaches to recreate over long weekends and for holidays. The more people visit an area, the higher chance of you finding something they have dropped with your metal detector. Comb the beaches after Memorial Day or the 4th of July and see what you can find! 
Metal Detecting for Gold in California
When many of us think of metal detecting in California, one thing comes to mind: The Gold Rush of 1848. By the time the Rush ended in 1855, over 300,000 people had relocated to the Golden State. 
Prospectors and treasure hunters alike still roam all over California looking for gold and other precious treasure. 
California's Buried Treasure
In 2014, a couple was walking their dog and dug up 1400 Gold Rush era coins. The coins were buried in several metal cans and were valued at an astounding $10 million! This discovery inspired treasure hunters across the state to take out their metal detectors to find some of California's lost loot. There are many stories of buried treasure throughout the state.
The Oak Grove Treasure
California was part of the Wild West, and as such, outlaws were infamously active within the state in the 19th century. Many Wild West criminals would bury stolen look to hide their crimes in hopes of returning later to reclaim their spoils. They were often killed or arrested before this could happen. This allegedly happened to a gang of outlaws who held up a Wells Fargo wagon in 1853. The wagon was carrying $30,000 worth of gold, all of which was stolen. 
It is thought that the outlaws buried the gold in an oak grove, whose exact location is unknown. Oral histories state that the oak grove is located about 3 miles east of Rincon Stage Station. 
Myrtletown Treasure
During the late 1800s, a stagecoach was traveling through Myrtletown in Humboldt county. Legend states that the coach was carrying $125,000 in gold bullion. It was ambushed by a gang of outlaws who looted the entire cache. 
The outlaws are said to have buried the gold in the town. Because they failed to distance themselves from the robbery by burying the gold in the same town they stole it from, they were likely caught by the law before they could reclaim their haul.
Mountaineer Roadhouse Treasure
Mountaineer Roadhouse lies 35 miles north of Sacramento, on Folsom Road. The Mountaineer Roadhouse was a popular gang hideout in the 1800s. Many used this hideout after robberies and heists. It is thought that many of the outlaws who laid low in this area buried their stolen goods nearby. 
Metal Detecting in California Ghost Towns
There are hundreds of ghost towns in California. Many were old mining towns that were abandoned after the Gold Rush was over. Other towns were centers of trade and culture, but later destroyed by earthquakes or flooding. 
The remains of these towns are hot spots for urban explorers and metal detectorists alike. Many ghost towns in California are private property or in state parks. Always ensure you have the proper permissions and permits to metal detect in these areas. 
Allensworth
Allensworth was founded by Lieutenant Colonel Allen Allensworth in 1908. Allensworth was the first African American settlement in the western United States. The town attracted African Americans from all over the country, and in 1910, established California's first African American School. Lt. Colonel Allensworth passed away in 1914, having a devastating effect on his beloved town. 
Without the Colonel to guide them, many became disenchanted. Some left to fight in World War I, others perished due to extreme drought conditions in the area. The remains of Allensworth were turned into a state park in 1974. Today, history buffs, urban explorers, and metal detectorists alike flock to the park to see the remains of the town. Many even claim to have seen the spirits of young children playing in the streets. 
Ballarat
Ballarat is in Inyo County and was never meant to be a long-term settlement. It was founded in 1897 and had few amenities. Its earliest settlers had to have water imported from other towns in California. Ballarat was briefly a prosperous mining town. By the turn of the century, Ballarat was home to 500 residents, 3 hotels, 7 saloons, a school, and a jail. The demise of this town began when the mine closed in 1903. By 1920, the town was virtually abandoned.
Charles Manson and his infamous Manson Family moved into a ranch in Ballarat in the 1960s. Mining shacks today are covered in graffiti thanks to the Manson Family. Many treasure hunters have reported finding suspected Manson relics in the town.
North Bloomfield
North Bloomfield is an almost perfectly preserved ghost town. The town was founded shortly after the discovery of gold on the San Juan Ridge in 1851. Hundreds of prospectors headed to the town in hopes of gaining fortunes. Most were initially unsuccessfully, and the town was affectionately called "Humbug." The introduction of hydraulic mining improved conditions for the town as gold could now be extracted rapidly. The population bloomed and in honor of Humbug's new prosperity, it was renamed North Bloomfield.
The town was home to several saloons, breweries, churches and schools. In 1884, there was a ban placed on hydraulic mining which had a devastating effect on North Bloomfield. Prospectors and business owners fled the town in droves and by the turn of the century, it was just another ghost town. The remains of North Bloomfield today are within the Malakoff Diggins State Historic Park. Many buildings have been restored entirely to their historic state, while others have been entirely reconstructed. 
Metal Detecting Clubs in California
As with most states, California has many metal detecting clubs. There are a lot of good reasons to join a metal detecting club. They can give you tips and advice, help you identify your finds, help you fine-tune your metal detector, and give you new ideas for places to detect. Most have websites where you can check out the club and see if it is a good fit for you. Some metal detecting clubs in California are:
Kern County Prospectors club in Bakersfield
Yuba-Sutter Treasure Seekers in Marysville
Ventura County Gold Coast Treasure Hunters in Simi Valley
Mother Load Treasure Hunters in San Andreas
Treasure Hunters Society of Canta Clara Valley
Best Places to Metal Detect in California
While California certainly has no shortage of great places to metal detect, here are a few of the best place to detect in the state:
1) American River (State Property) – Located just northeast of Auburn, winds through the Auburn State Recreation Area.
2) Bagby Recreation Area (County Property) – Located between Coulterville and Mariposa at the junction of the Merced River.
3) Big Flat (Trinity National Forest) – You can reach Big Flat Fee Permit Area if you follow highway 299 west for 22 miles. Camping is allowed here, too.
4) Butte Creek (BLM Land) – This is a great place to metal detect, but you must first get a permit from the Bureau of Land Management office in the Redding District. 
5) Tahoe National Forest – Many rivers and valleys in this forest offer great opportunities for prospectors and metal detectorists alike. Check our Ramshorn, Convict Flat, Union Flat, or Wild Plum.
Best Metal Detectors to Use in California
California is home to a remarkably diverse terrain, and as such, is home to various types of soil. Soil development in California is the result of volcanic ash, plant residue, and weather rock. There are 3 main types of soils in California:
Clay Soils – Found in the urban areas of California
Sandy Soils – Found in and around the mountain foothills, along rivers and streams, and in certain coastal portions of the state.
Loam Soils – Found in the flat areas and valleys, including flood plains. Loam is a mixture of clay and sand. 
To accommodate the changing soil conditions in the state, I would recommend a metal detector that is built for all soil types. You can also purchase metal detectors specifically for gold if you plan to prospect in California. These detectors will be more sensitive to small pieces of gold and will help filter out the negative effects of highly mineralized soil, black sands, and hot rocks typical of gold fields. 
All-Purpose Metal Detectors
Let's begin with the Garrett AT Pro.
The Garrett AT Pro is a fantastic all-purpose, all-terrain metal detector. It is fully waterproof up to 10 feet, so it is perfect for detecting in and near California's many waters. This model operates at 15 kHz, so it will be incredibly good for finding all metals. Keep in mind, to find small bits of gold you will want a more sensitive metal detector. 
The AT Pro has adjustable discrimination, adjustable sensitivity, 6 search modes, and automatic ground balancing. It comes with an 8.5" by 11" Double-D search coil. The AT Pro has an easy-to-read LCD screen with digital target ID. It also features pinpoint mode to narrow your search area better. This model weighs just over 3 pounds.
The Equinox 800 is a multiple frequency multiple function metal detector. This model features Minelab's patented Multi-IQ and 5Fx8 technologies. This means it can operate in multiple frequency mode, where it searched across a broad spectrum of frequencies simultaneously, or it can be used in several different single frequency modes:
5KHz – Very good for large silver coins
10kHz – Very good for small Roman hammered coins
15 kHz – Good for general treasure detection
20 kHz – Ideal for general treasure detection and gold prospecting
40 kHz – Optimum sensitivity for exceedingly small gold nuggets
The Equinox 800 features a backlit LCD screen and comes with a rechargeable battery pack. This model has Bluetooth and low latency headphones, automatic and manual ground balancing, automatic and manual noise cancelling, adjustable sensitivity, adjustable volume, adjustable threshold, and adjustable threshold pitches. It comes with an 11" waterproof Double-D search coil with skid plate, so it can be used in rocky terrain without fear of damaging the search coil. This model weighs just under 3 pounds and has upgradeable software.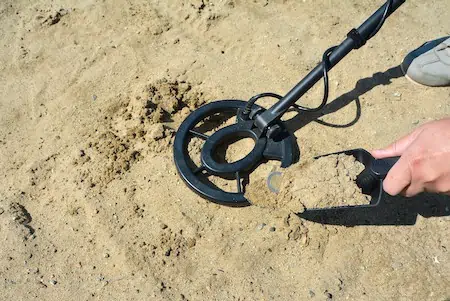 Fisher's F75 is a great all-around metal detector for coin shooting, beach hunting, gold prospecting, and relic hunting. This model has Digital Shielding Technology for electromagnetic interference suppression, fast processing for improved target separation, 3 levels of FeTone, adjustable audio pitch, adjustable discrimination, and magnetic mineralization bar graph. It features manual and automatic ground balancing.
The Fisher F75 operates at 13 kHz and weighs 3.5 pounds. It comes standard with an 11" waterproof Double-D search coil. The metal detector control box is not fully waterproof, so it should not be submerged in water. You can purchase a rain cover for use in inclement weather to protect the control box. The LCD screen features numerical target ID and trigger actuated target pinpointing. This model is easy to use and is perfect for beginners or more advanced detectorists.
Beach Metal Detectors
When you go detecting in California, you gotta go to a beach. So, here are some of the notable beach detectors to keep on your radar.
Garrett's ATX is one of my all-time favorite metal detectors, and one I recommend quite a bit. This is a pulse induction metal detector that emits 730 pulses per second. PI technology is inherently immune to the effects of saltwater, which is highly conductive and can disrupt the normal operation of other metal detectors. The ATX is ruggedly built and allows for maximum sensitivity on all target types. This detector is great for beach hunting but is equally good at finding small pieces of gold, so it could be used as a prospecting metal detector, too, or an all-purpose metal detector. 
The ATX features Fast Track technology, which allows you to quickly and easily ground balance the machine to compensate for poor soil conditions or electromagnetic interference. It has adjustable audio threshold and sensitivity. This model does not have an LCD screen but controlling the detector is simple. This model is completely submersible up to 10 feet, so it is great for shallow diving or surf hunting. There are a few search coil options when purchasing this detector, so it is detectorists choice. PI metal detectors are typically heavier than other machines, and the ATX is no exception coming in at nearly 7 pounds.
Nokta Makro Anfibio Multi
The Nokta Makro Anfibio Multi is a great metal detector for beach hunting. This is a multiple frequency metal detector operating at 5, 14, and 20 kHz. This detector has a whopping 9 search modes: GEN (all metal), 2 Tone, 3 Tone, 4 Tone, 5 Tone, 99 Tone, Beach, Deep, and Cache. This makes this another great all-purpose metal detector, but it is a great beach detector, too! The Anfibio Multi is waterproof up to 16.4 feet, so it is perfect for surf hunting or shallow diving. 
The Anfibio Multi features 5 audio tones, tone volume, tone break, notch filter, notch volume, pinpoint mode, frequency shift, and one of my favorite features, vibrate upon detection. Ground balancing can be done manually, automatically, or tracking. It features a large LCD screen with numerical target ID, backlight, and backlit keypad. This is a lightweight model, at 3.7 pounds, and operates on a rechargeable battery pack. It comes standard with an 11" Double-D search coil. 
Gold Metal Detectors
For those interested in finding gold, which has a rich history California, here are some of the most notable ones on the market.
The Fisher Gold Bug 2 is my favorite gold-specific metal detector. This model operates at a whopping 71 kHz, meaning it is sensitive enough to find even the smallest gold nugget, flakes, or dust. The Gold Bug 2 was first released in 1995 and is still going strong almost 30 years later. That track record speaks for itself! There are 3 search coil options with this detector: a 6.5" elliptical, a 10" elliptical, and a 14" elliptical. When paired with the 6.5" elliptical search coil, the Gold Bug 2 can find a gold nugget weighing less than 1/10th of a gain (there are 480 grains in one ounce, so that is less than 4800th of an ounce).
The Gold Bug 2 works very well in difficult soil conditions, which most gold fields are known for. It features good discrimination and has little trouble filtering out trash targets and compensating for hot rocks, black sands, and soil minerals. The control box can be removed, and hip mounted to make swinging the detector less fatiguing. Even with the control box mounted to the stem, the Gold Bug 2 only weighs 2.9 pounds. The control box is dust and moisture resistant, but not fully waterproof. This model has 3 search modes: Iron Discrimination, Normal Mode (all metal), and Audio Boost (for faint targets).
The Garrett AT Gold is a great option for beginner or intermediate prospectors. This detector operates at 18 kHz, which is high enough to find gold, but nowhere near as high as the Fisher Gold Bug 2. The AT Gold is fully waterproof up to 10 feet, so it can easily be used to find gold in streams and creeks. It has an easy-to-read LCD screen with digital target ID, graphic target analysis, adjustable discrimination, adjustable sensitivity, and Iron Audio. 
It has automatic and manual ground balancing and 3 search modes: All Metal, Discriminate, and Customizable Notch. The AT Gold is lightweight at just 2.8 pounds and comes with an 8" Double-D search coil. 
Minelab SDC 2300
Minelab's SDC 2300 is a fantastic option for gold prospectors. It features MPF, of Multi Period Fast technology which incorporates extremely fast pulse induction giving clear and sharp detection of even exceedingly small gold. The SDC 2300 is fully waterproof up to 10 feet. It features 2 detect modes: Normal and Salt. It has manual and automatic noise cancelling, automatic ground balancing, adjustable threshold, adjustable audio pitch, and operates on a rechargeable battery pack. 
While the SDC 2300 does not have an LCD screen, it does feature a 9 LED indicator system for detection, battery status, and threshold level. It is slightly heavier than some detectors, at just over 5 pounds. This model comes standard with an 8" round monoloop search coil. It is also a ruggedly built metal detector that was designed and tested to military standards and is foldable for compact carrying. Overall, the SDC 2300 is one of the best for metal detecting in California. 
Conclusion
California is a beautiful state with many attractions. There are so many great places to metal detect throughout the state. Always make sure you check with local authorities to ensure you are not breaking any laws. When gold prospecting, ensure you are not on someone else's claim. There is plenty of gold left to find in California, so get your detector and get scanning! Try your hand at beach metal detecting for newer finds like coins and jewelry. Check abandoned ghost towns and buildings for relics from the Gold Rush Days. Above all else, have fun!
FAQ
Q: Can I metal detect on federal lands in California?
A: There are thousands of acres of federal lands in California, managed by the Bureau of Land Management and the United States Forest Service. These lands are managed by the government but are considered public lands. Most public lands allow metal detecting. There are some exceptions such as historical sites. And it is always recommended to call the local land manager and get clarification on any area you search. Make sure you know the laws for metal detecting relics and coins, as the age of the finds dictates whether you can take them.
Q: How do I get permission to hunt on private property?
A: Contact the landowner. This information can typically be obtained via property tax records, which are public information, or property deeds using the Registry of Deeds. When in doubt about a property, head to your local city offices and see if you can get some information. Some landowners will tell you no, but you never know if you do not ask. 
Q: How can I find gold with my metal detector in California?
A: The rule with gold is to search where it has already been found. The best and most expensive gold metal detector in the world cannot find gold where it does not exist. When prospecting in California, check in hydraulic pits, smaller drainages that feed well-known gold rivers, higher country, search tailings piles left behind by older mining operations, and if all else, fails, try your hand with the Fisher Gold Bug 2. 
This detector is so sensitive to gold it can find nuggets even in highly detected areas, and where other detectors fail to alert to gold. If you get discouraged, just remember, a few years ago a metal detectorist found a 6-pound gold nugget in Butte County, California. Gold is still out there, so get out there and search!
If you enjoyed this article, please "like" our Facebook page and be sure to revisit Discover Detecting for new content surrounding the metal detecting hobby!
You Might Also Want to Read: