White's Surfmaster DF review
When you look for a good detector to use while diving in the water, you need to be prepared to pay a lot more than you would for a metal detector you would use on land. Your underwater detector might need different features than your land detectors may. If you've used a VLF detector in the past, you'll be looking at using a pulse induction metal detector for underwater metal detecting.
If your idea of a good time is putting on your scuba gear and diving deep in your search for treasure, White's Surfmaster DF might be just the detector you've been seeking.
The Surfmaster is an amazing metal detector, but if you plan to buy it you may want to make sure you use it frequently to justify the cost. You'll shell out more than $800 for this detector, which is a major investment for most people.
Below, please take the time to compare the White's Surfmaster to other notable metal detectors currently on the market.
Can a Beginner Use the Surfmaster?
The Surfmaster is for serious detectorists –- this is a machine for people who intend to hunt in water, potentially for smaller targets, and who want to go far, far deeper than an average detectorist will want to go. Whether you are a professional treasure hunter or simply a hardcore enthusiast, you may want to consider adding the Surfmaster to your arsenal of tools.
But dedicated beginners will be able to figure out how to operate the Surfmaster easily. The real question is if the machine is more than you need. If you aren't planning to do much hunting in the water, there are better units for you.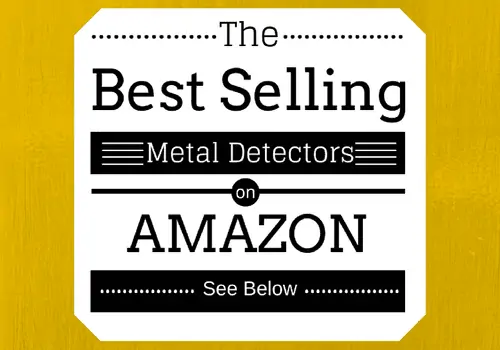 And before we move forward in our review, please take a brief moment to view some of the best-selling metal detectors on Amazon, and then see how well they compare to the White's Surfmaster:
Features of the Surfmaster
The Surfmaster is a champ when it comes to performance. Here's what it offers:
Waterproof: Many metal detectors offer a waterproof coil, but the Surfmaster takes it further – the whole unit is waterproof, up to a depth of 100 feet. Think about that for a moment — you'll need scuba gear to take it to its full depth capacity. For many detectorists, that might be a feature they'll never use. But you never know when you might relocate for work purposes to a coast where that feature will come in handy and point you in a whole different direction when it comes to treasure hunting.
Great gold sensitivity: This unit is a gold seeker, which is great if your ultimate dream is to find sunken treasure. And, really, that describes most of us out there. Who hasn't dreamed of uncovering pirate's gold or a long-sunken chest of treasure that hasn't seen the light of day from its watery depths in centuries? While you normally might find the occasional coin someone dropped in the park, with this detector you could make a historically significant find.
Adjustable pulse delay: This feature cuts back on noise from things like junk and black sand, which helps make it easier for you to find the real hits you want to hear from your metal detector.
Near neutral buoyancy: With near neutral buoyancy of its coil, when you're underwater the detector won't sink or float away from you. It will make it easy for you to lug it along.
Big search coil: The Surfmaster has a 12-inch dual-field coil that covers a lot of ground.
Pulse induction technology: Pulse induction detectors like this one, compared to VLF detectors, can find targets at really deep depths, even in mineralized conditions or salt water.
If you decide to purchase the Surfmaster, however, you need to be aware that to fully use this machine to its limits, you'll need to be in good shape physically. Not only does it have the potential to be used on deep dives, but since it finds targets deep, you'll need to be able to dig. If digging a hole bigger than one foot is more work than you want to get into, you'll want to consider a VLF detector that won't find targets that deep.
Keep in mind that digging underwater is even more physically demanding than dry land hunting is.
One drawback of this machine is that there is no discrimination, so it's going to be a real pain to use in trashy areas. You won't want to use this unit on dry land, or potentially even dry sand because of the junky hits you'll get.
White's Surfmaster vs White's BeachHunter 300
You won't be able to go as far underwater with the BeachHunter 300 as you can with the Surfmaster. With the BeachHunter, you can only go 25 feet underwater, compared to the Surfmaster's 100 feet.
Despite the difference in how far you can submerge it, the BeachHunter is about $100 more expensive than the Surfmaster.
What makes it worth the extra money? It has three controls – threshold, sensitivity and ground. Plus, you can hunt in both salt water and fresh water with this unit. It has a detachable control box, and also offers two search modes. The search modes are pinpointing and wide search.
The two machines share some features too – they both have 12-inch coils and near-neutral buoyancy.
Both the BeachHunter and Surfmaster are great detectors and are good for any level of detectorist, even beginners if they are truly committed to putting the time in to make it worth spending that kind of money.
But where the BeachHunter really shines and the Surfmaster doesn't is on dry sand. You can comb beaches with this unit, and you won't have to stick to wet sand. Plus, the ability to discriminate on the BeachHunter will help you avoid all the junky signals you'll get with the Surfmaster.
If you plan to hunt in deep, deep water, you'll want to go with the Surfmaster, but if a more moderate depth, along with the ability to hunt in sand, is what you're looking for, you should choose the BeachHunter.
Surfmaster vs Tesoro Sand Shark
Tesoro is a metal detecting company dedicated to providing detectors that don't have all the bells and whistles so they can offer a lower price. While the Tesoro Sand Shark won't look as fancy as the Surfmaster, it is still a quality detector and it's more affordable at $600.
It has a smaller coil – a 10.5-inch coil compared to a 12-inch coil. It's also a pulse induction metal detector.
One great thing about the Sand Shark is that you get two operating modes – VCO and normal. In the normal mode, the detector offers the usual audio tone that a detector does. But in VCO mode, the detector gives a louder and higher-pitched tone when you get closer to your target. That really helps you narrow in on your search.
The Sand Shark can also go twice as far down in the water as the Surfmaster – you can take it to 200 feet in the water compared to 100 feet.
Because the Sand Shark doesn't have a display screen, it might take a little getting used to from detectorists who normally use detectors with screens. But considering how much cheaper the Tesoro is, if you can make the adjustment, it would be a money-saver, especially if you plan to go underwater deeper than the 100 feet allowed by the Surfmaster.
Both machines are easy to use and appropriate for beginners who really want to do some diving while they are detecting.
The Garrett Sea Hunter MKII will cost at least $600 no matter where you buy it. Like the Sand Shark, the Sea Hunter can be submerged up to 200 feet.
You can use the Garrett underwater metal detector in salt water without worries about regular false positives. It's a good all-around metal detector that can find multiple metals.
It has a trash elimination mode that can save you from the frustrating time waster of digging pull tabs and similar metal junk that tends to be everywhere, especially at beaches.
Unlike some other underwater metal detectors, the Sea Hunter can also be used in non-salt water, like at beaches or streams.
It comes with an 8-inch coil that is much smaller than the 12-inch coil the Surfmaster has. While the bigger coil can help with finding deeper targets, the smaller coil is good in areas where there are multiple targets. It's great at target separation, which will stop you from missing great signals that are mixed in with trash targets.
It also offers a padded arm rest and hand grip, which helps with the comfort level of carrying a detector on long hunts and on underwater expeditions. You can also shorten the stem on the detector to make it easier to take underwater with you.
Which of these machines will be right for you depends upon what you need it for. If you want a metal detector that will help you search a wide area quickly, you'll want to opt for the Surfmaster because of its big coil. But if you're looking for something that will cut back on the junk you find, you should go with the Sea Hunter because of its smaller coil and trash elimination mode.
Using Underwater Detectors
While underwater detecting can bring big rewards to detectorists, it can also bring big risk that can put you in danger if you don't know what you're doing. Detecting underwater is entirely different than detecting on land, even if you are somewhat familiar with diving.
Remember when diving underwater to always bring a buddy with you – you should never attempt a solo dive.
Also, you need to pay attention to where you dig underwater. If you do it too close to the shore or in an area where someone else already has salvage rights, you could find yourself in legal trouble.
Just as you would with land detecting, you need to make safety and knowing the laws your top priorities.
If you enjoyed this article, please "like" our brand new Facebook page!
You Also Might Like: