How to Go Metal Detecting in Colorado Successfully
The Colorado Gold Rush began in 1858. Success of many prospectors in the area brought thousands of people to the Centennial State. All came in hopes of obtaining wealth, many were unsuccessful. Despite this, recreational prospecting and metal detecting are popular in Colorado. Colorado is also known for substantial amounts of silver ore. 
With the breathtaking views of the Rocky Mountains, why not go metal detecting in Colorado?!
Metal Detecting Laws in Colorado
There are many laws governing metal detecting in Colorado. As with all states, Colorado follows the Archaeological Resources Protection Act, which is a federal law that regulates treasure hunting in the United States. Under this Act, any man-made object over 100 years old may not be taken off public lands. This law only applies to public lands. If you metal detect on private property, with the right permissions, you can take items regardless of their age or origin. 
Metal detecting is allowed in certain state parks in Colorado, but always at the discretion of the Park Manager. There are 41 state parks in the state, but only around 20 of them consistently allow people to metal detect. You must always obtain permission before metal detecting in a state park. Some parks that typically allow metal detecting are:
Barr Lake
Eleven Mile
Jackson Lake
Lone Mesa
Ridgeway
Yampa River
Colorado is also home to 11 national forests. Most national forests allow metal detecting, but when in doubt, as the proper authorities. You can typically keep any coins or jewelry you find, but certain relics, like Native American artifacts, may not be legal to take.
There are 173 public lands managed by the Bureau of Land Management in Colorado. You can keep more modern items that are newer than 100 years old, but anything older should not be removed. Historic sites like abandoned towns, railroads, and mining areas are not always open to metal detecting. You must check with the property owners, if they are privately owned, or contact your local BLM office to ensure you can metal detect in the area. 
While there are thousands of places where you can legally metal detect in Colorado, there are many places where metal detecting is forbidden. For example, county and regional open spaces, national parks and monuments, historic sites, and some recreational areas. As mentioned, always contact your local offices to ensure you are metal detecting within the law. You can be heavily fined or even jailed for not following the laws. 
Metal Detecting Finds in Colorado
Finding notable metal detecting finds from Colorado is proving exceptionally difficult. I have not found one article detailing any significant finds. There are many YouTube videos from amateur detectorists, though, showing treasures they have unearthed in the state. The most notable finds are jewelry and coins. 
These are mostly newer finds, as older finds cannot be legally taken from many areas. Other prospectors have used metal detectors to find small gold nuggets and flakes. There are, however, many tales of lost treasures buried in the state:
The Robber's Roost Treasure – $60,000 in gold coins buried by outlaws near Horse Tooth Reservoir west of Fort Collins.
The Jamestown Treasure – Consists of tens of thousands of dollars in gold coins buried around Jamestown.
The Lost Platinum Mine – Thought to be located somewhere near the Dinosaur National Monument (I live right by the Utah side of this monument……maybe I need a special dig permit!).
The Jim Reynolds Gang Treasure – Made up of $175,000 in silver coins buried on the South Plate River near Hardcart Creek. 
Jesse James Treasure – $50,000 in silver and gold coins buried near Half Moon Gulch.
Gold Hill Treasure – Thought to be buried in the abandoned settlements of Salina, Crisman, Sunshine, and Gold Hill.
Notable Silver and Gold Finds in Colorado
While not necessarily found with a metal detector due to the age of the finds, here are the biggest silver and gold nuggets ever pulled out of Colorado soils.
Silver was discovered in Colorado in the 1860s, but the price of silver was not high enough to attract attention. Until the United States Congress passed the Bland Allison Act in 1878 which authorized the free coinage of silver. The government demand raised the price of silver substantially. The Colorado Silver Boom started in 1879. Government purchases of silver were almost doubled when the 1890 Sherman Silver Purchase Act came, further extending the boom. This all came to a halt in 1893 when silver prices collapsed due to the Sherman Silver Purchase Act's repeal.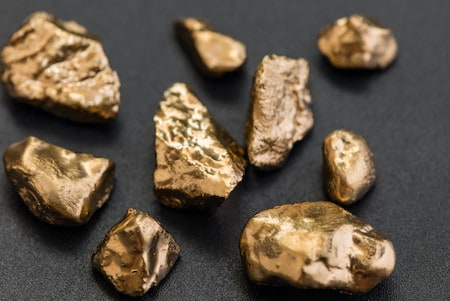 Just one year later, the largest silver nugget ever discovered in the United States was found at Smuggler Mine near Aspen. This nugget weighed a whopping 2,340 pounds. Yes. Pounds. It was too large to be taken to the mine in one piece and was broken up. This nugget was 93% pure silver. Today, silver prices are $297.13 per pound. So, this nugget would have been worth almost $700,000 in today's market! That is just the bullion value, so mineral collectors could have paid much more than that.
Colorado is also known for its gold. Most nuggets are small and even more often, gold flakes are found. However, in 1887, 2 men named Tom Groves and Harry Lytton found a gold nugget in the Gold Flake Mine in Summit County that weighed 156 troy ounces (10.7 pounds). This nugget was affectionally called "Tom's Baby." This mine is in French Gulch near Breckenridge. The 2 men would go on to find another 240 ounces (16.5 pounds) from the same gold pocket.
Although most gold in Colorado is not nearly as large at "Tom's Baby," other gold has been found that is noteworthy. Not necessarily large, but exceptionally intricate and of high value, many of the best crystalline gold specimens in the world have come from Colorado. Some have sold for 100 times more than the market value of the metal itself.
Metal Detecting for Gold in Colorado
Placer deposits were the first indicators of gold in Colorado. The first documented gold discoveries were in 1849, as prospectors were on their way to northern California. Small amounts of gold were panned from the South Platte River, but prospectors moved quickly westward to seek their fortunes in California. 
Gold deposits in Colorado sat dormant for nearly a decade, until the famous Pike's Peak Gold Rush began. Most of the gold found in Colorado is found in hard rock ore deposits, or are in the form of fine flour gold, dust, and fine flakes. Gold nuggets are still occasionally found, but the majority is small. 
This is important when choosing a gold metal detector for prospecting in Colorado. You will want a metal detector that is extremely sensitive to small gold. 
Gold Metal Detectors
When dealing with Colorado gold, it is recommended to have a sensitive detector. For this reason, I would recommend the tried-and-true Fisher Gold Bug 2. This metal detector was first introduced in 1995, and is still being manufactured and sold today, nearly 30 years later. This detector is easy to use, has 3 search coil options, and good iron discrimination. 
The Gold Bug 2 operates at a frequency of 71 kHz, which is incredibly high for a VLF (Very Low Frequency) metal detector. This makes the Gold Bug 2 extremely sensitive to small gold nuggets, dust, and flakes. In fact, this metal detector can find gold weighing less than 1/10th of a grain. Keep in mind there are 480 grains per ounce, so that is only 4800th of an ounce! This makes the Gold Bug 2 my top recommendation for gold prospecting anywhere, but especially for metal detecting in Colorado.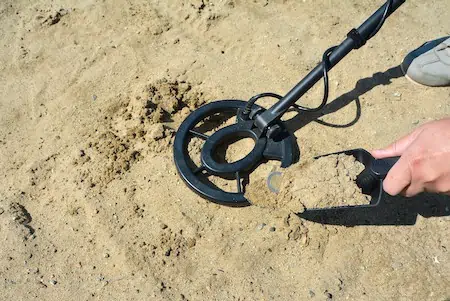 Another model that would work well in Colorado is Minelab's Gold Monster 1000. This detector was specifically designed to find gold flakes, dust, and nuggets. It is very user friendly and has a seamless and almost automatic operation. This detector operates at 45 kHz, which is fantastic for gold (anything above 14 kHz is good for gold detecting). 
This model has automatic ground balancing and noise cancellation, and 2 search modes. This is another great option for finding small nuggets and flakes in Colorado.
A pulse induction, or PI metal detector would also work very well for finding Colorado gold. The Minelab GPX 5000 is a great gold finding PI detector. This detector features Multi Period Sensing technology which allows you to detect deeper to find even the tiniest gold nugget. Dual Voltage Technology uses 2 voltage levels to enhance the detector's depth and sensitivity to avoid missing gold. It is also great at counteracting electromagnetic interference. This detector carries a much heavier price tag than a VLF detector, though. It may be worth it to find gold!
Where to Find Gold in Colorado
There are many areas in Colorado where gold is found. In Boulder County, the Gold Hill and Sugarloaf mining district is a great place to metal detect. Gold in this area was found from lode mining activities. Clear Creek County was a major silver and gold producer. Mining districts include Idaho Springs, Alice, Empire, and Freeland districts. The Ground Hog Mine in Eagle County produced rare specimens of crystalline gold. The county is also rich in silver. Gilpin County in the Central City District and Northern Gilpin Districts are also great for metal detecting gold. 
Park County has seen extensive mining activities, but there is still plenty of smaller gold to detect. Summit county and Lake County are known for placer gold, but riverbanks and inside river bends are great places to try your metal detector (if your search coil is waterproof). Teller County was overlooked during the Early Colorado Gold Rush but became known for rich telluride ores. Cripple Creek is the richest area in this region.
There are also numerous rivers in Colorado where gold has been found including:
Arkansas River – considerable placer gold has been found, especially on the tributaries at Iowa Gulch and California Gulch.
Taylor River – Search the Tincup District, which is mainly a lode mining area.
Plata River – Known for telluride ores that require special techniques to separate gold from other rock.
Animas River – Check near Durango, Colorado along the Animus River. Spanish explorers are rumored to have mined in the 1700s here.
Uncomphagre River – Gold has been found at the headwaters of this river near the city of Ouray. 
South Platte River – This river drains some of Colorado's most famous mining districts.
Blue River – Considerable gold was mined from this river near Breckenridge.
It is important to remember to search for gold where it has already been found. Be sure to check old tailings piles from past mining activities. Many miners missed gold in these piles, or purposely discarded smaller pieces in lieu of larger pieces. Today's metal detection technologies allow us to search these piles easily and quickly, and without missing as much gold as the old timers did. These are a literal gold mine for metal detectorists!
Waterproof Metal Detectors
If you plan to metal detect in any of these rivers and creeks, I suggest a fully waterproof metal detector. Many metal detectors have waterproof search coils, but the control boxes are not submersible. This is fine if the water is shallow and slow moving. But in a more turbulent river, or deeper water, you run the risk of your detector falling in and being ruined. For these reasons, I suggest a waterproof model.
My favorite waterproof metal detector is the Nokta Simplex+. I have personally used this metal detector for over a year now and I love it. It is an easy-to-use detector, built for beginning and intermediate metal detectorists. It is fully submersible up to 10 feet and works best in freshwater areas. It operates at an adjustable frequency of 12 kHz. This is not the greatest frequency for finding gold, but is a great frequency for finding coins, silver, and relics. The Simplex+ features a large LCD screen with 5 search modes: 
Field – Best for relic hunting
Park 1 – Best for coin shooting
Park 2 – Same as Park 1, but quicker
Beach – Designed for use on wet or dry beaches
All Metal – Must be ground balanced
One of my favorite features on this detector is vibration upon detection. This means even with your volume down you can feel when you have found a target. This detector has adjustable ground balancing, adjustable sensitivity, and the frequency can be shifted slightly to compensate for electromagnetic interference. The Simplex+ features a rechargeable battery pack and upgradeable software. I have had good luck with this machine, even in Utah's highly mineralized soils. 
The Minelab Equinox 800 is another great option for fully submersible metal detectors. This model is also fully waterproof up to 10 feet. This detector features Minelab's Multi-IQ technology, so it operates on multiple frequencies simultaneously. It can also detect on 5 single frequencies ranging from 5 kHz to 40 kHz. This detector will be better at finding small Colorado gold nuggets and flakes than the Simplex+. 
This detector has 4 search modes: Park, Beach, Gold, and Field. It features automatic and manual ground balancing, noise cancelling, adjustable sensitivity and threshold, and adjustable pitch and volume. The Equinox 800 features a large LCD screen, uses a rechargeable battery pack, and has upgradeable software. This model is another great option for metal detecting in Colorado rivers and for gold prospecting.
Metal Detecting Clubs in Colorado
As is true in all states, Colorado is home to many metal detecting clubs. Joining a metal detecting club has many benefits. You can learn more about metal detecting in general. You can get help identifying finds. You can learn about new places to metal detect. You can have a sense of community and fellowship. 
If you are a new detectorist, you can get help adjusting your metal detector and learning how to properly run it. Metal detecting clubs are also a fantastic way to get familiar with the various, and often vague, laws governing metal detecting. 
Here are a few metal detecting clubs located in Colorado:
Durango Diggers – Durango, CO
Gold Prospectors of the Rockies – Lakewood, CO
Rocky Mountain Prospectors and Treasure Hunters Club – Loveland, CO
Uncompahgre Treasure Club – Montrose, CO
Gold Prospectors of Colorado – Colorado Springs
Worldwide Association of Treasure Seekers – SW Colorado
Grand Junction Gem and Mineral Club – Grand Junction, CO
Denver Mining Club – Denver, CO
Foothills Prospectors – Denver, CO
Western Colorado Chapter of GPAA – Olathe, CO
Colorado Gold Camp – Colorado
Best Places to Metal Detect in Colorado
There are many wonderful places to metal detect in Colorado. Below, we will discuss some of the best areas to detect.
Cochetopa Creek
The scenic area along the Cochetopa Creek includes picnic areas, campsites, fishing areas, and wading opportunities. This area is situated between Saguache and Gunnison. This is a great place to find lost items like coins or jewelry. Make sure you have a waterproof search coil or fully waterproof metal detector if you plan to hunt in the water. 
Shelf Road
Shelf Road follows an old stagecoach route to Cripple Creek. This road was built in 1892 as a toll road and is now an accessible dirt road that winds along Fourmile Creek, through the picturesque canyons and valleys, climbing over 4,000 feet in elevation. This is one of the best climbing locations in the state. There is ample opportunity to find more modern items here like coins and jewelry and may even some older artifacts from the old west days.
Campgrounds
In the McInnis Canyon National Conservation Area close to Grand Junction, Colorado, the Knowles Overlook Campground consists of 7 undeveloped campsites overlooking the Colorado River. This area does require a high-clearance 4-wheel drive or all wheel drive vehicle to access. The Jouflas Campground is also in this same canyon and features 8 campsites with picnic areas. 
Along the San Miguel River, the Ledges Cottonwood Campground is a larger camping area, but does have a nightly fee for camping. The Cottonwood Grove Campground is along the Gunnison River near Delta, Colorado, on the state's Western Slope. This area has 6 campsites.
All these campground areas are highly visited. Highly visited areas have a higher chance of finding lost items. Anywhere people gather, you will find coins, jewelry, and other lost items! 
Wilderness Areas
Colorado is home to 9 wilderness areas managed by the United States Forest Service. They are great places to metal detect! Areas include Buffalo Peaks Wilderness, Cache La Poudre Wilderness, Comanche Peak Wilderness, Eagles Nest Wilderness, Fossil Ridge Wilderness, Greenhorn Mountains Wilderness, and Flat Top Wilderness.
These areas, while being a wonderful place to metal detect, also offer breathtaking views of the Colorado wilderness and wildlife.
Comanche National Grassland
In southeastern Colorado, just south of La Junta, lies the Comanche National Grassland. This area is home to prairies, canyons, and a rich history. This part of Colorado was a tropical forest during the Jurassic Period. Today, you can see thousands of dinosaur tracks in Picketwire Canyon. Between 1821 and 1880, the Santa Fe Trail connected Santa Fe, New Mexico with Franklin, Missouri. The trailed crossed through the Comanche Territory of Colorado, claimed by both the United States and Mexico.
The trail was used by the US Army to invade New Mexico during the Mexican American War in 1846. A branch of this trail passes through the Grassland. There are many abandoned homesteads from the Dust Bowl era, when farmers were forced to leave their lands. Ensure you are not on private property or in a historic era before detecting!
Colorado Cities
The city of Denver features 213 parks, all of which are open to metal detectorists. There are also 13 developed Mountain Parks outside of Denver's city limits. Aurora allows metal detecting in 97 of its city parks, and you can detect on the beach, boat launch beach, and designated swimming areas of Aurora Reservoir. The city of Wheat Ridge allows metal detecting within the city parks with a permit. The permits are valid from April to September and must be renewed annually. Probing and digging are prohibited in almost all Wheat Ridge parks, so you are relegated to what is on the surface. The city also retains the rights to keep whatever you find on park property.
The cities of Evergreen, Durango, and Louisville do not allow metal detecting. It is prohibited in all their city parks. Boulder city has 62 parks that are open to metal detecting. Colorado Springs has 123 public parks, all of which can metal detect in. However, much like Wheat Ridge, you may not dig or probe, and you cannot keep anything you find that may have value to humans, is of archaeological interest, or contains cultural significance. 
In northern Colorado, Berthoud, Dacono, Estes Park, Frederick, Fort Collins, Greely, and Loveland all allow metal detecting in city parks. In Southern Colorado, Pueblo, Walsenburg, Trinidad, Alamosa, La Junta, and Rocky Ford allow metal detecting in parks. On the Western Slope, Grand Junction, Montrose, Delta, Glenwood Springs, Aspen, Vail, Fruita, and Palisade allow metal detecting in parks. In total, there are 1,632 public parks within the state of Colorado where you can lawfully use a metal detector. 
Private Property
Metal detecting on private property is always great because you can keep whatever you find, so long as you have the landowner's permission. If you happen to own your land, you may keep what you find regardless of age. Think of how many people have trod across your property throughout the decades. You can check with historical societies in the area or local libraries to get more information on what was once on your or someone else's property.
Ghost Towns and Old Mines
Colorado has many old mines, ghost towns, railroad stations, and abandoned settlements. The key to metal detecting these areas is to do your research. Ensure that they are not designated as historical sites. If they are, they are off limits to detectorists.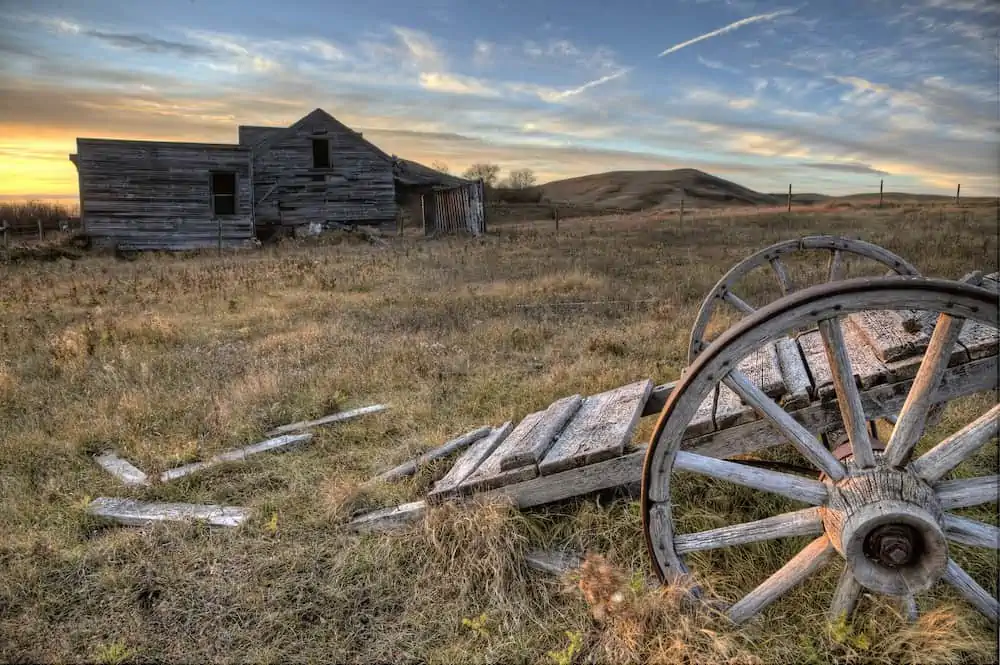 Check to see if they are privately owned or incorporated into nearby cities. These situations will require you to seek permissions from the city or landowner. If you find an old mine that is detectable by law, you must ensure your own safety. Many abandoned mines are dangerous and should not be entered. Instead, metal detect the area nearby and in old tailings piles to be safe.
Conclusion
Colorado is an amazingly beautiful state. From the Rocky Mountains to the bustling cities, there are no shortages of great places to metal detect. Many Colorado cities allow metal detecting in city parks, while others ban the hobby completely. As with most state, National Forest land can be metal detected in Colorado, but there are exceptions to this. You are not allowed to remove artifact over 100 years old. State Parks can sometimes be metal detected. The decision is up to the Park Manager. Some will not allow metal detecting under any circumstances. Just remember to do your research before you go metal detecting in Colorado. A few hours (or days) of research are better than a fine and potential jail time. 
Gold and silver are known to be found all over the state. There is also no shortage of coins, jewelry, and relics to detect. Be wary near abandoned mines as they can be unstable and quite dangerous. Some may even be private property so, again, do some research. Metal detect in the rivers, creeks, and old mining tailings piles. These piles often have missed gold from early prospectors just waiting for you to come along and find it! 
Always be mindful of all metal detecting laws. Avoid private property unless you have the landowner's permission. Always fill in all holes you have dug. Try not to disturb vegetation, wildlife, buildings, and waterways. Pack out any trash you find. Leave the area better than you found it. But most of all, HAVE FUN while metal detecting in Colorado!
FAQ
Q: Can I metal detect in Colorado ghost towns?
A: There is no simple answer to this question. Many ghost towns are listed on the Historic Register, so they cannot be metal detected. Others are privately owned, owned by the state, or on federal lands. You must do quite a bit of research before going to a ghost town to metal detect. Check with your local and state authorities to determine the status and ownership of the ghost towns. Some may have little traces of buildings left, and as such, may be open to detectorists. It is better to be safe than sorry, so ensure you know the legalities of metal detecting in ghost towns in Colorado.
Q: How can I find gold with a metal detector in Colorado if the gold is small and fine?
A: One of the best tips is to purchase a metal detector with high sensitivity to gold. As I mentioned earlier, some metal detectors operate at higher frequencies. This makes them extremely sensitive to small and fine gold pieces and flakes. You can also try a pulse induction metal detector, like the Garrett ATX, to find gold.  
While all metal detectors will find gold if it is a large enough nugget, for Colorado gold, I would recommend the Fisher Gold Bug 2 or Gold Monster 1000. Both have higher frequencies than many VLF metal detectors and are specifically designed to find small gold. 
Q: Can I metal detect while I am camping in Colorado?
A: This depends on where you will be camping. Most national forests in the United States allow metal detecting, so long as you are not disturbing historical or culturally important sites. Double check that the part of the national forest you will be camping in allows detecting and does not have any historically important sites. 
One of my favorite things to do when camping is to take my metal detector. My whole family has detectors, so it gives us something to do while we hike around. You can always talk with the BLM office in your area to determine whether you can metal detect and what the laws are. 
If you enjoyed this article, please "like" our Facebook page and be sure to revisit Discover Detecting for new content surrounding the metal detecting hobby!
You Might Also Like: