Can the Best Metal Detectors for Beginners Make You Rich?
Metal detecting is a fantastic hobby for kids, teens, and adults alike. It is relaxing, fun, exciting, and you can find many different types of treasure. You do not need a whole lot of equipment to metal detect, especially when you are beginner.
One of the most difficult things about metal detecting is picking out a good metal detector for a reasonable price. There are so many great makes and models out there at all different price points, and each one has the potential to find riches.
Before looking for a metal detector, you need to decide a few things:
What type of metal detector do you want?
Are you looking for a detector that specializes in one type of metal or treasure?
What is your skill level?
How much do you want to spend?
In this article, I'm going to help narrow down the search in an effort to find the best metal detector for beginners of all ages.
Types of Metal Detectors
There are 2 main types of metal detectors: VLF (very low Frequency) and PI (Pulse Induction). What does this mean, exactly? Keep reading to find out.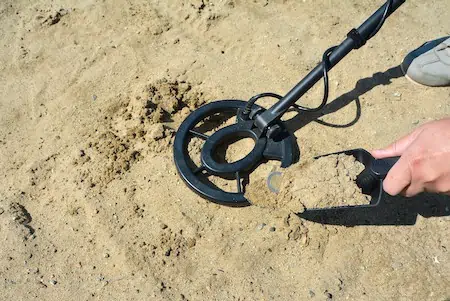 VLF Metal Detectors
VLF metal detectors generate a continuous low power transmission signal using the search coil antenna. It then analyzes the amplitude and change of signals generated by metal targets. This signal is received by a separate coil antenna and analyzed by the metal detector's control box.
This allows the metal detector to show the type of metal detected (on models with LCD screens; others utilize sound to show a target is found). In some conditions, VLF detectors can respond improperly, however.
Areas with high soil mineralization, hot rocks, black sand, and salt water and saltwater beaches, can cause interference with the metal detector making it give false signals or even overload. If it overloads, it must be shut off and rebooted. VLF detectors have many advantages including lower price, lighter weight, and discrimination capabilities.
PI Metal Detectors
PI technology uses a single coil as the transmitter and receiver. This technology sends short pulses of current through a wire creating a short magnetic field. As the pulse ends, the magnetic field reverses polarity and collapses quickly, resulting in a sharp electrical spike. These spikes last a few microseconds and another current runs through the coil called a reflected pulse. The process continually repeats.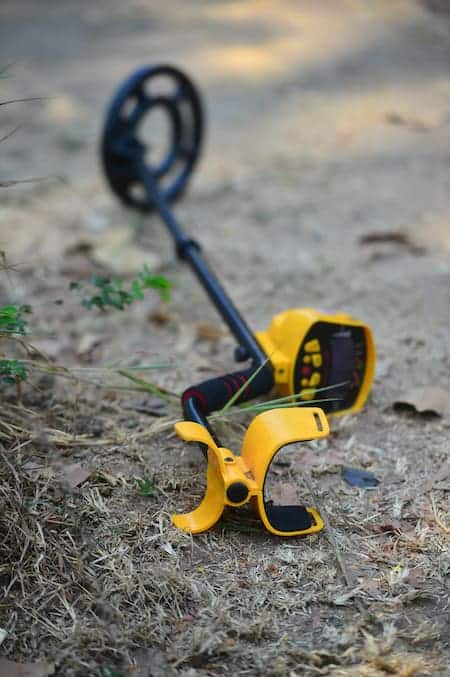 When a pulse Induction metal detector finds a metal target it takes longer for the reflected pulse to disappear, alerting the detector to the presence of metals. Most PI machines emit well over 100 pulses per second. This technology is like an echo. The detector finds metal objects based on their echo. PI detectors often lack quality discrimination capabilities but have greater search depth and are more stable in areas with high mineralization.
In fact, PI detectors are inherently immune to the effects of saltwater.
Metal Detecting Accessories
Metal detecting accessories are not a must, but they certainly make the hunt easier. There are a few things I make sure to take along on every metal detecting trip including a quality hand digging tool, a full-sized shovel, a find, pouch, a rock pick, and a handheld pinpointer. When looking for digging tools, always ensure they are high quality.
There is nothing more frustrating than being on a target only to have your discount shovel break. It is worth paying a little more to have quality products. I take a rock pick along, or a screwdriver, just in case I find a target in a crack or along bedrock in a difficult to reach place. A find pouch will help keep all your treasure safe and secure. Handheld pinpointers come in very handy, too, as they help you narrow down more concisely where your target is.
Best Metal Detector Finds
Here are some notable metal detecting finds that have happened over the years.
The Boot of Cortez
In 1989, a man was metal detecting in the Sonoran Desert of Mexico. He found a gold nugget weighting 26.7 pounds with his metal detector. This is the largest gold nugget ever found in the Western hemisphere. Its name comes from its unusual shape. In 2008, the nugget sold for a whopping $1.5 million at an auction.
The Mojave Nugget
Prospector Ty Paulson was metal detecting in the Mojave Desert in 1977 when he came across a 156-ounce gold nugget worth $200,000.
The nugget is the largest to have come from the Mojave and is now on display at the Natural History Museum of Los Angeles County in California.
The Frome Hoard
In 2010, metal detectorist Dave Crisp found a hoard of Roman silver and bronze coins near Frome in Somerset, England. They were found within a ceramic pot.
The pot contained 52,503 coins dating from 253 – 305 CE. This hoard is the largest collection ever found in England and dates from the reign of the first Roman Emperor to strike coins in Britain, Carausius, who ruled from 286 – 293. The Museum of Somerset purchased the hoard from Crisp for $421,000.
The Hand of Faith Gold Nugget
The Hand of Faith gold nugget was found in 1980 by metal detectorist Kevin Hillier near Kingower, Victoria, Australia. This nugget weight an amazing 60 pounds. If you have ever visited Las Vegas, odds are you have seen, or at least heard of, this nugget.
It resides on Freemont Street in Las Vegas at the Golden Nugget Casino. It was purchased by the casino for $1.1 million and remains the world's largest intact golden nugget, the second largest ever found, and the single biggest nugget ever discovered with a metal detector.
The Galloway Hoard
In 2014, metal detectorist Derek McLennan found a Viking hoard of silver ingots, silver jewelry, 1 gold ingot, 1 gold pin, and a decorated silver vessel in a field in Dumfries and Galloway, Scotland.
The vessel also contained beads, glass, rock crystal amulets, brooches, a rock crystal flask, pointers used to read and mark medieval manuscripts, and more gold. The National Museums Scotland purchased the Galloway Hoard for a whopping $2.42 million.
The Derrynaflan Hoard
In 1980, Michael Webb and his son, Michael Jr., were metal detecting near Killenaule, County Tipperary, Ireland. The pair discovered an 8th century chalice along with a ladle and paten. This was a full set of Christian communion vessels.
The pair had received permission to metal detect the area but failed to receive permission to dig. The treasure was confiscated by authorities and ended up with a small fraction of the item's worth. Today, it is estimated to be worth $15.1 million!
Best Overall Beginner Metal Detectors
If you're looking for a high quality metal detector for beginners, check out the following detectors listed below!
Minelab Vanquish 540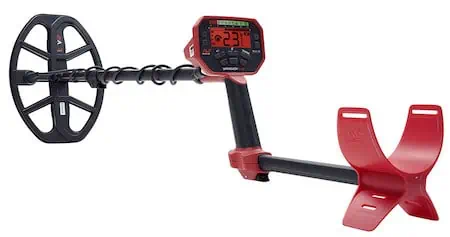 Easy to use model for beginners or more advanced detectorists
Operates on multiple frequencies simultaneously to find all treasure types
The Minelab Vanquish 540 is the top model in their new Vanquish line. It is a great option for beginners but has enough advanced features to make a more advanced detectorist happy. The Vanquish 540 has 25 discrimination settings, 10 sensitivity settings, 10 volume settings, 5 target ID tones, and is lightweight at just 3 pounds.
This detector features Minelab's patented Multi-IQ technology, which allows the detector to search on multiple frequencies simultaneously. Frequencies range from 5 to 40 kHz, so this detector is perfect for all metal types, including small and fine gold. This model has a large LCD screen with red backlight and adjustable iron bias.
The Vanquish 540 comes with Minelab's V12 12" Double-D search coil. It operates on 4 AA rechargeable batteries and can be used with wired or wireless headphones. This model also comes in a Pro Pack which features an additional search coil.
Nokta Makro Simplex+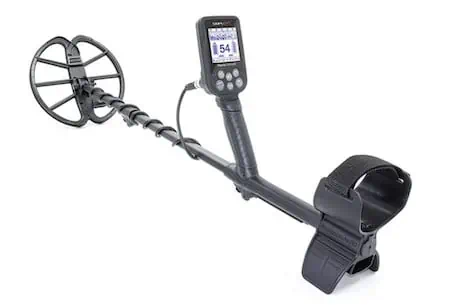 Perfect for all skill levels
Fully waterproof and works well in all soil types
The Nokta Makro Simplex+ is one of my top metal detectors. I have personally used this detector for over a year and I absolutely love it. It has a simple to use interface but enough features to keep a more advanced detectorist happy. This is the company's first entry level machine, and it is winner.
The Simplex+ features automatic ground balancing and 5 search modes: Park, Field 1 and Field 2, Beach, and All Metal. It is fully submersible up to 10 feet and features Bluetooth capabilities for use with wireless headphones.
This detector operates at 12 kHz and features frequency shift, which allows the detector's frequency to slightly shift to compensate for interference. This detector also features vibration detection alert, which is great for hearing impaired detectorists, for searching underwater, or in areas where you are trying to be quiet.
The LCD screen has an adjustable backlight and built-in LED flashlight. It has a pinpoint mode and is lightweight at just under 3 pounds. This detector operates on rechargeable battery pack and has upgradable software.
I live in an area with extremely high soil mineralization and this detector performs well every time. It is truly one of the best metal detectors for beginners.
Garrett Ace Apex
Great option for beginners or more advanced detectorists
Has a specific mode for U.S. or international coins
The Garrett Ace Apex is the company's newest model. It features Multi-Flex technology, meaning it is a multiple frequency machine that can operate on 4 different single frequencies. Frequencies range from 5 to 20 kHz, so this detector is great at finding all metal types. The Ace Apex features Iron Audio, Iron Volume, and iron discrimination, notch discrimination, and can be used with wireless or wired headphones.
It has a large LCD screen with digital target ID, and manual or automatic ground balancing. The Ace Apex comes with an 11" waterproof Double-D Viper search coil, pinpoint mode, rainproof control box (not fully waterproof so be careful near water), and 6 different search modes. This detector also has separate modes for U.S. coins and international coins. It is lightweight at just 2.5 pounds and is a great detector for all skill level detectorists.
Best Metal Detector Pinpointers
Metal detectors aren't the only thing that will help you find buried treasure.  Pinpointers can greatly help too!  Below, here are a couple great pinpointers to strongly consider adding to your detecting arsenal.
Garrett Pro Pointer AT
Simple to use for all skill levels
Rugged, fully submersible, automatically adjusts to soil conditions
The Garrett Pro Pointer AT is my favorite pinpointer. It is simple to use, reliable, and ruggedly built. It features proportional audio, vibration for target indication, 360-degree side scan detection plus pinpointing tip, fast retune, adjustable sensitivity, lost pointer alarm, automatic shutoff, and built-in ruler with inch and centimeter marking.
It automatically tunes itself when turned on and features a scraping blade and LED light. This detector is extremely lightweight at just 6.5 ounces, operates on 1 9-volt battery, and is fully submersible up to 20 feet. The Pro Pointer AT is my choice for best overall pinpointer.
Nokta Makro PulseDive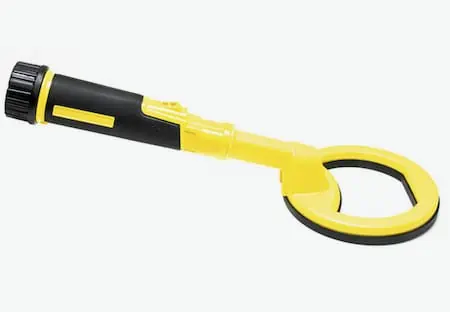 Suitable for all skill levels
Can be used on land, in shallow water, or for deep water diving
The PulseDive is a fantastic pinpointer/diving detector. This is a PI detector that has 2 different configurations: one for diving and one for handheld pinpointing. It can change from a scuba detector to a pinpointer in a matter of seconds.
This detector is fully submersible up to 200 feet and features stable operation in saltwater, freshwater, beaches, and all other soil types. The PulseDive has wireless technology so it can be used with wireless headphones.
It has audio, vibration, or both as a target alert system and a built-in LED flashlight. This model uses Rapid Retune for ground balancing, which allows it to quickly recalibrate by pressing one button. Dive Mode locks the keys so pressure will not cause the buttons to push. After 5 minutes of inactivity, the detector will emit an alarm and LED flash.
The PulseDive has 5 sensitivity level adjustments and weighs just under 1 pound as a scuba detector, and only 10 ounces as a pinpointer. The battery is rechargeable, and it comes in bright yellow of solid black.
Best Metal Detectors for Coins and Relics
If you're looking for a great metal detector that can really help you find ancient coins and relics, please check out some of our favorite detectors (below) that can successfully do this job.
Garrett AT Max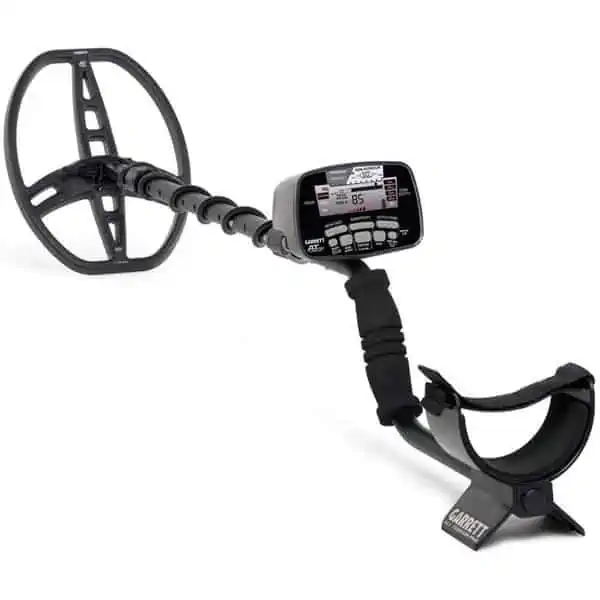 Great for all skill levels
One of the best all-around metal detectors on the market
Garrett's AT Max is a great all-around metal detector. It operates at 13.6 kHz, so it is high enough to detect some gold, but will be best for finding relics and coin shooting. The AT Max has 44 iron discrimination segments, all metal mode, backlight LCD screen, adjustable notch discrimination, adjustable volume, and 4 search modes.
The AT Max is fully waterproof up to 10 feet and works well in fresh water and saltwater. Saltwater can throw a metal detector off its game, but the AT Max has many adjustments to make it work well in these areas. This detector has wireless technology so it can be used with wireless headphones (also works with wired headphones).
The AT Max features Garrett's Pro (proportional) audio, iron audio, 8 depth adjustments, and 8 sensitivity adjustments. It is the perfect detector for searching hunted out sites, has great depth, and gives clear signal tones. This is one of the best all-around metal detectors on the market today.
White's Coinmaster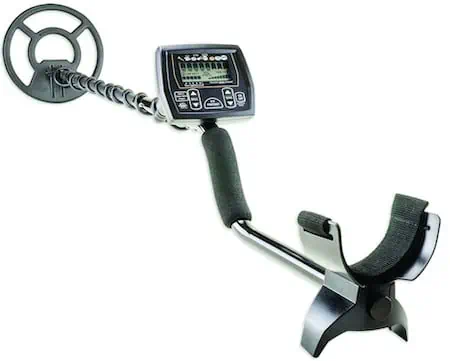 Perfect metal detector for beginning coin shooters
Can find coins up to 9" deep
White's Coinmaster metal detector is ruggedly built and specially calibrated to find coins and jewelry. It has Five Range Discrimination, which allows users to hear everything or hear only specific targets upon detection.
This detector is simple to use and tailored toward beginning coin shooters. The Coinmaster operates at 8 kHz, ground balancing can be preset or manually optimized, discrimination is adjustable, sensitivity is adjustable, and it features a pinpoint mode. The Coinmaster has a large LCD screen with target ID and depth readouts. This detector comes with a 9" search coil can find coins up to 9" deep in good soil conditions.
Quest Q40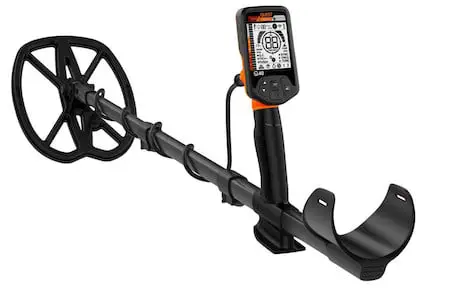 Perfect for beginners
Optimized for coin shooting and relic hunting
The Quest Q40 metal detector is perfect for all skill levels. This detector is specifically designed for coin shooting, relic hunting, and beach hunting. It operates at 13 kHz and uses a rechargeable battery pack. It is lightweight, at just under 3 pounds, and is water resistant for use in inclement weather. It is not, however, fully waterproof, so it should never be fully submerged.
This metal detector is optimized for saltwater areas, so it can filter out the negative effects of salt. The Q40 features adjustable discrimination, adjustable threshold, and has automatic ground balancing. This model does not have visual target ID, depth indication, or vibration. The Q40 has 6 search modes and an LCD screen with backlight. It can be used with wired headphones but does not feature adjustable volume.
Metal Detectors that Detect Gold
If you're interested in finding gold, be sure to check out the following metal detectors listed below.
White's Goldmaster 24k
Perfect for all skill level prospectors
Features Ground Scan to find paystreaks
White's Goldmaster 24k is a fantastic metal detector for prospecting. This detector operates at 48 kHz (anything above 18 kHz is great for gold, but the higher the better), so it will find even the smallest nuggets and finest gold jewelry. The Goldmaster 24k features a large, backlit display with Target Graph. This shows Ferrous, Gold, and High Conductor ranges, which is also shown in numerical target ID to better help prospectors read their targets.
This model has White's XGB ground balancing system which is optimized to handle soil mineralization very well. Gold typically hangs out in areas with high soil mineralization, black sand, and hot rocks, which can all harm a detector's performance. But the Goldmaster 24k is great under these conditions.
One of my favorite features on this detector is Ground Scan. This system helps prospectors find paystreaks, which will in turn, find you more gold! This model has adjustable audio, discrimination, sensitivity, and threshold. It is simple to use for beginners, but more advanced detectorists will appreciate this metal detector's accuracy and capabilities.
Nokta Makro Multi Kruzer
Great for all skill levels
Features 3 frequencies ad is fully waterproof
The Nokta Makro Multi Kruzer is a great all terrain metal detector. This model is fully waterproof up to 16.4 feet and operates on 3 frequencies: 5, 14, and 19 kHz. The Multi Kruzer comes with 6 search modes, adjustable audio, notch filter, iron audio, and pinpoint mode. Ground balancing is automatic, manual, or tracking. Tracking ground balancing is great for prospectors because it will continually adjust itself to differing soil conditions.
The Multi Kruzer also features vibration detection alert, which is great for hearing impaired detectorists, underwater hunting, or for times when you are trying to be quiet. This detector features wireless capabilities for use with wireless headphones. Standard headphones can also be used. It has a backlit LCD screen that is simple to read and features numerical target ID. There are 6 different search coils for this model so it can be customized to the users' needs.
This is a lightweight model at just 3 pounds and features Extra Underground Depth Function. This allows the Multi Kruzer to detect metals masked by ground conditions at maximum depth.
Best Waterproof Metal Detector
Check out some of the top waterproof metal detectors currently available on the market.  Waterproof detectors are awesome if you're seeking out treasure on the beach or a lake.  They also come in handy when you get caught in a massive rainstorm, too!
Fisher 1280-X Aquanaut
Perfect for all skill levels
Fully submersible up to 250 feet
The Fisher 1280-X Aquanaut is a fantastic metal detector for beach hunting, deep diving, shallow water hunting, and land use. This detector is simple to use and features turn on and go operation for salt water, fresh water, and land use. The Aquanaut is fully submersible up to 250 feet, so it is perfect for scuba diving and shipwreck hunting. This detector features adjustable discrimination, target strength LED, and Fisher's patented quartz crystal circuitry. Users can expect up to 75 hours of use per battery charge.
The control box of the Aquanaut can be hip mounted for easier diving. This detector is great at ignoring small pieces of trash. Ground balancing is automatic or manual and operates at 2.4 kHz. This model does not feature a pinpoint mode.
Nokta Makro Anfibio Multi
Great for all skill levels
Fully submersible up to 16.4 feet and comes with advanced beach mode
Nokta Makro's Anfibio Multi operates on 3 frequencies: 5, 14, and 20 kHz. It is fully submersible up to 16.4 feet and features advanced beach mode. Advanced beach mode allows the detector to seamlessly operate on dry sand, wet sand, and underwater. It comes with 9 search modes, notch, pinpoint, frequency shift, vibration alert, adjustable audio, and has automatic, manual, and tracking ground balancing.
The LCD screen is backlit and features numerical target ID. This detector is a little heavier than others, at just under 4 pounds, and it operates on rechargeable battery pack. It comes with an 11" Double-D search coil and is a simple to use metal detector for all skill levels.
Metal Detectors for Silver
If you're interested in finding silver, check out the XP Deus and Fisher F4.
XP Deus

The XP Deus is a fantastic all-purpose metal detector. It features exceptional speed, comfort, and performance, and is the first metal detector to be completely wireless. It can be customized with 3 different wireless elements: the digital LCD display remote control, the search coil, and headphones.
The 3 wireless elements communicate by digital link that gives crystal clear audio while giving users optimal and efficient power consumption. The wireless remote control features a backlight and hip mount case.
Menu options include iron level, audio tones, notch, discrimination, audio response, and more. The Deus features 4 ground balancing options: tracking, manual, pumping, and beach. This detector has 4 frequencies: 4, 8, 12, and 18 kHz.
The lower end of these frequencies is perfect for finding silver. The Deus' software can be upgraded, and it is extremely lightweight due to its wireless capabilities at just 2 pounds. The Deus comes with a 9" by 11" waterproof search coil and rechargeable battery pack. There are other package variations for the Deus so users can customize their detector.
The XP Deus is one of the best metal detectors for beginners and more advanced detectorists alike.
Fisher F4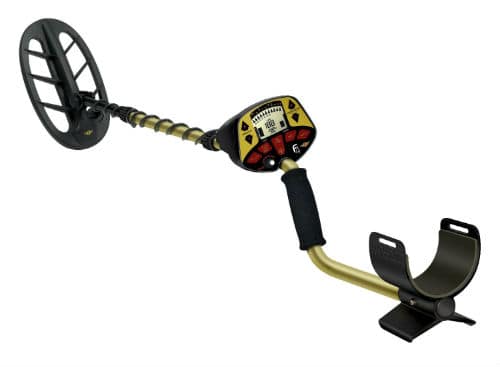 Great for beginners
Great frequency for finding silver
The Fisher F4 metal detector features high deep seeking auto tune and manual ground balance. It also has visual target ID, numerical target ID, 11 segment digital target ID, and 4 tone audio ID. This detector is best for coin shooting, relic hunting, and beach hunting.
The F4 operates at 5.9 kHz, which is perfect for finding silver. The LCD screen features numerical depth readout and one touch pinpoint mode. The F4 comes with an 11" bi-axial search coil.
FAQ
Q: What metal detecting laws do I need to know about?
A: There are many. It is incredibly important for you to check city, county, state, and federal laws prior to metal detecting. For example, you can metal detect on public land or national forest land, but not all state parks.
Some require a permit, some forbid detecting altogether. It is up to you to know your laws before heading out. It will save you grief and a potential fine.
Q: Will I ever discover anything as amazing as the treasure finds listed in this article?
A: Truth be told, you have as good a chance as anyone at finding riches! Many of the metal detector top finds were just someone out on a routine hunt, not looking for anything specific.
You probably do not want to go into metal detecting with the expectation of becoming rich, but you always have a chance of finding something worth a lot of money, or of historical importance.
Q: Are metal detectors for beginners worth the money?
A: Absolutely. Many detectors are built with beginners in mind, so they are simple to use and will not leave you frustrated by a bunch of advanced features.
Most of the detectors on this list are easy enough to use for beginners but have enough features to please a more advanced detectorist. Buying a metal detector like these is a good option because you will not outgrow your machine so quickly.
Q: How do you choose the top detectors for your articles?
A: I have done countless hours of research, watched hundreds of review videos, and personally tested multiple different metal detectors. I am by no means an expert, but I have a good knowledge base of what to look for in a great metal detector. It is important to look for detectors from well-known and trustworthy manufacturers.
There are a lot of counterfeit metal detectors out there or detectors from unknown companies that may or may not be any good. I tend to discuss only those companies I have personally researched and can find verifiable information on.
Conclusion
Metal detecting could potentially make you rich, but that is not the reason to get involved in the hobby. Some people will find junk targets consistently, while others may stumble onto a hoard of Roman coins. It is part luck and part skill. Do some research on your area to find out what the likely targets might be.
Do not set your expectations too high, or you will not enjoy yourself as much. I find a lot of targets that some might consider trash. Despite this, I get excited every time the detector beeps. Someday, who knows? Maybe I will find a big gold nugget instead of old railroad ties!
Before you go, I would like to leave you with this important last paragraph regarding the metal detecting code of ethics. Remember, you are an ambassador of the metal detecting hobby every time you go out with your detector. Please ensure you follow these guidelines so we can keep metal detecting available to us all!
I will leave gates as I found them.
I will not contaminate wells, creeks, or other water supplies.
I will fill all excavations that I make while treasure hunting.
I will not tamper with signs, facilities, or equipment.
I will use consideration, thoughtfulness, and courtesy always.
I will protect my hobby and act as a goodwill ambassador.
I will respect private property and not treasure hunt without the owner's permission.
I will appreciate and protect our natural resources, wildlife, and property.
I will not litter and will pick up and pack out any trash I find while metal detecting.
I will not destroy property, buildings, or what is left of ghost towns and deserted structures.
Remember these few items, be respectful, and most importantly, have fun!
Be sure to bookmark our Discover Detecting homepage.
You Also Might Like: