25 Most Expensive Metal Detectors and Finds
If you are a professional detectorist, you may find yourself questioning whether you should invest in an expensive metal detector. Most hobby metal detectorists spend anywhere from a few hundred to a few thousand for a metal detector, but some expert models are grossly more expensive than these! An expensive metal detector can be an asset for many reasons:
When you are searching for highly valuable targets like gold nuggets.
If you are looking for a machine that will last.
If you are familiar with technology and metal detecting.
You are searching for tunnels, caves, and voids.
You are looking for very deeply buried treasures.
For the average detectorist, many of these metal detector models are far out of our price range. But if you are in the market for a hugely upgraded model and have the financials to cover the costs, each detector on this list is worth a look! These machines are not just hyped up versions of traditional detectors. 
These machines feature top of the line technologies and will be a huge asset to any detectorist's arsenal of equipment. These are all high-quality metal detectors and will help you find all sorts of treasure. Note, the first few detectors on this list are well out of most people's price ranges. I included them anyway, so we could all learn about what options are out there! 
Below, please take a moment to view some of the top metal detectors on the market, and see how well they stack up against one another:
Most OKM Metal Detectors
Let's start with the OKM EXP 6000.
OKM EXP 6000 Professional PLUS
This is the most expensive metal detector on this list at a whopping $31,000! The OKM EXP 6000 is an ultra-deep seeking metal detector with the ability to find treasure up to 25 meters deep. It is designed for gold prospecting, all treasure hunting, and cavity detection. It features ground scan, magnetometer, pinpointer, mineral scan, tunnel scan, and live stream. It has been proven to find cavities, tunnels, and treasure chests. 
This detector is completely wireless and can be controlled by touch screen, Android video eyeglasses, or Android tablet PC. This is the world's first 3D ground scanner utilizing a telescopic probe. The OKM EXP 6000 features a full color display and touchscreen with multilingual graphical user interface (12 different languages) and different layouts. This model weighs 4.85 pounds and is not waterproof. 
OKM EXP 4500 Professional PLUS
This model is a few thousand dollars cheaper than the EXP 6000 Professional PLUS, at $26,500. This detector features a PC module allowing data to be displayed immediately on the full color screen. Data is stored in the internal memory and can be transferred to a computer (the same goes for the EXP 6000). The EXP 4500 Professional PLUS has 5 operating modes:
Ground Scan – Perfect for treasure hunters and archaeologists looking for underground artifacts, treasures, and historical/archaeological items.
Mineral Scan – Integrated for gold prospectors, seekers and miners looking for natural gold and minerals.
Tunnel Scan – Special mode created to detect underground voids, tunnels, cavities, and hollow spaces.
Pin Pointer – Helps locate the exact position of detected items.
Magnetometer – Helps locate ferrous metals like steel and iron.
As with the EXP 6000, this model features graphical 3D imagery and can find deeply buried items. This model weights just under 3 pounds.
GER Detect Titan 1000 Long Range
This detector will set you back $14,500 but is great for finding gold, precious metals, buried treasures, caves, and tunnels. This model is like having 5 detectors in one:
System 1: Long Distance Locator – This system allows users to set the type of metal or gemstone desired and points the direction the items are in on screen. It has a massive capacity of up to 2500 meters in distance and 45 meters in depth.
System 2: Ionic System Search for Ionic Fields – By using the ion system and pointing the device, a sound will emit when a target is detected. This system is designed to block the effects of the emission of North-South magnetic lines forming ionic fields over soil.
System 3: 3D Imaging System – The Titan 1000's geolocator scans the layers of earth and displays full 3D images showing the targets as gold, silver, and other valuable metals, along with treasures and caves. Depth is also shown in this system.
System 4: Magnetometer System – This system allows the detector to search for magnetic metals like iron and iron derivatives. This lets users know if there are non-precious metals buried up to 45 meters deep. 
System 5: Pulse Induction System – PI allows for greater depth and has automatic ground calibration to ensure the device is not affected by mineralization, wet soils, and hard earth interference.
This detector offers 4 languages, English, German, French, and Arabic, and comes with a 2-year warranty. 
Most Expensive Nokta Makro Detectors
Let's begin with the Nokta Makro Invenio Pro.
Nokta Makro Invenio Pro
The Invenio Pro is the world's first real time smart detector and imaging system. This detector shows the shape, depth, dimensions, and discrimination of underground metals and ground anomalies or cavities. This model comes with integrated positional tracking unit (IPTU) sensor, which computes the right-left, forward-backward movements of the search coil precisely and determined its location and height above the ground. 
This sensor allows you to follow the start and finish points of scanned areas and see the locations of detected targets. It can determine the width and length of the scanned area, target depth and shape, and dimensions. The artificial neural network enables the detector to provide shape extractions and depth indications by using adaptive learning algorithms. This model was designed to find caches, deep treasures, coins, relics, ground anomalies, cavities, caves, and tunnels. 
The Invenio Pro comes with 3 non-motion modes, 3 motion modes, online firmware updates, wireless connectivity for use with wireless headphones, and 17 languages. Nokta Makro detectors also features vibration alert, backlit screen, and LED flashlight. Nokta Makro offers a 2-year warranty.  
Nokta Makro Deephunter 3D Pro
The Deephunter 3D Pro costs $5,500 but is loaded with features. This was the first detector to feature the ability to detect cavities, deep treasures, and individual coins or nuggets all in one detector. This detector features non-motion and motion modes, quick detection, and 2 search modes. Search mode 1 is for deep treasure detection, while mode 2 is for individual treasure items. 
The LCD screen features both 3D graphical identification and metal identification. The advanced 3D graphic imagery makes finding caves, tunnels, and cavities easier than ever. Depth detection accurately shows the depth of treasures while iron rejection allows this detector to eliminate non-precious or junk metals. 
This detector works extremely well in highly mineralized soil conditions. Mode 1 was designed for seasoned detectorists, but mode 2 is simple enough to operate an amateur detectorist can operate it. Mode 1 operates at 12.5 kHz and Mode 2 at 17.5 kHz. Nokta Makro offers a 2-year warranty on the Deephunter 3D Pro.
Most Expensive Minelab Detectors
Let's discuss the Minelab GPZ 7000.
Minelab GPZ 7000
The GPZ 7000 is one of the best metal detectors on the market to find gold. Many deep seeking metal detectors use pulse induction technology, but the GPZ 7000 uses Minelab's Zero Voltage Technology (ZVT), which allows for the recovery of gold nuggets at greater depths. ZVT creates constant high-powered opposite polarity magnetic fields, increasing its gold sensitivity. 
It features a full color LCD screen with backlight, 6 detection modes, discrimination, automatic and manual ground balancing, adjustable sensitivity, and threshold, and weighs 7.32 pounds. Minelab offers a 3-year warranty on the GPZ 7000. The GPZ 7000 will set you back about $8,000!
Minelab SDC 2300
The SDC 2300 uses Minelab's Multi Period Fast pulse induction technology, of MPF PI. This technology creates minimal residual transmission signals present during the receiving cycle, enabling a clear and sharp detection of small or fine gold. This model does not have an LCD screen but does have LED light visual indicators. 
It features 2 detection modes with adjustable sensitivity ranges, low or high audio tone, automatic ground balancing, sensitivity adjustment, threshold adjustment, a waterproof search coil, and weighs 5.1 pounds. Minelab offers a 3-year warranty on the SDC 2300. This model costs almost $4,000. 
Most Expensive Garrett Metal Detectors
Let's begin with the Garrett ATX
The ATX is Garrett's most expensive sport metal detector. The ATX operates on PI technology and is extremely sensitive to small sub-gram gold nuggets and fine gold jewelry. PI metal detectors are inherently immune to the effects of saltwater, so the ATX is perfect for beach or surf hunting. This model is waterproof up to 10 feet and can be used with waterproof or normal headphones.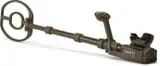 The ATX has 25 discrimination settings, Iron Audio, motion, and non-motion search modes, and a standard 10" by 12" search coil. The ATX weighs 6.9 pounds and has a 2-year warranty. The ATX costs $2,500.
The GTI 2500 features graphic target imaging so you can know the size and shape of your targets. This means you will spend less time digging trash and more time digging treasure. 
This model features fast track ground balancing, ground track automatic ground balancing, true all metal mode, adjustable threshold, pinpoint mode, and volume control. Garrett offers a 2-year warranty on the GTI 2500 and it costs $1,100.
Most Expensive White's Metal Detectors
We'll begin this section by discussing the White's Spectra V3i.
The V3i features a full-color HD display clearly showing the depth and type of metal detected. This model features 9 preset modes allowing turn on and go versatility but can also be optimized to suit any detectorist. This model is designed to find coins, jewelry, relics, and gold nuggets. 
The V3i is a very low frequency (VLF) metal detector that operates on 3 different frequencies: 2.5 kHz, 7.5 kHz, and 22.5 kHz. Ground balancing is automatic and tracking and this model features a 10" Double-D search coil from White's Eclipse Family of search coils. White's offers a 2-year warranty on the V3i and it will set you back $1,500. 
The TDI BeachHunter is a PI metal detector specifically built for beaches and goldfields. This model is waterproof up to 25 feet and works extremely well in difficult soil conditions. The BeachHunter features adjustable Pulse Delay allowing you to fine tune the machine for maximum sensitivity to fine gold jewelry, small gold nuggets, and hammered coins at depth. 
Ground balance and gain area adjustable, dual tone audio lets you hear the difference in sounds, and threshold and volume are adjustable. The BeachHunter weighs 5.2 pounds and includes a hip and chest mount pouch. This model comes with White's patented 12" Dual-Field search coil which features a small, inner coil with high sensitivity to small targets, and a larger outer ring that gives great depth. White's offers a 2-year warranty on the BeachHunter and the cost is $1,300.
Most Expensive Fisher Metal Detector
We'll begin this section by discussing the Fisher CZ-21 Quick Silver.
The CZ-21 Quick Silver is a deep seeking, fully submersible metal detector designed to find all types of treasure. The Quick Silver can be submerged up to 250 feet, so it is the perfect model for scuba divers and shipwreck divers. This model works well in saltwater or freshwater settings and features Dual Frequency Fourier Domain Signal Analysis, VCO non-motion mode, precise pinpointing, easy ground balancing, and all metal auto-tune mode. 
The Quick Silver is great in highly mineralized soil conditions, comes with 8" and 10" search coil options, large target alert, faint target alert, and removable control housing for hip mounting. The Quick Silver operates at 5 kHz and 15 kHz and comes with a 2-year warranty. This model costs $1,800.
Most Expensive XP Metal Detector
We'll begin this section by discussing the XP Deus.
The Deus (pronounced Dey-oos) comes with a backlit display with 10 preset search programs and 8 custom search programs. This detector features a waterproof 9" or 11" waterproof 35 frequency search coil, with frequencies ranging from 3.7 kHz to 27.7 kHz. The Deus is designed to find coins, jewelry, relics, and gold nuggets. 
The most unique thing about the Deus is it is the first wireless metal detector and comes with the first fully telescopic S-shaped stem. There are no wires needed for this detector: the control box is wireless, the search coil is wireless, and the WS5 headphones are wireless. The headphones from XP can also control the entire detector. 
This is an extremely lightweight model at just under 2 pounds and it comes with a 5-year warranty. This model will set you back around $1,500.
Most Expensive Treasures Ever Found
All metal detectorists dream of finding buckets of treasure. Most of the time, we find trashy targets or inexpensive items. Sometimes detectorists will find coin spills, gold nuggets, relics, shipwrecks, and jewelry. 
These items can fetch huge prices at auction and are a real dream come true for the detectorist! Below you will find some of the most expensive treasures ever found by metal detectorists worldwide. 
The Hoxne Hoard
The Hoxne Hoard was found by detectorist Eric Lawes in a village near Hoxne, Suffolk in 1992. It is the single largest hoard of Roman gold and silver ever found in Britain. He was searching for a friend's lost hammer with his detector when he happened upon a hoard containing 14,865 Roman coins and 200 tableware items and other gold items. 
The coins were dated to post 407 CE, when Britain was no longer a Roman province. The Treasure Values Committee valued the hoard at $2.59 million and it is now owned by the British Museum where the most prominent pieces are on permanent display.
The Shapwick Hoard
Amateur treasure hunter Martin Elliot was teaching his cousin to use a metal detector in Shapwick, Somerset, England in 1998. The pair came across a Roman coin near the surface and upon further digging, they found a total of 9,262 Roman coins dating from 31 BCE to 224 CE.
This was the single largest number of silver denarii ever found in Britain and contained 2 exceedingly rare coins never discovered in the country. These coins were valued at $349,000 and are now under the ownership of the Somerset County Museum. 
The Ringlemere Gold Cup
In 2001, amateur metal detectorist Cliff Bradshaw found the Ringlemere gold cup in the county of Kent in England. The cup was badly crushed by farm equipment but that did not affect its value. 
Created from a single piece of hammered gold with a handle cut from a flat gold strip attached by rivets, this 14-centimeter cup was used as an offering in a barrow from 1700 to 1500 BCE. The British Museum bought the cup from Bradshaw for $520,000. 
The Boot of Cortez Gold Nugget
In 1989, a metal detectorist in the Sonoran Desert of Mexico found a 26.7-pound gold nugget later named The Boot of Cortez due to its unique shape. 
This is the largest gold nugget ever found in the Western hemisphere and sold at auction in 2008 for $1.5 million.
Golden Chalice
Diver and detectorist Mike DeMar found a golden chalice in 2008 off Key West, Florida dating from nearly 400 years ago. 
It was from the shipwreck of the Spanish ship Santa Margarita which sank in 1622. This fine was valued at $1 million.
The Mojave Nugget
In 1977, prospector Ty Paulson was metal detecting in the Mojave Desert when he uncovered a 156-ounce gold nugget. This is the largest gold nugget to have come out of the Mojave Desert, which is part of the Stringer Mining District. 
The Mojave Nugget is on display in the Natural History Museum of Los Angeles County and is worth $200,000.
The Wickham Market Hoard
Metal detectorists Michael Dark and Keith Lewis found a hoard in 2008 consisting of 840 Iron Age gold coins in a field near Wickham Market, Suffolk, England. 
The coins were dated to 40 BCE to 15 CE and is the single largest hoard of British Iron Age coins studied by historians and archaeologists. The Ipswich Museum purchased the coins from the pair for $416,000.
Milton Keynes Hoard
Amateur treasure hunters Gordan Heritage and Michael Rutland found a stash of Bronze Age gold in a field near Milton Keynes, England in 2000. Among the items found were 2 torcs, 3 bracelets, and a bronze rod fragment within a pottery vessel. 
The finds were dated to between 1150 and 800 BCE. The Milton Keynes Hoard is now housed at the British Museum and are valued at $382,000.
The Hand of Faith Gold Nugget
In 1980, metal detectorist Kevin Hillier found a massive gold nugget near Kingower, Victoria, Australia. The nugget weighs an astonishing 60 pounds! The Hand of Faith gold nugget now resides in the famous Golden Nugget Casino in Las Vegas. 
The Golden Nugget purchased this massive find from Hillier for $1.1 million. This is still the largest intact golden nugget, second largest nugget ever found, and single biggest nugget ever found with a metal detector. 
The Grouville Hoard
In 2012, metal detectorists Richard Miles and Red Mead found a hoard of over 70,000 Iron Age Celtic and Roman coins and many pieces of jewelry in Grouville, Jersey, Channel Islands. 
The Grouville Hoard is dated to 50 – 60 BCE and is believed to have belonged to a tribe fleeing Julius Caesar's armies. The find was the largest Celtic coin hoard ever found and valued at approximately $3 million!
The Galloway Hoard
Metal detectorist Derek McLennan found a Viking hoard of silver jewelry, ingots, a gold ingot, gold pin, and decorated silver vessel in a field in Dumfries and Galloway, Scotland in 2014. 
The vessel contained glass and rock crystal amulets, beads, brooches, a rock crystal flask, pointers used to read and mark medieval manuscripts, and another gold ingot. The National Museums Scotland purchased the hoard from McLennan for $2.42 million. 
The Crosby Garrett Helmet
In 2010, an anonymous metal detectorist found copper fragments in an English field near Crosby Garrett in Cumbria. When the fragments were pieced together, they were revealed to be a Roman face helmet dating from the late 200s or early 300s CE. 
The bronze helmet featured a Griffin crest and sold for $3.6 million at auction.
If you've enjoyed this article, please "like" our new Discover Detecting Facebook page.
You Also Might Like: