The 8 Best Deep Search Metal Detectors to Help You Dig Deeper
In this article, I'm going to help you find the best deep search metal detectors on the market. 
And in order to better help you, we encourage you to check out our interactive guide below, which allows you to compare some of the top metal detectors on the market against one another (many of them ideal for deep search detecting).
Deep Seeking Metal Detectors
Ever wonder how far down you can really see with a metal detector? Deep seeking metal detecting requires a bit more technology than just the average coin-detecting machines. 
As technology has advanced, we have been able to design new machines that allow us to even identify the types of metal from multiple meters below the surface. Luckily, there is a range from beginner to professional deep seeking metal detectors to choose from, each with its own set of features and perks.
Possible Uses for Deep Seeking Metal Detectors?
When it comes to the hobby of metal detecting, deep seeking is what an in depth enthusiast is looking for. Something to better aid in their detection hobby, but to a depth they have never been able to obtain! 
Based off of what we are already capable of finding in only a few inches to a foot of ground, being able to search feet under you would unlock another whole world of possibilities. 
Of course with this amount of power and range these detectors aren't just aimed at hobbyist or enthusiasts. Instead it has an incredible range of commercial and industrial uses. 
Whether it is locating pipes and underground wires or salvaging materials, deep seeking detectors are what you are looking for. This list aims to cover detectors that can be used for any number of applications, however, some may be better suited than others to very specific tasks.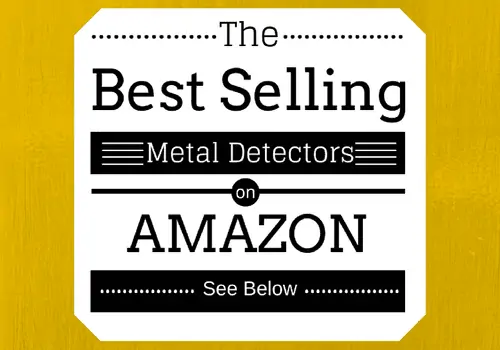 Below, please take a moment to view some of the best selling metal detectors available at Amazon:
What to Look for in Deep Seeking Metal Detectors
When in search of a deep seeking detector, one must first decide exactly what and why they are looking for a metal detector specifically for deep seeking. Having this figured out will better point you in the direction of what you features you need to be looking out for and other factors such as frequencies and interface. 
For general purpose deep searching metal detectors there are some main components you should look for that will dictate the base level of quality, depth and range you will have at your disposal. Try to find a detector that has a setting that allows it to ignore smaller items, this avoids picking up small, unwanted items. 
Another thing to look for is coil size and frequency. A larger coil will allow you to run a higher frequency and also covers a larger range, allowing for the coil to also penetrate deeper into the ground. This list will cover many different detectors that all share these three main qualities. From there each will vary from model to model and brand to brand.
Coming in at the top of our list, the Makro JeoHunter 3D is capable of detecting gold and other metals buried up to 12 meters. This model allows you to see a full-color three-dimensional image, and is excellent for finding large objects. 
Thankfully, this model is sold with three different coil attachments, allowing for variable depths for your searches, with the largest coil allowing for the deepest of finds. 
The JeoHunter features two different detection methods, one for all metals and a discriminating mode to allow you to select which metal you are searching for. The targeted metals are divided into four categories – gold, steel, iron, and valuable.  
When not looking for metals, however, this model is also capable of detecting cavities, tunnels, and caves – all of which are visible on the 3D LCD display. This model detects the depths of the located items, and has a square shaped water resistant coil. 
One major advantage of this model is its ability to see past invaluable or small objects like nails or pop tabs, making it easier to find large metal objects and concentrations of gold and gems. 
2. Detech SSP 5100
The Detech SSP 5100 is another excellent deep search metal detector, with a maximum depth range of 8 meters. The included coil with this model allows for detecting gold, silver, platinum, and other precious metals up to 4 meters, with various attachments available for a deeper range. 
You can choose between different square coils for a deep depth search, or smaller, round options to find precious metals closer to the surface. The Detech utilizes pulse technologies, as opposed to low frequencies, which is helpful in eliminating minerals found in the soil, so that you can take time digging when you know treasure is beneath you. 
The Detech SSP 5100 has an easy to read LCD display, indicating the target size and depth as well as the battery power available. Since this model includes such large coils for deep searches, two people using the detector can cover a large area in a rather short amount of time, making it an excellent option when you are searching for large treasures in an open field. 
Next on our list is the Garrett GTI 2500, equipped with their powerful, patented Graphic Target Imaging. This technology allows you to not only see the depth of the metals, but also the size and shape of the object. This helps discern between mineral deposits in soil, small coins, and junk metals. 
This Garrett model features 24 sensitivity adjustments, allowing you to decide how deep you want to search. Without any additional attachments, you can search depths of 12-14 inches; utilizing the Eagle Eye attachment, however, you can reach up to 2 meters. 
Another good metal detector for deep searching is an affordable option! This detector is not designed to detect anything smaller than about the size of a shoebox, so if you are looking past small coins and deposits, this is an excellent choice. 
This two-box metal detector works wonders when searching for large relics and caches, and had a reputation for being extremely easy to use. Detection can reach as far as 10-15 feet, depending on ground mineralization. 
This detector features four modes to help you with your specific search range, whether you are searching over a broad area or a narrow path. 
Notification of detection is made simple with both a moisture-proof speaker and an audio jack for precise pinpointing. Not only is this machine reputable, but it also comes with a five year warranty from the manufacturer. 
In search of hoards of gold and silver? Looking for a long-lost, buried treasure chest? This another affordable option, capable of detecting large objects up to 20 feet. 
This versatile machine can be used for locating gold, silver, and coin caches, and is also ideal for finding septic tanks, equipment, and metal pipes for a more practical application. The TreasureMaster utilizes a dual-antennae detector, which can avoid ground minerals to help you reach the real treasure. 
This unit is perfect for searching a specific area, and transport is made easy as it can be carried like a suitcase with the ergonomic handle. I would recommend this model for anyone who already has a site in mind for where treasure is buried.
6. DRS 3D Stealth Ground Scanner 
Next up, we have the DRS 3D Stealth Ground Scanner. This one is a little different from traditional detectors, as you wear it like a vest! This is convenient to wear as you use the LCD panel to track your movement and interpret the precise locations of metal, water, earth, or cavities that you are in search of. 
The unique design also automatically eliminates iron from being detected when you are searching for other materials, only to make this a much more valuable detector. The DRS is capable of detecting metal, water, and cavities up to several meters below the surface, and the larger the object the better it will be detected. 
The LCD panel displays materials using different coors, so you can visually see what is below the surface, and at what depth! This device works best for large objects, as it can easily pass over very small coins or pieces. If you are looking for an extremely user-friendly piece with advanced technology, look no further than the DRS 3D! For ease of use and style this is one of my favorite detectors on our list.
One popular option, the Teknetics G2+, helps users find the often overlooked jewelry and coins left by other detectors. Teknetics has an excellent reputation for being able to pinpoint gold, silver, and other precious metals while eliminating trash and iron completely from the search. 
This device also plays a different tone for each of the metals detected or searched for, allowing you easier use when identifying your finds. The G2+ is known for its precise locations, though the depth is not as deep as some other competitors. Despite this, the Teknetics G2 makes treasure hunting a breeze, and will help you find your stash in no time. 
Known to be a reliable deep search metal detector. Although some claim it isn't as great at pinpointing location as others, the depth it reaches is incredible for the price. If you are wanting to find deposits a few meters below the surface for less than $1,000, this is an excellent option. The Deus model is a completely wireless, easy-to-use model by the French company, capable of using headphones or built in speakers.
By utilizing the brands own wireless headphones, the WS4 and WS5, the user is able to control the metal detector just from the headphones! An all-in-one user friendly experience makes this metal detector one of the most popular options available. 
In Summary
Every detector on this list has its spot for a reason, they can all perform the specific task we had set out to identify, deep seeking capabilities. Now after going through the list you will notice that depth becomes a relative term from model to model and brand to brand. 
There are some single arm units that are capable of greater depths than their standard model cousin, But there are also massive scanners, meant to dig several feet down and pick up large objects. 
Again, finding the best one for you comes down to determining what it is you aim to achieve by pursuing the purchase of a deep seeking detector. Keep in mind, for that kind of quality, range and depth, it will cost much more than a standard model. 
As a result a lot of deep seeking models can easily become close, if not over $1,000. It's for this reason that it becomes extra important to have a goal in mind, helping you avoid making a costly investment that you ultimately did not need. Not that any of these models aren't great, but if you are only in search of something a little more basic, or something designed to look for a certain metal or mineral like gold, then these might not be for you.
The Top Metal Detector for Deep Search?
Regardless of what you are looking to achieve, so long as you know you need a deep seeking, then any of the ones discussed above would do the job. But if you are looking for an opinion on which one of these is the best, then there are a few things that must be noted. 
Comparing not just price but reliability, usability, depth, frequency and other important factors, then there is one detector that stands out. Now my decision is for the best general deep seeking detector, not just best in a specific mode or a specific deep seeking task. Instead it is the overall features and everything else previously listed, some detectors on the list might be better for your specific use.
So when looking for a reliable, precise metal detector, you have to look at all of the options and see which one suits your needs. Hopefully I have highlighted some of the options for you, and help to show you the best models you can find on the market today for searching for treasure that is deeply buried.
All in all, I would recommend the Whites TM 808 TreasureMaster. For the price point and user friendly experience, this metal detector works well in variable conditions and has practical applicability as well as treasure finding capabilities. 
If you enjoyed this article, please "like" our brand new Facebook page!
You Also Might Like: