Metal detecting is a hobby that is not only enjoyable but can be exceptionally rewarding. There is always a potential to turn any trip to the beach or walk through the woods into a profitable venture. Because of this, the hobby has skyrocketed in popularity. 
Discover the Best Affordable Metal Detectors
There are numerous brands of metal detecting equipment manufacturers in the world, and it can be difficult to sift through everything to find the right metal detector for entry level detectorists or hobby detectorists. The following list is the 15 best metal detectors under $500 and will conclude with my choice for the absolute best metal detector under $500.
Below, please take a moment to view some of the more popular metal detectors on the market, and see how well they stack up to the detectors we discuss and recommend in this article.
Best PI Metal Detectors and Pinpointers
Let's begin this list by discussing the Makro PulseDive (which is a detector and a pinpointer in one!), as well as a couple helpful (and independent) handheld metal detecting pinpointers!
Nokta Makro PulseDive 2-in-1 Set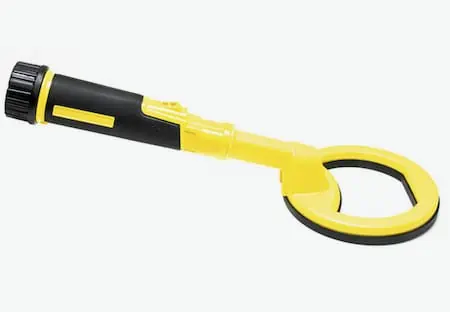 Suitable for all skill levels
Can be used on land or underwater, can be used to deep dive
The PulseDive has an innovative design that allows it to transform from a scuba detector into a handheld pinpointer in a matter of seconds. This detector is fully waterproof up to 200 feet and features stable operating in saltwater, freshwater, beaches, and other soil types. The PulseDive features wireless technology so it can be used with wireless headphones. It has audio, vibration, or audio and vibration alert, which is hugely helpful when diving. It also comes with a built in LED flashlight. 
For ground balancing, this model uses Rapid Retune, which allows the device to recalibrate quickly with one button push. Dive mode locks the keys preventing pressure from pressing them while deep diving. After 5 minutes of inactivity, the device will emit an alarm and the LED will flash in case you become separated from the detector. The PulseDive features 5 sensitivity level adjustments and weighs 14.8 ounces (as a scuba detector) ad 10 ounces (as a pinpointer). The battery is a rechargeable lithium polymer, and the detector comes in bright yellow or all black. 
Fisher F-Pulse Pinpointer
Great for all skill levels
Can be used on land or underwater, ruggedly designed
The Fisher F-Pulse pinpointer is fully waterproof up to 6 feet and can function in fresh or saltwater. This PI pinpointer features beep, vibrate, or both, lost mode alarm, single button operation, proportional response, 3 sensitivity levels, and an adjustable LED light. It also has auto shutdown in case the pointer is left on accidentally. 
This pinpointer is rugged and made from abrasion-resistant materials so it will not wear out easily. This pointer would be extremely helpful in areas of high mineralization or in saltwater. It can be used easily on land or in water. 
Teknetics Tek-Point Pinpointer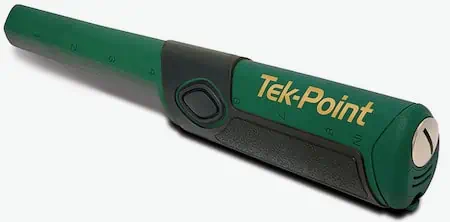 Great for all skill levels
PI makes this pinpointer stable in all types of soil conditions and saltwater
The Teknetics Tek-Point pinpointer is fully submersible up to 6 feet and works well in fresh or salt water. This PI pinpointer features beep, vibrate, or both, lost alarm, and single button operation. It features 3 sensitivity levels, proportional response, retune, automatic shutdown, and adjustable LED light. 
It operates on 2 AA batteries and includes a belt holster. This pointer is rugged and made from abrasion resistant materials, so it will not wear out quickly.
Best Metal Detectors for Gold and Silver
The following metal detectors are going to be absolutely wonderful if you're seeking silver or gold on your next hunt!
Minelab X-Terra 705
Best for intermediate to advanced prospectors
Features 2 search coils and 2 prospecting modes to find more precious metals
The X-Terra 705 features Minelab's VFLEX technology. This technology uses digital electronics to enhance single frequency metal detection. VFLEX helps eliminate electromagnetic interference and makes changing the search coil simple. This detector is specifically designed to find relics, coins, gold and silver, and features a waterproof concentric search coil. 
There are 3 options for search coils for the X-Terra 705, that range from 3 kHz to 18.75 kHz. It is important to remember that higher frequencies find gold better. This model has a backlit LCD screen, volume control, automatic ground tracking, pinpoint mode, and operates on 4 AA batteries. It also features iron mask discrimination and noise cancelling. Overall, this is a well-rounded metal detector for finding precious metals. 
Check out our Minelab X-Terra 705 review!
Minelab Vanquish 540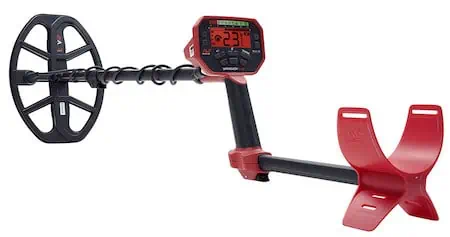 Easy to use model for all skill levels
Uses multiple frequencies simultaneously to find more treasure
Minelab's Vanquish 540 is the top model in its new Vanquish line and is a great option for beginner through advanced detectorists. Minelab makes this model simple to turn on and go, or you can fine tune the machine easily for more advanced features. The Vanquish 540 features 25 discrimination settings, 10 volume and sensitivity settings, and 5 target ID tones. 
It is lightweight at just under 3 pounds and features Minelab's Multi-IQ technology. This technology allows the use of multiple frequencies simultaneously. This allows users to scan through the frequency spectrum to find everything from silver to gold. The Vanquish 540 has a large LCD screen with red backlight and adjustable iron bias. 
The Vanquish 540 comes standard with Minelab's V12 Double-D search coil (12"). It operates on 4 AA batteries and can be used with wired or wireless headphones. The backlight on the LCD screen is adjustable, too. The Vanquish 540 Pro Pack is another option and comes with an additional search coil. 
Check out our Minelab Vanquish 540 review!
Fisher F4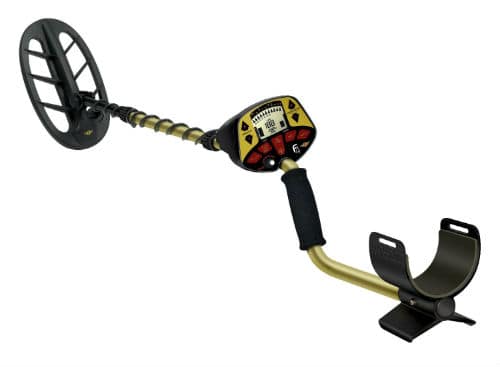 Perfect for all skill levels
Will struggle to find small gold, but will do great at finding larger nuggets
Fisher's F4 metal detector features high deep seeking auto tune with manual ground balance, visual target ID and numerical target ID, 11 segment digital target ID and 4 tone audio ID. This detector is recommended for beach hunting, coin shooting, and relic hunting, but will also find larger pieces of gold. It operates at a low frequency of 5.9 kHz, which is not ideal for finding small gold or fine gold jewelry. However, this frequency is great for finding larger pieces of gold. The LCD screen also features numerical depth readout and one touch pinpoint. The F4 comes standard with an 11" bi-axial search coil. 
Check out our Fisher F4 review!
Teknetics T2 Classic
Easy to use for all skill levels
Only under $500 with the use of a code on Teknetics' website (as of this publishing)
The T2 is one of the best metal detectors in its price range. It excels at coin shooting, relic hunting, and gold prospecting, and is fully waterproof up to the control box. It has a large LCD screen with numerical target ID, easy to use user interface, trigger actuated target pinpointing, double filter discrimination, and manual and automatic ground balancing. 
One of the coolest features on this detector is the continuous ground monitor which scans the ground constantly giving users a ground mineralization bar graph readout. The T2 features adjustable discrimination, adjustable sensitivity, depth indicator, and volume control. The T2 operates at 13 kHz. It is a little heavier than some VLF machines at 3.5 pounds and can be used with wired headphones. 
Best Metal Detectors for Coins
Looking for ancient coins? Or just want to find a couple silver dollars? Then the following metal detectors might be perfect for you.
Fisher F44
Great coin shooting detector for all skill levels
Features several sensitivity adjustments and a special coin mode
Fisher's F44 is a weatherproof multi-purpose metal detector designed for coin shooting, beach hunting, jewelry hunting, and relic hunting. This VLF detector operates at 7.69 kHz and features a large LCD screen with backlight. It comes with 20 levels of sensitivity and volume adjustment, 9 segment visual target ID, 2-digit numeric target ID, and iron identifier. It also features 5 modes of operation: jewelry, coin, artifact, custom, and all metal. 
Settings can be saved using the non-volatile memory so the detector will remember your favorite settings. The F44 comes with an 11" concentric elliptical waterproof search coil. The control box is only weatherproof, so care should be taken when detecting near open waters. This model is lightweight, at just 2.3 pounds and operates on 2 AA batteries.
Check out my Fisher F44 review!
Garrett Ace 400
Great for beginning or intermediate detectorists
Garrett's top performing Ace detector
Garrett's Ace 400 is the top tier in the original Ace family line. It has iron audio, higher frequency than other Ace models and volume control headphones. This model has 4 iron discrimination segments, 5 search modes, pinpoint mode, 8 sensitivity and depth adjustments, digital target ID, and 3 audio tone ID levels. It operates on a 10 kHz frequency that is adjustable. 
This helps in areas with a lot of interference. Notch discrimination is adjustable on the Ace 400. This is a lightweight model at just under 3 pounds and operates on 4 AA batteries. It comes standard with an 8.5" by 11" Double-D PROformance search coil. 
Check out my Garrett Ace 400 review!
Minelab Vanquish 440
Great for all skill levels
Has no trouble finding a U.S. nickel up to 7" in dry and wet soils
Minelab's Vanquish 440 is an excellent metal detector for coins. This detector features Minelab's Multi-IQ technology, allowing it to scan using multiple frequencies simultaneously. The Vanquish 440 is the mid-level machine in Minelab's newest Vanquish lineup. This detector features 5 search modes: coin, relic, jewelry, custom, and all metal. 
Users can also save custom profiles. Noise cancelling is automatic, iron bias is preset to high, and sensitivity and volume have 10 adjustment levels. The Vanquish 440 has 12 segment discrimination, numerical target ID, and a 5-level depth indicator. This model is lightweight at 2.6 pounds and can be used with wired headphones. It comes with a V10 Double-D waterproof search coil and operates on 4 AA batteries. 
Check out my Minelab Vanquish 440 review!
Garrett Ace Apex
Great detector for all skill levels
Multiple and single frequency use to find even more treasures; includes modes for U.S. and international coins
Garrett's newest detector is the Ace Apex. This detector is the latest in Garrett's successful Ace line and is the only one that operates on multiple frequencies. One of my favorite perks of this detector is it can use 4 single frequencies when not in multi-frequency mode, ranging from 5 to 20 kHz. This makes this a great all-around metal detector. 
The Ace Apex can be used with wireless headphones or wired headphones and features quick target separation. The LCD screen is backlit, and features numerical target ID. The Ace Apex has automatic or manual ground balancing, pinpoint, rainproof control box, and the detector has iron audio, iron volume control, iron discrimination, volume adjustment, notch discrimination, and 6 search modes. 
Another great perk of this detector is it has special search modes for U.S. coins and for international coins. This detector is lightweight, at just 2.5 pounds and operates on rechargeable battery pack. 
Check out my review of the Garrett Ace Apex!
Best Waterproof Metal Detectors
In this section, check out a waterproof metal detector I really like–perfect for use not only on a beach or a lake, but whenever the skies turn gray and rain starts to pour down on your detector!
Nokta Makro Simplex+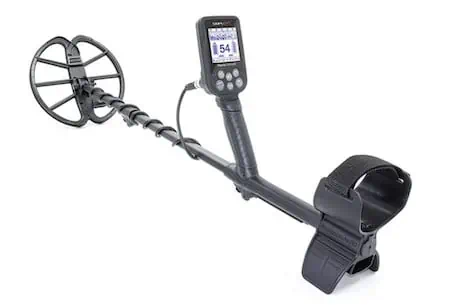 Simple to use for all skill levels
Fully waterproof up to 10 feet
The Nokta Makro Simplex+ is one of my favorite metal detectors. It is easy to use, with turn on and go functionality, but has a whole array of settings for more advanced detectorists. This detector is designed to be affordable while giving users multiple settings to tailor the detector to their needs. This is the company's first entry level metal detector, and it is a winner! The Simplex+ comes with automatic ground balancing and 4 search modes: park, field, beach, and all metal. It is fully submersible up to 10 feet, so it can be used for shallow diving. 
The Simplex+ is a single frequency VLF detector that operates at 12 kHz. It does have frequency shift, which allows the detector to slightly tweak the frequency to counteract interference from electromagnetic sources, highly mineralized soils, and saltwater. This detector also vibrates upon target detection, which is a great feature for the hearing impaired or for underwater use. I live in an area with high soil mineralization and a lot of electromagnetic interference from naturally occurring sources. This detector does very well at balancing these out and still giving quality target signals. 
The Simplex+ features an adjustable backlight on its LCD screen and has a built-in LED flashlight. It has a pinpoint mode and is lightweight at just under 3 pounds. It is ruggedly built and runs on rechargeable battery pack or USB power bank. One feature I really like on this detector is the upgradeable software. Simply connect the device to a computer and go to Minelab's website for any new software updates. This is one of the absolute best metal detectors under $500.
Check out my Nokta Makro Simplex+ review!
Best Beach Metal Detectors
Like to go hunting for metal on the beach? Hoping to find some lost jewelry or buried coins? Check out some of the following detectors that are great for this!
Nokta Makro Impact Standard

Simple to use for all skill levels
Can be hard to find but is worth it if you can find it!
The Impact is designed for beach hunting, coin shooting, relic hunting, and is simple to use. This detector is a VLF metal detector and can operate at 3 frequencies, from 5 to 20 kHz, so it is good at finding all types of treasure. The LCD screen has numerical target ID and is simple to read. The Impact has 12 search modes with 3 search mode types: all metal, discrimination, and non-motion. 
Ground balancing is automatic, tracking, and manual, and the Impact has a built-in flashlight. The Impact features advanced discrimination, advanced unmasking ability, and iSAT technology. The iSAT technology allows for stable operation by eliminating false signals caused by mineralization and hot rocks. It operates on 4 rechargeable AA batteries and weight 4 pounds. This model has iron audio, magnetic mineralization indicator, audio tone, tone break, audio boost, notch filter, and can save your settings.
Check out my Nokta Makro Impact review here!
Quest Q40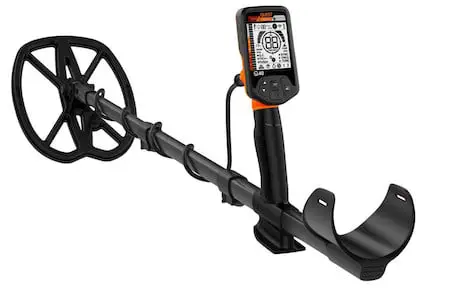 Great for all skill levels
Optimized for saltwater detection
The Quest Q40 is a great metal detector for all skill levels. This detector is specifically designed for beach hunting, relic hunting, and coin shooting. This is a VLF metal detector operating at 13 kHz and uses a rechargeable battery pack. It is lightweight, at just under 3 pounds, and is water resistant (not waterproof, so the control box should not be fully submerged). 
This detector is optimized for saltwater areas, so it is great at filtering out the negative effects of salt. Threshold and discrimination are adjustable on the Q40, and ground balancing is automatic. It does not, however, have visual target ID, depth indicator, or vibration. The Q40 features 6 search modes and a backlit LCD display. It can be used with wired headphones, but the volume is not adjustable. 
Fisher F22
Great for beginners
Easy to operate model with simple settings and modes
Fisher's F22 is a good all-around metal detector at a great price point. This is a wonderful detector for beginning detectorists. The F22 is weatherproof, so it can be used in inclement weather. It is designed for beach hunting, coin shooting, jewelry hunting, and relic hunting. It is a single frequency VLF detector operating at 7.69 kHz. 
It is lightweight at just 2.3 pounds and features 4 operating modes. The F22 has 10 levels of adjustable sensitivity, 20 levels of adjustable volume, 4 tone audio ID, and saves your settings. The F22 comes with a 9" concentric elliptical waterproof search coil. It features adjustable iron audio, visual target ID with numerical readout.
Check out my Fisher F22 review here!
What to Look for in a Metal Detector
Before purchasing a metal detector, it is important to look for a few key features and decide which ones are most important to you. Some of the most important things to consider are type of metal detector, sensitivity, discrimination, coil size and shape, ground balancing, pinpoint mode, depth indicator, weight and price. We will discuss these features below. 
VLF or PI Detectors: Which is Best?
One of the first important choices to make is where you want a Very Low Frequency (VLF) metal detector or a Pulse Induction (PI) metal detector. What is the difference and why does it matter? Keep reading to find out.
VLF Metal Detectors
VLF metal detectors generate low power transmission signals using the search coil antenna. These signals are then analyzed, and the amplitude and change created by a metal target is generated. The signal is received by a separate coil antenna and the object can be analyzed by the metal detector's programming software. This helps determine the size, shape, depth, and composition of found targets. 
VLF detectors are not always reliable in areas with hot rocks, black sand, high soil mineralization, or salt water. These complications can make the detector alert to false signals or even overload. VLF metal detectors have many perks, though, including lower prices, lighter weights, detection of small pieces of gold, discrimination modes, and less sensitive to electromagnetic interference.
PI Metal Detectors
Pulse Induction, or PI metal detectors, use a single coil as the transmitter and receiver. This technology sends short bursts or pulses into the ground, which create a short magnetic field. As the pulse ends, the magnetic field's polarity is reversed and collapses, resulting in a sharp electrical spike. These spikes last microseconds, causing another current to run through the coil called a reflected pulse. Another pulse is sent and the cycle repeats. 
PI detectors send out varying numbers of pulses per second, with the higher pulses per second resulting in faster detection and more finds. When a PI detector finds a metal target it will take longer for the reflected pulse to disappear, alerting the detectorist to metal targets. This works similarly to an echo. 
The detector finds objects based on their echo. PI detectors typically do not discriminate as well as VLF detectors, but they have greater detection depth and stability in areas with high mineralization. The main advantages of a PI metal detector are greater search depth, more stability in mineralization, and they are impervious to the effects of saltwater.
Regardless of which type of machine you purchase, it is important to do some research prior to determine the best fit for your skill level, soil type, and desired treasure type.
Sensitivity
Sensitivity is a metal detector's ability to find a specific size and type of metal. The higher the sensitivity a machine has, the more irregular and small pieces of metal it can find. The sensitivity level is often left at high, so detectorists do not miss any targets. This can backfire, however. It is important to learn about the sensitivity settings on your machine and why they should be adjusted. 
Sensitivity should be adjusted for high ground mineralization, electromagnetic interference, and saltwater conditions. Lowering the sensitivity can help eliminate some of these interferences. This does result in a loss of depth but will keep the metal detector from overloading or delivering false signals as frequently. 
Discrimination
Discrimination allows users to notch out or in certain metal types so only desired targets ring through. Most detectors analyze a target's signal and can help identify the type of metal present. This system is certainly not foolproof, but it is helpful. When you are a beginning detectorist, it is important to dig all targets to familiarize yourself with the detector's performance. 
When you gain some skill and knowledge about the sport, discrimination can be used to filter out junk metals and focus more heavily on the desired types of metal. Discrimination is helpful in areas with high trash content, old homestead sites littered with iron, and camp sites. Discrimination will allow users to notch out these trash targets and find only gold, silver, nickel, brass, and other desired metal types.
Ground Balancing
Ground balancing is a variable setting that increases a metal detector's depth in mineralized soil conditions. Basically, the metal detector scans the ground and produces the best balance between the present ground minerals and potential targets. I live in an area with high soil mineralization, so ground balancing is extremely important to avoid constant false targets. 
Many detectors feature different types of ground balancing, but there are 4 main types: fixed, manual, automatic, and tracking. Some detectors offer beach tracking also, which gives users better readings in saltwater areas. Fixed ground balancing is a pre-set option catering to normal soil conditions. 
Manual ground balancing allows users to set the ground balancing any way they like. Automatic ground balancing lets the detector do the work by scanning and analyzing the soil and adjusting itself. Lastly, tracking ground balancing lets the detector continuously read the soil so it can adjust as you scan. 
Coil Size & Shape
Coil size and shape are important factors for a metal detector. They help determine the depth and range the detector can read. There are many sizes and shapes for search coils.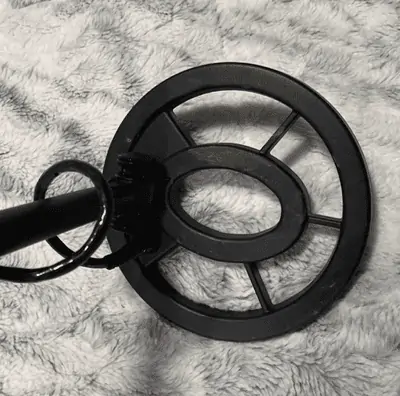 Some detectors come with more than one coil, some have multiple options users can choose from, and some are hardwired onto the detector. Research what type of coil works best for your desired targets and soil type.
Pinpoint Mode
Pinpoint mode is not available on all models of metal detector, but it is not 100% necessary either. Many detectors feature this mode to help a user home in on a target more precisely. This is typically achieved by holding a button and listening for a specific tone. There are also handheld pinpointers that take the place of this feature, or that can further help refine your search area.
Depth Indicator
This tells you how deeply a target is buried. This can come in handy, so you are not digging a 4-foot hole for a piece of scrap metal. Depth indicators are usually labeled to indicate the approximate depth. Some models use a bar graph, with each bar representing a certain depth (i.e., 2 inches). 
Weight
Weight is an important feature to consider as you will be swinging the detector for long periods of time and arm fatigue will be the result. Most PI metal detectors are heavier than VLF detectors, but they also have hip and chest mount options sometimes. This can reduce the weight and arm fatigue.  
Price
Price is likely the most important factor in any purchase. Most of us are on a budget and as such, an item's price is the first starting point. PI detectors are almost always more expensive than VLF detectors, but the cost is worth it for certain detectorists.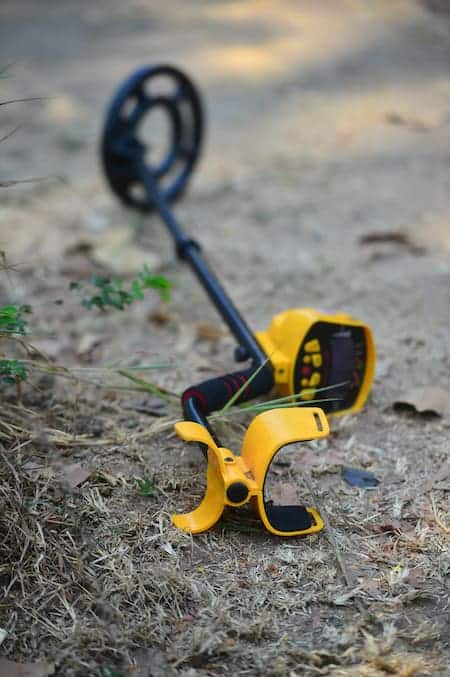 Frequently Asked Questions
Q: Why are there no full-sized PI metal detectors on this list?
A: PI metal detectors are typically much more expensive than their VLF counterparts. For a list of detectors under $500, I was only able to find handheld diving detectors or pinpointers. Some companies do make PI detectors at a lower price point, but I have never heard of or researched these companies before, so I did not include them in this list.
Q: So…what is the best metal detector under $500?
A: In my humble opinion, the Nokta Makro Simplex+ is the absolute best metal detector for this price point. This detector is fully waterproof, has a lot of settings for advanced detectorists, yet is simple to use for all skill levels. I have personally used this detector for over a year and have loved every moment of it.
Q: Can I still get a quality metal detector for under $500?
A: Absolutely! Many metal detector manufacturers make quality metal detectors at various prices. Most of the major well-known manufacturers will make entry level detectors at entry level prices. As of late, many are starting to incorporate more technology in their detectors and lowering the price. There are many metal detectors within this price range that are excellent for all skill levels.
Q: Are there legalities involved with metal detecting?
A: Yes! Always be sure to check local, state, and federal regulations before heading out with your metal detector. You can find yourself in real trouble if you do not know and follow the laws.
Q: Besides a metal detector, what else do I need to get started?
A: For a beginner, you only need a metal detector and a shovel. As you progress in your hobby, you will learn better what you need. I like to keep a good quality shovel, hand trowel, finds pouch, pinpointer, and my detector when I go hunting. For more help, please check out my article on buying the best metal detecting accessories! 
Q: Can I buy a metal detector from a third-party seller instead of the manufacturer?
A: Yes, but be careful about what sites you use. There have been many instances of counterfeit metal detectors flooding the market. In fact, Minelab sued several companies for selling counterfeit metal detectors under their branding. Many sites, like KellyCo, are trustworthy and work with many manufacturers to sell quality, legitimate products.
If you enjoyed this article, please "like" our brand new Facebook page!
You Also Might Like: