Fisher F22 vs Garrett Ace 300: Best Metal Detector?
Fisher and Garrett are both well-known manufacturers of metal detectors. Both are industry leaders and constantly producing new and more advanced technology at competitive prices. Both companies have been in operation for decades and have used those years of experience to listen to customers and tailor metal detectors to specific treasure types, specific skill levels, and specific price points.
In this article, we will discuss two options for entry level metal detectors, and try to determine which one, if any, is the best. We will try to decide the Fisher F22 vs Garrett Ace 300 winner!
About Fisher
Fisher is the oldest metal detecting manufacturer in the world. Dr. Gerhard Fisher, a German immigrant, was the first to receive a patent for a metal detector. This early version, called the metallascope, or M-Scope, led the way for today's technologically advanced metal detectors. 
When his patent expired, other competitors leapt at the opportunity to start producing metal detectors. Fisher was purchased by First Texas Holdings in 2006, and continues to produce high quality, top of the line metal detectors.
About Garrett
Garrett was founded by a husband-and-wife duo in the 1960s. They were determined to produce a better metal detector and were the first to eliminate oscillator drift with their independently operated search coils. This improved efficiency and their Zero Drift technology is now an industry standard. Garrett is one of the most well-known metal detector manufacturers today and produce several top-of-the-line models. 
Garrett offers metal detecting products for sport, security, thermal, corporate, and countermine detecting. They recently purchased another well-known metal detecting company called White's. This will add more punch to Garrett's metal detector stock, although currently no White's models are available on the Garrett website, only White's manuals. 
Fisher's F22 metal detector is an entry-level metal detector tailored to beginning detectorists. The F22 is part of Fisher's well-known F-Series of metal detectors. It is a simple to use machine and has easy to use features. This detector operates at 7.69 kHz, which is a good frequency for depth and sensitivity. It has visual target ID, Fe-Tone iron audio, iron identifier icon, large numeric target ID, 10 levels of adjustable sensitivity, 20 volume adjustments, and 4 tone audio ID.
It also features 4 detection modes: Jewelry, Coin, Artifact, and Custom. 
The F22 comes standard with a 9" concentric elliptical waterproof search coil. The control box is weatherproof, so it can be used in inclement weather, but it should never be fully submerged in water. 
In good soil conditions, you can expect to find a coin-sized target about 9" deep, and larger targets up to 12" deep. The target indicators are one of the most helpful features on the F22. FE will indicate an iron target, numbers 2 – 5 indicates gold, 6 – 9 indicates silver. Gold flakes will fall under the FE scale. The frequency of the F22 is not ideal for finding small gold, however. The best frequency for finding gold is 18 kHz and above. The target ID also measures the conductivity of targets, with lower numbers indicating items like pull tabs, zinc coins, and jewelry, and higher numbers indicating silver, copper, and relics. 
FeTone is the iron audio feature on the F22. This is not a common feature on entry-level metal detectors, so the F22 has an advantage over some here. It allows users to adjust the volume of ferrous targets from silent to maximum, while non-ferrous targets will always be at maximum volume. The F22 is lightweight at just 2.3 pounds and has a pinpointing feature. 
One drawback to the F22 is it lacks manual ground balancing. Ground balancing is pre-set, although it does have Ground Cancellation which helps cancel out the effects of high soil mineralization. Because of the low frequency and lack of ground balancing, the F22 will not perform well in saltwater areas. Saltwater is naturally conductive and will interfere with the detector's performance. 
Overall, the F22 is a great entry-level metal detector made by an industry leading company. 
Garrett's Ace 300 is also tailored toward beginning detectorists. It has upgraded features that would satisfy even an intermediate level metal detectorist. The Ace 300 features 4 levels of iron discrimination, adjustable notch discrimination, 5 search modes, pinpoint mode, 8 sensitivity and depth adjustments, 3 audio ID tones, target depth indicator, and includes headphones.
This model operates at 8 kHz, adjustable. This means the frequency can be adjusted slightly up or down to help compensate for interference from power lines, other metal detectors, or other sources of electromagnetic interference.
The 5 detection modes on the Ace 300 are:
Jewelry
Custom
Coin
Relic
Zero-Disc (all metal)
Custom mode allows you to save changes by adding or rejecting segments to customize your search type. You can customize the other modes too, but they will not save once the detector is powered off. The Ace 300 measures the conductivity of targets and displays this information on screen. The numeric scale ranges from 0 – 99, with higher values indicating higher conductive metals and lower values indicating lower conductive metals. 
This model does not feature iron audio but has Iron Masking. Iron items can sometimes mask a nearby target. The Ace 300 allows you to adjust just enough to eliminate the iron object and detect the good signals. 
The Ace 300 features a pinpoint mode for narrowing down a target location easier. The search coil and shaft are waterproof, but the control box is not. Exercise caution around water to avoid damaging the metal detector. The Ace 300 comes with factory pre-set ground balancing which cannot be changed. It comes standard with a 7" by 10" concentric search coil and weighs 2.8 pounds. The depth this model can search to is dependent upon soil condition, orientation and size of the object, and sensitivity level. The Ace 300's depth meter can only show up to 8" deep, but the Ace 300 has been known to find objects up to 10" deep.
This model is a strong contender in the Fisher F22 vs Garrett Ace 300 battle.
Fisher F22 vs Garrett Ace 300
So which model is better: the Fisher F22 or the Garrett Ace 300? 
Let us break it down. 
Both metal detectors operate at a single, low frequency: the F22 operates at 7.69 kHz, while the Ace 300 operates at 8 kHz. The Ace 300's display features power, mode, and sensitivity buttons, with a numeric target ID and depth indicator. The F22's display features a 2-digit numeric target ID, power, menu, pinpoint, and mode. Neither model has adjustable ground balancing as both are factory pre-sets.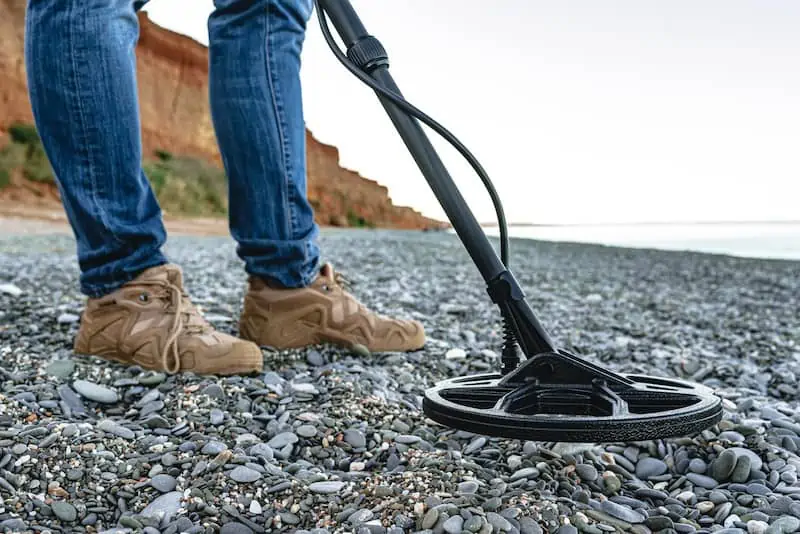 The Ace 300 has one more search mode than the F22, 5 vs 4, respectively. This mode is the zero discrimination, or all metal, mode. The Ace 300 does not feature iron audio, while the F22 has adjustable iron audio. This is an important feature not commonly found on an entry level metal detector. Both detectors have waterproof search coils, but not waterproof control boxes. 
The Ace 300 has 3 audio tone ID levels to help differentiate what metal you have found with solely relying on the screen. The F22 also has audio tone ID but has 4 tone audio ID. 
The Ace 300 comes standard with a 7" by 10" concentric search coil, while the F22 comes with a 9" triangulated search coil. Both the Ace 300 and F22 have adjustable shafts to customize the detector to different heights. The F22 weighs a few ounces less than the Ace 300, 2.3 pounds compared to 2.8 pounds. Both metal detectors cost approximately the same, with the Ace 300 being about $10 more (as of November 2021). 
The Ace 300 has a slight advantage over the F22 in terms of quality build and col sensitivity, and it has an extra search mode. The F22, however, offers Iron Audio, which is hugely helpful when searching in trashy areas and helps you not have to constantly check your display. Both models are perfect for entry level metal detectorists, and you should choose one based on your needs. 
Conclusion
So, who wins the battle of Fisher F22 vs Garrett Ace 300? Both! Either one of these metal detectors would be a fantastic choice for an entry level metal detectorist. They both have a respectable number of features to help a new detectorist enter the world of metal detecting without being overly complicated. 
If you plan to metal detect in an area with high trash content, you may want to consider the F22 with its Iron Audio feature. Both are quality built metal detectors, both are from highly reputable companies, and both have a simple to use interface. 
The features on these detectors are remarkably similar, and both are simple to use. They are perfect for anyone entering the wild and wonderful world of metal detecting. You will not regret your choice if you decide to go with the Fisher F22 or the Garrett Ace 300.
FAQ
Q: Can I use the F22 or the Ace 300 at the beach?
A: Technically, you can use it anywhere metal detecting is allowed. It may not function as intended, however. The search coils on both detectors are waterproof, but the control boxes are not. Be careful around water to avoid irreparable damage to the detector. Single low frequency metal detectors, which both are, tend to struggle in saltwater areas. 
You can sometimes turn down the sensitivity to mitigate some of the effects of saltwater. If you do some beach combing with either the F22 or Ace 300, be sure to rinse the detector coil thoroughly with clean water to avoid saltwater damage. 
If you plan to metal detect in freshwater areas, like lakes or rivers, the F22 and Ace 300 should perform well. Freshwater is not conductive like saltwater so these areas should not interfere with the detector's performance (unless you live somewhere with high soil mineralization, like me!). 
Q: What is the difference between the Fisher F22 and other Fisher F-Series models?
A: Fisher's F-Series is a well-known series of detectors. It features the F11, F22, F44, and F75 (previously, it also featured the F70, F19, F4, F5, and F2, which are no longer available). The F22 is slightly more advanced than the F11, and not as advanced as the F44 or F75. 
The F11 and F22 are tailored toward beginners, while the Fisher F44 and Fisher F75 are more for intermediate to advanced detectorists. The F22 has more features than the F11, but not as many as the upgraded models. This makes it easier for a beginner to learn without getting frustrated by too many settings. 
Q: What is the difference between the Garrett Ace 300 and other Ace models?
A: The Ace 300 is the mid-level metal detector in the traditional Ace lineup, which includes the Ace 200, Ace 300, and Garrett Ace 400. The Ace 200 is the lowest model with the fewest features, while the Ace 400 is the highest model with the most features. Most notably, the Ace 400 has iron audio, while the other 2 do not. 
The Ace 200 has fixed discrimination, while the other 2 can be adjusted. It also has only 3 search modes while the 300 and 400 have 5. The operating frequencies are also different on all Ace models: 6.5 kHz, fixed, for the Ace 200, 8 kHz, adjustable for the Ace 300, and 10 kHz adjustable for the Ace 400.
Q: What types of batteries do the F22 and Ace 300 need?
A: Both the Fisher F22 and Garrett 300 need 2 AA batteries. This makes the operating costs of both detectors quite low. With the Fisher F22, you can expect 25 to 30 hours of battery life with each set of AA batteries. The Garrett Ace 300 has a similar battery life of 25 to 35 hours per set of AA batteries.
If so, please "like" our Facebook page and be sure to revisit Discover Detecting for new content surrounding the metal detecting hobby!
You Might Also Want to Read:
Fisher vs Garrett Metal Detector's: What's Best?