Garrett vs Minelab: Top Detector Brand?
Garrett and Minelab are both well-known names within the metal detecting world. Both companies have been providing quality metal detecting products for many years and are industry leaders. And both companies have a loyal fanbase that swear by their products. 
But what makes them so great? Are they really worth the money? And which brand is the best?
Well, we will answer all of those questions and more throughout this article.  And to better help you, please take a closer look at some of the detectors we'll be discussing today:
About Garrett
Garrett metal detectors was founded in 1964 by Charles Garrett and his wife, Eleanor. Their company began in their garage in 1963. The Garrett's were determined to make a better metal detector. Garrett was the first company to eliminate oscillator drift with their patented independently operated search coils. 
This greatly improved treasure hunting efficiency. This "Zero Drift" technology sparked a revolution in metal detectors that grew industry wide. 
Today, Garrett is recognized as an industry leading company with great customer service and fantastic products. Garrett now makes metal detectors for sport, security, countermine, school security, and government use. Garrett metal detectors are widely regarded for their continued performance and their reasonable prices. This makes them a formidable opponent for other metal detector manufacturers.
Garrett Models
Garrett's Ace line is one of the most popular metal detecting line out there. It consists of the Ace 200, Ace 300, Ace 400, and the latest metal detector in the Ace line, the Ace Apex. 
These detectors are great for entry level detectorists or intermediate detectorists. All 3 original models are lightweight, at just under 3 pounds, and operate on 4 AA batteries. All 3 have adjustable lengths so they can be tailored to suit all detectorists. The Ace 200 is the least expensive of the 3 and is the simplest to use. It comes standard with a 9" concentric search coil and a standard operating frequency of 6.5 kHz. 
This is a fixed frequency and will not be great at finding small gold. The Garrett Ace 200 does not have a pinpoint mode. It does not have Iron Audio but does have 4 discrimination segments and 3 search modes.
The Garrett Ace 300 and Garett Ace 400 have adjustable notch discrimination, 4 iron discrimination segments, but no Iron Audio. The Ace 300 and Ace 400 have 8 sensitivity and depth adjustment and feature a stationary pinpoint mode. The Ace 300 has an operating frequency of 8 kHz, and the Ace 400 has an operating frequency of 10 kHz.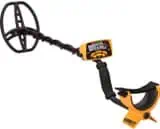 The Ace 300 comes standard with a 10" concentric search coil, and the Ace 400 an 11" Double-D search coil. Both models come with headphones, an Ace Cover-up, and coil cover.
The Garrett Ace Apex is a multiple frequency metal detector. This detector can operate on multiple frequencies at once, and at 4 single frequencies individually:
The Ace Apex features wireless technology for use with wireless headphones, along with a 1/8" headphone jack, backlight, Iron Audio, Iron Volume control, and fast target separation and recovery. It features 8 iron discrimination segments, adjustable volume, 20 selectable notch discrimination segments, and 6 search modes. 
One of the coolest features on this machine is it contains modes for U.S. coins and international coins. The Ace Apex comes with 8 sensitivity and depth adjustments. Ground balancing can be done automatically or manually and is adjustable. 
The search coil is waterproof, while the control box is only weatherproof, so it cannot be fully submerged. The Ace Apex comes with a 6" by 11" Double-D Viper™ search coil and an adjustable stem. It is very lightweight, at just 2.5 pounds. This model comes with a rechargeable battery. 
Garrett's AT line is more advanced than the Ace line, so it is most appropriate for intermediate or advanced detectorists. The AT line consists of the AT Pro, AT Gold, and AT Max. 
The Garrett AT Max is the only one with wireless headphone technology. The AT Max and At Gold come with 44 iron discrimination segments and a true All-Metal mode. The AT Pro comes with 40 iron discrimination segments and does not have All-Metal mode. The AT Max is the only one with a backlit LCD screen or volume adjustments.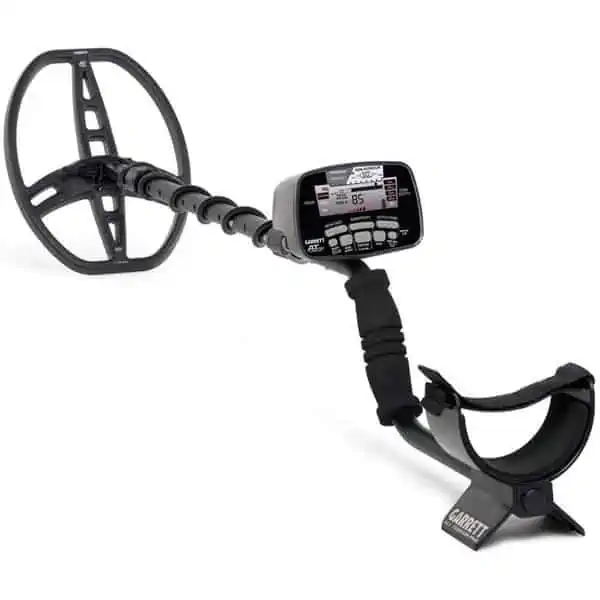 All 3 have LCD screens, but only this model has a backlight. The AT Max and AT Pro have adjustable Notch Discrimination, while the AT Gold comes with preset Notch. 
The Garrett AT Pro features 6 search modes, the Garrett AT Gold features 3 search modes, and the AT Max features 4 search modes. All 3 detectors weigh about 3 pounds.
All 3 AT metal detectors feature proportional audio, or Pro Audio, quick recovery speed, iron discrimination mode, and 8 depth and sensitivity adjustments. All 3 models have automatic and manual ground balancing, digital target ID, and stationary pinpoint mode. All 3 are waterproof up to 10 feet; something the Ace line does not offer. This is hugely helpful for detecting near or in streams, rivers, lakes, and beaches. 
The AT Gold is not recommended for use in saltwater areas, but the AT Pro and AT Max work well in saltwater. The AT Pro operates at 15 kHz the AT Gold at 18 kHz, and the AT Max at 13.6 kHz. Each one is adjustable. 
One of the best and most advanced metal detectors in Garrett's lineup is the ATX. This is a pulse induction (PI) metal detector offering superior sensitivity and depth. This machine operates at 730 pulses per second, adjustable. PI machines work very well in saltwater and highly mineralized soils. 
The ATX is one of the best machines for finding small, low conductive targets like sub gram gold nuggets and fine gold jewelry. The ATX features Fast Track ground balancing, which helps eliminate electromagnetic interference and ground mineralization interference. 
PI machines are inherently immune to the effects of saltwater. This model features continuous GroundTrack ground balancing with 4 adjustable settings. 
The Garrett ATX is fully submersible up to 10 feet and features both motion and non-motion modes and a pinpointer. PI machines are always heavier than most of the traditional very low frequency (VLF) metal detectors, and this is no exception. The ATX weighs in at 6.9 pounds. 
All Garrett metal detector come with a 2-year warranty.
About Minelab
Minelab has been manufacturing metal detectors for 35 years and continue to be an industry leader. Their team consists of 50 engineers who constantly look for ways to innovate metal detecting equipment. When one thinks of difficult terrain, Minelab likely has a solution for you. They specialize in detectors for difficult soil conditions including magnetic materials, iron rich soil, and salt water. All Minelab metal detectors are ruggedly built and manufactured to military grade standards.
Minelab is part of Codan Limited, which is an industry leader in innovative technology in over 150 countries. They have a large dealer and operations network in several countries:
Australia
Europe
The Middle East
Asia
The Americas
Minelab Models
The Vanquish line is Minelab's newest line of metal detectors and consists of the Vanquish 340, Vanquish 440, and Vanquish 540. These detectors are unique in comparison to others on the market because the entire line comes with Minelab's patented Multi-IQ technology. There are not too many multiple frequency metal detectors on the market. 
The Minelab Vanquish 340 comes standard with 3 find modes and a V10, 10" by 7" Double-D waterproof search coil. The control box has a monochromatic numerical Target ID, 5 segments of discrimination, and operates on 4 AA batteries. 
The Minelab Vanquish 440 has the same basic features as the 340, but comes with a pinpoint mode, has 12 discrimination segments, and 5 find modes. Iron Bias is preset on both the Vanquish 340 and 440 and is not adjustable. The Vanquish 440 has more sensitivity settings and the same monochromatic numerical Target ID. The Vanquish 440 comes with wired headphones and operates on 4 AA batteries. It comes standard with a V10 10" search coil and weighs 2.6 pounds.
The Minelab Vanquish 540 is the top model in this line (it also comes in a Pro Package with additional search coil). This model has the most features in the line including pinpoint mode, iron bias control, red LED backlight, and rechargeable battery pack. It comes with a larger, V12 12" search coil. 
The Vanquish 540 has 5 find modes, 25 discrimination levels, adjustable iron bias, and Bluetooth technology for use with wireless headphones. All machines in the Vanquish line are aimed at beginning or intermediate metal detectorists. 
Minelab's more high-tech line is called the Equinox and consists of the Equinox 600 and Equinox 800. Both machines also feature Minelab's Multi-IQ multiple frequency technology. One thing that sets these detectors apart from the less expensive Vanquish line is their ability to not only operate on multiple frequencies, but they can operate on several single frequencies, too. 
The Minelab Equinox 600 can operate at single frequencies of 5 kHz, 10 kHz, and 15 kHz, while the Equinox 800 can operate on these 3 frequencies, plus 20 kHz, and 40 kHz. Both Equinox detectors feature wireless technology for use with wireless headphones. 
The Minelab Equinox 600 and 800 are fully submersible up to 10 feet, unlike the Vanquish line, which only comes with waterproof search coils. The Equinox 600 features backlit LCD screen with numerical Target ID, 25 sensitivity levels, 25 volume levels, and 25 threshold levels. 
Ground balancing can be done manually or automatically. This model weighs 2.96 pounds and comes with an 11" Double-D Smart coil with skid plate and operates on rechargeable batteries. Minelab offers upgradeable software on both the Equinox metal detectors by simply connecting the control box to a computer. 
The Minelab Equinox 800 has all the features of the Equinox 600 but adds Gold mode. This gives the Equinox a total of 8 search profiles, which can be saved to custom profile settings. This model also has wireless technology and can be used with wireless headphones.  Ground balancing is automatic or manual, like the Equinox 600. 
There are 25 adjustable levels of sensitivity, volume, threshold, and threshold pitch. The LCD screen features numerical Target ID, 4 backlight levels, 5 levels of depth indication, and 2 tone pitches. The Equinox 800 weighs the same as the 600, at 2.96 pounds and operates on rechargeable batteries.
One of the best detectors Minelab makes is the CTX 3030. If you watch the History Channel's series The Curse of Oak Island you may recognize this detector as professional detectorist Gary Drayton uses it on the show.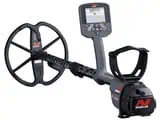 As with other Minelab models, the Minelab CTX 3030 is a multi-frequency unit that operates from 1.5 kHz all the way up to 100 kHz. The CTX has a lot of upgraded technological features that put it a step above other detectors:
FBS 2: Uses multiple frequency transmissions and coil-to-detector communication to find more targets
Smartfind 2: Provides digital signal processing and FeCo discrimination, with color target information to better target ID results
GPSi: Extremely high sensitivity for accurate geo locating
Wi-Stream: Creates fast wireless audio without loss of sound quality
FeCo (Ferrous and Conductivity) target resolution combines with adjustable Tone ID profiles that allow users to detect desired targets while ignoring undesirable targets. Target Trace and Target Separation allow identification of multiple targets at one time for more accurate results. 
GPS location allows users to see where they have been and where they are going by using the Map screen and Navigation tool. GeoTrails shows covered areas, WayPoints marks points of interest, FindPoints marks treasure locations, and GeoHunts records the entire hunt. 
All detector settings and GPS settings can be uploaded to a computer along with photos and text. You can find locations on Google Maps and download data to the detector to explore late. The CTX 3030 also has 9 different languages to choose from. Quick menu settings allow quick on the go adjustments. 
It also has adjustable sensitivity, noise cancel, audio, and ground balance. This model is fully submersible up to 10 feet and has wireless technology for use with wireless headphones. It comes with an 11" Double-D Smart coil and weighs in at 5.2 pounds.
Minelab offers a 3-year warranty on all its detectors. 
Price Comparison of Garret vs Minelab
Garrett Models:
Ace 200 – $200
Ace 300 – $300
Ace 400 – $400
Ace Apex – $500
AT Pro – $650
AT Max – $850
AT Gold – $750
ATX – $2,495
Minelab Models
Vanquish 340 – $199
Vanquish 440 – $279
Vanquish 540 – $369
Equinox 600 – $649
Equinox 800 – $900
CTX 3030 – $2,500
As you can see, the beginning models from both Garrett and Minelab are similarly priced, as are their top of the line models. Both companies have similar pricing all around. 
Garrett Models vs Minelab Models
For the beginning detectorists, either the Garrett Ace line of the Minelab Vanquish line would be the most appropriate. Both lines are tailored to beginners and are simple to operate. The biggest difference between the two is Minelab's Multi-IQ technology. All 3 of Garrett's original Ace metal detectors come with 5 search modes, while the Vanquish line varies among the 3 models. 
The Ace Apex is more like the Vanquish line as it is multi-frequency. However, the Ace Apex can operate on single frequencies as well as multiple frequencies, like the Equinox line. The Ace line has been around much longer than the Vanquish line and has had extensive field testing and reviews. But the Vanquish line has some good reviews from users, also. 
The Minelab Equinox line and Garrett AT line are similar, apart from the Multi-IQ technology on the Equinox detectors. Both are more tailored to intermediate or advanced detectorists and have more features and settings than the beginner models. The Equinox detectors have upgradeable software and can operate on multiple as well as single frequencies. This is something Garrett's AT line does not offer. Both the AT line and the Equinox line are waterproof up to 10 feet, making them a better choice in and around water than the Ace line or the Vanquish line.
The Garrett ATX is the only PI machine on this list. It is in a class all its own but is overall comparable to the CTX 3030. Both machines are much more expensive than all the others on this list, but you are getting a whole lot more with both machines, too. Each machine is great for searching in all areas and all soil conditions. 
Both machines work well in saltwater conditions, beaches, highly mineralized soils, and all other search locations. They are ruggedly built and more tailored to advanced detectorists than beginners.
Conclusion
Based on my experience and countless hours of research, it is impossible for me to pick which company is better, Garrett or Minelab. Both companies have years of experience in producing quality metal detecting products and accessories. Both companies are renowned in the metal detecting world and have a loyal fan base. Both companies offer quality products at similar prices. It really comes down to user preference. 
If you are looking for an entry level metal detector, either the Garrett Ace line or the Minelab Vanquish line is a good option. Both are tailored to beginners or intermediate detectorists, and both have similar features without being overwhelming. Both companies understand the challenges of beginning a new hobby and have simplified the metal detecting process with their beginner lines. 
The Garrett Ace line and Minelab Vanquish line have enough features for beginning detectorists to become familiar with the sport without spending a fortune or buying a machine that is well above their skill set. Garrett's Ace line has been around longer than the Minelab Vanquish line, so it has been more heavily tested. But the Vanquish line is proving itself in the field!
If you are in the market for an upgrade to a beginner model, the Minelab Equinox line or the Garrett AT line is a good bet. Both lines feature detectors at similar prices and with similar features. The AT Gold is the only treasure-specific machine on this list and is perfect for anyone who lives in an area where gold has already been found. 
Remember, gold is typically found where it has already been found. If your area is not known for gold, you likely will not find any gold ore. You may still find gold jewelry, however. When searching for gold, make sure you have a machine with a higher frequency. It is typically recommended to use a machine that operates at a frequency at or above 18 kHz. The higher the better!
The most notable difference between the Minelab detectors and the Garrett detectors is the multiple frequency available on the Minelab models. However, with the Ace Apex, this gives Garrett another option that can compete alongside the Minelab Vanquish or Equinox models. The Ace Apex would be appropriate for beginner or intermediate metal detectorists, or anyone wanting to try a multiple frequency metal detector.
If you are an experienced or professional metal detectorist, the Garrett ATX or Minelab CTX 3030 is the best choice. The ATX is a perfect option for those interested in a PI machine, while the CTX 3030 is perfect for those who like multiple frequency detection. It is important to remember these are professional grade machines with professional level settings and adjustments. 
They will be difficult for a beginning detectorist to operate as the features can be confusing. Always purchase a metal detector that is in line with your skills to avoid frustration.
Regardless of which company you choose to purchase from, you will be getting a quality metal detector with all the features you need in a metal detector. Both Garrett and Minelab are known for quality metal detectors, so you really cannot go wrong with either company. Make sure you do your research prior to purchasing any metal detector, and always purchase from an authorized dealer to avoid counterfeit products. Scammers have been caught selling counterfeit metal detectors claiming to be from multiple big-name metal detecting manufacturers.
Any of the machines on this list will provide you with the metal detecting experience you desire, and will no doubt help you find treasure.
If you enjoyed this article, we encourage you to "like" our brand new Facebook page!
You Also Might Like These Articles: