The 21 Best Metal Detectors Under $1,000 in the World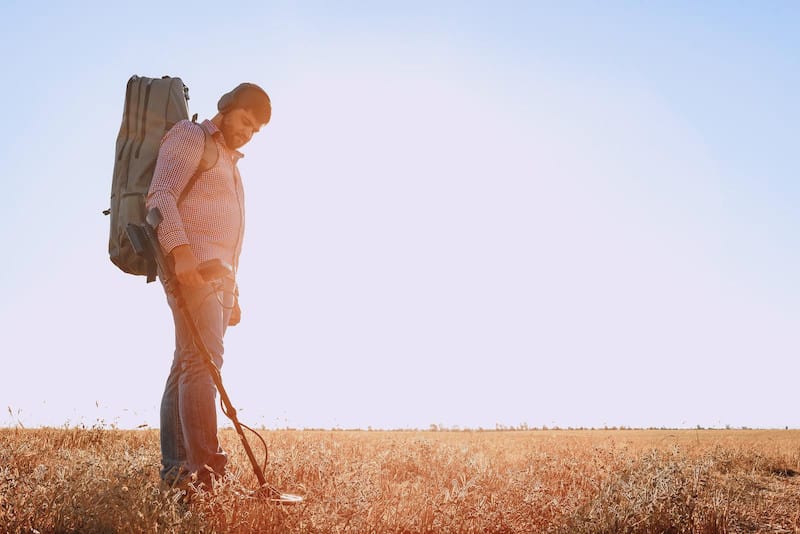 Treasure hunting is a wonderful hobby and pastime. It is relaxing, fun, exciting, and you can move at your own pace. You can hunt for treasure on your own or with family and friends. You do not need a whole lot of equipment for this hobby and you can metal detect in many different locations to find many different types of treasure.
One of the most difficult things about treasure hunting can be picking out a metal detector. There are so many great makes and models on the market, each touting its perks, and this can make it confusing as to which detector would be the best for you. In this article, we will list the 21 best metal detectors under $1,000.
Before looking for a new metal detector, or for your first detector if you are a newcomer to the sport, it is important to consider some of the key features that make a good, quality metal detector. You must decide which features are most important to the type of treasure you are trying to find, the soil and environment in which you will be hunting, and the price range you would like to stay within.
Some of the important features to consider when looking for a metal detector are VLF or PI (more on those shortly), sensitivity, discrimination, ground balancing, coil size and shape, pinpoint mode, depth indicator, weight, and price. Below, we will discuss the importance of each of these features.
Finding the Best PI Metal Detector
The pickings are a bit slim in this price range, but I'm a big fan of the Sea Hunter Mark II by Garrett.
Garrett Sea Hunter Mark II
Perfect for all skill levels on land, but requires diving experience for deep water use
Ideal for saltwater hunting and shipwreck diving
Garrett's Sea Hunter Mark II is a PI detector that operates on a microprocessor. This gives the machine advanced options. This detector is recommended for jewelry, coins, relics, beach hunting, prospecting, surf hunting, diving. The Sea Hunter Mark II is fully submersible up to 200 feet but works equally well on land.
This model comes with Garrett's patented Discrete Trash Elimination technology. This allows the detector to better filter most pull tabs or tin foil without lowering sensitivity. Because this is a PI machine, it is inherently immune to the effects of salt water and has good immunity to other moderate electromagnetic interference.
The Sea Hunter Mark II comes with an 8" mono search coil but has an option for a 10" by 14" search coil. It also comes with waterproof headphones and a hip mount. This detector comes with adjustable audio threshold, non-motion all metal deep seeking mode, PI discrimination, 3 search modes, and 22 frequencies.
The Sea Hunter Mark II emits 750 pulses per second. As with most PI metal detectors, the Sea Hunter Mark II is heavier than most VLF detectors at 5.1 pounds. The hip mount helps reduce fatigue from this higher weight. It operates on 8 AA batteries. While the detector itself is a simple to use and easy to master unit, it is recommended for experienced divers only if using in deeper waters.
Best VLF Metal Detectors
Let's now discuss some worthwhile VLF metal detectors, and why they are worth a closer look if you're in the market for a new detector.
Minelab Equinox 800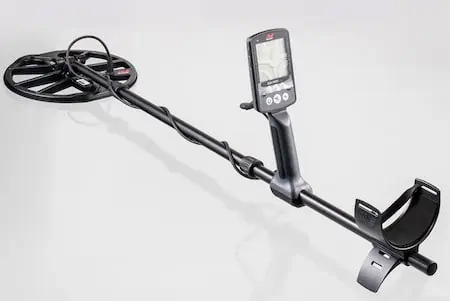 Perfect for intermediate to advanced detectorists
Operates at multiple frequencies, but can utilize 5 single frequencies
Minelab's Equinox 800 features Multi-IQ and SFx8 technologies, making it the perfect detector for all terrains and all types of treasures. Multi-IQ technology allows the detector to use multiple frequencies simultaneously. SFx8 technology refers to the detectors ability to use 5 separate single frequencies (5, 10, 15, 20, and 40 kHz) when not in multiple frequency search mode. The Equinox 800 is fully submersible up to 10 feet, making it perfect for shallow water hunting and beachcombing.
The advanced technologies in the Equinox 800 makes it a meticulously optimized detector great for all treasure types and appropriate for all skill levels. Newcomers to the metal detecting world may find the advanced settings confusing and frustrating, but intermediate to advanced metal detectorists will love the options on this machine. The Equinox 800 has 4 detection modes and 8 custom search profiles.
It features automatic and manual ground balancing, noise cancelling, adjustable sensitivity and threshold. It is lightweight, at just under 3 pounds, features Bluetooth for use with wireless headphones, and updatable software. It has 3 search coil options so users can choose the best fit for themselves.
Minelab Vanquish 540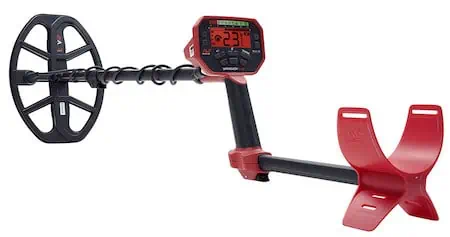 Easy to use model appropriate for all skill levels
Uses multiple frequencies simultaneously to find more treasure
Minelab's Vanquish 540 is the top line Vanquish model and is a great option for new detectorists or those with more experience. The Vanquish 540 features 25 discrimination settings, 10 sensitivity and volume settings, 5 target ID tones, and weights just under 3 pounds. It features Minelab's Multi-IQ technology, allowing it to search using multiple frequencies simultaneously. This model features a large LCD screen with red backlight. It has adjustable iron bias.
The Vanquish 540 comes with Minelab's V12 Double-D search coil, which is a 12" search coil and uses 4 rechargeable AA batteries. This model can be used with wireless or wired headphones and the backlight level on the LCD screen is adjustable. There is also an option for the Vanquish 540 Pro Pack which includes an additional search coil.
Nokta Makro Simplex +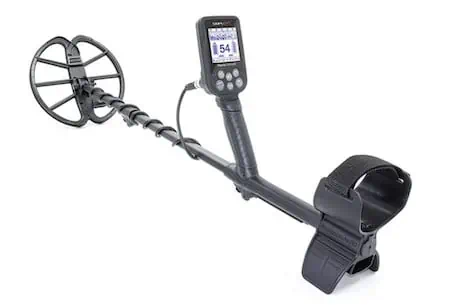 Perfect for all skill levels
All-purpose metal detector that works well in all soil types
Nokta Makro's Simplex + is one of my top metal detectors. The Simplex + is designed to be an affordable detector simple enough for a beginner to use but with enough features to keep a more advanced detectorist happy. This is the company's first entry level metal detector, and it is simple to use and affordable. The Simplex + comes with automatic ground balancing and 4 search modes: Park, Field, Beach, and All Metal. It is fully submersible up to 10 feet and has Bluetooth connectivity for use with wireless headphones. It also features iron volume and notch discrimination.
The Simplex + is a single frequency VLF detector operating at 12 kHz. This model does feature frequency shift, which allows users to compensate for electromagnetic interference by slightly adjusting the frequency up or down. This detector also vibrates upon detection, so it is perfect for those with hearing impairments or for those who want to detect quietly or are searching underwater.
The 12 kHz frequency of the Simplex + is not the most ideal for saltwater or highly mineralized soil conditions, but it does perform well in these areas. I live in an area with extremely high soil mineralization and this detector has enough options and compensations to deal with these issues.
The Simplex + has an adjustable backlight on the LCD screen and a built-in LED flashlight. It features a pinpoint mode and weighs just under 3 pounds. It is a ruggedly built metal detector and runs on rechargeable battery pack or USB power bank. It has upgradable software by connecting the detector to a PC. This is truly one of the best metal detectors under $1,000, and one of my personal favorites.
Garrett AT Pro
Great for all skill levels
Features proportional audio, and is designed for multiple treasure types and soil types
Garrett's AT Pro is great metal detector appropriate for all users. It is fully submersible up to 10 feet and has 40 iron discrimination segments, adjustable notch, 6 search modes, and proportional audio. Proportional audio allows the user to hear sublet changes in target response helping to better judge target depth, size, and shape. The AT Pro also features Iron Audio which, when turned on, allows users to hear discriminated iron so they know iron is present. This is helpful when coin shooting as you can decide if you want to dig a target or not. The AT Pro features Fast Track ground balancing, which is a type of automatic ground balancing and is extremely helpful in mineralized soil conditions. The AT Pro features an LCD screen with numerical target ID.
The AT Pro has a pinpoint mode, 8 sensitivity and depth adjustments, and is lightweight at just over 3 pounds. This is a single frequency VLF metal detector operating at 15 kHz. This frequency is high enough to find larger pieces of gold, but it will struggle to find small nuggets or fine gold jewelry. The AT Pro will struggle in saltwater areas due to the single frequency. It will still work in these areas but will be noticeable noisier. The AT Pro comes with an 11" by 8.5" Double-D search coil.
White's MXT All Pro
Recommended for intermediate to advanced detectorists
Great all-purpose metal detector
*White's was acquired by Garrett in 2020, so information in this portion is subject to change
White's MXT All Pro is one of the company's latest models and is recommended for intermediate to advanced detectorists. The MXT All Pro features a brand-new keypad, small, energy efficient backlit LCD screen, Tone ID, and Ground Grab ground balancing. The MXT All Pro operates at 14 kHz and has automatic and tracking ground balancing.
It features 3 different search programs specifically designed to find relics, coins and jewelry, and for prospecting. Gain settings allow users to adjust depth and sensitivity, threshold allows users to hunt with a slight hum or hear only detected targets, and Dual control functions differently depending upon what search mode the users are utilizing.
The MXT All Pro is a little heavier than the other VLF detectors listed thus far at just over 4 pounds. It comes with a waterproof 10" Double-D search coil and operates on 8 AA batteries. Users can expect up to 40 hours of use depending upon settings. White's offers a great manual and DVD so users can acclimate to their new detector easily and quickly.
Metal Detectors for Coins
Let's now take a closer look at some notable metal detectors that are great for seeking out and finding buried coins.
Fisher CZ-3D
Perfect for beginning to intermediate detectorists
Operates on multiple frequencies and finds quality coin targets of all metal types
Fisher's CZ-3D is a fantastic all-purpose metal detector specializing in finding relics and coins and is also perfect for beach hunting. The CZ-3d does not have an LCD screen but runs on a series of knobs on the control box to adjust its settings. This metal detector is perfect for finding older coins and hunting on older sites.
It is designed to find quality metal coin targets like brass, bronze, copper, and silver. This model is easy to use on old homesites and building sites as it you can select Enhanced mode using the Salt/Enhanced switch. This requires no special adjustments or programming. This is a lightweight metal detector, at just 3.7 pounds. It utilizes a multiple frequency system, ranging from 5 kHz to 15 kHz. The CZ-3D has manual ground balancing, manual threshold tuning, hip or handle mount options, and can be used with headphones.
The CZ-3D has 6 operating modes including VLF Slow Motion, Lock On, VLF Motion, All Metal, Pinpoint/Depth, and 7 categories or autotune. It comes with an 8" concentric search coil which is fully submersible (the control box is not, however, so caution should be taken near water). The CZ-3D operates on 2 9-volt batteries, giving users 10 to 20 hours of search time.
Fisher F75
Great for all experience levels
Can find coins between 10" and 15" deep
Fisher's F75 is a lightweight, easy to operate metal detector at a great price. The F75 features Digital Shield Technology, or DST, which allows users to retain maximum sensitivity with minimal background noise. Users can quickly and easily activate or deactivate this technology according to their preference. This also lets users hear and identify iron as a low tone regardless of signal strength. This model is recommended for coins, gold, jewelry, and relics.
The F75 comes with a large, backlit LCD screen and numerical target ID. It features double filter discrimination modes, magnetic mineralization bar graph and readout, Fast Grab ground balancing, and pinpoint mode. It operates at a single frequency of 13 kHz. The F75 comes standard with an 11" waterproof Double-D search coil. The detector itself is not fully waterproof so care should be taken near water. The F75 can find a U.S. coin up to 15" deep in good soil conditions, but in more difficult soil conditions it will be around 10."
White's Coinmaster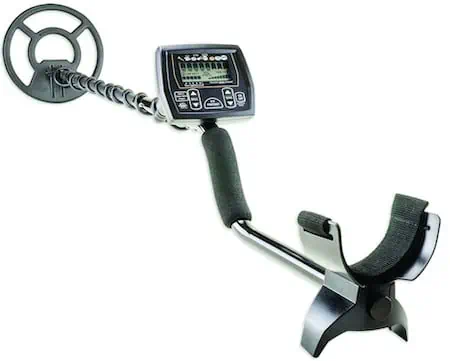 Perfect for beginner coin shooters
Can find coins up to 9" deep
The Coinmaster metal detector is a rugged machine specially calibrated to find coins and jewelry. It comes with Five Range Discrimination, allowing users to hear everything or only a specific target type. This detector is easy to use and is tailored to beginning coin shooters. The Coinmaster operates at a frequency of 8 kHz, ground balancing can be manually optimized or preset, and it features an LCD screen showing target ID and depth. The Coinmaster features adjustable discrimination and sensitivity and comes with a pinpoint mode. It can find coins up to 9" deep.
Garrett Ace Apex
Easy to use metal detector for all skill levels
Multiple or single frequency detector with specific modes for international or U.S. coins
Garrett's newest metal detector is the Ace Apex. This detector features Multi-Flex technology, meaning it is a multiple frequency metal detector and can operate on 4 single frequencies. Frequencies range from 5 to 20 kHz. The Ace Apex can be used with wireless headphones or wired headphones and features Iron Audio, Iron Volume, and iron discrimination. Notch discrimination features 20 segments, and the large LCD screen shows digital target ID, and ground balancing (manual or automatic).
The Ace apex features a waterproof 11" Double-D Viper search coil, pinpoint mode, rainproof control box, and 6 search modes. One cool feature of this detector is it comes with separate modes for U.S. coins and international coins. It is lightweight at just 2.5 pounds.
Minelab Equinox 600
Designed for intermediate to advanced detectorists
Uses multiple frequencies and single frequencies to find treasure
The Equinox 600, like the 800, features Minelab's Multi-IQ technology. One notable difference is this detector can operate on 3 single frequencies rather than the Equinox 800's 5 single frequencies. The Equinox 600 is great at tuning out excess ground noises in highly mineralized soils. It features 3 detect modes and has 6 custom search profiles.
It has automatic noise cancelling, adjustable sensitivity, automatic and manual ground balancing, adjustable threshold, and 5 depth identifications. This model is lightweight at just under 3 pounds. It is fully submersible up to 10 feet and features wireless technology for use with wireless headphones. It also features upgradable software.
Best Beach Metal Detectors
Let's now discuss great detectors that you can use successfully on the beach.
Fisher F22
Great for beginners
May struggle in saltwater, but is great for freshwater beaches
The Fisher F22 is a great inexpensive all-purpose metal detector designed for jewelry, relics, coins, and beach hunting. It is weatherproof, but not waterproof, so care should be taken near water. The F22 features 4 search modes, notch discrimination, pinpoint mode, and depth identification. This is a single frequency metal detector operating at 7.69 kHz, which is quite low for beach hunting.
However, the F22 is perfect for freshwater beach areas. It may have excessive chatter in saltwater areas. This detector is simple to use and is designed for beginner or intermediate detectorists.
White's MX Sport
Great for all-purpose beach hunting
Features salt-tracking ground balancing for use on saltwater areas
White's MX Sport is a great all-purpose metal detector and is waterproof up to 10 feet. This detector is designed for beach hunting, relic hunting, coin shooting, jewelry and prospecting. The MX Sport builds upon White's previous MXT detector with newer technology and features. This model is reliable and rugged. It features discrimination, notch, visual ID, and tone ID. It also features rejection volume so rejected metals can still be heard at a lighter tone.
This model features salt-tracking ground balancing, making it good for saltwater beaches. This is a single frequency detector operating at 13.9 kHz. It has a backlit LCD screen and a specific beach mode which helps it go from wet to dry sand easily. The MX Sport operates on 8 AA batteries and comes with a 10" round Double-D search coil. It weighs 4.23 pounds and has a hip mount option.
Fisher 1280-X Aquanaut
Great for deep water diving
Fully submersible up to 250 feet
The 1280-X Aquanaut is an amazing detector for beach hunting. It is simple to use with its turn on and go operation for salt water, fresh water, or land use. The Aquanaut is fully submersible up to 250 feet. It features discrimination, target strength LED, and Fisher's patented quartz crystal circuitry. Users can expect up to 75 hours of battery life.
The control box can be hip mounted for easier use in the water. Small pieces of trash are easily ignored with the Aquanaut and fully submersible headphones are included. Ground balancing is automatic or manual, and unlike many underwater detectors, this one is VLF. It operates at a frequency of 2.4 kHz. It does not have a pinpoint mode
XP ORX
World's only brand of fully wireless metal detectors
Has incredible sensitivity and discrimination, as well as salt mode
XP makes the world's only fully wireless metal detectors. This makes it one of the lightest weight detectors on the market at just 1 pound 14 ounces. The ORX features 21 frequencies, from 13 to 81 kHz, so it will pick up all types of treasure in all types of soils. Target response on the ORX is quick and selective.
The ORX can be synced with the search coil, LCD remote display, headphones, and MI-6 pinpointer seamlessly.  It features 6 search programs and is easy to use. The ORX comes with a 9.5" and 9" waterproof search coil (each search coil features specific frequency ranges so to change the frequency you just sync the other search coil). It is also compatible with other XP search coils and has upgradeable software.
This detector has 99 sensitivity and discrimination levels, 5 levels of iron rejection, 20 threshold levels, 4 reactivity levels, and iron tone. For use in saltwater areas, the ORX features salt mode ground rejection to help balance the effects of saltwater. Ground balance is automatic or manual and it features a pinpoint mode. The search coils are waterproof, but to fully submerge the detector, you will need a waterproof container for the control box (sold separately).
Nokta Makro Anfibio Multi
Great for all skill levels
Fully submersible to 16.4 feet and features advanced beach mode
The Anfibio Multi is fully submersible up to 16.4 feet and features advanced beach mode. This gives the detector seamless and stable operation in dry sand, wet sand, and underwater. The Anfibio Multi is a VLF metal detector operating at 3 different frequencies: 5, 14, and 20 kHz. It features 9 search modes, adjustable audio with 5 tones, notch, pinpoint function, frequency shift, and vibration with detection.
The Anfibio Multi has automatic, manual, and tracking ground balance. The backlit LCD screen features target ID numbers. This detector weight just under 4 pounds and operates on a rechargeable battery. It comes with a waterproof 11" Double-D search coil and is easy to use for beginners all the way through advanced detectorist.
Best Gold Metal Detectors
Check out some of the top metal detectors that are great for finding gold!
Fisher Gold Bug Pro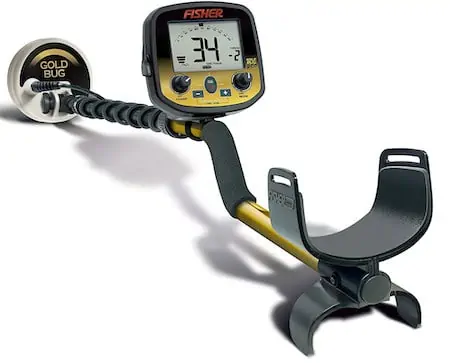 Not beginner friendly
Has multiple features that will make intermediate to advanced detectorists happy
The Fisher Gold Bug Pro is a great choice for a gold finding metal detector. While all metal detectors will find gold, the Gold Bug Pro is specifically calibrated to find more gold. This VLF detector operates at 19 kHz, is lightweight at just 2.5 pounds, and comes with a 5" Double-D search coil.
The Gold Bug Pro features VCO Audio (voltage-controlled oscillator) in All Metal and Discrimination Modes, V-Break™ tone discrimination (the industry's first Variable Breakpoint tone discrimination system), computerized Ground Grab real-time ground balancing, and continuous ground condition readout. Continuous ground condition readout contains Ground Phase, which shows the type of mineralization in the soil, and Fe3O4 graphics show the amount of ground mineralization.
This is helpful when prospecting as gold bearing areas typically have high soil mineralization. It also features a pinpoint mode. This detector is not beginner friendly, so more intermediate or advanced detectorists will appreciate its features.
Minelab X-Terra 705 Dual Pack
Great for intermediate to advanced prospectors
Has 2 search coils and 2 prospecting modes for finding more gold
The X-Terra 705 Dual Pack features VFLEX technology. This tech uses digital electronics to enhance single frequency metal detection. VFLEX eliminates electromagnetic interference and makes it simple to change coils. This is called the Dual Pack because it comes with 2 different search coils with different frequencies. One is a 10" by 5" elliptical Double-D that operates at 18.75 kHz, and one is a 9" concentric search coil that operates at 7.5 kHz.
The elliptical search coil is great for gold as it is higher frequency. There are also 2 prospecting modes on the X-Terra 705 featuring 4 discrimination patterns, all metal, and iron masking. It has multiple audio tones, manual automatic, beach, tracking, and tracking offset ground balancing. It also features a pinpoint mode and has noise cancelling and adjustable threshold.
White's Goldmaster 24k
Great for all skill level prospectors
Features Ground Scan to help find paystreaks and operates at a high frequency to find more gold
White's Goldmaster 24k is excellent for prospecting. It operates at a frequency of 48 kHz, so it will find even the smallest bits of gold. The Goldmaster 24k has a large, backlit display with Target Graph. Target Graph shows Ferrous, Gold, and High Conductor ranges, which is also shown in numerical target ID. This model features White's XGB ground balancing system so it will handle mineralized soil very well.
One amazing feature on the Goldmaster 24k is the Ground Scan. Ground Scan can help prospectors find paystreaks easily. The Goldmaster 24k has adjustable sensitivity and audio, discrimination, and threshold. While this machine is simple to use for beginners, more advanced detectorists will find the detector has great features for prospecting.
Nokta Makro Multi Kruzer
Good for all skill levels
Features 3 different frequencies and is fully waterproof up to 16.4 feet
The Multi Kruzer is a fantastic all purpose, all terrain metal detector. It is fully waterproof up to 16.4 feet and operates on 3 frequencies: 5, 14, and 19 kHz. It comes with 6 search modes, adjustable audio, iron audio, notch filter, and pinpoint mode. Ground balancing is automatic, manual, or tracking. This model also vibrates upon target detection, which is a fantastic addition to any metal detector.
The Multi Kruzer can also be used with standard or wireless headphones. It features a backlit LCD screen that is large and easy to read and features numerical target ID. There are 6 interchangeable search coils for this model so you can really customize it for any type of treasure! This model is lightweight at just 3 pounds and features Extra Underground Depth Function which detects metals masked by ground conditions at maximum depths.
So What's the Best Metal Detector Under $1,000?
There are tons of detectors that are great and priced under $1,000 (as demonstrated by this article).  And while it's always a fools errand (to some degree) to pick a "best of the best," you may want to strongly consider the Garrett AT Max if you're looking for something that's going to provide you with the best value for your money.
Garrett AT Max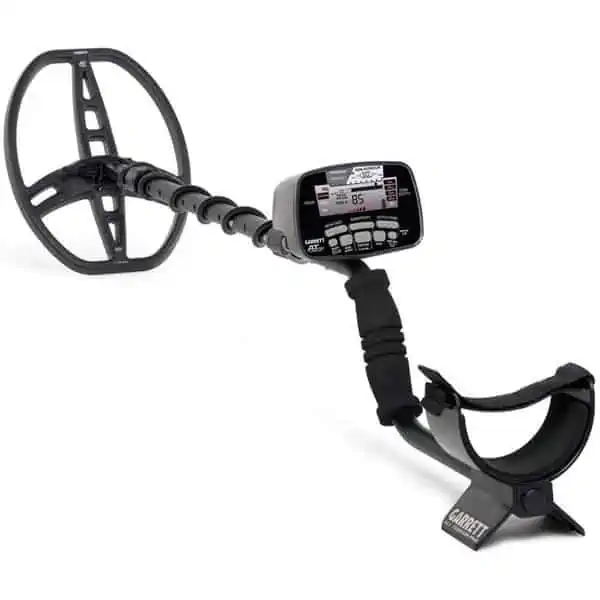 Great for all types of detectorists
One of the best all-around metal detectors on the market
Garrett's AT Max operates at 13.6 kHz. This is high enough to detect come gold, but low enough to find all other metals very well. The AT Max has 44 iron discrimination segments, All Metal Mode, backlit LCD screen, volume adjustments, adjustable notch discrimination, and 4 search modes.
The AT Max is fully submersible up to 10 feet and is made to work in fresh or saltwater conditions. This model has various adjustments to balance the effects of saltwater interference. The AT Max features wireless technology so it can be used with wireless or traditional headphones.
This model has Garrett's Proportional (Pro) audio, iron audio, 8 sensitivity and depth adjustments, and adjustable threshold. It features automatic and manual ground balancing and has a pinpoint mode. The AT Max is great for searching over hunted out sights. It has great depth and clear signal tones. This is one of the best all purpose, all around metal detectors on the market, and is my top choice for best metal detector under $1,000!
Should you buy a VLF or PI Metal Detector?
One of the first choices you need to make when looking for a metal detector is whether you want a very low frequency (VLF) or pulse induction (PI) metal detector. What is the difference between the two and why does it matter, you may ask? Keep reading below to find out.
VLF Metal Detector Technology
VLF metal detectors generate a continuous low power transmission signal via the search coil antenna which then analyzes the amplitude and change of signals generated by a metal target. This signal is then received by the separate receive coil antenna.
The signal of an object can then be analyzed by the metal detector's programming software and the type of metal can be determined. Under some conditions, however, VLF detectors can respond improperly. In areas with hot rocks, black sand, salt water, and high soil mineralization, the metal detector may overload, give false signals, or operate noisily. There are many advantages to a VLF machine, however, especially in normal or easy soil conditions:
Price – typically cheaper than PI machines
Weight – lighter than most PI machines
Less power required
Detection of smaller gold nuggets
Discrimination mode – can filter out iron to reduce trashy targets
Less sensitive to electromagnetic interference
PI Metal Detector Technology
Pulse induction, or PI, technology often uses a single coil as the transmitter and receiver. This technology sends short, powerful bursts (pulses) of current through a coil of wire. Each pulse creates a short magnetic field. As the pulse ends, the magnetic field reverses polarity and collapses suddenly, resulting in sharp electrical spikes. These spikes last a few microseconds, causing another current to run through the coil called a reflected pulse. Another pulse is then sent, and the process repeats.
PI metal detectors send out 100+ pulses per second. When a PI detector is over a metal target it takes longer for the reflected pulse to disappear. This technology works similarly to an echo in a room. The detector finds objects from their echo. PI detectors are not as good at discriminating targets as VLF detectors, but they often have much greater depth as well as stability in areas of high mineralization. The main advantages of a PI metal detector are:
Greater search depth
More stability in highly mineralized soils
Impervious to salt water (can search very well in beach settings and underwater)
Regardless of whether you choose a VLF or PI metal detector, it is important to do some research and figure out which is the best fit for your soil type and your desired treasure type.
Sensitivity
Sensitivity is the measure of a metal detector's ability to find a specific size and type of metal. The better the sensitivity on a metal detector, the more irregular and smaller pieces of metal it can find. Often, the sensitivity level is left at maximum and forgotten about. But it is important to learn about sensitivity and how and why to adjust it. You do not always drive your car at full throttle, so it is not necessary to run a metal detector at maximum sensitivity always.
Sensitivity can and should be adjusted for varying conditions. High ground mineralization, nearby electromagnetic interference, and saltwater can all send a metal detector into overload. Lowering the sensitivity adjustments makes the detector still able to function while filtering out some of these interferences. There will always be a slight loss of depth when lowering sensitivity, but it beats a metal detector overload or continuous false signals and high detector chatter noise.
Discrimination
Discrimination is the act of notching in or out a certain type of metal so only desired targets are identified via a visual or audible cue. Most metal detectors will analyze each target's signal and help users identify the most likely target. While this system is not fool proof, it is extremely helpful.
When metal detectorists first start out, it is recommended to dig every single target you come across. This helps you personally become accustom to the sounds and sights associated with different target types. As you become more familiar with your metal detector the treasure hunting hobby, you can start to rely more on your machine for discrimination. This is helpful in areas where old homestead sites once stood. These areas are typically heavy in iron targets that not everyone desires such as old nails. Discrimination will allow users to notch out iron targets and other non-desired target types.
Ground Balancing
Ground balancing is extremely important because ground mineralization can cause false signals in metal detectors. Feedback, or chatter, from mineralization can often mask good signals and negatively affect detection depth. Ground balance is a variable setting that increases a metal detector's depth in mineralized soil conditions. Fine iron particles, red earth, or salt can all negatively affect a metal detector's performance. Many metal detectors have a variety of ground balancing settings.
Higher end metal detectors have more options, typically than beginner metal detectors. There are four main types of ground balancing: fixed, manual, automatic, and tracking. Fixed is a pre-set option which caters to normal soil conditions. Manual ground balancing allows you to adjust the ground balancing to suit your needs. Automatic ground balancing lets the detector do most of the work by scanning and analyzing the soil and setting the proper ground balancing for the area. Tracking ground balancing lets the detector continuously adjust the ground balancing as you detect.
Coil Size & Shape
Coil size and shape are important in determining the depth and range of a metal detector. There are many sizes and shapes of search coils. Some metal detectors come with more than one search coil, but often these can be purchased directly from the manufacturer or through a third-party seller. Some detectors cannot switch coils, as they are hardwired to the detector.
Pinpoint Mode
Pinpoint mode is not available on all metal detectors but can be a handy option to have. Pinpoint mode basically turns the metal detector into a pinpointer, better narrowing down a target's location.
On many detectors this is achieved by holding a pinpoint button, then moving the search coil until a specific tone is heard. This can cut down the amount of time spent searching and digging for a target.
Depth Indicator
Depth indicators tell you how deeply a target is buried. It is useful to have so you know you can reach your target without digging all day.
Weight
PI metal detectors typically weigh more than VLF machines. However, there are other configurations possible to aid in weight distribution such as hip mount and chest mount options. It is important to consider the weight of a metal detector considering the amount of time you will be spending swinging the machine around. Arm fatigue is real and the heavier detector the quicker that can happen!
Price
Price is often the most important factor when buying anything. Most of us are on a budget, and the price point of an item is a make-or-break situation. PI detectors are typically more expensive than VLF machines but can often be worth the cost.
Frequently Asked Questions
Do I need a PI metal detector or a VLF metal detector?
This is a personal choice, and you need to consider several things. Are you going to be diving with your detector? Do you live somewhere with extremely high soil mineralization or hot rocks? If so, you may consider a PI detector. They are great at blocking out the effects of saltwater and electromagnetic interference. For the most part, however, a traditional VLF detector is the most likely choice. They are cheaper, lighter, and more easily accessible.
Will buying a less expensive detector hurt my chances of finding treasure?
Not necessarily. Some of the best finds in history with metal detectors have been found using inexpensive, or even homemade, metal detectors. Just be sure you know what types of treasures you are looking for, what type of soil conditions you have nearby, and research what types of metal detectors work well for your desired outcome. Manufacturers make specific machines for all types of treasure.
How do I know if I can metal detect a location legally?
It is extremely important to always check local, state, and federal regulations prior to metal detecting on any site. For example, it is legal to metal detect on national forest land and public land, unless otherwise posted, but not state park land. Always check with all pertinent entities before metal detecting to protect yourself!
If you enjoyed this article, please "like" our Facebook page!
You Might Also Want to Read: