7 Metal Detectors for Beachcombing That Are Awesome
This article will discuss the 7 best metal detectors for beachcombing. Because beaches are typically high traffic during warmer months, they are great places to find lost treasures like jewelry and coins. 
It is important to decide if you will be metal detecting on a fresh or saltwater beach, as not every metal detector works well in saltwater environments. Most single frequency metal detectors will struggle with saltwater beaches and will perform to their maximum abilities in freshwater settings. 
That is not to say you cannot use them to hunt on a saltwater beach, but you will be sacrificing depth as you will have to adjust the sensitivity very low to compensate for the saltwater. Many multi-frequency and pulse induction metal detectors will work very well in saltwater or freshwater environments. Pulse induction machines can have a difficult time in trashy areas, or black, iron rich sand, as they are more difficult to discriminate.
It is important to note that multi-frequency metal detectors and pulse induction metal detectors typically tend to be more expensive than a single frequency metal detector. If you are planning to beachcomb in a saltwater beach, however, you will need one of these types of machines to ensure you can achieve the depth necessary to uncover lost treasures. 
Remember: beaches are constantly changing due to wind, erosion, precipitation, surf, and human traffic. Because of this, treasures can be buried quite deeply from sand coming in off the water. You will want a detector that can achieve a decent depth to be able to find some of the older treasures hidden under the sands. Another thing to remember is that when beachcombing with a single frequency machine it can overload the machine if going in and out of the water (along the surf line) so it is best to hunt on dry sand or in the water.
Below, please take a moment to view some of the most ideal metal detectors to use on the beach that will help you find your next treasure:
Features You Need Most for Beachcombing
In this article, will look at the features and functions of each detector and what makes them great for beachcombing. There are a few features you should be on the lookout for if you are planning to beachcomb:
Water resistance
Operating frequency
Operating technology
Weight
Coil size (larger coils cover more ground, but are heavier)
Hip or chest mount (for heavier units)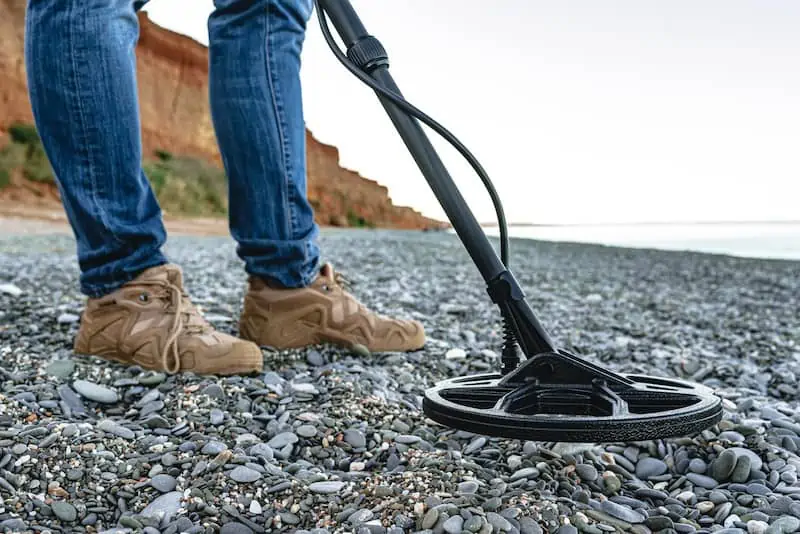 The Garrett ATX is one of my all-time favorite metal detectors. This metal detector is a rugged, all-terrain, all-purpose pulse induction (PI) detector that is waterproof up to 10 feet. The ATX comes with MS-2 headphones (not-waterproof), a sling, battery charger, AA rechargeable batteries, a soft storage and travel case, and a manual. 
PI technology ensures maximum sensitivity on all targets all the time. Controls are easy to access with one hand. The excellent sensitivity on the ATX ensures it will find even small, low conductivity items like small gold nuggets and fine jewelry. 
Ground balancing the ATX is done via Fast Track, and continuous Ground Track with 4 settings: Off, Slow, Medium, and Fast. This means it has a wide range available to ground balance from highly mineralized soil to saltwater without switching modes. 
This unit has 2 search modes: All Metal and Discriminate, and 2 detection modes: motion and non-motion. It has an LED target ID light but no vibration alert. Discrimination mode has 25 settings and Sensitivity has 13 settings. Audio modes are voltage-controlled oscillator (VCO), which gives varying audio pitches, and Iron Audio. The ATX is fantastic for saltwater beach detecting but works equally well on freshwater beaches. The PI technology along with superior ground balancing allows the detector to offset the effects of saltwater.
The ATX comes with a 12" Double-D search coil and military grade hard case. This makes it great for searching in extreme locations. Detection frequency on the ATX is 730 pulses per second, which can be adjusted. The unit runs on 8 AA batteries. This is a heavier metal detector, at 6.9 pounds. This is by far the heaviest detector on our list and may fatigue the arm rather quickly (guess it's time for arm day!). 
The shaft is fully collapsible so you can use the detector with the shaft fully folded or fully extended. This unit has no LCD screen and uses buttons to adjust settings and light segments to indicate target range and battery level. 
Garrett makes no mention of a hip or chest mount option for the ATX, but it could be surmised that removing the control and battery housing from the stem could make the counterweight off on the ATX and make it difficult to swing properly. This detector would be best for an intermediate or advanced detectorist, rather than a newbie. The only real drawbacks to this model are the price and the weight.
 The ATX comes with a 2-year factory warranty from Garrett.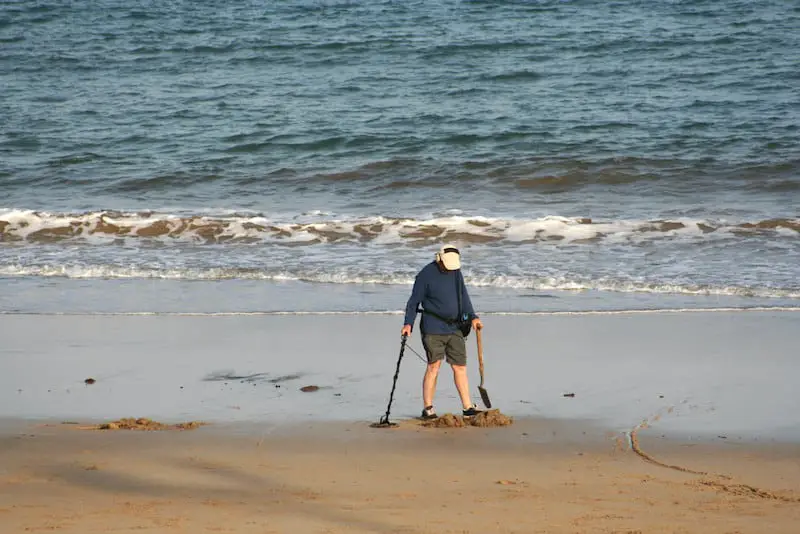 Minelab's CTX-3030 is another one of my favorite detectors and one of the best metal detectors for the beach on the market. The CTX-3030 is a multi-frequency metal detector, operating from 1.5 kHz to 100 kHz. The high operating frequency options on this detector make it perfect for finding small bits of gold and other jewelry. Some of the best features on the CTX-3030 are:
Wi-Stream: Creates quick wireless audio with no sound quality distortion
Smartfind 2: Gives digital signal processing and iron discrimination with color target info
FBS 2: Uses multiple frequency transmission ad coil to detector communication to find targets
GPSi: Extremely high sensitivity GSP for accurate geo locating
GeoTrails: Shows areas already detected
WayPoints: Marks areas of interest
FindPoints: Allows users to mark treasure locations
GeoHunts: Records entire hunt
FeCo: Ferrous and Conductivity (FeCo) target resolution which combines adjustable Tone ID Profiles allowing users to detest desired targets and ignore undesirable targets
Target Trace & Target Separation: Allows identification of multiple targets at one time
The GPS feature of the CTX-3030 allows users to see where they've been and where they're going using the Map screen and Navigation tool. Locations can be viewed on Google Maps and data downloaded form Google to the detector for later exploration. This is also a multi-lingual detector, and comes equipped with 9 languages: English, German, Italian, French, Spanish, Portuguese, Turkish, Polish, and Russian. 
Quick menus on the CTX-3030 allow easy access to adjustments while on the go. Users won't have to stop detecting to adjust Sensitivity, Noise Cancel, Audio, or Ground Balance. A User button can be customized to each detectorist's likes. Battery weight is located behind the armrest to allow for more comfort when detecting. 
The CTX-3030 is adjustable to fit all detectorists and is fully submersible up to 10 feet. This model comes with an 11" Double-D smart coil and weighs 5.2 pounds. This model does not offer hip or chest mounting options. 
With models like this one, removing the control and battery housing would throw the detector's counterweight off, making it awkward to swing on land. I would recommend this detector for an intermediate or more advanced detectorists. Beginning detectorists may be overwhelmed with all the controls and features of this machine.
Minelab offers a 3-year warranty on the CTX-3030.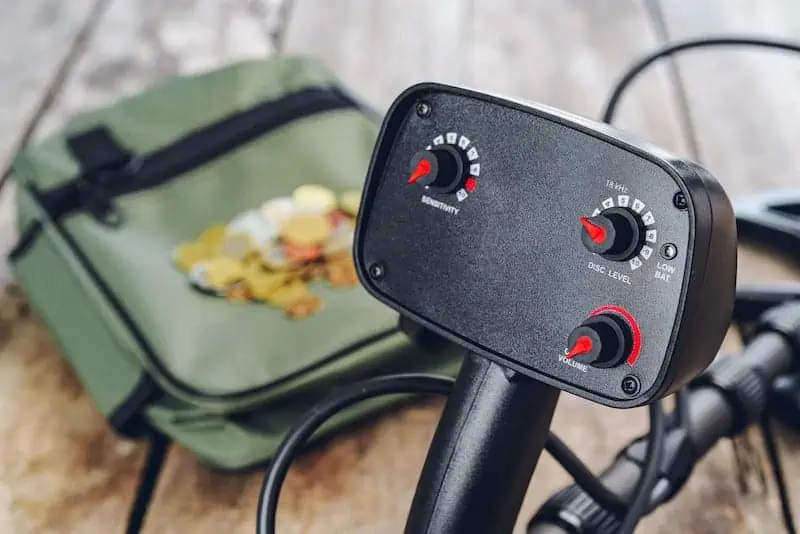 The Fisher F22 is one of my favorite inexpensive metal detectors. This is an all-purpose metal detector designed for jewelry, relic, and coin hunting, beach hunting, and inclement weather hunting. While this is not fully waterproof metal detector, it is weatherproof. The F22 has an LCD screen with numerical target ID and comes standard with 4 operating modes: Custom, Artifact, Coin, and Jewelry. Targets fall in 1 of 4 audio ID signatures. Notch allows users to exclude any metal quickly and easy while keeping the Discrimination at the desired level. 
One drawback to the F22 is the screen does not show what type of object is found, but rather shows how close the object is to the conductivity level of iron, silver, or gold. Target ID numbers will correspond to the metal's conductivity level. The F22 has a pinpoint mode to help narrow down a target's location and depth is indicated in 3 sections on the screen.
The F22 operates at 7.69 kHz and is very lightweight at just 2.3 pounds. This unit comes standard with a 9" concentric elliptical waterproof search coil. The F22 runs on 2 AA batteries, allowing up to 30 hours of operation. 
This means the operating costs of this unit are very low. The light weight of this detector mean it would not need a hip or chest mount as it is easy to lug around for a few hours at a time without getting too much arm fatigue. Because this is a single frequency metal detector, it will not work as well in saltwater conditions. For ideal hunting, this machine would work best in freshwater conditions or on dry, sandy beaches. 
The F22 is a very easy to use machine and would work well for beginner or intermediate detectorists who don't want to spend too much on a decent detector. The F Series detectors from Fisher are all easy to learn to operate, and friendly to beginning detectorists. I would highly recommend this unit to a new detectorist, but it does have features a more advanced detectorist could appreciate.
Fisher offers a 5-year warranty on the F22.
White's MX Sport is a great general-purpose waterproof (up to 10 feet) metal detector. This VLF detector is designed hunt on beaches and find relics, coins, jewelry, and gold. The MX Sport is from White's well-known MX line and builds on the MXT with newer features and technology. This model is reliable, rugged, and has proven performance. Discrimination on the MX Sport is adjustable and includes Notch, Visual ID, and Tone ID. 
Tone ID has several options: single, 2, 4, 8, or 20 tone. Each tone range is preset but has its own volume setting. Typically, if a target segment is notched out the entire segment will make no sound. On the MX Sport, Rejection Volume can be turned on to a percentage of the regular volume so users can still hear rejected metals at a lower volume.
The MX Sport comes with Selectable Tone ID, Audio Modulation, and Rejection Volume to help detectorists determine the difference between desired and undesirable targets. Ground balancing can be done automatically or manually, and the MX Sport also has salt-tracking, allowing users to deal with harsh ground minerals. 
Autotune Mode is a Variable Self Adjusting Threshold (V/SAT). This model runs at 13.9 kHz and has a backlit LCD screen. The MX Sport can work in saltwater conditions due to having a salt adjustment setting and Beach mode. It may take some adjustments to sensitivity to level the machine out, especially when switching from dry sand to wet sand, or wet sand to water. If you will be detecting in the surf, you may have to level it out again by adjusting it. But the MX Sport works relatively well in saltwater conditions, especially for a single frequency metal detector.
The MX Sport runs on 8 AA batteries giving users up to 20 hours of detecting time. This model comes with a 10" round Double-D coil but has 3 other optional coils available. This model comes with waterproof headphones and does not offer hip mount options. The unit weighs 4.23 pounds.
White's offers a 2-year warranty on the MX Sport.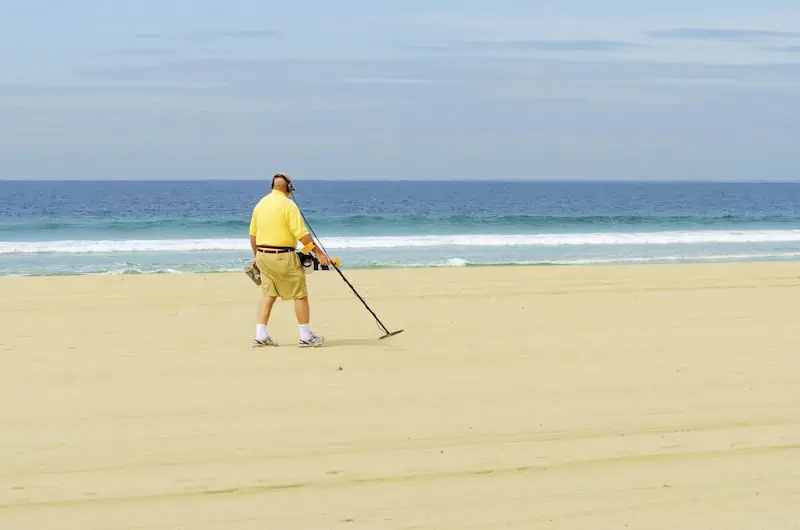 Tesoro Sand Shark
The Tesoro Sand Shark is a PI metal detector perfect for beach hunting. This detector combines PI technology with digital technology to create the first microprocessor-controlled PI detector. This unit is waterproof up to 200 feet, a far cry deeper than any other metal detector on this list! This model works extremely well in saltwater conditions and highly mineralized soil conditions. 
The Sand Shark has 2 operating modes: VCO and Normal. VCO mode increases volume and increases pitch when a target gets near the coil. Normal mode emits a single tone and is best for beachcombing. 
The Sand Shark has a Pulse Width control to tune the detector to the perfect balance of depth, sensitivity, and battery life. This model emits 600 pulses per second and runs on 8 AA batteries. It weighs 4.5 pounds. The detector is near neutral buoyancy and fluorescent colored, making it very easy to see if it is used underwater. 
One feature that some may not like is the hardwired headphones the Sand Shark comes with. Although they are extremely good headphones and completely waterproof, this feature means you can't use any other type of headphones with the unit.
The Sand Shark, as with many PI machines, is designed for more advanced detectorists. The control housing has 4 different configurations, allowing detectorists to mount it in the position they are most comfortable with: under arm, under pole, diver's setup, and body mount. 
This makes the Sand Shark a very versatile machine. It should be noted that the Sand Shark does not have an LCD display but is controlled via a series of 4 knobs. Because this is a PI machine, it will work very well on saltwater or freshwater beaches.
Tesoro offers a lifetime warranty on all their detectors; by far the very best warranty I have seen in the detecting world!
The Nokta Simplex+ ($299) is another of my favorite beachcombing VLF metal detectors. This is an entry level metal detector that is simple to run can be turned on and used right out of the box. The Simplex+ comes with automatic ground balancing, an easy to use menu design, and preset search modes: All Metal, Field, Park, and Beach. This model is waterproof up to 10 feet and is designed to find coins, artifacts, or jewelry. The Simplex+ has a backlit LCD screen with keypad backlight and LED flashlight. 
The Simplex+ has Iron Volume to turn off or adjust the low iron tone. Notch Discrimination allows the filtering of unwanted metals. Sensitivity can be adjusted with 6 different levels along with 3 audio tones. The Simplex+ has a vibration setting which alerts the user to the presence of a target. 
This is a great feature for underwater detecting or hearing-impaired users. While this is a single frequency metal detector, small adjustments in the frequency can be made to get rid of electromagnetic interference. This model has wireless connectivity allowing the use of wireless headphones.
This is a lightweight model, at 2.9 pounds, with a retractable shaft. Built in battery pack and charger come with the unit, but a USB power bank can also be used. The Simplex+ offers online firmware updates via USB on a PC to keep the detector up to date. This model operates at 12 kHz and comes with an 11" Double-D search coil. Even though this is a single frequency metal detector, it has a specific Beach mode which is designed and adapted for saltwater searching. This is a lightweight detector, so it does not need to be hip or chest mounted as it could be used for several hours without too much arm fatigue.
Nokta offers a 2-year warranty on the Simplex+.
Garrett's AT Pro is a rugged, all-terrain, all-purpose metal detector. This model is fully submersible up to 10 feet and features 40 discrimination settings. Pro Audio mode lets users hear very subtle changes in target response and target properties before digging. Tones correspond to different depths and materials, allowing users to better judge the size, shape, and depth of targets.
The AT Pro has 3 Standard Audio modes too, which give full-strength beeps regardless of a target's amplitude. These modes are perfect for users who prefer a more binary and simpler target response. The AT Pro also has Iron Audio allowing users to identify a target if it is a large ferrous target coming through as non-ferrous.
The AT Pro comes with MS-2 headphones (not wireless) and has an LCD display. Digital target ID shows ferrous targets from 1 to 40 and more conductive metals between 41 and 99. Fast Track ground balancing, which is automatic, allows users to quickly ground balance for highly mineralized soils and saltwater conditions.
The ground balance on the AT Pro utilizes a spread, which contains a range of values designed to compensate for ground conditions. The AT Pro also has pinpoint mode to zero in on targets quickly and efficiently. This detector has 6 search modes: 3 Standard and 3 Pro, and 8 sensitivity and depth adjustments.
The AT Pro is lightweight, at 3.03 pounds and operates at an adjustable frequency of 15 kHz. This is not a multi-frequency metal detector, but the frequency can be shifted slightly to compensate for electromagnetic interference. Because this is a single frequency metal detector, it will work best in a freshwater beach setting. It comes standard with an 8.5" by 11" Double-D search coil and runs on 4 AA batteries. As with the other lightweight detectors on this list, the AT Pro does not require a chest of hip mount to compensate for weight.
Garrett offers a 2-year warranty on the AT Pro.
Conclusion
Each of these 7 detectors would be perfect for a day of beachcombing. It is worth noting again that not all metal detectors work well in saltwater settings, and it is important to research which detectors work best for the conditions you are planning to hunt in. In a saltwater environment, I would recommend a multi-frequency metal detector or a pulse induction metal detector. 
Both are proven to work better in saltwater conditions than a single frequency detector. For freshwater or dry, white sandy beaches, a single frequency, multi-frequency, or pulse induction metal detector would all work very well. Some single frequency detectors, like White's MX Sport, work well in saltwater conditions because they have a specified Beach hunting mode and salt adjustment setting to balance the effects of the saltwater on the detector.
It is important to remember too, that not all metal detectors are made for all detectorists. It is important to buy a metal detector that is in line with your skill level to avoid being overwhelmed. Again, research is the key! 
You Might Also Want to Read: