8 Pulse Induction Metal Detectors to Help You Find Treasure
In this article, I'm going to discuss the top of PI metal detectors—better known as pulse induction detectors.  To be more specific, I'm not only going to talk about what makes these such effective devices for finding different kinds of buried metals in the ground, but I'll also recommend 8 PI detectors that I think are really worth considering if you're in the market for a new metal detector.
And, to better help you, please check out the table below, which shows off a slew of awesome pulse induction metal detectors that are definitely worth your time:
Why Use Pulse Induction Metal Detectors?
Pulse induction metal detectors, or PI detectors, use a single coil as the transmitter and receiver. Pulses of electricity travel through a coil of wire and are sent into the ground where a magnetic field is generated. When the pulse ends, the magnetic field reverses polarity and collapses quickly making an electrical spike. 
This spike will last a few millionths of a second, followed by another electrical pulse. These pulses are called reflected pulses. As the pulse's magnetic field collapses, if a target is present, it takes longer for the reflected pulse to disappear, alerting the detector to the presence of a target. 
Within the detector is a sampling circuit. These circuits monitor the length of the reflected pulse and compare it to the expected length. If the pulse strikes the magnetic field of a metal target, the circuit alerts the user to the potential of a target.
The sampling circuit sends signals to the integrator, which reads the signals, amplifies and converts them to direct current (DC), which is connected to the audio circuit. This creates a change in tone when the detector has found a target. 
These detectors can often find smaller pieces of gold than other detectors, so if small nuggets or flakes are the goal, this detector will work very well. PI detectors find objects at greater depths than very low frequency (VLF) detectors. 
However, they do not have good discrimination as the reflected pulse length associated with different metals is not easily separated. PI detectors tend to be heavier than VLF detectors and are less versatile. VLF detectors are better at generalized searching, while a PI detector is better for more specialized searches. 
PI detectors can be used in fresh water, saltwater, or on land, but they truly shine in saltwater locations. They often get better depth on wet, sandy, saltwater beaches than on dry land or in fresh water. This is likely because saltwater is an excellent conductor of electricity, and PI detectors are pulsing out electromagnetic signals. 
As with any sensitive device, PI detectors can be affected by electromagnetic interference. Items such as cell phones, radios, TVs and TV receivers, radio towers, computers, electric engines, and power lines. PI detectors do have technology to eliminate electromagnetic interference to the maximum degree possible without interfering with the detector's operation.
The Garrett ATX comes with a 10 " by 12" DD open coil, 11" by 13" DD closed coil, or 11" by 13" Mono closed search coil and is compatible with various other Garrett search coils. Purchase also includes soft carrying case, rechargeable batteries and charger, and headphones (not waterproof). This model is an advanced pulse induction detector, with 25 adjustable discrimination settings. 
Ground balancing ranges from ferrous ground to saltwater. The ATX sends out 730 pulses per second and is adjustable. It can be submerged up to 10 feet. This model offers 13 sensitivity and depth adjustments, and tests have shown the ATX can reach depths of up to 19". The ATX weighs 6.9 pounds. The ATX also has an electronic pinpoint mode. All these features make this one of Garrett's best detectors for hunting for gold.
The ATX has 2 search modes: motion and non-motion. Motion mode will send signals when the coil is in motion, as with any traditional detector. The device is heavier than a lot of detectors, however, so the non-motion can come in handy. This model does not have an LCD screen, which may be a drawback for some. 
It does, however, have LED indicators which are easy to see, even in direct sunlight. Users can expect 10 hours or more of operation on a full charge. Even though this model has many high-end features, it is not difficult to get started with! Because this model is all-terrain, it has an advantage over some of its rivals, which work best in water or beach settings. 
The Garrett Sea Hunter Mark II runs on a microprocessor operating system for advanced quality of operation, and recommended for surf hunting, treasure diving, coin, jewelry, relic, and beach hunting, or prospecting. This fully waterproof detector is perfect for beach hunting, scuba diving, or snorkeling, but works equally well on land! 
This pulse induction unit comes with Garrett's Discrete Trash Elimination technology, which allows the unit to eliminate most pull tabs or foil without degrading sensitivity for viable targets and has standard trash elimination mode. This model is very easy to use but comes with a full range of high-end features!
This model comes with an 8" patented PROformance submersible mono search coil (also available in 10" by 14"), submersible headphones, and a hip mount belt pouch. Adjustable audio threshold and non-motion all metal deep seeking mode with full range PI discrimination are standard on the Sea Hunter Mark II. 
This model has 3 search modes, 22 frequencies, and a detection frequency of 750 pulses per second. The Sea Hunter Mark II weighs 5.1 pounds and runs on 8 AA batteries. This detector comes with a 1-year warranty. While the Sea Hunter is fantastic for use underwater, users report it is not the best when used in under 10 feet of water. This detector would be great for anyone wishing to detect while snorkeling or diving.
The Sea Hunter Mark II is a longtime favorite of well-known professional treasure hunters Mel Fisher and Bob Marx.
JW Fisher Pulse 8x 
The JW Fisher Pulse 8x is a commercial-grade detector used by treasure hunters, diving companies, law enforcement, and military agencies. This model can be used underwater or on land and has a 200-foot depth range along with a 6-foot detection range. The Pulse 8x can ignore environmental minerals while maintaining a high level of sensitivity to metal targets. This detector works well in highly mineralized soils, saltwater, and magnetic sand. 
The standard package comes with an anodized aluminum handle for land use, a PVC (corrosion proof) handle for underwater use, internal 9-volt rechargeable battery pack with AC and DC battery chargers, headphones, a carrying bag, spare parts kit, and hip mount for the electronics housing. 
The Pulse 8x has 3 search modes: low, medium, and high. The display is not LCD, which may be an issue for some. This model has 2 versions: Version 1 has a hardwired, factory installed 7.5" search coil; Version 2 comes with a bulkhead fitting allowing the detectorist to change coils. The 8x has visual and audio indicators. 
When a metal object is located, the audio alarm will sound, and a meter shows the strength of the signal. As with many detectors, this model can use wired headphones. For anyone wishing to dive with the 8x, the buoyancy is slightly negative allowing the diver to rest the detector on the bottom to dig targets without the unit floating away. JW Fisher offers a 2-year warranty on the Pulse 8x.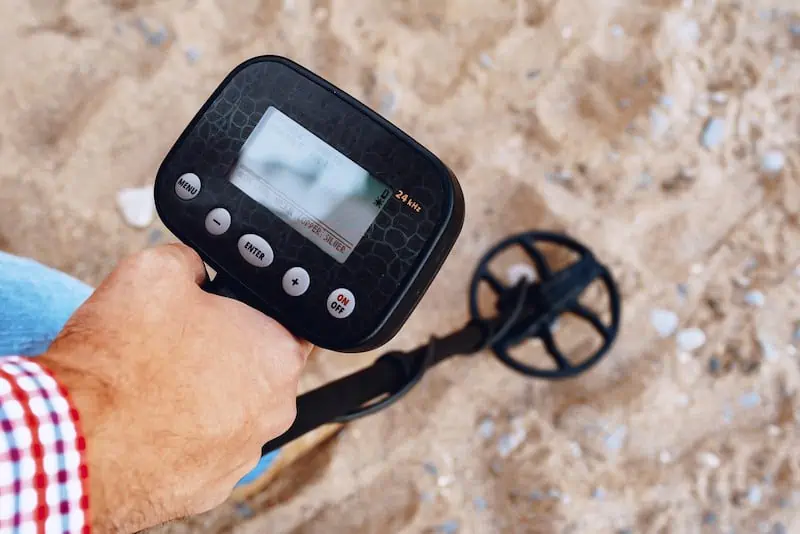 Tesoro Sand Shark 
The Sand Shark is the first pulse induction detector controlled by microprocessor technology. It is a great PI detector for hunting in areas of high soil mineralization, wet saltwater beaches, and underwater. The unit is submersible up to 200 feet. The Sand Shark works well for coin, relic, and gold hunting, and offers 2 operating modes: VCO (Voltage Controlled Oscillator) for pinpointing in All Metal mode; and Normal mode. VCO mode will produce a louder, high pitched tone as the coil gets closer to the target. 
Normal mode functions with a single tone. The Sand Shark emits 600 pulses per second. A higher number of pulses per second allows the user to operate the machine more like a traditional VLF (very low frequency) detector in that you can sweep the coil faster. This unit weighs 4.5 pounds, and detectorists may want a hip mount if hunting for extended periods.
The Sand Shark can use a hardwired 8.5" coil or a 10.5" coil. The smaller coil is better for pinpointing accurately, but the larger coil will cover more area. Pulse width can be adjusted on the Sand Shark, but a larger pulse width will use more battery power. 
There is a preset mark on the pulse width control that gives the best overall balance between battery life and sensitivity. The micro processing circuity is auto-tuning, and the coil does require slight motion to receive a signal. The unit requires 8 AA batteries, which will last 10 to 20 hours. Tesoro recommends the detector be used between 30° and 100° F, with relative humidity between 0 and 75%. This detector is simple enough for a beginning detectorist, but advanced enough to keep a more experienced hunter happy. 
Tesoro offers a lifetime warranty on their products; the best warranty I have seen on the metal detecting market!
The White's TDI BeachHunter was designed for use on land or water, and like all PI detectors, works well in highly mineralized soils, saltwater beaches, and underwater. It has an adjustable pulse delay, adjustable frequency offset, and is optimized for finding gold, jewelry, and relics. This model is fully submersible up to 25 feet and weighs 5.2 pounds. The control box comes ready to mount on the unit, or on a chest or hip mount. 
This will make swinging the detector easier as the rod and coil only weigh about 2 pounds. Dual audio tones help detectorists differentiate target sounds. The BeachHunter comes with a 12" dual field search coil and a heavy-duty rechargeable battery with 8 AA backup battery pack.
This model is optimized for use on beaches and goldfields as it has extreme depth performance. An adjustable pulse delay allows the user to set the machine for maximum sensitivity to find smaller pieces of gold, jewelry, or coins at greater depths. To start, simply set the ground balance, adjust the gain, and start swinging! Dual tone audio allows users to quickly differentiate between target sounds and adjustable volume controls allow flexibility. 
The round dual field search coil combines 2 coils in 1: the small inner coil has high sensitivity to small targets, while the larger outside ring creates depth. Because the coil is hardwired, this model offers increased sensitivity and stability. Wired headphones can be used. A rechargeable battery pack is included and delivers up to 6 hours of run time with an 8 AA battery pack backup. Even though this model is designed to be usable in water, it works just as well on land. The BeachHunter comes with a 2-year warranty.
The White's TDI SL is a ground balancing pulse induction detector designed for prospecting and identifying relics. This model operates at 3250 to 3370 pulses per second. It is lighter than other pulse induction detectors, at just 3.5 pounds.
This model comes with a 7.5" by 12" High-Q search coil, or 12" Spider Search coil offering deeper detection depths and is interchangeable with the TDI family of coils or any Minelab pulse coil. The TDI SL comes with a rechargeable battery pack that lasts up to 6 hours, with an 8 AA backup battery pack. Ground balance can be turned on or off, and ground rejection is manual. 
The TDI SL has an adjustable pulse delay that can be set from 10 microseconds to 25 microseconds, best for gold nuggets or relic, coin, and beach hunting, respectively. Wired headphones can be used in the ¼" headphone socket and the unit has an external speaker.
The TDI SL can suppress audio responses in either a high or low tone depending on how the target relates to the ground balance setting. Highly conductive targets will emit a low tone while low conductive targets will emit a high tone. The TDI SL can be set to allow the high tone, low tone, or both.
The TDI SL has a threshold control to accurately adjust audio to hear small, deep targets. This model makes prospecting easier with fully controllable ground balancing which can filter out iron mineralization due to black sand, hot rocks, or other complex soil condition. This model offers frequency control to offset electromagnetic interference, and pulse delay to vary the length of the signal. Gain control maximizes sensitivity and depth. 
In 2018, White's made a special edition of the TDI SL featuring a desert tan control box and post grip straight shaft along with an 8" by 12" folded mono coil called the Miner John coil. White's offers a 2-year warranty on the TDI SL.
The Minelab GPX 5000 metal detector was first released in 2010 and is still in production. It uses MPS (Multi Period Sensing), which is Minelab's advanced pulse induction technology. MPS transmits pulses of differing time periods and received signals at multiple time periods allowing better separation of ground signals and target signals. 
Ground signals are effectively removed with this technology, so even extreme soils are not an issue. This unit was designed for gold hunting and deep relic hunting. The GPX 5000 comes with an 11" round DD coils plus 15' by 12' monoloop search coil. Wired headphones can be used, and the unit comes with Koss 100-ohm headphones. Unlike some PI models, the GPX 5000 comes with a small backlit visual display.
The GPX 5000 comes with 6 detect modes: General, Deep, Hi-Mineral, Patch, Hi-Trash, and Pinpoint. Iron discrimination ranges from 1 to 10 and off (All-Metal mode). This unit has automatic ground balancing, and iron rejection ranging from 1 through 10 or off for all metals. Adjustable sensitivity also helps the user isolate targets or balance out electromagnetic interference. 
Variable audio control allows the user to adjust the volume to their preferred level. Timings include Normal, Sensitive Extra, Enhance, Sharp, Sensitive Smooth, Coin/Relic, Salt/Gold, and Fine Gold. Ground balancing can be automatic, fixed and tracking, or Quick-Trak, and can be General, Specific, or Off. This model comes with rechargeable battery pack, with wired charger and vehicle charger included, giving users up to 12 hours of use. It weighs 5.3 pounds. 
This detector, although not terribly difficult to use, does have a learning curve for detectorists not familiar with Minelab's previous PI models or are new to professional-grade detectors, and it is advised that some time be spent pouring over the manual. An Australian prospector outside of Ballarat, Victoria State found a 12-pound gold nugget worth $295,000 using the Minelab GPX 5000! Minelab offers a 3-year warranty on the control box and coil.
Detech SSP-5100 Deep Seeking System
Detech SSP-5100 is a visual target identification detector with discriminating deep pulse technology. This detector is different to the standard detector style. This model comes with a 3-foot by 3-foot square deep search coil combined with a magnetometer. This model can detect up to 13 feet deep, and the visual ID screen identifies targets as Ferrous or Non-Ferrous. 
The size of the target is also displayed on the high-resolution screen. Larger coils are available and can extend the depth to 2 feet. As with all PI detectors, the SSP-5100 with discriminating technology works very well in difficult soils conditions. 
The SSP-5100 is great at detecting gold, silver, platinum, and other precious metals. Ground balancing is quick and easy on this model. Compared to Detech's earlier models, the 5100 is more sensitive and has increased detection depth. Headphones can be used with the control box, and a control box holster is included with purchase. 
This unit also comes with a rechargeable battery and charger. Smaller round coils can be purchased to find metals closer to the surface. Because of the size of the search coil, it is recommended that 2 people work the unit simultaneously. With this method, a large area can be covered quickly. Detech offers a 2-year warranty on the control box, and a 1-year warranty on the search coil.
Bonus: Pulse Induction Pinpointers
There are several PI pinpointers available from different companies. 
The Fisher F-Pulse is a waterproof (up to 6 feet), pulse induction detector able to operate in environments where other pinpointers fall short. This unit runs on 2 AA batteries, had an adjustable LED light, 3 sensitivity levels, quick retune, ruler printed on the side, and heavy-duty construction to fight against abrasion. This model comes with Fisher's 2-year warranty.
Nokta's PulseDive pointer is a PI unit designed for use in difficult soil conditions. This pointer is waterproof up to 200 feet, has an LED indicator, audio and vibration detection, and is compatible with wireless headphones. Sensitivity has 5 adjustable levels.
This model comes with a rechargeable battery. Dive mode ensures buttons will not be pressed by water pressure for deep dives. Nokta offers a 2-year warranty on this pointer.
Treasure Products Vibra Pinpointers
The Treasure Products Vibra family of detectors created the first vibrating pinpointer. The Vibra-Probe 585 is a pulse induction, tip-only, tilt on or off pinpointer. It has automatic calibration, is submersible up to 100 feet, and auto-off after 1-minute battery saver. The Vibra-Tector 740 is a pulse induction, tilt on or off, vibrating pinpointer with light. It also automatically calibrates and is submersible up to 100 feet. 
This model has updated firmware algorithms to help find targets faster along with all the features of their previous models. 
Lastly, the Vibra-Quatic 320 is a pulse induction, tilt on or off, vibrating pinpointer with light and automatic calibration. Also submersible to 100 feet, the Vibra-Quatic has a 2-inch detecting tip for greater depths and higher sensitivity. Because each of these are PI pinpointers, they work well in highly mineralized soils, saltwater, and wet, sandy beach areas.
You Might Also Want to Read: