Minelab Vanquish 540 review
Minelab's Vanquish 540 is the top dog in their new Vanquish series of metal detectors. Minelab has been an industry leader for the past 35 years, and decided it was time to make an entry level metal detector with great features at an affordable price. Vanquish 540 comes with Minelab's state of the art detection technology, Multi-IQ. This is one of my favorite features on the Vanquish line of metal detectors. 
This series, consisting of the Vanquish 340, 440, 540, and 540 Pro Pack, was designed for beginner or intermediate detectorists. Minelab realized the need for entry-level metal detectors for beginners and answered the call with the Vanquish series.
These metal detectors offer some amazing features, especially for the price point. Each detector in this line is easy enough for a new detectorist to use. The Vanquish 540 is easy to use for beginners but has enough features to make intermediate detectorists happy. 
Below, please use our interactive guide to see how well the Minelab Vanquish 540 stacks up to other notable metal detectors on the market:
Minelab Vanquish Specs
The Vanquish 540 has some great features:
Multi-IQ technology
Pinpoint mode
Waterproof search coil
Audio control
Iron bias control
Backlit LCD screen
Rechargeable batteries
Lightweight
Multi-IQ technology is one of Minelab's most impressive technological advancements. This technology allows the detector to function on multiple frequencies at once. Rather than having adjustable frequencies, this line of detectors can operate on all 5 of the frequencies simultaneously.
The Vanquish line canoe operate on single frequencies, unlike some of Minelab's other multiple frequency detectors. Operating frequencies are: 5 kHz, 10 kHz, 15 kHz, 20 kHz, and 40 kHz. The lower frequencies are best for highly conductive metals like silver, while the higher frequencies are best for lower conductivity metals like gold. 
Multi-IQ allows uses to search areas that have already been hunted because of the different frequencies. This is one of the only entry-level metal detectors I have seen that can find gold because of the higher frequencies. Vanquish 540, and the others in the line, also maintain accurate Target ID at maximum depth compared to most single frequency detectors.
As more than one frequency is transmitted, received, and processed simultaneously, the detector can maintain target sensitivity across all target types and sizes while keeping ground noise to a minimum. 
The Vanquish 540 comes with a pinpoint mode to make zeroing in on a target easier and faster. It comes with 5 Search Modes: Coin, Relic, Jewelry, Custom, and All Metal. Noise cancelling can be done on 19 channels so if you are searching in highly mineralized areas, you can cut down the chatter most very low frequency (VLF) detectors emit. Iron bias adjustability ranges from Low to High, to better customize user preference. 
The monochromatic LCD screen comes with a red LED backlight (The 540 is the only Vanquish model with a backlit screen). Sensitivity and Volume have 10 levels and there are 5 different target tones. The Vanquish 540 has 25 segments of discrimination allowing you to fully customize what metals are accepted or rejected. Target ID is numerical and easily readable. 
The Vanquish 540 is the only model in the line with rechargeable AA batteries. This model is very lightweight, at just 2.9 pounds. This means it is easy to use for long periods of time without arm fatigue. The Vanquish 540 comes standard with a V12 12" by 9" waterproof Double-D search coil, but all the Vanquish series have interchangeable search coils.
While the search coil is waterproof, the control box is only water resistant and should not be submerged. This model also has Bluetooth connectivity so wireless headphones can be used as well as wired headphones, or the external speaker. 
Minelab offers a 3-year warranty on the Vanquish series of metal detectors.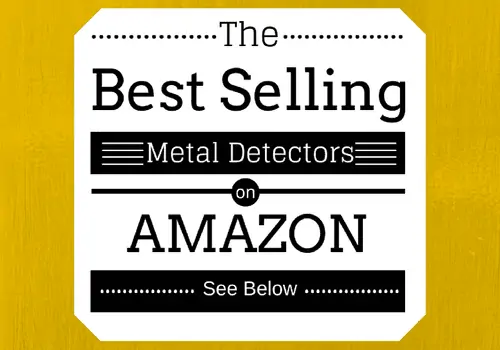 Below, please check out some of the best selling metal detectors on Amazon, and see how well they compare to the MInelab Vanquish 440!
Minelab Vanquish Price
Because the Vanquish series is aimed at entry level metal detectorists, the prices are very reasonable. The Vanquish 340 costs $199, the 440 costs $279, the 540 costs $369, and the 540 Pro Pack costs $499. Other entry level metal detectors from major manufacturers are around the same prices as the Vanquish line. Garrett's Ace line, consisting of the 200, 300, and 400, cost $199, $300, and $400, respectively.
But Garrett's Ace line operates at a single frequency and a much lower frequency than the Vanquish series. Fisher Labs F Series entry level detectors, the F11, F22, and F44 cost from $159 to $399, and all operate at 7.69 kHz. White's Coin Master entry level machines costs $250 and operates at 8 kHz. 
While there are several metal detectors not mentioned here that are aimed at entry level metal detectorists, these have similar prices to the Vanquish line and are all from respected and well-known metal detector manufacturers. I think the Vanquish line is on par with other great entry level metal detectors as far as price goes. However, I think for the cost, they are superior due to the Multi-IQ technology.
Minelab Vanquish 540 Pro Pack
The Minelab Vanquish 540 Pro Pack has all the same features as the 540. It is the same metal detector but comes standard with an additional coil. The regular 540 comes with a V12 12" by 9" Double-D search coil.
The 540 Pro Pack comes with the V12 coil and a V8 8" by 5" Double-D search coil also. The Pro Pack does cost $130 more than the regular 540 model, but the smaller added search coil can prove very helpful. 
Smaller search coils, between 5" and 8" area great at searching in trashy areas and highly mineralized soil conditions. These coils are smaller and more maneuverable in heavy vegetation or rough terrain. The 8" search coil gives the best depth, target separation, and ease of pinpointing in areas with low to medium soil mineralization and moderate trash content. 
Larger search coils, above 11.5", are designed to give the most depth. The larger the search coil the deeper it will detect under ideal conditions. With the 540 Pro Pack, you get the smaller search coil for trashy and mineralized areas, and a larger coil for depth in cleaner areas.
Minelab Vanquish 540 vs Vanquish 340
The Minelab Vanquish 340 is the lowest priced model and has the fewest features. While still designed to be an all-terrain model, it does not have a pinpoint mode like the 540, it has fewer Find Modes than the 540.
The 340 does not have the Custom or Relic mode. It also has fewer volume settings (3 compared to the 540s 10), non-adjustable Iron Bias (preset to High), only 4 sensitivity levels (the 540 has10), and 3 target ID tones (the 540 has 5).
The Vanquish 340 also has significantly fewer discrimination segments: 5 compared to the 540s 25. It does weigh slightly less than the 540 at 2.6 pounds. As with the entire Vanquish line, the search coil on the 340 is waterproof but the control box is only water resistant. The 340 operates on 4 AA batteries. This is probably the easiest of the series to use and as such, extremely user friendly for new detectorists. The 340 come with a 3-year warranty.
Pros:
Less expensive
Easy to use for new detectorists
Cons:
No pinpoint mode
Fewer Find Modes
Fewer Discrimination settings
Fewer volume settings
Non-adjustable Iron Bias
Minelab Vanquish 540 vs Vanquish 440
The Minelab Vanquish 440 has all the features of the 340, except it has a pinpoint mode. It also has 5 Find Modes, like the 540. The 440 has less discrimination than the 540, at 12 segments (the 540 has 25).
The 440 weighs slightly less than the 540, at 2.6 pounds. It runs on 4 AA batteries rather than rechargeable batteries. Iron Bias is non-adjustable on the 440 and is preset on High. Sensitivity and Volume settings are the same, at 10 levels.
The 440 has fewer Target Tones than the 540, with 3 compared to 5. Discrimination is lower on the 440 with only 12 segments compared to the 540s 25. Both models have 5 depth indicator levels. Vanquish 440 does not have Bluetooth connectivity and can only be used with wired headphones (comes with the Vanquish 440) or via the external speaker.
As with all the Vanquish metal detectors, the 440 is not fully waterproof. The coil is submersible up to 3.3 feet, but the control box is only water resistant and should not be submerged.
As with the whole Vanquish line, the 440 has a 3-year warranty.
Pros:
Less expensive 
Slightly lighter weight
Cons:
Fewer Sensitivity settings
Fewer Target Tones
Fewer Find Modes
Non-rechargeable batteries
No wireless headphone capability
Minelab Vanquish 540 vs Equinox
The Minelab Equinox series consists of the Equinox 600 and 800. These were the first metal detectors to feature Minelab's Multi-IQ technology.
The Minelab Equinox 600 can only operate on 3 single frequencies (5 kHz, 10 kHz, 15 kHz), while the Minelab Equinox 800 operates on all 5 single frequencies. The 600 has 3 Detect Modes: Park, Field, and Beach, while the 800 comes with those plus Gold Mode. Each of the Detect Modes on the 800 have 2 custom search profiles allowing users to save their favorite settings. This gives the 800 a total of 8 Detect Modes. 
Both Equinox models weigh 2.96 pounds, approximately the same as the Vanquish 540. Both models operate on rechargeable battery packs, while the 540 uses rechargeable AA batteries. The Equinox 600 must be ground balanced, which can be done manually and automatically, while the 800 and the Vanquish 540 do not need to be ground balanced.
Both Equinox models come standard with an 11" Double-D Smart coil with skis plate, while the Vanquish 540 comes standard with a 12" search coil and the 540 Pro Pack comes with a 12" and an 8" search coil. 
One major advantage of the Equinox series is they are both fully submersible up to 10 feet, while the Vanquish 540 and all the Vanquish metal detectors only have submersible search coils. Both Equinox models have backlit LCD screens, like the 540. The 800 has 4 adjustable backlight levels, while the 600 has on or off (like the 540). Both Equinox models and the Vanquish 540 have wireless connectivity and can be used with Bluetooth headphones. 
The main drawback of the Equinox series is the price. The Equinox 600 is $649. The Equinox 800 is $899. These are both significantly higher than even the most expensive Vanquish model, the 540 Pro Pack with the extra search coil. Both are user friendly and could be used by beginners or intermediate detectorists, if they are within your budget range. Minelab offers a 3-year warranty on the Equinox series metal detectors and the Vanquish series metal detectors. 
Pros:
Fully waterproof
Equinox 800 operates on 5 single frequencies
Cons:
Much more expensive than the Vanquish detectors
Equinox 600 only operates on 3 single frequencies
Minelab Vanquish 540 vs Nokta Makro Simplex+
Of all the lower priced VLF metal detectors out there, the Nokta Makro Simplex is one of my favorites. As with the Vanquish line, the Simplex+ is designed to be an affordable entry level or intermediate metal detector. The Simplex+ is the first entry from Nokta Makro in the entry level field and this detector is very easy to use.
Unlike the Vanquish 540, which is only water resistant, the Simplex+ is fully submersible up to 10 feet (like the Equinox series).  The Simplex+ also has Bluetooth connectivity and can be used with wireless headphones, like the 540. 
The Simplex+ has Notch Discrimination and Iron Volume allowing users to customize their settings if desired. One downside of the Simplex+ is it is a single frequency metal detector, operating at 12 kHz. This model does have a frequency shift, so if there is a significant amount of electromagnetic or other interference, the frequency will shift slightly up or down to compensate.
This does not make it a multi-frequency detector, but rather a single frequency with frequency shift. One of my favorite features of the Simplex+ is it has a vibrating Target ID. I really like this feature for the hearing-impaired detectorists, and for underwater metal detecting. 
Typically, 12 kHz is not an ideal frequency for hunting in wet sand or saltwater environments. Saltwater is highly conductive and can cause VLF machines to overload and give false Target IDs.
The Simplex+, however, does seem to do very well in these soil types as the tones it emits are distinct enough to recognize a target among the chatter these soil types often cause. The LCD screen on the Simplex+ is backlit, like the Vanquish 540 (it isn't red, though), but it also has a built-in LED flashlight for low light hunting. 
The Simplex+ is the same weight as the Vanquish 540, at 2.9 pounds. The detector itself seems more ruggedly built than the Vanquish 540. This model operates on rechargeable battery pack or USB power bank, while the 540 uses rechargeable AA batteries. Another feature I really like on the Simplex+ is the software is upgradable via connection to the internet with a computer. The Equinox series has this feature, too, but the Vanquish series does not. 
The Simplex+ costs $299 and comes with a 2-year warranty.
Pros: 
Fully submersible
Rugged design
Upgradable software
Vibratory Target ID
Less expensive than Vanquish 540
Cons:
Single frequency
2-year warranty compared to Minelab's 3-year warranty
Conclusion
All the metal detectors on this list are great for entry level or intermediate metal detectorists. The Vanquish series is one of the newest detector lines out there and comes with the Multi-IQ technology. This technology is incredibly impressive as it allows users to scan areas on all 5 frequencies simultaneously or use one frequency at a time. 
A metal detector that offers multiple frequencies at one time will help significantly in areas with a lot of trash, high mineralization, hot rocks, black sands, and saltwater conditions. I have yet to see another entry level metal detector with this many features or that runs on multiple frequencies like the Vanquish series.
Two of the other 3 most recommended multi-frequency metal detectors are Minelab products: the Minelab CTX 3000 and Equinox 800. The CTX 3000 was not covered here because it is a very complicated machine and a more high-end metal detector, not for beginners. It is also very expensive. The Vanquish line opens this otherwise expensive and complicated market to all detectorists. 
Despite being a single frequency VLF machine, the Simplex+ does a great job in areas with high mineralization and saltwater. The Simplex+ is easy to use, very user friendly, rugged, completely submersible, and a fantastic price for such a great product.
If you are looking for a single frequency model, I would highly recommend this one. It is less expensive than the Vanquish 540 and 540 Pro Pack, but it does not have the multiple frequencies. So, while this detector does well in mineralization and saltwater, it may not perform as well as the Vanquish or Equinox series.
While the Equinox series are some of my favorite detectors, the high price is a no go for a lot of us. I, like a lot of you, am on a pretty tight budget. I cannot, at least right now, justify paying between $700 and $900 for a metal detector. If this falls within your budgetary restraints, I would absolutely recommend these two detectors.
The Multi-IQ technology, rugged design, and the fact they are both waterproof up to 10 feet, make both Equinox metal detectors a great choice. Remember, though, that the Equinox 600 can only use 3 of the frequencies when operating in single frequency mode, while the 800 can use all 5. 
Many entry level metal detectors (and even some advanced models) will struggle to find gold because they operate at too low a frequency. The Vanquish line can have better luck finding gold because it has 3 frequencies above 14 kHz. Frequencies above 14 kHz significantly increase the chances of finding gold. The higher frequencies make finding small gold bits easier.
The Multi-IQ also helps metal detectorists hunt in areas where other detectorists or mining have already been because this technology goes deeper and has a whole range of frequencies to detect a whole range of metals. Be sure to search areas known for gold (if that is what you are after). This is where you will find gold. It does not matter which detector you use; you cannot find gold if you are not in an area known for it.
The Vanquish 540 is the top of the line Vanquish model, and I would recommend this for any entry level or intermediate detectorist looking for a great multiple frequency metal detector at a great price. This detector is simple enough for beginners to use but has more advanced features to keep an intermediate detectorist happy. The Vanquish 540 Pro Pack comes with 2 search coils, which will be hugely useful for those searching in trashy areas or highly mineralized areas.
If the price is too high for your budget, I would be incredibly comfortable recommending the other two Vanquish models, also. The 340 is a great, easy to use detector for beginners, while the 440 has a few more features, but remains simple to use. Both are less expensive than the 540 and have many of the same features. The 540 does have more customization and discrimination settings, so it will be great for more intermediate detectors.
Minelab warns users to be on the lookout for counterfeit metal detectors when buying online (Minelab detectors are not sold via their website and are only available through 3rd party dealers). They offer some tips for making sure this does not happen to you. It can be hard to judge exactly what we are getting shopping online, so make sure you have done your homework prior to buying your new metal detector.
Visit Minelab's website and search for authorized dealers in your area. There are also several online retailers that are honest and trustworthy. It just requires a little homework. Always make sure you buy through a certified Minelab dealer either in person or online. 
You Also Might Like: