The 13 Best Metal Detectors Under $200 in the World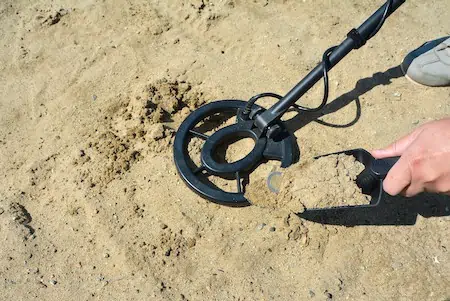 Whether you are just starting out in the wonderful world of metal detecting or are just on a tight budget, you can get a great detector for less than you might expect. In this price range, you can even find specialty metal detectors like those specifically calibrated to find gold, silver, or coins.
You can also find great all-purpose metal detectors in this price range. There are certain features that you may not be able to find on any of the best metal detector under $200, but overall, you can find a great entry level detector for this price.
For all the newcomers to the hobby of detecting, we will first discuss some general information about metal detecting before diving into our favorite machines priced under $200.
And, to help you quickly get started, please take a look below at a select few of our favorite metal detectors on the market, and see how well they compare to the recommended detectors we discuss in depth later in this article.
Metal Detecting for Beginners
It is incredibly exciting when you first start metal detecting and hear that first target sound. Will it be trash or treasure? You will soon find out! When you are starting out, you want to make sure you familiarize yourself with all local, state, and federal laws pertaining to metal detecting.
Certain cities require permits to metal detect in local parks, while some outlaw the hobby altogether. State parks are almost always off limits without a permit, but national forests are okay to detect in. It is up to you as the detectorist to find the laws pertinent to your area. It can be helpful to look up a local metal detecting club or find one online. They can steer you in the right direction for information about current laws regarding metal detecting.
You will also want to research what types of treasure you may find in your search area. For example, buying a metal detector does not mean you will instantly find gold where gold is not known to exist. Certain areas produce certain metals, so if you are looking for ore, you must search where it is already known to exist.
If you are looking for jewelry or relics, you have many places you can search. Old homestead sites, old homes in your town (with the owner's permission, of course), buildings scheduled for demolition (before or after, again, with owner's permission), parks, swimming areas, and woods are all fantastic places to find treasure. Some of the coolest finds I have personally made were in the woods while camping in northeastern Utah and southwestern Idaho.
Best Metal Detector for Coins and Relics
Let's now begin discussing specific metal detectors.
And we're going to kick it off with a handful of metal detectors that I think are particularly wonderful if you are seeking some buried coins or old relics from bygone eras.
Fisher F11
-Great for beginning detectorists
–>Features a specific coin and relic (artifact) search mode
The Fisher F11 is a great metal detector for beginners. This machine is simple to use, and easy to master. It features 3 operating modes: Coin, Artifact, and Jewelry. The LCD screen features 9-segment visual target ID, depth indicator, and 6 sensitivity and volume adjustment levels. It also has a 4-tone audio ID and pinpoint mode. Pinpoint mode is extremely helpful for further narrowing the search area.
When a target is located, simply hold the pinpoint button to narrow down the target's location. The F11 is very lightweight, at just over 2 pounds, so you will not get a lot of arm fatigue and can use the detector easily for many hours. It operates on 1 9-volt battery, so operating costs are low. This VLF detector operates at a frequency of 7.69 kHz and comes with a 7" concentric elliptical waterproof search coil.
Garrett Ace 200
-Great option for beginners
–>Features coin mode and coin depth indicator
Garrett's Ace 200 is a great metal detector for beginners. It features sharp, responsive audio, 4 sensitivity and depth adjustments, 3 audio adjustments, and can be taken down into 3 pieces for easy storage and travel. Operation of the Ace 200 is simple, and you can begin hunting as soon as the detector is turned on!
The Ace 200 does not feature iron audio, but does have 1 iron discrimination segment, Notch is fixed and there are 3 different search modes: coin, jewelry, and zero discrimination. There is also a coin depth indicator on the LCD screen. Target ID is numerical and there is a chart above the digits to show what numbers correspond to what types of metal.
The Ace 200 is lightweight at just 2.75 pounds and operates on 4 AA batteries. There is no pinpoint mode on this model, and it operates at 6.5 kHz. It comes with a 6.5" by 9" concentric PROformance search coil.
Minelab Go Find 22
-Simple and ideal for entry-level detectorists
–>Optimized for coins and relics
The Minelab Go Find 22 is a simple to use and simple to transport metal detector. It folds up nicely for easy storage and portability. It is exceptionally light weight at just over 2 pounds and features preset find modes with icons to tell you what you have found. The Go Find 22 has 4 find modes: nail, foil, ring, and coin.
It features Easy-Trak to automatically reduce ground noise and maximize target signals. This is a VLF metal detector operating on a single frequency of 7.8 kHz. It has adjustable discrimination, automatic ground tracking ground balance, and an LCD screen. Volume is adjustable and wired headphones can be used. It operates on 4 AA batteries for up to 20 hours of detection time.
Bounty Hunter Lonestar
-Great for beginners or intermediate detectorists
–>Optimized for coins and relics and is simple to use
The Bounty Hunter Lonestar is a single frequency VLF detector designed for coin shooting and relic hunting. This detector operates at 6.6 kHz, so it will also be good for finding silver. This detector features discrimination control and 3 tone audio discrimination. This allows users to eliminate and tune out unwanted targets and trashy targets. It features sensitivity control to adjust to changing ground conditions.
The Lonestar features an LCD screen with target ID, headphone jack, and ergonomic handle. The Lonestar responds loudly to targets that other detectors would only alert with a weak signal. One downside to this model is there is no depth indicator, so you do not know how deeply a target is buried.
Target ID features 6 segments, threshold is fixed, and the Lonestar features a pinpoint mode. It also features 3 search modes: all metal, auto notch, and discrimination. The Lonestar uses 2 9-volt batteries for up to 25 hours of operation. This is one of the best metal detectors under $200.
Best Cheap Metal Detectors for Gold
Okay, now let's move onto the awesome metal detectors that are great for sniffing out gold.
Whether it's gold nuggets or gold watches and chains, you have great options to choose from!
Minelab Vanquish 340
-Great for all skill levels
–>Searching on multiple frequencies simultaneously
Minelab's Vanquish 340 is the lowest priced in their new Vanquish series of detectors. This is one of my favorite inexpensive metal detectors as it has a lot of features for an entry level price but is not overwhelming. The Vanquish 340 features Minelab's patented Multi-IQ technology. Multi-IQ means the detector operates on multiple frequencies simultaneously, rather than one single fixed frequency.
The Vanquish 340 operates on frequencies from 5 to 40 kHz. Higher frequencies are better for finding gold, so anything above 18 kHz will find smaller gold. This detector would also be great for finding silver, coins, jewelry, or relics. This model is built for all terrains and all treasure types.
Ground balancing is fixed on the Vanquish 340 and it has 3 find modes: coin, jewelry, and all metal. It is a lightweight detector at just 2.6 pounds and has a collapsible snap lock system, so it is easy to pack with you.
It comes with Minelab's V10 10" by 7" Double-D waterproof search coil, but this line of detectors has interchangeable search coils so users can purchase additional coils to suit their needs. The detector is not waterproof but is weatherproof. It does not have a pinpoint feature, but does have an LCD screen with target ID, 5 segments of discrimination, 4 depth levels, and operates on 4 AA batteries.
Bounty Hunter Gold Digger
-Perfect for beginners and kids alike
–>Simple operation with only 2 knobs
The Bounty Hunter Gold Digger is designed for gold prospecting, coin shooting, relic hunting, and general treasure hunting. This is a VLF metal detector operating at 6.7 kHz, so it will not be able to find small gold, but will be able to find larger nuggets, rings, and other gold jewelry. Ground balancing is automatic tracking, meaning the detector will adjust itself according to the soil conditions.
The Gold Digger features 2 search modes: discrimination and motion all metal. It is a lightweight detector at only 2.6 pounds and comes with headphones. The Gold Digger features trash eliminator control which will remove most undesirable metals from detection. It operates on 2 9-volt batteries and comes with an 8" search coil. This simple to use metal detector just needs to be unfolded, turned on and it is ready to search!
Best Metal Detector for Trashy Areas
When you're searching for buried gems, you're not always lucky enough to detect items in the best conditions.  In fact, sometimes the landscape is downright trashy.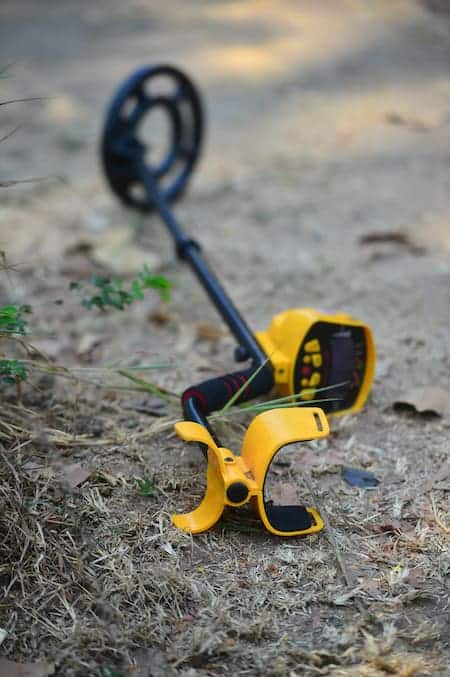 Here are a few cheap detectors that can help you better filter out the treasure from the garbage.
Teknetics Minuteman
–

Great for beginners or those on a budget
–>Made specifically to filter out trash targets and alert to more desired targets
Teknetics' Minuteman metal detector is a simple to use and ergonomic machine. It features a large, easy to read LCD screen and numerical target ID. It also has 5 bar depth meter, battery indicator, and iron finder. Like each of the 3 detectors in this series, the Minuteman is patriotic with its Betsy Ross flag across the faceplate. It features adjustable discrimination, adjustable sensitivity, and adjustable volume. This is a 3-tone metal detector so it will alert differently for different ranges of metals.
The Minuteman features a pinpointer to better home in on a target. This detector is excellent at unmasking and separating targets in trashy environments. It comes with an 8" concentric search coil and operates on a 9-volt battery. It also has adjustable iron audio. This detector is lightweight at 2.4 pounds and can be used with wired headphones.
Bounty Hunter Prospector
-Great for entry level prospectors
–>Features automatic ground tracking and filters electromagnetic interference
The Bounty Hunter Prospector is a great beginning detector for prospectors. This detector is comfortable and has decent depth. It features discrimination controls which helps filter out trash targets. The user interface consists of just 2 knobs, making it simple to use. The Prospector is designed to detect in extreme ground conditions, such as saltwater and black sand, with no adjustments and no loss of sensitivity.
It comes with a 7" interchangeable waterproof search coil and uses 2 9-volt batteries. The Prospector features 2 operating modes: all metal, tone, and full discriminate. All metal is just that: all metals are detected. Full discriminate automatically rejects trash. Tone discriminate will beep when iron or other trash targets are detected. This detector is designed for use in trashy areas and filters trash targets out very well.
Teknetics Digitek
-Great for kids and teens
–>Filters out junk targets easily; finds coins up to 8" deep, large targets up to 2'
Teknetics' Digitek metal detector is a great detector for hunting in trashy areas. This detector features discrimination to eliminate all trash and junk metals so you can search only for desired targets. This is a single frequency VLF metal detector that operates at 7.69 kHz. This detector is perfect for kids or teens, or any entry level metal detectorist. The Digitek is designed to hunt relics and for coin shooting.
It comes with a 7" waterproof concentric search coil, but the control box is not fully waterproof. This model features a good-sized LCD screen showing numerical target ID, depth readout, sensitivity, volume, discrimination, and notch. It also has an arc shaped graph at the very top showing the potential metal found. The Digitek operates on 1 9-volt battery giving users up to 20 hours of use. Volume, sensitivity, and discrimination are all adjustable on the Digitek. It can find coins up to 8" deep and large objects up to 2 feet deep.
Metal Detectors for Silver
Now, if silver is what you crave to find, check out some of the following detectors below.
There's a good chance you'll find the detector you need!
Bounty Hunter Quick Draw II
-Great for beginners and those on a budget
–>Great search frequency for silver and awesome discrimination
The Bounty Hunter Quick Draw II may sound like something out of the Old West, but it is a simple to use, affordable metal detector that can find all types of metals. This detector is great for finding silver because of the low frequency of 6.6 kHz. Silver hits between 3 and 7 kHz. It features Zilog Z-86 computer circuits for great discrimination and control.
The Quick Draw II features 3 levels of iron discrimination so users can tune out nails and other trash, while still finding valuable items like silver, gold, and relics. The small LCD screen shows target ID and depth readings, and the machine has sensitivity control, full discrimination, auto and variable notch, and a battery indicator.
The Quick Draw II comes with an 8" Spider search coil. Threshold is fixed and ground balancing is fixed. There are 4 search modes on this detector: all metal, auto notch, discrimination, and notch discrimination. It operates on 2 9-volt batteries and can be used with wired headphones.
Bounty Hunter Quick Silver
-Great for beginners or intermediate detectorists
–>Perfect operating frequency to find silver
The Quick Silver metal detector is a great entry level to intermediate machine for finding jewelry, silver, relics, and even gold. The Quick Silver's LCD display is perfectly accurate and simple, and there are no complicated settings to fuss with. This is a single frequency VLF metal detector operating at 7 kHz. It features target ID, fixed threshold, adjustable discrimination, and fixed ground balancing.
There is no pinpoint mode or volume control on this detector. It operates on 2 9-volt batteries. The 8" search coil is waterproof, but the control box is not. The Quick Silver features a technology called Squelch-Tech, which eliminates false signals. Target ID features 4 segments and there are 3 tone audio feedbacks. The search coil is also interchangeable with other Bounty Hunter coils.
Best Beach Metal Detector
If you like to metal detect on the beach, and you're looking for a very affordable detector, look no further than the ones listed in this section!
Just be prepared to deal with the sand!
Minelab Go Find 44
-Great for beginners
–>Optimized for beach detecting
Minelab's Go Find 44 is a great entry level metal detector optimized for beach hunting, coin shooting, and relic hunting. This detector is compact and lightweight, at just 2.3 pounds. It features 4 sensitivity levels, and 5 discrimination find icons: nail, foil, ring, coin, and 5 treasure view. Like the Go Find 22, this model features Easy-Trak, which automatically reduces ground noise and maximizes target signals.
This is a single frequency VLF metal detector that operates at 7.8 kHz. Volume is adjustable with 5 levels and it has a pinpoint mode. The LCD screen is backlit, and it is Bluetooth compatible for use with wireless headphones. The Go Find 44 uses 4 AA batteries and has 2 camouflage skins. The 10" search coil is waterproof, but the control box is not. It also has an Apple and Android app.
Teknetics Alpha 2000
-Perfect for all skill levels
–>Great for dry beach areas, not as great on wet sand
Teknetics' Alpha 2000 features a large, easy to read LCD screen with intuitive controls. This simple to use machine can start up and go instantly. This model includes preset ground adjust set for average conditions and is best used on dry beaches, parks, and grassy areas. On the LCD screen, common targets including iron, foil, aluminum, and coins will show and so will their approximate depth.
The Alpha 2000 is lightweight at just 2.5 pounds and features battery indicator, audio ID, and 2 operating modes: all metal and discriminate. This single frequency VLF detector operates at 7.8 kHz, so it will easily find all metals, but will struggle to find small gold nuggets or fine gold jewelry. The Alpha 2000 comes with an 8" round concentric search coil that is waterproof. The control box is not fully waterproof, so care should be taken near water.
So What's Best Metal Detector Under $200?
Although every detector on this list is a great option, my favorite under $200 is the Minelab Vanquish 340. This little entry level machine packs in a lot for the price. It features multiple frequencies, which not many metal detectors have, and certainly not many affordable machines. It is great at filtering out unwanted targets.
The variety of frequencies this metal detector uses also makes it great for every type of metal. The lower end frequencies are great for silver, while the higher frequencies are great for gold. The Vanquish 340 really is a fantastic option.
What to Look for in a Metal Detector
There are 2 main types of metal detectors: VLF (Very Low Frequency) and PI (Pulse Induction). VLF metal detectors are the most common and range from very inexpensive to expensive. PI detectors, on the other hand, are almost always expensive (especially compared to VLF machines). PI detectors are great for saltwater, diving, and areas with a lot of electromagnetic interference and hot rocks/black sands.
They typically search deeper and operate more smoothly. But VLF metal detectors are best for beginners and will save you a lot of money. There are no PI metal detectors under $200, except for pinpointers and potentially shady companies I have never heard of, so we will only be discussing VLF metal detectors in this article. Always make sure you purchase a detector from a reputable company or seller. Some of the best detectors are made by Fisher Labs, Minelab, Garrett, Teknetics, and Nokta Makro.
When searching for a new metal detector, you need to factor in what you would like to accomplish with it. Is your area known for producing gold? Silver? Platinum? Are there ghost towns? Are there abandoned homestead sites? There are specific metal detectors to utilize in each different area and for each treasure type.
Some detectors, as mentioned above, are for all types of treasure, and even a specific gold or relic metal detector will find all types of metal. You also need to do a bit of research about the typical soil types in your area. Are they highly mineralized? Full of hot rocks or black sands? The answers to these questions will help you narrow down your search for a metal detector.
I live in an area with high soil mineralization, so I must make sure my metal detectors have good discrimination and sensitivity adjustments. If they do not, the machine will overload or send a lot of false target signals. Most entry level metal detectors do not have as many setting options as more expensive detectors, but there are plenty with enough features to get you going in the sport. These detectors also make great gifts for kids! I started out with a Fisher F11 metal detector, and eventually upgraded and gave that one to my son. It is exactly right for a beginner.
Important Features to Consider
When looking to purchase a metal detector, there are a few features you will want to consider. The most important are sensitivity, discrimination, ground balancing, depth indication, weight, and of course, price. Sensitivity is the metal detector's ability to find a specific size and type of metal. The better the sensitivity, the more irregular and smaller pieces of metal it can find.
Discrimination allows you to filter out certain metals, so you only search for desired targets. Ground balancing is how the detector balances ground mineralization and electromagnetic interference. Without this, detectors can be noisy or even overload in areas with high soil mineralization.
Depth indicators are not a necessity, but it is nice to get a relative idea of how deeply a target is buried. This can save you from digging for 25 minutes for a pull tab! A metal detector's weight is also particularly important. If you are just starting out, you may not know how much arm fatigue swinging a metal detector for a few hours can cause. The lower a metal detector's weight, the less arm fatigue there will be. All the detectors on this list are relatively lightweight so you should be able to use them for several hours without feeling like your arm is going to fall off.
The last, and potentially most important factor when choosing a metal detector is the price. Metal detectors range in price from around $100 to well into the thousands of dollars. But fear not! It is not necessary to spend thousands of dollars on a metal detector. Many companies are making more affordable models, which is making metal detecting more accessible to more people.
Questions and Answers
Q: Can I really find a quality metal detector for under $200?
A: Absolutely! Every detector on this list is under $200, and each performs extremely well. Granted, the more you spend on a detector the more features it has. But these detectors are perfect for beginners and those on a budget.
As I mentioned early on, I used the Fisher F11 for a few years simply because I was on a budget and was a beginning detectorist. Now that I am more comfortable and familiar with the hobby, I have upgraded to a slightly more expensive detector.
Q: Will a detector under $200 really find treasures?
A: 100% YES! You do not need a $1,000 metal detector to find treasure. A 13-year-old boy in New Mexico found a 10,000-year-old 2-pound nickel-iron meteor with a metal detector his grandfather made.
Or the Boot of Cortez, a 389-ounce solid gold nugget found in Mexico's Sonoran Desert. This nugget sold for $1.55 million and was found with a "cheap" metal detector. So, again, no. You do not need a high end, extremely expensive metal detector to find amazing and expensive treasures!
Q: Could these metal detectors be used by kids and teenagers?
A: Of course! These metal detectors are all easy to use. Many of these detectors cater to entry level metal detectorists, so they would be perfect for kids and teens! Some manufacturers make metal detectors specifically for kids, so that is another option.
None of these detectors have complicated settings so they are not frustrating for kids to learn. They are all lightweight, too, which is great for kids and teens just starting out. The bulk of them would be perfect to introduce your kids or teenagers into the world of metal detecting.
Q: What other gear do I need to metal detect besides a good detector?
A: Some of the things I always make sure to bring with me are a good shovel, a handheld digger of some sort, a finds pouch, a bag for trash, and a handheld pinpointer. A handheld pinpointer is certainly not a necessity, but it does come in handy and they are reasonably priced. You can even find a pulse induction pinpointer for under $200!
My favorite pinpointer is the Garrett Pro-Pointer AT. I always take a bag for trash because, inevitably, you will dig or find some trash. As a good metal detectorist, we want to leave the area cleaner than we found it! I also take a map or my cell phone with an offline map app. I tend to metal detect in the woods quite a bit and my service is spotty to nonexistent. My favorite offline map app is Avenza maps. It is a great tool to have and you can find yourself right on the map if you lose track of your location.
Metal Detecting Code of Ethics
Finally, I wanted to bring up an important (but probably not too often considered) topic.  There is a certain code of ethics that applies to metal detecting so it can remain available to all of us. When some ruin it, we all suffer.
So, remember these metal detecting rules (or code of ethics, if you will):
Always check federal, state, county, and local laws
Respect private property and do not trespass
Refill all holes you dig and try not to leave permanent damage
Remove and dispose of all found trash
Appreciate and protect our natural resources, wildlife, and property
Act as an ambassador for the hobby
Never destroy historical or archaeological treasures
All treasure hunters may be judged by the example you set so conduct yourself with courtesy and consideration for others
Was this a helpful article to read?  If so, please "like" our brand new Discover Detecting Facebook page!
Hopefully, you enjoyed this article about finding the best metal detectors under $200. If you did, and you're interested in finding more great reviews of metal detectors, as well as helpful tips, be sure to bookmark our homepage!
You Might Also Like: