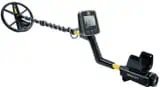 In this article, I'm going to review the White's MX Sport to help you best determine if this metal detector is worth the money based on its overall effectiveness in finding treasure, its notable features, and how it stacks up to its competition.
And to better help you, please take a moment to view the guide below, which allows you to compare the White's MX Sport to other notable metal detectors on the market.
About White's Electronics
White's Electronics has been producing quality metal detectors since 1950. During the uranium scares of the 1950s, Kenneth and Olive White were among the pioneering explorers. They found only Geiger counters available at the time and the White's were concerned with using headphones in rattlesnake country when searching for uranium. When the government quit buying uranium in 1958, the White's changed their focus to metal detectors. 
Over 60 years later, White's Electronics continues to build detectors in Sweet Home, Oregon, under the founder's son, Kenneth White. White's motto is "Give the customers quality and value and treat your employees like family." White's offers a variety of metal detectors built for specific treasures and purposes. They make sporting models, security models, and industrial models. The MX Sport is a great, all-purpose, recreational model at a great price. 
What Does the MX Sport Offer?
The MX Sport is a very low frequency (VLF) detector that is waterproof up to 10 feet and ruggedly built. It is a general-purpose metal detector designed for beach hunting, relic hunting, coin shooting, prospecting, and jewelry hunting. This detector is built off the MXT detector with new features and advanced technology. The MX Sport is simple to assemble right out of the box. Always make sure you familiarize yourself with your user manual before you operate the metal detector. It is important to fully understand the machine's capabilities and features. It is recommended that you test the detector at home prior to going out in the field. 
 The MX Sport features selectable tone ID, audio modulation, and rejection volume to help users determine the difference between good and bad targets quicker. Ground balancing is automatic or manual and it features salt-tracking for use in saltwater areas. SAT (self-adjusting threshold) helps deal with harsh ground mineralization and decrease ground noise associated with it. 
This detector comes with a 10" round Double-D search coil and has other options for coils including a 10" elliptical, 9.5" round, and 6" round. It operates at 13.9 kHz and can be used with ¼" headphones. Aside from the search coils offered by White's, this detector also works with some other company's search coils. For example, Detech makes a 13" Double-D search coil which makes this detector a deep seeking monster!
The LCD display is backlit and features numerical target ID. Although this metal detector can be used in saltwater areas because it is a single frequency the sensitivity will have to be reduced to eliminate the interference from salt and wet sand. Freshwater areas are no problem for the MX Sport, and it is great for river or lake hunting. The discrimination speed on the MX Sport is increased allowing for faster target ID and helps differentiate good and bad targets. The MX Sport has quick target ID with its powerful processor.
The MX Sport does have a specific prospecting mode, but with its frequency, it will not be the greatest at finding small gold or fine gold jewelry. This detector is more suited to finding coins, relics, and larger jewelry. Larger gold nuggets are no problem for the MX Sport. This metal detector also features adjustable threshold, adjustable notch, and volume control. It also has a pinpoint mode. This model operates on 8 AA batteries giving users up to 20 hours of use. It is a little heavier than some detectors at 4.23 pounds and it does not have a hip or chest mount option.  
The MX Sport is not a beginner level metal detector and is best suited to intermediate or advanced metal detectorists. It features 6 search modes:
Coin and Jewelry Mode – The most user-friendly mode
Beach Mode – Allows users to search on black, wet, and salty sands
Prospecting Mode – Best for finding gold nuggets
Relic Mode – Perfect mode for old jewelry and other relics
Hi Trash Mode – Best for areas with a high level of trashy targets
All Metal Mode – Best for finding all metal targets 
On top of the numerical target ID and tone identification, the target identification system on the MX Sport tells you what the target likely is. For example, if the size, shape, and composition is near that of a U.S. quarter, under the numerical target ID readout will be the word "QUARTR" to indicate the probable target. This can be helpful when starting out with the machine as it is a little more difficult to operate than beginner level metal detectors.
The MX Sport features VCO (voltage-controlled oscillator). This technology increases the beep pitch as your search coil nears a target location. This works in search modes and in pinpointing mode. It makes your regular swing sound like its pinpointing. Iron Grunt works in all metal mode and gives a strong grunting noise when an intense iron signal is present indicating iron. 
This works like Iron Audio on many other metal detectors. The sound identification range on the MX Sport is a great asset. It offers options of up to 20 tone regimes to target ID allowing users to differentiate potential targets according to their composition. This is extremely helpful in trashy search areas. 
It should be noted that the MX Sport is not intended for use by beginning detectorists. This metal detector has several complicated settings which will be confusing for new detectorists. The MX Sport is designed for use by intermediate and advanced metal detectorists and is one of the best professional metal detectors on the market. 
White's Electronics offers a 2-year warranty on the MX Sport.
White's MX Sport vs Fisher Gold Bug Pro
Fisher's Gold Bug Pro is the final version in the series of digital Gold Bug metal detectors intended to replace the older analog Gold Bug models. It is a simple to use VLF metal detector designed to find gold nuggets. This model comes with a 5" waterproof round Double-D search coil, making it easy to get into small places where gold is notorious for hiding. The Gold Bug Pro operates at a frequency of 19.2 kHz, higher than the MX Sport, making it much better for finding smaller gold and fine gold jewelry. 
It features 2 operating modes: All Metal and Discriminate. It has clear, easy to read LCD display with target ID and Large Target Alert. The Gold Bug Pro does well in highly mineralized soil conditions, which is commonly found where gold lives.
The Gold Bug Pro has adjustable Gain and Threshold, computer assisted Ground Grab and Ground Balance, and features Continuous Ground Phase and Ground Mineralization Readout. Ground Phase shows the type of material detected in the soil and Fe3O4 graphic shows the amount of mineralization detected in the soil. 
Ground balancing is shown in real time and adjusts continuously. This is enormously helpful in gold bearing areas which are commonly littered with ground mineralization, hot rocks, and black sands. The Gold Bug Pro also features a pinpoint mode and depth indicator.
The Gold Bug Pro features VCO 2 tone audio and can be used with 1/4" or 1/8" headphones. This model features V-Break™ technology which is the first variable breakpoint tone discrimination system. It operates on a single 9-volt battery and is lighter weight than the MX Sport at just 2.5 pounds. One downside to the Gold Bug Pro is it shows the ground phase as a large number on the LCD screen and the possible target ID is on a small arch around the ground phase number. This could be interpreted incorrectly as a numerical target ID.
 This easy to use model is great for beginning detectorists and prospectors looking for a great gold metal detector at a reasonable price. 
Fisher offers a 5-year warranty on the Gold Bug Pro.
White's MX Sport vs Garrett ATX
Garrett's ATX is one of my favorite metal detectors. It is wildly more expensive than any other detector on this list, but it is a rugged, all-terrain, all-purpose metal detector. Unlike the other metal detectors on this list, the ATX operates on pulse induction (PI) technology. PI technology is much better in highly mineralized soil conditions and saltwater areas than traditional VLF metal detectors. The ATX is fully submersible up to 10 feet and has excellent sensitivity. This makes it perfect for finding small, low conductivity items like sub-gram gold nuggets and fine gold jewelry.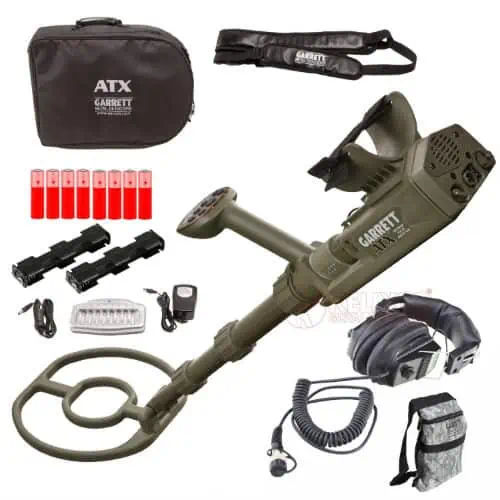 The ATX has 2 types of ground balancing: Fast Track and Continuous. Continuous Ground Track has 4 settings and offers a wide range of ground balancing to compensate for highly mineralized soil conditions. The ATX has 2 search modes: Discriminate and All Metal, and 2 detection modes: motion and non-motion. Unlike VLF metal detectors, PI metal detectors do not typically have to be in motion to detect. The ATX does not have an LCD display but does have an LED target ID indicator. 
The ATX has 25 discrimination settings and 13 sensitivity settings. It features VCO and Iron Audio and comes with a 12" Double-D search coil and military grade hard case. The ATX emits 730 pulses per second, adjustable. It operates on 8 AA batteries and is the heaviest detector on this list at 6.9 pounds. This detector is not intended for beginning detectorists and would be best suited to intermediate or advanced metal detectorists. 
Garrett offers a 2-year warranty on the ATX.
White's MX Sport vs Garrett AT Gold
The Garrett AT Gold is a great beginning or intermediate VLF metal detector for gold prospecting. The AT Gold is a variation of the Garrett AT Pro, but modified to make it better for gold prospecting. This model operates at 18 kHz, higher again than the MX Sport. It is fully waterproof up to 10 feet. Although this detector can be used in saltwater areas and wet sands, it will function best in freshwater or dry areas. 
The AT Gold features an easy to read LCD screen with digital target ID. Graphic target analysis shows the conductivity range of each detected target. This detector has a high resolution of iron discrimination and is paired with Iron Audio to give signals specifically from ferrous objects.
Ground balancing on the AT Gold is manual or automatic. It features Fast Track Ground Balance which automatically ground balances the conditions of the soil and helps in highly mineralized areas. The Ground Balance Window prevents the unit from giving false readouts caused by changes in soil composition. The AT Gold has 3 search modes: All Metal, Discriminate, and Customizable Notch. 
All Metal gives the highest level of sensitivity, Discrimination filters signals from iron objects, and Customizable Notch lets users notch in or out specific metal types. Discrimination mode is preset to filter out light foil and pull tabs and contains a coin pattern to alert on all common coins. Iron rejection levels can be set and saved, but the rest of the pattern is preset and not adjustable.
The AT Gold is lighter than the MX Sport at just 2.8 pounds and operates on 4 AA batteries. The shaft is adjustable to suit all sizes of detectorists. It comes with an 8" by 5" Double-D search coil with 8 sensitivity and depth adjustments. It also features 44 iron discrimination segments and can be used with headphones.
Garrett offers a 2-year warranty on the AT Gold. 
White's MX Sport vs Minelab Gold Monster 1000
The Minelab Gold Monster 1000 is a VLF metal detector designed for detecting gold flakes, dust, and nuggets. The Gold Monster 1000 has a nearly fully automatic operation, where users only need to adjust the sensitivity and volume. This makes it good for beginning detectorists or more advanced detectorists who do not want to bother with a whole lot of complicated settings. This detector is known for its reliability and consistency. The Gold Monster 1000 has a feature called Gold Chance Indication which shows the probability of finding gold in an area. 
The Gold Monster 1000 operates a frequency of 45 kHz, much higher than the MX Sport and much better for small gold. When metal detectors operate at higher frequencies, they detect more gold, but elimination of ground mineralization can suffer. Lower frequencies offer better ground mineralization elimination, but have a harder time finding gold and fine jewelry. It features a monochromatic LCD screen and automatic Easy-Trak Ground Balance. It also features discrimination and automatic noise cancellation. The Gold Monster 1000 has 2 search modes: Gold (iron rejection) and Deep All-Metal. 
The automatic tracking or continuous ground balancing of the Gold Monster 1000 ensure maximum efficiency between eliminating ground minerals and finding viable targets. If a metal detector is not ground balanced properly or often enough, it can fall out of sync with the changing ground conditions and as such ground noise will increase and depth will suffer. Using a metal detector with continuous ground tracking keeps this from happening as the detector re-ground balances every so often to ensure more efficient searching and the best possible depth.
The Gold Monster 1000 comes with a 10" Double-D and 5" Double-D search coils, both waterproof. The control box is only weatherproof, so the detector should not be fully submerged. The detector runs on 8 AA batteries and weighs less than the MX Sport at just 2.94 pounds (with the larger search coil). The Gold Monster 1000 features improved ferrous and non-ferrous discrimination and can function very well in highly mineralized soil and salty soils better than some other detectors. 
Minelab offers a 2-year warranty on this metal detector. 
Cost Comparison
Each of these metal detectors is comparable in price and features, save for the Garrett ATX. 
Conclusion
Each of these metal detectors is great. Each has features to aid the user in finding a variety of treasures in a variety of areas and soil conditions. Fisher's Gold Bug Pro, Garrett's AT Gold, and Minelab's Gold Monster 1000 are all specifically tailored to gold prospecting, while the White's MX Sport and Garrett ATX are more tailored to all treasure types. Remember, a higher frequency will help you find more gold, but you may be sacrificing some depth and sensitivity. A lower frequency will help you find other metals and retain a decent depth and sensitivity.
The MX Sport is a simple to assemble, intermediate to advanced metal detector and the first mass-produced waterproof metal detector from White's Electronics. The MX Sport is a great all-purpose metal detector, but if you are interested in gold prospecting, the other detectors listed on this article are better choices. 
While the MX Sport will find gold, it is not designed for finding small or fine gold nuggets or jewelry. The operating frequency of the MX Sport is not the best for finding gold. Typically, gold metal detectors operate at a frequency of 17 kHz or higher. The higher the frequency the more sensitive to small gold the machine is. Most of these models are comparable in price, but the others are better at finding gold than the MX Sport.
The Garrett ATX is the only PI metal detector on this list and is going to outperform the other detectors on this list every time. PI machines are better at operating in high levels of soil mineralization and in saltwater conditions than VLF machines. One drawback of the ATX is the weight. This is the heaviest and most expensive metal detector on this list, but you will absolutely get your money's worth with this metal detector. PI metal detectors are designed for more advanced detectorists, and the Garrett ATX is no exception. This model is designed for intermediate to advanced detectorists.
If you are searching for an all-purpose metal detector, the MX Sport is a great choice. Although White's states this detector is designed for beach hunting, remember it will likely have issues in saltwater areas or areas where sand transitions from dry to wet salt. The machine will give a lot of false reading and may overload due to the increased amount of salt present. PI metal detectors will always be better in these areas than VLF machines, but this machine could still be used on the beach with these things in mind. 
The White's MX Sport is best suited to intermediate and advanced detectorists as it has features and settings that may frustrate and overwhelm a beginner. The new features on this detector include a lighter weight than previous models, full waterproofing, high discrimination speed, wider range of sound identification, and the new SAT function. All of these come together to create a well-rounded, all-purpose metal detector. 
One of the best things about the MX Sport is if a detectorist has enough skill and experience, they can choose the best settings to achieve the most sensitivity and clarity of signal for all terrain types, weather, and soil conditions. If the user lacks the necessary skills, however, this will quickly turn into a disadvantage. 
White's has been known for making quality metal detectors for over 60 years. The MX Sport is built upon the back of their well-known MXT line and has upgraded technology to make it a great well-rounded metal detector. If you are in the market for an all-purpose metal detector, you really cannot go wrong with the MX Sport.
The MX Sport kit comes with the standard items including the shaft, fixed and support system, warranty certification, search coil, and manual. Depending upon where the detector is purchased, this kit may include headphones, pinpointer, and additional accessories. Remember to become familiar with your user manual, no matter which metal detector you decide to purchase. 
As always, make sure you follow all metal detecting etiquette when hunting. Follow the metal detecting code of ethics and be sure to research local, state, and federal laws pertaining to metal detecting. Some areas require permits to metal detect. Other locations strictly forbid metal detecting. Do some research in the area you plan to metal detect to ensure you are following all pertinent laws. You will be fined if you metal detect outside the law! 
You Also Might Like: