What's the Best Tesoro Metal Detector?
Tesoro Electronics was founded in 1980 by Jack Gifford, a man who had experience working for the Bounty Hunter and Fisher companies. Today, Tesoro continues to be owned by the Gifford family in the U.S. Gifford's vision was to create a company that provided tough, but lightweight metal detectors.
One of the things that separates Tesoro from other companies is that Tesoro detectors are covered by a lifetime warranty if the detector is still owned by its original owner. There are conditions that aren't covered by the warranty, such as malfunctions caused by leaking batteries, but overall, it's a generous policy that instills a lot of confidence in the brand.
Tesoro is regarded as one of the heavy hitters in the metal detecting world and it has a rabid fan base that is fiercely loyal to the brand.
And because of that, today, we're going to examine five of the best Tesoro machines that cover all metal detectorists, whether they are beginning level or experts.  And in an effort to do this, please take a look at the interactive guide below, where you can directly compare some of the top metal detectors on the market against one another (and see how they stack up to the Tesoro detectors we'll discuss throughout this article): 
Tesoro Silver uMax
We will begin with the Tesoro Silver uMax metal detector, which will set you back about $260, as it's a machine best suited for beginning detectorists.
Something you'll notice right off the bat about the uMax is that it doesn't have a display screen. Most Tesoro machines don't have display screens – none of the five we're reviewing here do.
For some detectorists, not having a display screen is a deal breaker, and so you're going to have to weigh how much you care about or need a screen on your detector before you decide to purchase certain Tesoro detectors.
The uMax operates at a frequency of 10 kHz and comes with an 8-inch coil. It has built-in mineral rejection. It's a basic machine, which is why it would be appreciated by beginners.
It's comparable in price to the Garrett Ace 350. But the Ace 350 has a nice display screen that is easy to read.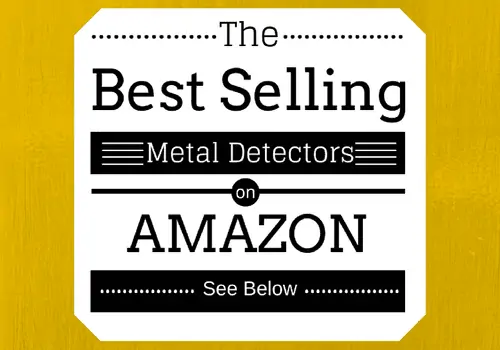 Below, please take a moment to view some of the best selling metal detectors available at Amazon:
The Tesoro Cibola metal detector is a step up from the uMax, and its price reflects that — it costs about $100 more.
The Cibola has silent search discrimination and a pinpoint mode that operates with the push of a button. If you want to be out there hunting for treasure, not fiddling with your machine, the Cibola is great for that.
It weighs just over 2 pounds, which means you'll be able to hunt as long as you want to without experiencing any discomfort. So while you'll be losing the display screen, you're going to ditch that added weight which should help you hunt longer.
It offers a fast recovery time between targets, which means you won't lose many additional targets if you keep on swinging.
It operates at a 14 kHz frequency, which is a great frequency for the money you'll spend, if you plan to do much gold hunting. A lower frequency will still find bigger pieces of gold, like rings or coins, if they aren't too deep. But this level of frequency will find smaller pieces, too.
In price, the Cibola compares to the Fisher F44. But the F44 has a backlight display and a 1-99 target identification mode. Detectorists who want a more powerful operating frequency would want to go with the Cibola though, because the F44 only has an operating frequency of 7.8 kHz.
Because of its operating frequency, this is a good detector even for the intermediate level of detectorists, if they have gold fever. But this is also a good choice for beginning detectorists too.
You can buy this mid-level machine for $450, and it's a good multi-purpose detector. Like the Cibola, it operates at a frequency of 14 kHz.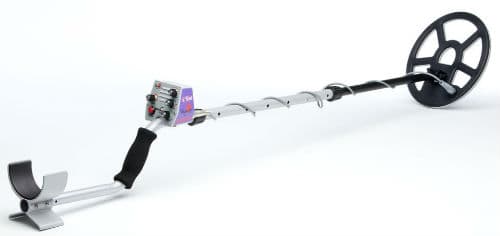 This is a versatile machine because of its three and three-quarters manually adjusted ground balance feature. That feature puts a lot of control in a detectorist's hands. It allows us to tailor the machine to handle the mineralization conditions that we are experiencing, leading to less false positive signals.
The Vaquero also has a discrimination feature that separates the junk from the good stuff, as well as a push button pinpoint feature. The coil of the Vaquero is waterproof, but the control box isn't.
The Vaquero is powerful when it comes to depth. It isn't unusual to hit smaller targets 10 inches down. You better make sure you have a good metal detecting shovel, not just a hand trowel, when you use this thing.
As with all Tesoro detectors, buyers need to be aware – especially if they've never used a Tesoro — that when they first open their box, they may be slightly disappointed by their new detector. It is a no-frills machine that offers no excitement in terms of its appearance. But don't be fooled by its lackluster design – it is a good detector for the money you'll pay.
And with it weighing in at just over 2 pounds, you'll be able to detect as much as you want without feeling like you need recovery days for your back or arms.
This machine is similar to the Teknetics T2 both in price and function – both machines get an impressive depth, do well in trashy areas and handle mineralization well.
Tesoro Sand Shark
This underwater metal detector comes with a 10.5-inch coil and will set you back about $600. Unlike many other land detectors, which are very low frequency units, also known as VLF units, the Sand Shark uses pulse induction technology.
Pulse induction detectors are a much better choice for detectorists who are working at wet salt water beaches or underwater because of conductivity issues that can make a VLF unit unreliable in those conditions.
With this detector, you get to choose your own operating mode out of VCO and normal. During the normal mode, it gives a tone like a regular detector would during an extended search as you're covering ground.
But in the VCO mode, you'll get a higher-pitched, louder tone as you get closer to your target. That's a great pinpointing system for detectorists.
If you want to use this one to its full capacity in the water, you'll want to brush up on your scuba diving skills. You can use the Sand Shark to an amazing depth of 200 feet in the water.
The Sand Shark is about the same price as the Garrett AT Pro, and it can be submerged way deeper in the water than the AT Pro's 10 feet.
The high-end SuperTRAQ will cost you about $700, but it's worth the hefty price tag. Among hardcore detectorists, the SuperTRAQ is one of the all-stars.

You'll get the bare-bones appearance that you'll see with the Tesoro brand, but make no mistake, this unit will outperform many of the ones that look way nicer. You need to ask yourself – are you more interested in how your metal detector looks, or how it performs?
The SuperTRAQ is great for gold prospecting with its 17.5 kHz operating frequency. It has a 10-inch elliptical widescan coil that will help you cover ground swiftly.
It's a little heavier than the other Tesoro's are, but it's still a highly-manageable 3.5 pounds. It offers computerized ground tracking, but it also provides great discrimination, making this a good all-purpose detector – it's good for more than gold.
Because it doesn't have a fancy, and sometimes confusing, display screen that other brands have, Tesoro's, including the SuperTRAQ, are extremely user friendly.
If you're a gold prospector, you'll likely be traveling over some rough terrain. The SuperTRAQ is tough enough to handle the pressure of being bounced around in an ATV as you drive to your destination.
A machine that is comparable to the Tesoro is the White's Goldmaster GMT. Here are some key facts about the GMT.
You'll have to spend about $100 more for the GMT.

The GMT's operating frequency is a massive 48 kHz, which is fantastic for

gold prospecting

, but not so great for all-purpose relic hunting.

It has a waterproof search coil.

It has a feature that shows the amount of magnetic minerals under the ground.

The GMT has auto ground balancing.
If you're solely focused on gold prospecting and you don't care about any other metal, the GMT should be your pick. But if you want to find some gold, without sacrificing other metals like silver, you'll want to stick with the SuperTRAQ.
And the Winner Is …
What machine is best for you as a detectorist is normally easy to figure out – it's largely dependent upon what you feel comfortable spending, what your level of expertise is and how much you plan to spend on your hobby.
But when it comes to Tesoro's, the rule of thumb is a little different in my eyes. Tesoro offers powerful detectors that are easy to operate because they don't have all the additional luxury features that can make metal detecting easier, but harder at the same time.
Yes, all those little extras, such as watching a display screen, can help you in your search for treasure. But some of them are also incredibly complicated to operate, which slows you down and requires a steep learning curve.
With Tesoro's, you don't have that problem because they come without the bells and whistles other detectors have. Anyone can figure out the basics of operating a Tesoro. So beginners can feel confident ordering a higher-end machine because, even without experience, they'll be able to figure it out. It won't feel overwhelming.
The best machine in terms of performance on this list is the SuperTRAQ. It's known as a great detector with fantastic depth.
If you can afford the SuperTRAQ, you should go with that detector – no matter what your level of expertise is.
If you enjoyed this article, please "like" our Facebook page today!
You Might Also Like: