The 15 Best Metal Detectors Under $400 That Are Awesome
Metal detecting is a fun and rewarding hobby that can net you some serious treasure. You can hunt for treasures alone, with friends or family, and go at your own pace. You do not need a whole lot of equipment for this hobby and you can metal detect in all sorts of locations to find all types of treasure. There are so many amazing metal detectors on the market it can be confusing picking out the best one for you. In this article, we will talk about the best metal detectors under $400.
Before purchasing a metal detector, or if you are new to this sport, you need to consider some key features that make a good metal detector worth the money. You will need to decide which features are most important to your needs. Some important features are the type of metal detector, sensitivity, discrimination, ground balancing, coil size/type, pinpoint mode, weight, and price. We will discuss these features below.
Below, please take a moment to view some of the more popular metal detectors on the market, and see how well they compare to the detectors we discuss and recommend in this article.
Metal Detectors that Detect Gold
Need a good metal detector to find gold nuggets or gold jewelry? Look no further than the detectors listed below.
Minelab Vanquish 540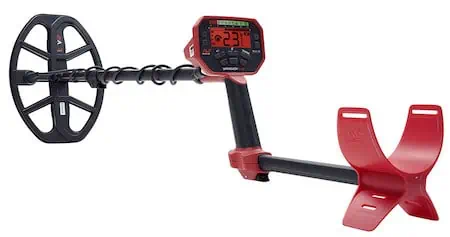 Great for all skill levels
Operates on multiple frequencies simultaneously
The Minelab Vanquish 540 is the top model in the new Vanquish lineup. This is a great option for beginning detectorists or more advanced hunters. Minelab makes operating this detector simple with turn on and go functionality, or you can fine tune the settings using more advanced features. The Vanquish 540 has 25 discrimination settings, 10 volume and sensitivity adjustments, and 5 target ID tones. 
The Vanquish 540 features Minelab's Multi-IQ technology, allowing the detector to operate on multiple frequencies simultaneously. These frequencies range from 5 to 40 kHz, so this detector is great for finding all metals. Lower frequencies are best for finding highly conductive metals like silver, while higher frequencies are best for lower conductive metals like gold. 
The Vanquish 540 features a large LCD screen with red backlight and adjustable iron bias. This detector comes with Minelab's V12 (12") Double-D search coil. It operates on 4 AA batteries and can be used with wireless or wired headphones. There is also the Vanquish 540 Pro Pack, which comes with an additional search coil (and a higher price tag, of course).
Teknetics Patriot
Great for intermediate detectorists
Best for gold prospecting, coin shooting, and relic hunting
The Teknetics Patriot is a great detector for a slightly more experienced detectorist. It is a single frequency VLF metal detector operating at 13 kHz. It also features frequency shift, meaning the detector can slightly shift the operating frequency to compensate for electromagnetic interference. This model features an LCD screen with visual target ID and numerical target ID. It also gives a continuous ground mineral concentration readout. It also has a depth indicator with 4 segments and a pinpoint mode. Sensitivity, discrimination, and volume are all adjustable. Ground balancing is a system called Ground Grab, which allows a quick adjustment to the soil conditions. The Patriot is lightweight at just under 3 pounds and operates on 4 AA batteries. It comes with an 11" open frame bi-axial search coil. 
Bounty Hunter Sharp Shooter II

Great for all skill levels, but more tailored to intermediate detectorists
Can detect large objects up to 4 feet deep
The Sharp Shooter II is a great metal detector that is simple to use. This model features 4 operating modes: notch, auto notch, all metal, and progressive discrimination. Ground balance is preset for easier use and discrimination is adjustable to reject unwanted metals. Sensitivity is also adjustable and can be adjusted to compensate for detector chatter from soil conditions.
Audio ID features 3 tones to identify different metals and it has a pinpoint mode. The Sharp Shooter II detector is slightly heavier than other detectors on this list at 4 pounds. This detector has been known to find large objects up to 4 feet deep and comes with an 8" concentric open-face waterproof search coil. The control box is not fully waterproof so care should be taken near water. 
Metal Detectors for Coins
If you love searching for silver dollars or coins of eras of the past, check out the following detectors below.
Garrett Ace 400
Great for beginning or intermediate detectorists
Garrett's top tier Ace detector
The Garrett Ace 400 is the top tier in the original Ace family line up. It features iron audio, which is helpful when identifying iron to dig or skip. It is a single frequency adjustable 10 kHz metal detector featuring 4 iron discrimination segments, 5 search modes, pinpoint mode, 8 sensitivity and depth adjustments, digital target ID, and 3 audio tone ID levels. 
The adjustable frequency is helpful in areas with a lot of electromagnetic interference or soil mineralization. This model is lightweight at just under 3 pounds and operates on 4 AA batteries. It comes with an 8.5" by 11" Double-D PROformance search coil. 
Fisher F44
Great for all skill levels
Features great sensitivity adjustments and a special coin mode
The Fisher F44 is a weatherproof multi-purpose metal detector specifically designed for coin shooting, beach hunting, jewelry hunting, and relic hunting. This is single frequency VLF metal detector operating at 7.69 kHz. It features a large LCD screen with backlight. It comes with 20 sensitivity and volume adjustments, 9 segment visual target ID, 2-digit numerical target ID, and iron identifier. ]
It features 5 operating modes: coin, jewelry, artifact, custom, and all metal. Settings are saved with non-volatile memory, so you do not have to retune the machine every time you turn it off. The F44 comes with an 11" waterproof concentric elliptical search coil. The search coil is waterproof, but the control box is only weatherproof, so care should be taken near open water. This model is very lightweight at 2.3 pounds and uses 2 AA batteries. 
Teknetics Liberator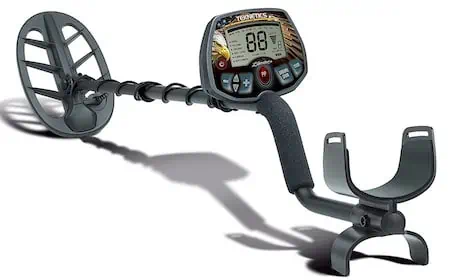 Best for intermediate detectorists
Good discrimination for trashy areas
The Teknetics Liberator is a single frequency VLF metal detector operating at 7.81 kHz. This model features an LCD screen with numerical target ID, 4-tone audio ID, volume control, adjustable discrimination (6 modes), and adjustable sensitivity. It features Ground Grab ground balancing for quick adjustments to changing soil conditions. 
The LCD screen also shows depth indication. The Liberator features V-Break variable tone breakpoint, pinpoint mode with depth indication, and variable notching. It comes with 2 search modes. This model is lightweight at just 2.4 pounds and comes with an 11" open frame bi-axial search coil. It operates a 9-volt battery. 
Minelab Go Find 66
Great for intermediate detectorists
Features LED treasure view lights to show good or bad targets
The Minelab Go Find 66 is a great detector for all skill levels. It delivers precision, performance, and maximum depth. This model features a collapsible body, which is great for storage and portability. The Go Find 66 features 4 search modes, 5 treasure view LEDs (green for good targets, red for potential trash), and a backlit LCD screen. 
Sensitivity and volume each have 5 adjustments and it has a pinpoint mode. One cool feature on this detector is the smartphone app and smartphone holder. You can sync your phone to your detector and hold it on the detector. The Go Find 66 also has wireless capabilities so it can be used with wireless headphones. It is very lightweight at just 2.3 pounds and comes with a 10" search coil. 
Best Waterproof Metal Detector
If you like to metal detect in water, then you're going to need a quality waterproof detector! Check out some of the notable ones that are worth considering right now!
Nokta Makro Simplex+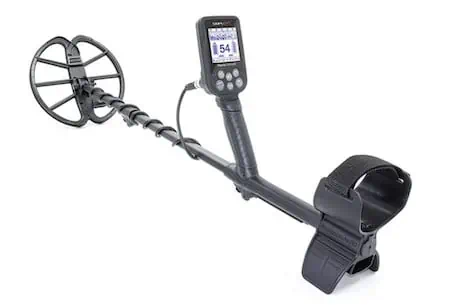 Easy to use for all skill levels
Fully waterproof up to 10 feet; Nokta Makro's first entry level priced detector
The Nokta Makro Simplex+ is one of my favorite metal detectors, and one I have personally used for about a year now. It is simple to use, with turn on and go functionality. But it also has lots of settings for more advanced detectorists. This detector was designed to be affordable while giving users more settings to tailor the detector to their needs. This is the company's first entry level metal detector, and it is a winner in my book! The Simplex+ features automatic ground balancing and 5 search modes (if your software is fully updated): park, field 1, field 2, beach, and all metal. It is fully submersible up to 10 feet so it can be used for shallow diving. 
The Simplex+ is a single frequency VLF metal detector operating at 12 kHz, and features frequency shift. Frequency shift allows the detector to slightly shift the frequency up or down to compensate for difficult soil conditions or electromagnetic interference. One of my favorite features on this detector is the vibrate upon detection. This is a cool feature when you do not want to wear headphones, want to be quiet if in a public space, or are underwater. It is also a great tool for hearing impaired users. The Simplex+ comes with an adjustable backlight on the LCD screen and built-in LED flashlight.
The Simplex+ comes with a pinpoint mode and is lightweight at just under 3 pounds. It is ruggedly built and operates on rechargeable battery pack. It also has upgradeable software. This is done by connecting the detector to a computer and downloading the update from Minelab's website. 
I have used this detector for over a year now, and I live in an area with extremely mineralized soil. This detector performs very well in these conditions and filters out trash well. If I had to choose one, this would be the best metal detector under $400. 
Quest Q30
Great for all skill levels
Smartphone compatible
The Quest Q30 metal detector is highly resistant to electromagnetic interference, features quick target ID response, and has an intuitive user interface. The Q30 features 4 find modes: park, field, beach, and gold. This detector works well in trashy areas, is optimized for gold prospecting, and features 2 beach slots: one for dry/wet sand and one for under saltwater. 
Ground balancing is done by holding the ground balance button and pumping the search coil up and down. This enables the detector to eliminate effects from ground minerals. The LCD screen is large and easy to read and features backlight, depth gauge, sensitivity gauge, target ID arc, battery status, audio/vibration, and selected program. 
The Q30 also has a pinpoint mode. It operates on a rechargeable battery pack, so recharging is simple. It comes with an 11" by 9" RAPTORX TurboD search coil with cover and a mud guard for the control box. This VLF detector operates at 14 kHz, which is a good range for finding all metal types. 
Best Beach Metal Detector 
If you enjoy going treasure hunting on the beach, the following detectors below will help you accomplish your goals!
Minelab Vanquish 440
Great for entry level or intermediate detectorists
Features Minelab's Multi-IQ technology
The Minelab Vanquish 440 features 5 search modes: coin relic, jewelry, custom, and all metal. It has 12 segments of discrimination, and 10 levels of adjustable sensitivity and volume. Iron bias is set to high and non-adjustable. It has 3 target ID tones, 5 depth indicator levels, and can be used with wired headphones. 
The Vanquish 440 is not fully waterproof, but the search coil is. The search coil is a V10, 10" by 7" Double-D. This detector features Minelab's Multi-IQ technology, meaning it operates on multiple frequencies simultaneously. This is a great feature for being able to find all metal types. This detector is lightweight, at 2.6 pounds and operates on 4 AA batteries. 
Minelab X-Terra 305
Tailored to intermediate detectorists
Features VFLEX technology to improve stability and function in difficult soils
The Minelab X-Terra 305 is perfectly tailored for use on beaches, for finding relics and jewelry, or coin shooting. This is a VLF metal detector that operates at 7.5 kHz (with the standard 9" concentric waterproof search coil) or 18.75 kHz (with the optional search coil). The X-Terra 305 features VFLEX technology for more dependable performance and improved immunity to outside interference. This model comes with 2 preset search patterns and an all-metal mode. 
Ground balance is manually adjustable, threshold is adjustable, and noise cancel has 3 settings. The X-Terra features an LCD screen with great visual display. Pinpoint mode aids in recovery time with graphical indicator and depth indicator. Target ID features choices of 1, 2, or 3 tone ID plus multi-tone target ID response. Target volume is also adjustable. It operates on 4 AA batteries. Minelab's X-Terra 305 is one of the best metal detectors under $400.
Bounty Hunter Land Star
Great for all skill levels
Features Ground Trac ground balance so it continually adjusts to soil conditions
The Bounty Hunter Land Star is an affordable yet powerful metal detector. It is simple to operate but has a lot of features for more advanced detectorists. This model features automatic notch discrimination and operates at 6.6 kHz. Ground Trac ground balancing continually lets the detector balance itself for soil conditions. 
The Land Star features a no-motion mode, which is like a pinpoint mode. It features 3 search modes: no motion all metal, motion all metal, and auto notch mode. The Land Star is lightweight at just 3.5 pounds and comes with an 8" waterproof search coil. 
Best PI Metal Detectors and Pinpointers
Let's take a closer look at a nifty detector and pinpointer wrapped all in one, as well as individual handheld metal detectors as well.
Nokta Makro PulseDive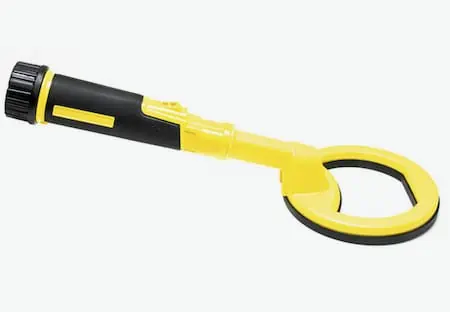 Suitable for all skill levels
Can be used for diving, in shallow water, and on land
Nokta Makro's PulseDive features an innovative design that allows it to transform from a handheld pinpointing metal detector into a diving detector. This detector is fully waterproof up to 200 feet, so it is great for deep or shallow diving. It is optimized for stable functionality on land, in salt water, in fresh water, and on beaches. 
This detector works well in all soil types, too. The PulseDive comes with wireless technology so it can be used with wireless headphones. It features audio, vibration, or audio and vibration upon target detection. This is extremely helpful when diving as you may not have waterproof headphones for underwater use. This detector also features a built in LED flashlight. This model uses Rapid Retune for ground balancing, which allows the device to recalibrate to ground conditions with one button press. 
Dive mode will lock the keys when diving to prevent pressure from pressing the buttons. After 5 minutes of inactivity, the PulseDive will emit an alarm and the LED light will flash. This is helpful if you become separated from your detector or simply forget it is turned on. The PulseDive features 5 sensitivity level adjustments and weighs just 14.8 ounces (in scuba mode) and 10 ounces (in pinpointer mode). The battery is a rechargeable lithium polymer, and the detector comes in black or bright yellow. 
Fisher F-Pulse Pinpointer
Perfect for all skill levels
Can be used underwater or on land, features a rugged design
Fisher's F-Pulse Pinpointer is fully waterproof up to 6 feet and functions well in saltwater or freshwater areas. This PI pinpointer features vibrate, beep, or both when a target is found. It comes with lost mode alarm, features single button operation, proportional response, 3 sensitivity levels, and an adjustable LED light. 
It also has an auto shutdown features in case the pinpointer is left on. This pointer is ruggedly built and made form abrasion-resistant materials so it will not wear out quickly. This pointer is extremely helpful in areas of high mineralization and saltwater as PI detector negate the issues caused by these areas. It can be used just as easily on land, so it is a good, all-around pinpointer. 
Teknetics Tek-Point Pinpointer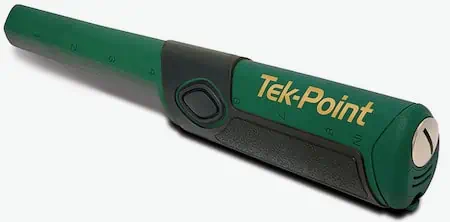 Great for all skill levels
PI makes this pinpointer stable and reliable in all soil conditions and in salt water
The Teknetics Tek-Point pinpointers is fully submersible up to 6 feet and functions well in fresh water or saltwater areas. It features beep, vibrate, or both upon target detection and has a single button operation. It comes with 3 sensitivity levels, proportional response, retune, automatic shutdown, and adjustable LED light. It operates on 2 AA batteries and comes with a belt holster. This pointer is ruggedly made and abrasion-resistant so it will wear very well. 
Pulse Induction vs VLF Metal Detectors
One of the very first choices you need to make is whether you want a VLF (very low frequency) or PI (pulse induction) metal detector. VLF metal detectors are the most common type on the market. They typically operate on one or more frequency. They generate a continuous low power transmission signal using the search coil antenna. 
The signal amplitude is then analyzed, and the change of signals generated by the metal target is read. VLF metal detectors work well in most soil conditions but can often struggle in areas with high soil mineralization, hot rocks, black sand, and salt water. VLF detectors can often overload or give false signals or noisy feedback in these areas. 
PI metal detectors use a single coil as the transmitter and receiver. This technology sends short and powerful bursts of current through a coil. These pulses create a short magnetic field and when the pulse ends, the magnetic field reverses polarity and collapses. This results in a sharp electrical spike. These spikes are extremely short (just a few microseconds), at which time another current runs through the coil called a reflected pulse.
The process then repeats.
PI detectors send out 100 or more pulses per second. When a PI detector finds a target, the reflected pulse takes longer to disappear. This technology is comparable to how an echo works. PI detectors typically do not discriminate as well as VLF detectors but have greater search depth and are more stable in areas of high mineralization and saltwater.
Next, we will discuss the importance of the features we look for in good metal detectors.
Key Features
Here are some notable features worthy of paying attention to when you're in the market for a high quality yet affordable metal detector.
Sensitivity
Sensitivity is a detector's ability to find specific sizes and types of metal. The better a detector's sensitivity, the more irregular and small pieces of metal it can find. Sensitivity should be adjusted for changing soil conditions like mineralization, hot rocks, black sands, and saltwater. If it is left on high, it can overload the machine and give false readings. Lowering sensitivity typically causes a loss of detection depth but makes the detector more accurate.
Discrimination
Discrimination is where certain metal types are notched in or out. This helps users reject undesired metal types and focus on gold, silver, and other valuable metals.
I always recommend digging all targets when first beginning to detect so you become familiar with your detector's response to metals. After you have done this, you can discriminate metals so you can find only valuables.
Ground Balance
Ground balancing allows the detector to read the soil conditions and adjust itself to give you the best possible readouts. It helps to filter out the effects of soil mineralization and saltwater or changing ground conditions. There are 4 main types of ground balancing: manual, automatic, fixed, and tracking. Manual is done by the user. Automatic means the detector does the work for you. Fixed means the ground balancing settings are pre-set and not adjustable. Tracking means the detector will constantly track the ground conditions and adjust, as necessary. 
Coil Size/Type
Coil size and type are important for determining the depth and range of a metal detector.
There are also special coils for different types of metal. Some detectors come with multiple coils, and others have coils sold separately. Some detectors come with a fixed coil that cannot be changed.
Pinpoint
Pinpoint mode is common on a lot of metal detectors. This works similarly to a handheld pinpointer. The detector is typically held over the area where it registered a target. The pinpoint button is held, and it helps the user narrow down the target area. This can help you not have to dig so much when you know better where the metal target is. 
Weight
Weight is an important factor when choosing a metal detector. The heavier the detector the more arm fatigue you can expect after swinging it for a few hours. Lighter detectors reduce arm fatigue and mean you can hunt for longer. Most PI metal detectors are heavier than VLF detectors, although there are some heavy VLF detectors, too. 
Price
Price is often the most important factor when choosing a metal detector. Most of us are on a budget, and the price of an item is an incredibly important factor. PI detectors are almost always more expensive than VLF detectors. But there are plenty of VLF detectors that are pricey, too.
Questions and Answers!
Q: Why are there no pulse induction detectors on this list?
A: Pulse induction metal detectors are quite expensive, especially compared to most traditional VLF machines. There are a few PI detectors out there, but they are from companies I have never heard of, so I need to do some more research before recommending them to detectorists. 
Q: Are metal detectors in this price range particularly good?
A: Absolutely, yes! Many metal detector manufacturers are making more entry level and entry level priced machines, so they are more accessible to everyone. All metal detectors, regardless of price, will find metals. 
More expensive machines just streamline this process and have features that make finding metals a little easier. They are often more difficult to operate, though. This price range is perfect for beginning and intermediate detectorists. Some detectors, like the Nokta Makro Simplex+ and Minelab Vanquish 540 and 440 are great for all detectorists from beginner to advanced and are reasonably priced with a lot of advanced features. 
Q: Are there legalities involved in metal detecting?
A: Yes, there are many. It is important that you do your research on metal detecting laws in your city, county, state, and country. Each of these entities has specific laws surrounding metal detecting. For example, you can metal detect in national forests but not in state parks (some allow you to metal detect in state parks with a permit). 
Some cities will allow you to metal detect while others require a permit or disallow it altogether. Here, you can see the laws for metal detecting in my state of Utah. If you are unsure about whether you can detect a location or not, always check with the proper authorities prior. This will keep you out of trouble and keep you from getting fined!
Q: Where can I find information about metal detecting in my local area?
A: There are many metal detecting clubs out there. Almost all major cities have one, or you could join a virtual club on a social media site. While they may not share their best locations (i.e., areas where they have found profitable items), they are almost always willing to share knowledge of the sport, the area, and history with you. 
Some of these people have spent years metal detecting and could be considered professionals. They can help you narrow down your search for a detector, give you tips on hunting, and teach you all kinds of valuable things. 
One last thing I will leave you with is the metal detecting code of ethics. While not enforceable, it is kind of an unwritten rule among detectorists.
Metal Detecting Code of Ethics
Always check federal, state, and local laws before detecting.
Respect private property and lawn owners. Always obtain permission to be on private land.
Always fill all holes you have dug.
Take your trash as well as any trash you find, out with you.
Protect our natural resources, wildlife resources, and private property.
Be thoughtful, courteous, and considerate always.
Do not damage or remove historically significant or archaeological treasures.
Always leave gates, signs, and equipment as you found them.
Do not destroy any property, buildings, or items in deserted areas.
Remember: you are an ambassador for all metal detectors, so make us look good!
If you enjoyed this article, please "like" our Facebook page!
You Might Also Want to Read: