8 Metal Detectors for Depth That Will Find Treasure Buried Deep
Finding a top rated metal detector that is not only affordable, but will also find treasure that is buried deep most certainly does not have to be a daunting task. In this article, we will be exploring the top 8 metal detectors for depth that will find treasure buried deep along with some helpful tips to help you pinpoint the best metal detector for your needs!
What Makes a Good Metal Detector?
One of the biggest questions that hobbyists ask themselves when it comes to shopping for a metal detector is what makes a good metal detector? To pick help you pick out the best metal detector, you will simply want to determine what your needs and wants are.
There are a number of really great metal detectors available on the market, and many come at truly affordable prices. However, what makes a good metal detector is what you are going to want to get out of it. In the following section, we will be discussing some of the top things that you will want to consider when you are shopping for your metal detector. 
Below, use the guide to compare some of the best metal detectors on the market:
Things to Consider
When you are beginning your search for your metal detector, there are a number of things beside simply ones that will offer you the greatest depth, that you will most certainly want to take into some serious consideration. Here are a few of the top questions that you will want to dwell upon first and foremost, before even getting started in the process of shopping for a new metal detector:
What are you looking to find? By pinpointing the items that you are most going to want to find, you can better narrow down which metal detector you are going to need. Whether you are seeking to find coins, jewelry, or any other kind of relic, you will find that there are some metal detectors that are better than others when it comes to being able to pinpoint certain items better than others, while also weeding out the trash.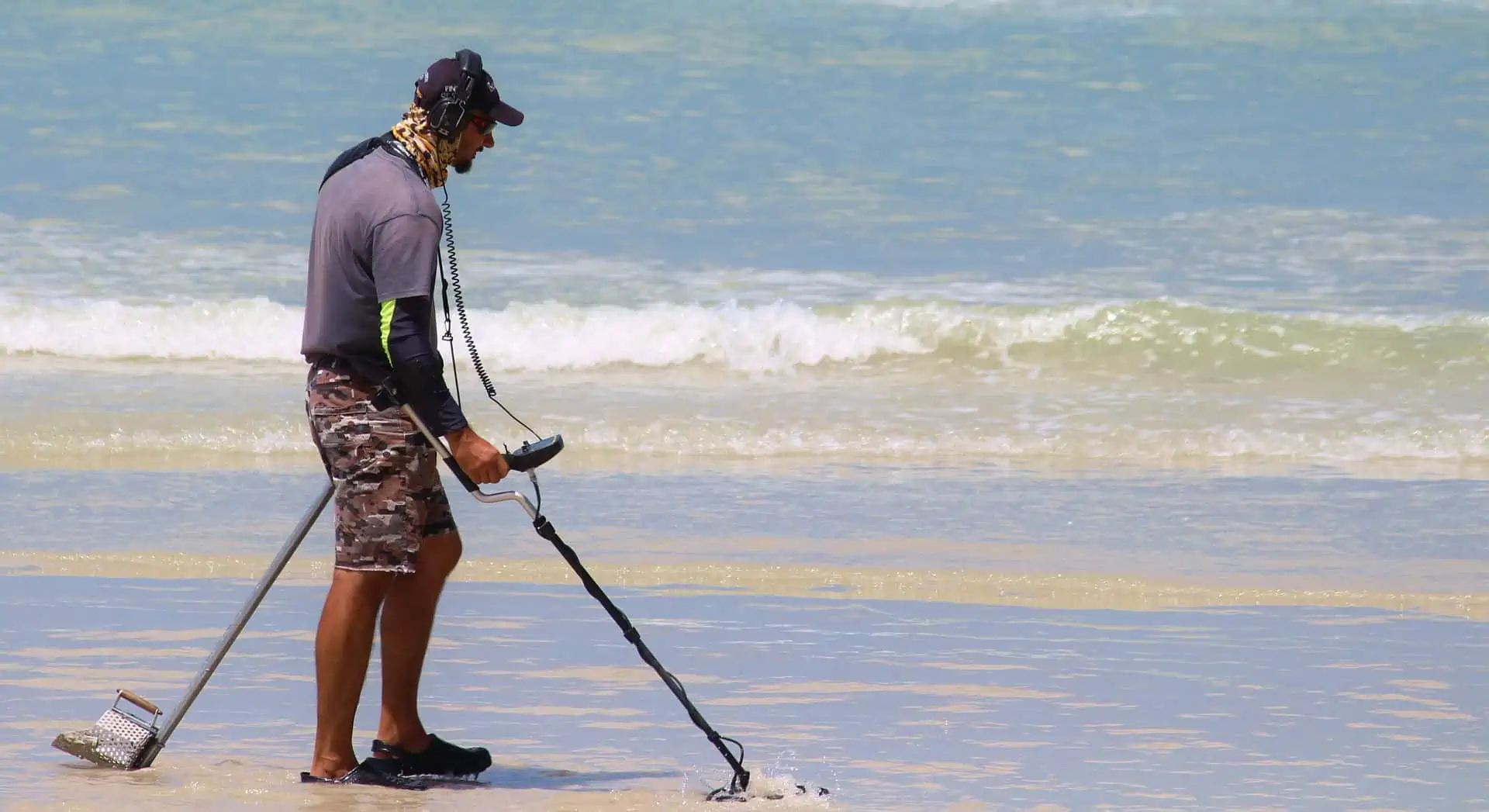 Where are you planning on detecting? There are specific metal detectors that are better for hunting in different places. For example, if you are planning on hitting the beach more often than other places, you may want to invest in one that will go through salt water as well to really help you expand your search.
How often are you planning on using it? This is a very important question to ask yourself because if you are planning on using your metal detector only on weekends or holidays, you may not need to invest in a super high end, durable one. But if you plan on spending a lot of time metal detecting and being a little more hard on it, you may just want to invest in one that will be a bit more reliable for your desires.
What is your experience level? While this should most certainly not be a factor in feeling the need to limit yourself with regards to purchasing a new metal detector, it can certainly help you weigh out your options; and narrow them down a little better. There are a ton of great metal detectors available on the market, and with keeping that in mind, a lot of them are for truly avid and experienced metal detectorists who have specific goals and hunting in mind.
In other words, a lot of those metal detectors are not only expensive, but they also boast a lot of added extras that most people who are just getting started simply do not need. If you are a beginner, you can still find an excellent, easy to use metal detector with unlimited capabilities that will allow you to have fun finding relics, without all the unneeded bells and whistles.
How much are you willing to invest? This is a big thing to consider. The best way to use price as a guideline is to set the budget that you are willing to pay for a genuinely good metal detector, and then search through ones that are within your budget. Whether you plan on paying $300 or $1500, you can easily be able to carefully sort through some really great metal detectors that will fit both your budget and your needs, which saves you a ton of time and stress in terms of your overall shopping experience.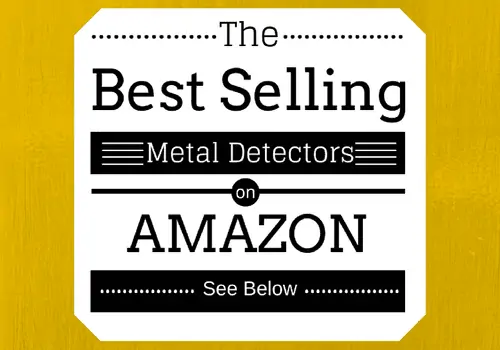 Below, please take a look at the best-selling metal detectors on Amazon, and see how some of them stack up to the detectors we'll discuss in today's article:
Top 8 Metal Detectors
Let's begin with the Garrett AT Pro.
This all terrain metal detector is priced right for a mid-grade metal detector. It is also great for areas that boast more trash, such as rivers and parks, and with its incredible 5×8 DD coil, it gets genuinely good depth. And, if you notch down the ground balance, you can even use this one in salt water. The Garrett AT Pro is also perfect for beginners or more experienced metal detectorists, as it comes with two modes that can be adjusted for preference: standard or pro mode. The Garrett AT Pro is lightweight and compact and makes traveling to and from your locations a breeze!
The Fisher F22 is a great model for entry level metal detectorists and even kids. It is the perfect model for helping you to find coins, and it boasts pretty deep levels for a metal detector that you literally just turn on and go.
Fisher's have long been renowned for their easy to use features and high depth capturing methods, and with an improved coil, this one now ranks above higher-priced models. If you are looking for a user-friendly model that boasts incredible depth ranges, this is an excellent choice!
If you are in the market for a great all-around model, the Fisher F75 SE LTD is the perfect one for your needs. This metal detector reaches astounding depth and even reaches greater depth when it is put in the boost mode. This two-coil metal detector is the choice of some of the top coin and relic hunters across the globe due to the fact that it performs exceptionally in areas that contain high mineral levels. This one reaches to great depths and is a great option for metal detectorists of all skill levels. 
Tesoro Sand Shark
The Tesoro Sand Shark boasts the best waterproof pulse induction (PI) and with a handy 10.5" coil it offers users the opportunity to conveniently reach some pretty astounding depths (upwards of 200 feet). This one comes a bit on the higher end of the price spectrum, so it is definitely recommended for those who are avid metal detectorists.
If you are planning on hitting the beach and are looking for a model that will help you reach those deeper levels, this is going to be the best model for your needs.
Tesoro Silver uMax
The Tesoro Silver uMax is a super lightweight metal detector that is fully capable of detecting metal objects to about 10" below the surface. It provides metal detectorists of all skill levels with accuracy and microprocessor technology that is easy to pinpoint with ease. It locks onto targets and is very well-built. In fact, it comes with a lifetime warranty! This one also boasts a convenient Silent Search Discriminate Mode and a Silent Search All Metal Mode that ensures that your hunting is more successful than not.
The XP Deus is the perfect metal detector for those who opt to hunt in high iron infested areas. With the XP Deus, you can set the reactivity to 3 (a mid setting) and it performs at faster speeds and greater depth than some of its more top of the line competitors.
The XP Deus is compact and super light weight making it incredibly convenient to travel with. It also comes with a number of added options that you can add such as downloadable upgrades, new and improved coils and even a waterproof kit!
Regardless of what you are planning on searching for the Minelab CTX 3030 is a cut above the rest. With the assistance of the Minelabs FBS Technology, the Minelab CTX 3030 is able to hunt on 1.5khz – 100khz frequencies at the same time which allows the hunter to find relics with pinpoint precision and accuracy and at unmatched depths. It offers the highest technology and is noted to be years ahead of the competition.
This one comes with internet updates, target trace, the capability to save your finds, GPS, and a ton of other great features. The Minelab CTZ 3030 is definitely on the higher end of the pricing scale, but if you are a master metal detectorist, you will certainly want to make plans to invest in this metal detector.
And finally, the reason that the Teknetics T2 SE LTD is the choice of winner is for the sole fact that the depth that this one reaches is plain and simply, second to none. This one has been noted to pick up items that are buried below 12" and points them out like they are a mere 3-4" deep. When tested to see just how accurate it is, depths of even 15-16" were reached with no problem.
Teknetics went above and beyond with this metal detector by designing state of the art software with relic hunting in mind and that allows for the T2 to be able to  permit increased levels of iron items that would typically be picked up on other metal detectors as "trash" but comes in as direct targets for the T2.
Not to mention the fact that every single year the T2 team has won favor at the Grand National Relic Shootout. Regardless of what you are hunting for, if you are in the market for the best metal detector available on the market in terms of both depth and precision, the Teknetics T2 SE LTD is going to be your best bet, hands down.
To Conclude
There are a ton of truly great metal detectors that are available on the market today. As previously noted, the best way to go about searching for a great one that will fit your personal needs and desires is to consider taking the time to make a list of all of the things that you are going to seek to get out of your metal detector. Things like what you are going to want to be looking for. Where you are planning on doing the most metal detecting. And how often you plan on using it are some of the tops questions that you should be asking yourself.
Once you have successfully taken all of those things into consider, you can begin the fun search for seeking out your brand new, perfect metal detector. Regardless of your skill set or even budget, you can be sure to find the best one for your metal detecting needs!
You Also Might Like: