Minelab Equinox 600 review
In this article, I'm going to review the Minelab Equinox 600.  I'll show you some of the amazing features this metal detector offers, and I'll also compare to other notable detectors on the market, like the Garrett AT Pro and Minelab Equinox 800.

Before we get started, please take a look at the interactive guide below, where you can see how the Minelab Equinox 600 compares to some of its metal detecting peers.
Meet the Equinox 600
The Equinox 600 features one of Minelab's top technologies: Multi-IQ. Multi-IQ is a multiple frequency system that allows the metal detector to operate on multiple frequencies at one time. This gives users the best opportunity to find all types of treasures. The Equinox 600 can also operate on 3 single frequencies of 5 kHz, 10 kHz, and 15 kHz. This allows users to tune out excess ground noises in highly mineralized soil. The Equinox 600 has 3 detect modes: park, beach, and field. It also has 6 custom search profiles, with 2 per detect mode. 
Noise cancelling is automatic on the Equinox 600 and it features automatic and manual ground balancing. Sensitivity is adjustable from 0 to 25 and target identification consists of 50-segment notch discrimination. Threshold pitch is fixed, and tone pitch, tone break, and tone volume are only ferrous. There are 5 levels of depth indication on the Equinox 600. This is a lightweight model at just 2.96 pounds.
The Equinox 600 is fully submersible up to 10 feet, so it is the perfect detector to use near rivers, streams, lakes, and the ocean. Audio output on the Equinox 600 features a built-in speaker, standard headphone jack, and Bluetooth and aptX™ Low Latency compatibility. The standard package comes with traditional, non-waterproof headphones. The Equinox 600 also features Wi-Stream technology which uses efficient, low-power digital audio transmission to alleviate audio time lag between the detector and wireless module. 
The Equinox 600 features a monochromatic LCD screen with backlight. It features built-in rechargeable batteries. One of my favorite features on the Equinox 600 is the upgradeable software. Simply connect the detector to a computer with a USB cable, and if there are any updates, they will be installed from Minelab's website. 
Minelab offers a 3-year warranty on the Equinox 600.
Minelab Equinox 600 Coils
The Equinox 600 comes standard with an 11" Double-D Smart search coil with skid plate. There are other coil options available for use with the Equinox 600:
The EQX 06 search coil is a 6" round Double-D coil sensitive to smaller targets and perfect for hunting in high trash areas. It is also great on difficult terrain. 
The EQX 11 search coil is an 11" round Double-D search coil good for all around performance and general detecting. This coil provides a good balance between weight, sensitivity, and ground coverage. 
The EQX 15 is a 15" by 12" elliptical Double-D search coil which provides maximum depth for specialized treasure hunting. This is the perfect coil for covering large, open spaces. 
Each search coil comes with a protective skid plate. 
How to Use the Minelab Equinox 600
The Equinox 600 is simple to set up and get detecting. It must first be assembled out of the box, which requires no tools. Ensure the battery is fully charged (typically about 4 hours from 0 to 100%). It should be noted that the lithium ion battery can degrade if unused for long periods of time. Minelab recommends that the detector be charged at least once every 3 to 4 months, and the battery pack replaced every few years. It can also be used with a portable power bank. 
Be sure to read the manual carefully to become familiar with the detector. Become acquainted with the LCD screen and all the icons. Icons show battery status, beach overload indication, pinpoint, audio connectivity, tracking ground balance, user profile, depth gauge, frequency display, detect modes, sensitivity, discrimination, target ID, and backlight. Target ID displays a number which corresponds with a ring around the large number showing ferrous materials on the left bottom, low conductive metals in the middle, and highly conductive materials on the right bottom. 
Once the detector is assembled and fully charged, select a detection mode, set noise canceling, and begin hunting! It is always recommended to put the detector through a field test before heading out to a hunting site. It is easy to set up in your own yard. Take several types of metal, coins, and jewelry, and test the detector. This helps users become familiar with the sounds and sights of the detector. 
Park mode has 2 settings, Park 1, for general treasure and coins, and Park 2 for fine jewelry. Field mode has 2 settings also, Field 1 for coins and artifacts, and Field 2 for fine coins and artifacts. The Beach mode also has 2 settings, Beach 1 for wet or dry sand, and Beach 2 for underwater or surf hunting. Frequency can be adjusted by pressing the Frequency button, which will change the detector from multi to single frequency. Park and Field modes operate in multi frequency and all single frequencies, while beach mode only operates in multi frequency mode. 
Advanced settings will be required for some areas, especially those with difficult soil conditions. As such, ensure you keep your user manual handy so you can refer to the sections specifically for advanced settings. 
Minelab Equinox 600 Update
Updates for the Equinox 600 are simple to retrieve. Simply go to Minelab's website and find the software update page. The updated software for each detector will be there, and you simply choose the detector you have. Download the update to your computer, Windows of Mac, then connect the detector to the computer and the computer will pop up an "Install" window. 
As previously mentioned, the Equinox line of metal detectors has upgradable software. Software update 2.0 is the newest update released through Minelab in 2019. This update had several fixes in it. Firstly, difficult ferrous targets are more easily identifiable. Iron Bias has been enhanced with the addition of a new Iron Bias setting profile. 
The original Equinox Iron Bias "FE" settings are still available, but now users can switch to Iron Bias "F2," which improves the capability of the machine to reject a wider range of difficult iron targets, like bottle caps and pull tabs. Another issue addressed in this update is the Equinox 600 backlight brightness. The 600 now has adjustable backlight with the addition of a "Low" settings. 
An update was released in 2018 which addressed silver target identification. Many Minelab users complained that their devices could not identify or even see silver coins and targets. The depth gauge indicators, user interface, and user profile functions were also updated. 
If a software update changes something on the Equinox 600 that users are not happy with, they can simply roll back to a previous version. In the Minelab update area, there will be an option to restore a previous update version from a drop-down menu. 
Minelab Equinox 600 vs Minelab Equinox 800
The Minelab Equinox 800 is the big brother to the Equinox 600. It contains all the features of the 600 plus more. This detector also utilizes Minelab's Multi-IQ, but this detector can operate on 5 individual frequencies: 
5 kHz – Great for large silver coins
10 kHz – Best for small Roman hammered coins
15 kHz – Best for general treasure hunting
20 kHz – Great for general treasure hunting and gold prospecting
40 kHz – Optimum sensitivity to small gold nuggets and fine jewelry
The Equinox 800 has 4 detection modes, one more than the 600: park, beach, field, and gold, and 8 custom search profiles (2 for each detect mode). The Equinox 800 features automatic and manual noise cancelling, automatic and manual ground balancing, adjustable sensitivity, threshold volume, threshold pitch, and threshold level. Target ID features a 50-segment notch discrimination with 4 target tones. Tone pitch, break, and volume indicate both ferrous and non-ferrous targets, and the machine has 5 depth level indicators. 
As with the Equinox 600, the 800's detect modes each have 2 options. Park 1 and Field 1 are best for maximizing ground balancing to achieve the best signal to noise ratio and are best for general detecting or coin shooting. Park 2 and Field 2 are more sensitive to higher frequency, lower conductive targets, but can be more susceptible to ground noise. Beach 1 maximizes the ground balancing for salt and is best for wet and dry sand conditions. Beach 2 also maximizes ground balancing for salt and is best used in the surf and underwater. Gold 1 and Gold 2 are the best suited for nugget hunting. 
The Equinox 800 features a monochromatic LCD screen and comes with an 11" Double-D Smart search coil with skid plate. As with the 600, the 800 is fully submersible up to 10 feet and can be used with wireless headphones.
As with the Equinox 600, Minelab offers a 3-year warranty on the Equinox 800.
Minelab Equinox 600 vs Garrett AT Pro
Garrett's AT Pro is one of Garrett's top detectors. It is fully submersible up to 10 feet, has 40 iron discrimination segments, 6 search modes, and adjustable notch discrimination. The AT Pro features Garrett's Pro Audio (proportional audio), which allows detectorists to hear very subtle changes in target response. It also helps the user better judge a target's size, shape, and depth, leading to quicker recovery times. Pro Audio helps users dig less trash and more treasures. 
The 6 search modes on the AT Pro feature 3 Standard Audio modes with full-strength beeps regardless of amplitude, and 3 Pro Audio modes. This model also has Iron Audio, which allows users to hear discriminated iron. This makes the detector emit a low grunting tone to indicate a ferrous target. This is helpful when coin shooting or prospecting. The AT Pro uses Fast Track ground balancing which helps users in highly mineralized soil conditions. 
The AT Pro features an LCD screen with numerical target ID. It does not have a backlight. The AT Pro has 8 sensitivity and depth adjustments, and a pinpoint mode. It is a single frequency metal detector operating at 15 kHz. It comes standard with an 11" Double-D PROformance™ search coil. The AT Pro is lightweight at 3.03 pounds and uses 4 AA batteries. 
Garrett offers a 2-year warranty on the AT Pro.
Minelab Equinox 600 vs Garrett AT Max
Garrett's AT Max is also part of the AT line. It operates at an adjustable 13.6 kHz. This means the frequency can be shifted slightly up or down to compensate for poor soil conditions or electromagnetic interference. The AT Max will not be the best detector to find small gold or fine gold jewelry but will still find larger pieces of gold nearer the surface. It features 44 iron discrimination segments, All Metal Mode, backlit LCD screen, adjustable volume, discrimination, and audio, and 4 search modes. It also features Pro Audio, like the AT Pro, as well as 8 sensitivity and depth adjustments and adjustable threshold. Ground balancing is automatic or manual and it has a pinpoint mode.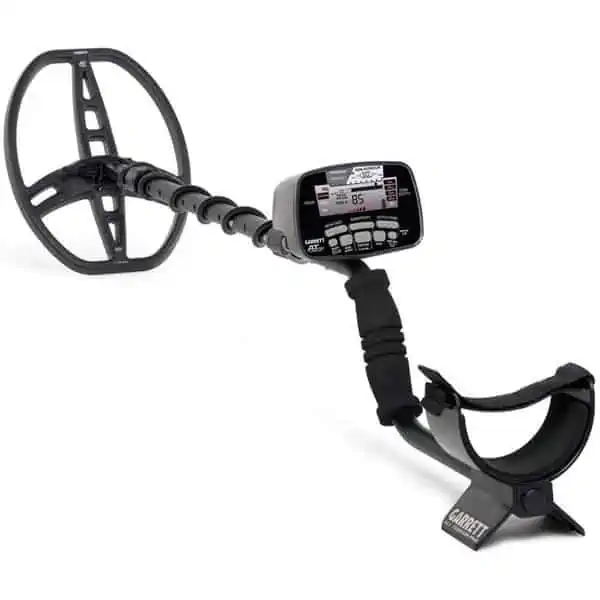 The AT Max is fully submersible up to 10 feet and is made to work in saltwater conditions. Most lower frequency metal detectors have issues in saltwater areas, but the AT Max has many adjustments that make it easy to use on saltwater beaches. It is lightweight at just 3.03 pounds and operates on 4 AA batteries. This model also features Z-Lynk wireless technology for use with wireless headphones. This technology is quicker than traditional Bluetooth meaning you will not have a lag between finding a signal and hearing the signal with wireless headphones.
Garrett offers a 2-year warranty on the AT Max.
Minelab Equinox 600 vs Fisher F75
The Fisher F75 metal detector is a simple to operate metal detector. It features Digital Shield Technology, or DST, which allows users to minimize background noise even with maximum sensitivity. Users can quickly activate or deactivate this feature. The F75 features 4 audio tones, 3 new levels of Fe-Tone, a type of Iron Audio. This allows users to hear and identify iron as a low-pitched grunt, regardless of signal strength. This detector is recommended for gold, jewelry, relics, and coins. 
The F75 features a large, backlit LCD screen with numerical target ID, magnetic mineralization bar graph and readout, double filter discrimination modes, FASTGRAB™ ground balancing, and a pinpoint mode. The F75 operates at 13 kHz and comes standard with an 11" waterproof Double-D search coil. This detector is not fully submersible so caution should be used near water. The F75 can find a coin up to 15" deep in good soil conditions, but realistically, in more difficult soil conditions, will find coins up to 10" deep. 
Fisher offers a 5-year warranty on the F75.
Equinox 600 vs Gold Monster 1000
The Gold Monster is a simple to use metal detector specifically designed for gold prospecting. This detector has automatic noise cancelling, automatic ground balancing, and automatic sensitivity adjustments. The Gold Monster has 2 detection modes: Gold and Deep All-Metal. It features a Gold Chance Indicator along with 6 adjustable volume levels. While the machine has automatic sensitivity, it also has manual sensitivity adjustments and auto + sensitivity. The Gold Monster 1000 features improved non-ferrous and ferrous discrimination and operates well in mineralized and conductive soil conditions. 
The Minelab Gold Monster 1000 operates at an ultra-wide dynamic range 45 kHz with a 24-bit signal processor. This boosts sensitivity to gold beyond many single frequency metal detectors and enables the detector to find a wider range of nugget sizes while cancelling noise and false signals. This detector has a monochromatic LCD screen and comes with 2 waterproof search coils: 10" Double-D and 5" Double-D. The Gold Monster 1000 is not fully waterproof like the Equinox line and should not be submerged. The search coils are waterproof, but the control box is only weatherproof. Caution should be used around water bodies. 
The Gold Monster 1000 is lightweight, at just 2.94 pounds and can be used with a rechargeable lithium ion battery pack or 8 AA batteries. This metal detector is geared toward beginning prospectors and is simple to use. Those wishing to find all types of treasure may find fault with the Gold Monster 1000 as it is specifically tailored to find gold, and the discrimination indicator only shows non-ferrous or ferrous targets to allow users to determine if the target is gold or not.
Minelab offers a 2-year warranty on the Gold Monster 1000.
Conclusion
Minelab's Equinox 600 is the perfect metal detector for nearly all terrains and all treasure types. The Multi-IQ, multiple frequency operation of this detector makes it unique on the market. Not many metal detectors out there are true multiple frequency machines. Added to this, the Equinox 600 can operate on single frequencies, too. It is fully waterproof and submersible up to 10 feet, so it can be used in shallow waters. This increases the search area quite a bit when users do not have to avoid water. 
The Minelab Equinox 800 has all the features of the 600 but operates on 2 more individual frequencies and has more features. Both are great metal detectors, so it is really a matter of personal preference which model you choose. The Equinox 800 will be more expensive than the 600.
Both Garrett AT models–the Garrett AT Pro and Garrett AT Max–are great detectors, too. The AT line has been successful and has a large following of detectorists. Garrett is a great manufacturer with quality products. They are single frequency detectors, so it will be up to the user if they prefer a single frequency or multiple frequency metal detector. Both AT detectors are waterproof up to 10 feet, so they are also good at hunting in and around water. Keep in mind the lower operating frequencies of the AT line will make it have some difficulty finding small gold or deeply buried gold. 
Fisher's F75 has consistently been a favorite of mine. Fisher is a great company with quality products. The F75 is an easy to use metal detector, so it is very beginner friendly. It does operate at a lower frequency than the higher frequencies associated with the Equinox 600, so it will not be the best for small or deep gold. It may also suffer some in saltwater areas. The F75 has been known to have excellent depth in good soil conditions, and good depth in difficult soil conditions, making it good to use in most areas.
Minelab's Gold Monster 1000 is a great detector for finding gold. It is not the best detector for other types of treasure, but it is perfect for prospectors. This detector operates at a higher frequency than a lot of single frequency detectors, making it more sensitive to small and fine gold. It is not fully waterproof so it should be used cautiously near water. If you are looking for a prospecting metal detector, the Gold Monster 1000 is a great choice!
Overall, you cannot go wrong with any of the metal detectors on this list. The Equinox 600 is a fantastic option as it is an affordable detector with multiple frequencies and single frequencies. That combination is hard to find! I always recommend pairing a metal detector with a good, quality handheld pinpointer. These can help save on the amount of time spent digging and help you narrow the target location down quickly and easily. I would recommend the Pro-Find 35 pinpointer from Minelab to pair with the Equinox 600. 
This pinpointer is fully waterproof up to 10 feet, highly visible, features ferrous tone ID, and has vibratory and audio indication. It also features a built-in LED light for use in low light or underwater. It operates on a single 9-volt battery and is lightweight at just 6.82 ounces. 
Make sure you study your manual, regardless of which detector you have. When using something like the Equinox 600, it pays to study the manual and keep it with you because it has many advanced features that can become confusing for beginning and intermediate detectorists.
You Might Also Want to Read: