Fisher Gold Bug Pro review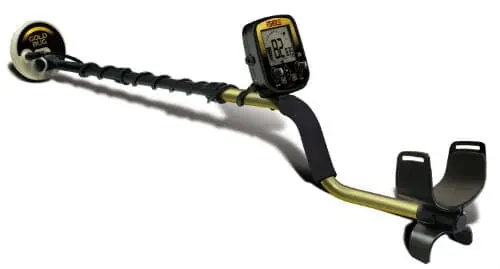 In this article, I'm going to review the Fisher Gold Bug Pro to help you best determine not only what this metal detector offers you in terms of key features and over quality, but also help you figure out if it's worth your money.  
And to better help you, please take a moment to view the guide below, which allows you to compare the Fisher Gold Bug Pro to other notable metal detectors on the market.
Brief History on Fisher Labs
Fisher Labs began in 1931 by German immigrant Dr. Gerhard R. Fisher. He studied electronics at the University of Dresden and became a research engineer in Los Angeles in the 1920s. During this time, he received the first patent for aircraft radio direction finders. Dr. Albert Einstein was familiar with Dr. Fisher's work and stated that Fisher's technology would lead to worldwide use of radio direction finders.
Fisher's first metal detector was called the metallascope or M-Scope. The M-Scope was not like the metal detectors we have today. It was composed of 2 wooden boxes, copper coils, vacuum tubes, and other electrical components. There was increased demand for the M-Scope grew and Fisher received the first patent for a metal detector. 
The M-Scope was a multifunctional tool used by geologists to locate ore, lumber mills to detect metal inclusions in sawn logs, treasure hunters for finding all types of treasures, utility companies to find buried pipes, and law enforcement agencies to uncover abandoned and hidden weapons. Fisher Labs was even called upon during World War II and the Korean War to contribute its technical competencies to the war efforts.
As Fisher's patent rights were set to expire, many competitors were waiting in the wings to produce their own metal detecting equipment. Fisher retired in 1967, but Fisher Labs continued to expand. In 2006, First Texas Holdings Corporation purchased Fisher Labs and moved the manufacturing facility from California to Texas. The company continues to carry on Fisher's legacy of creating state of the art metal detectors with the latest technologies.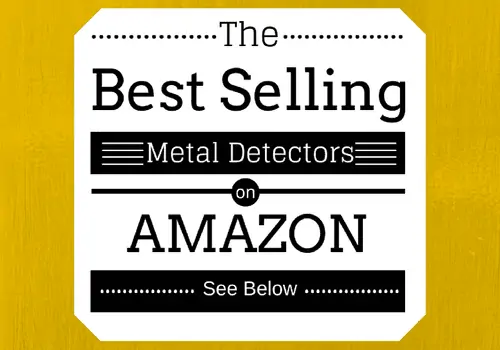 Below, please take a moment to view some of the best selling metal detectors available at Amazon:
Meet Fisher's Gold Bug Pro
The Gold Bug Pro was first released in 2010 and is still going strong today. It is the last version of a series of digital Gold Bug metal detectors intended to replace the older analog Gold Bug models. This model is specifically made using the Teknetics G2 metal detector technology (Teknetics is part of the same parent company as Fisher, First Texas Holdings Corporation). 
The Gold Bug Pro operates at a frequency of 19 kHz, which is great for finding gold. Higher frequencies find smaller gold, but the Gold Bug Pro will easily find larger nuggets and bigger gold jewelry. This model also works well in highly mineralized soil conditions, which is commonly found in gold bearing areas. 
The Gold Bug Pro has several advanced technologies. V-Break is the metal detecting industry's first Variable Breakpoint tone discrimination system. Ground Grab is a computerized ground balancing system that helps the detector with accuracy in highly mineralized soils. It also features real time computerized ground balancing. The Gold Bug Pro features V.C.O. (Voltage Controlled Oscillator) Audio in All Metal and Discrimination Modes. 
All Metal Mode is the most used in gold hunting. Using this setting you will have a nice consistent threshold. Most detectorists only need to use the Discrimination Mode when an area has a lot of trash targets. Areas with a lot of iron items, like nails and old iron, can be hunted with the Gold Bug Pro using Discrimination that will filter out the non-ferrous targets from the ferrous trash. Some gold nuggets can be missed when detecting in heavy trash areas. 
Another great feature of the Gold Bug Pro is the continuous ground condition readouts. the only downside of this is the ground condition readout is the focus of the large LCD screen. It presents a numerical value in the center of the screen showing the ground phase, while there is an arch shaped target ID across the top. The Gold Bug Pro also features a ground phase readout value which indicates the type of ground mineralization present. Fe3O4 graphic indicates the amount of ground mineralization. It also has an Iron ID bar which evaluates the chances that a target is iron. There are 7 bars in total, and gold will register only 1 or 2 bars on this graph.
The Gold Bug Pro has independent control over both threshold and gain. It features dual headphone jacks and is very lightweight at just 2.5 pounds. Using Fisher headphones with the Gold Bug Pro will ensure greater audio data so users will not miss small and faint signals. Its lightweight design is well balanced. The user interface of the Gold Bug Pro is easy to understand and easy to operate. It features fast and accurate target recovery speed even in difficult and hard surfaces. This model uses 1 9-volt battery. Fisher offers a 5-year warranty on the Gold Bug Pro.
Fisher Gold Bug Pro Coils
There are several search coils that can be used with the Gold Bug Pro. The metal detector comes standard with a 5" waterproof Double-D closed search coil. This small coil helps users get into small cracks and crevices where gold tends to hide. Users can also purchase a 7" by 11" elliptical Double-D search coil or a 13" ultimate Double-D search coil. The larger the search coil the deeper the detector can search. 
Fisher Gold Bug Pro Accessories
The Gold Bug Pro can be paired with several accessories. There are different search coil options, as mentioned above. There are 2 types of headphones sold by Fisher that work with the Gold Bug Pro: Fisher Standard Headphones and Fisher Deluxe Stereo Headphones. Headphones can help users hear faint or small signals easier so less treasure is missed.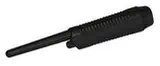 Fisher Lab's website offers these headphones along with the accessory search coils, coil covers, a padded carrying case, a finds apron, a metal sand scoop, and a Lesche knife. Users can also purchase the Fisher F-Pulse pinpointer to pair with their Fisher Gold Bug Pro. Pinpointers are helpful in narrowing down a search area and ensuring users are finding more treasure and digging less. 
The Fisher F-Pulse is a pulse induction handheld metal detector with vibration alert, beep, adjustable LED light, automatic shutdown, 3 adjustable sensitivity levels, proportional audio, and a belt holster. The F-Pulse uses 2 AA-batteries and Fisher offers a 2-year warranty. This is a heavy duty pinpointer designed with abrasion-resistant materials so it will not wear out quickly.
Fisher Gold Bug Pro vs Fisher Gold Bug 2
The Fisher Gold Bug 2 is one of my favorite gold prospecting metal detectors on the market today. It was first released in 1995 and is still top of the prospecting detector's pile today. This metal detector operates at a whopping 71 kHz, making it one of the best VLF metal detectors around for finding small gold nuggets, gold flakes, and fine gold jewelry. When combined with the 6" elliptical search coil, the Gold Bug 2 can find gold weighing under 1/10th of a grain. There are 480 grains in an ounce so this detector can find gold weighing 4800th of an ounce!
The Gold Bug 2, like the Gold Bug Pro, works very well in highly mineralized soil conditions. This detector has excellent discrimination settings to filter out ferrous trash easily. It also filters out interference from hot rocks, black sands, and minerals, as mentioned before. The Gold Bug 2 has 3 search coil options: a 6.5" elliptical, a 10" elliptical, and a 14" elliptical. When looking for deeply buried gold, the larger coils will find gold deeper. 
The control box can be removed on the Gold Bug 2 and mounted to the hip making the stem and coil very lightweight at just 1.9 pounds. The control box mounted on the stem adds another pound making the total weight 2.9 pounds. It is still light enough to carry around for many hours with little arm fatigue. Unlike the Gold Bug Pro, the Gold Bug 2 does not have an LCD screen. It features a series of knob controls that adjust sensitivity, electrical interference, ground minerals, ground rejection, and volume. The Gold Bug 2 can be used with ¼" headphones. 
The Gold Bug 2 uses 2 9-volt batteries and has a 5-year warranty.
Fisher Gold Bug Pro vs Teknetics G2
The Teknetics G2 has a lot of the same features and technology as the Gold Bug Pro. The G2 operates at 19 kHz, the same as the Gold Bug Pro. This detector, however, is not specific for finding gold. This detector remains sensitive to gold nuggets but is more versatile in that it is optimized to find coins, relics, jewelry, and gold. Users will notice the G2 exhibits a lower sensitivity to highly conductive coins like U.S. quarters. This is because it is built to emphasize sensitivity to lower conductive metals like gold. 
The G2 is user friendly and would be fine for a beginning detectorist. It is lightweight at just 2.8 pounds. The G2 features adjustable threshold, adjustable discrimination, pinpoint mode, manual ground balance, depth indicator, and audio tones. The backlit LCD screen features numerical target ID and 2 search modes: All Metal and Discrimination. 
There is no volume control on the G2, which may be irritating to some. But it does feature 2-tone V.C.O. audio. It can be used with headphones and features dual headphone jacks for 1/8" and 1/4″ headphones. It requires 1 9-volt battery, features Ground Grab and ground balance readout. The G2 comes with an 11" Double-D search coil and comes with a 5-year warranty.
It should be noted that the original G2 is no longer in production. The G2+ replaced this version of the G2. 
Fisher Gold Bug Pro vs Garrett AT Gold
Garrett's AT Gold is designed for beginner or intermediate detectorists. It is a variant of the Garrett AT line, but modified for gold prospecting. The AT Gold operates at 18 kHz, just slightly lower than the Gold Bug Pro. The AT Gold is fully waterproof up to 10 feet, something the Gold Bug Pro, Gold Bug 2, and G2 all lack. The AT Gold operates best in freshwater areas but can be used in saltwater areas. This detector does have some difficulty in saltwater areas and transitions between wet and dry sand. 
The AT Gold has an easy to read LCD screen with digital target ID. The graphic target analysis shows the conductivity range of detected metals. This detector has a high resolution of iron discrimination and Iron Audio to give specific signals to ferrous targets. The AT Gold features manual and automatic ground balancing with Fast Track ground balancing. 
Fast Track automatically ground balances to the current soil conditions and is quite helpful in highly mineralized areas. The Ground Balance Windows prevents the detector from giving false readouts due to soil changes.
The AT Gold has 3 search modes: All Metal, Discriminate, and Customizable Notch. All Metal Mode offers the highest sensitivity. Discrimination Mode filters signals from iron targets. Customizable Notch allows users to notch in or out specific target types. Discrimination Mode is preset to filter out pull tabs and tin foil. It is also set with a coin patter to alert on all common coins. Iron rejection levels can be saved but the remainder of the patterns are preset and not adjustable.
The AT Gold is very lightweight, at just 2.8 pounds. It operates on 8 AA batteries and comes with an adjustable shaft. The AT Gold comes standard with an 8" Double-D search coil with 8 depth and sensitivity adjustments. It features a 44-segment discrimination pattern and can be used with standard headphones. Garrett offers a 2-year warranty on the AT Gold. 
Garrett's AT line is one of their most popular detector series. The AT Gold is one of Garrett's best offerings for a gold prospecting metal detector.
Fisher Gold Bug Pro vs Minelab Xterra 705
The Minelab Xterra 705 features Minelab's patented VFLEX technology which allows users to change the detector's operating frequency by simply swapping search coils. The 705 works with low, mid, and high frequency search coils and all Minelab's Xterra search coils work with this detector. The operating frequency of this detector, again determined by the search coil installed, ranges from 3.75 kHz to 18.75 kHz. It comes standard with a 9" concentric waterproof search coil that operates at 7.5 kHz.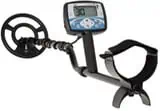 This detector is specifically made for:
Coin Shooting
Relic Hunting
Jewelry Hunting
Beach Hunting
Gold Prospecting
The lower end frequency search coils will not be the best suited to find gold but will find higher conductive metals like silver and coins easier. The 705 has true automatic ground balance mode to eliminate ground interference. This lets users head faint or small target signals easier. It also features manual ground balancing, beach ground balancing, tracking offset ground balancing, and tracking ground balancing. Tracking ground balancing is a great way to ensure the detector is not giving false signals due to changing soil conditions. This helps the detector work better in wet to dry sand transitions, black sands, and hot rock areas.
The 705 has 2 pinpoint modes: sizing and auto. The sizing option lets users obtain the shape and size of targets before they dig. It also features memory to save settings even if the batteries are removed. There are 5 depth indicators on this detector and 2 detect modes: Coin and Treasure & Prospecting. 
There are 4 factory discrimination patterns that can all be personalized. The 705 also features All Metal and Iron Mask, and 28 segment discrimination scale. Sensitivity is adjustable, threshold is adjustable, and volume is adjustable. It operates on 4 AA batteries and comes with a 3-year warranty. 
Fisher Gold Bug Pro vs Tesoro Lobo
The Tesoro Lobo is a discontinued model that operates at 17.8 kHz, right in line with the other detectors on this list (apart from the Gold Bug 2). While this detector is good for finding gold, it lacks many of the features of its competitors on this list. Ground rejection has 2 options: Tracking and Pre-set. Tracking works with All Metal Mode, and Pre-Set works with Discrimination Mode. The Lobo adjusts to normal soil, black sand, and alkali. Like other Tesoro models, the Lobo does not have an LCD screen. 
The Lobo does not have volume control, tone adjustment, audio boost, or frequency offset. It does have pinpoint mode, threshold control, hip chest, or shaft mounting options, and uses 8 AA batteries. The Lobo comes standard with a 10" by 5" elliptical widescan Double-D search coil, but there are 7 coil options available. It can use headphones and weighs 3.5 pounds. This is the heaviest detector on our list.
Tesoro used to offer a lifetime warranty on all their metal detectors. Unfortunately, the company has recently closed their doors, so all of their models are permanently discontinued and their warranty information is up in the air right now.
Price Comparison
Gold Bug Pro – $699
Gold Bug 2 – $900
Teknetics G2 – $749
Garrett AT Gold – $750
Minelab Xterra 705 – $500
Tesoro Lobo – $679 (Discontinued) 
Conclusion
Fisher Labs has been making metal detectors for decades and there is a reason they are still top of the metal detecting industry. They are known for quality products, great customer service, top of the line technology, and great prices. Fisher offers metal detecting equipment for treasure, gold, security, utility, and industrial applications. You cannot go wrong when dealing with a company with a reputation like Fishers. 
If you are in the market for a gold prospecting metal detector, each of the detectors on this list will perform well. The Gold Bug 2 remains my favorite and most recommended prospecting metal detector because of the high operating frequency. However, the higher frequency of the Gold Bug 2 means it may not eliminate ground mineralization interference as well as more mid-range frequency metal detector will. 
The Fisher Gold Bug Pro and Teknetics G2 are similar, except the Gold Bug Pro is optimized for finding gold while the G2 is optimized for finding higher conductive metals. Garrett's AT Gold is part of their AT line, which is well known and well respected. The AT Gold is a great detector for prospecting and has many features that are comparable the Gold Bug Pro and G2. 
Each of these detectors is comparable in price and features, so you really are getting a great metal detector for gold prospecting with any detector on this list. Tesoro's Lobo is a great machine, but it will be harder to find now that the company has closed its doors and will have no warranty outside of whatever is offered by the seller.
There are many features on the Gold Bug Pro that makes it a great option for prospecting. The simple user interface makes it a great beginning prospecting detector, but it has enough features to make a more intermediate detectorist happy. The Gold Bug Pro has V-Break, Ground Grab, V.C.O. Audio, continuous ground readout, and ground phase. These features are help the detector operate smoothly and consistently even in the most highly mineralized soil conditions. 
I would still recommend the Fisher Gold Bug 2 over the Fisher Gold Bug Pro for an intermediate or advanced metal detectorist. The Gold Bug 2 has the highest operating frequency on this list and that makes it the most sensitive to small and fine gold. Most gold prospectors will find is going to be small, so you really need a sensitive metal detector to find it. Pairing the Gold Bug 2 with the proper coil will ensure users are searching as deeply as possible so no targets are missed. 
The Fisher Gold Bug Pro is my recommendation for beginning prospectors. This metal detector is a good turn on and go prospecting metal detector and is simple to use for beginners or for anyone who does not want to bother with too many settings. The Gold Bug Pro has only 2 knobs, ground balance buttons, and the LCD readout. There are not numerous toggles that are often seen on more advanced metal detectors. 
There are several search coils options to ensure users have what they need to search in different areas. Most gold fields are in areas where there is high mineralization, hot rocks, black sand, or saltwater. It is important to find a coil that fits well with the settings required in your specific area. I really like the LCD screen on the Gold Bug Pro. It is nice to see clearly what settings the detector is operating on and a visual of the targets and ground conditions. The only downside is the largest number on the LCD readout is the ground conditions readout instead of the target ID. The target ID is an arch shape above the large ground readout. 
I always recommend users pair a pinpointer with their metal detector. It can help you reduce the amount of digging necessary to extract targets. The Fisher F-Pulse is a great pointer and is fully waterproof. It is important to ensure you have the proper accessories to ensure your hunt is successful. Outside of the detector and pinpointer, you will want some type of finds pouch, a good quality digging tool, and if you are prospecting, a quality pick. 
Be sure when you are hunting for gold that you search in areas where gold has already been found. That is the mostly likely location to find gold left behind by older prospectors. Many of the large nuggets are already gone, but there are still decent sized nugget and uncountable small nuggets out there. 
Always be sure to follow all laws governing metal detecting and prospecting. There are local laws, state laws, and federal laws pertaining to both prospecting and metal detecting, so it is important to make sure you follow all the pertinent laws. If you detect or prospect outside the law, you could be fined heavily.
The Gold Bug Pro remains a good pick for gold prospecting. Each of the detectors listed here will work well at prospecting, so get out there and find that gold!
You Also Might Like: