The 8 Best Metal Detectors for Rivers and Streams
In this article, I'm going to present you with some of the best metal detectors for river and stream hunting on the market.  I'll go into detail on each one and help you figure out which of the eight I personally feel reigns supreme.  
And, in order to better help you throughout this article, please use our interactive guide below, which allows you to directly compare some of the top metal detectors on the market against one another.
Finding Buried Treasure
Perhaps one of the main reasons people have heard about metal detecting as a hobby is more than likely that they have either read or heard a story of someone finding something of incredible value. 
Regardless of what that thing may be, if it is of great value, then it's a treasure. Now keep in mind that value is subjective, meaning that the value will change depending on the object itself and a buyer or owner. For example, finding a lost wedding ring, may not be worth a whole lot pawned, but could mean the world if it is returned to its proper owner. 
So it makes sense why a lot of people get into metal detecting to find treasure buried in the sand at the beach, or in sandy spots near their homes. 
But how does detecting metal on a beach differ from striking treasure in a river or stream, somewhere more remote and complex, like a forest? This article will help you to determine which techniques and tools will be most useful in searching areas full of dirt, terrain, and water sources.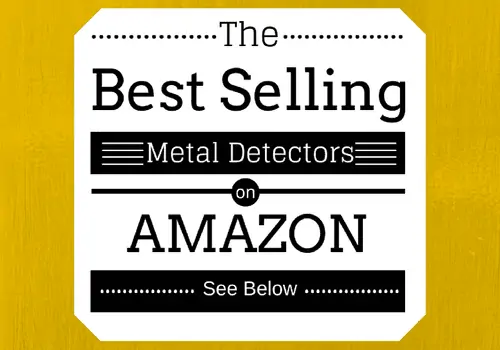 Below, please take a moment to view some of the best selling metal detectors available at Amazon:
Tips For Treasure Hunting in the Woods
Like most metal detecting, it is useful to know what tools to bring with you, and to ensure you are able to comfortably carry them with you for the duration of your hunt. Traveling into the woods for metal detecting or deep into a remote forest can easily bring fatigue, so you will want to make sure you have either a comfortable carrying bag or strap to allow you to bring all of the necessary equipment. 
You never know how far deep into the woods a hunt can take you, so you will want to keep your bag lightweight with only the necessary tools. It is important to also remember any bug spray, sunscreen, food, and water. Bringing your phone or personal GPS can be helpful as well, or simply a compass to help ensure you do not get lost in the woods! 
But be sure to leave any valuable, personal items locked away, so that you do not end up losing them in the woods, or in the river if you are searching there. And depending on the length and depth of your expedition, make sure you let either friends or family know about your plans. 
That includes the date or dates you will leave and expect to return and if possible the times as well. And of course the actual location you will be. These are precautionary measures to just look out for your safety and well being, something that comes first above all other items on your metal detecting checklist.
Hunting Near Streams and Rivers
As with taking trips into the forest, you will want to make sure you are carrying essentials when near water sources. If you are following a stream or river, keep in mind the clothing you are wearing as well, so that getting a little wet does not hinder your hunting. 
Bringing a pair of gloves can be useful, as to avoid insect bites or sharp rocks in the water when you are digging around for your located treasure. Since people settled along river banks, you will likely be able to find some old relics near water, and following a river may help lead you to old homestead sites nearby in the forest. 
It is good to have a specific site in mind, too, when traveling deep into the woods or along a long river. This can prevent you from getting lost or heading too far out of range.  It is also a good idea to walk upstream when you are detecting, as kicked up dirt and debris will travel downstream and cause the water to become cloudy. You wouldn't want to try to dig down into water that you cannot see the bottom of!
The Right Metal Detector for Rivers and Streams?
There are many metal detectors with submersible coils, and some that can even have the entire device completely underwater! Depending on how deep you are planning to go, there is an appropriate metal detector to help you find the treasures hidden just below the surface. 
Keep in mind that you will want to have a metal detector that is lightweight, and is useful in both water and rocky conditions, as the terrain around rivers or streams can vary. Always be sure you are familiar with an area before going hunting, so you can know what tools you will need while you are out. 
The Garrett AT Pro is known to be a well-rounded all terrain metal detector. Many people recommend this model for searching in shallow waters and rocky or rugged terrain. It is an easy to use model that works very well in and around water.

Since the Garrett has advanced this model with a completely weatherproof housing, it doesn't matter whether you are searching in deep 10 foot water or caught outside in a rain storm in the deep woods – you can keep on hunting, but just don't be caught in the water during thunder and lightning! Though this model is designed for water, it works best in fresh water, as salt content is known to alter performance.

Since the Garrett has advanced this model with a completely weatherproof housing, it doesn't matter whether you are searching in deep 10 foot water or caught outside in a rain storm in the deep woods – you can keep on hunting, but just don't be caught in the water during thunder and lightning! Though this model is designed for water, it works best in fresh water, as salt content is known to alter performance.
To go with your Garrett underwater metal detector, the manufacturer also sells optional waterproof headphones, ensuring everything works in all conditions. 
This model from Whites is an excellent general use metal detector, and luckily for us, it is also waterproof! The MX Sport expands on the popular MXT's ruggedness and reliability, bringing it into a lighter, easy to use new model. It is submersible to 10 feet and features a backlight screen to help you see the information displayed on the screen. 
Whites metal detectors have multiple coils to choose from, making it a great all-around rugged model, perfect for changing locations every now and then. If you are looking for an advanced, reliable model, then the Whites MX Sport would be a great option. 
Built specifically for complicated and challenging terrain, the Nokta Makro Gold Racer is perfect for traveling deep into the woods or wading your way upstream. 
Though the entire model is not waterproof, the waterproof coils make it easy to take into shallow rivers or streams. With 56kHz frequency, it is capable of detecting tiny deposits and often overlooked jewelry pieces, even in rocky terrains. 
And don't worry about having to bring a secondary pinpoint tool with you, as the Gold Racer is known for precise pinpointing, helping to keep you from digging too far into the water. 
Building upon the ever popular T2 model, the T2+ from Teknetics is a high performing professional metal detector. Though this model is not fully submersible, the manufacturer also includes a waterproof pinpointer, which helps when trying to reach hard to get to areas that are in rivers or streams. 
The model allows for ground balance controls, making it a breeze when working over highly mineralized areas. You can utilize this model at the beach, near rivers, and even in the woods. 
This feature from Minelab includes four different area settings – park, beach, field, and gold. It makes for an excellent all-terrain metal detector, and it utilizes multi-frequency channels to help you make a broad search or find exactly what you are looking for. 
The Equinox 800 is waterproof up to 10 feet, making it an excellent option for traveling between land and water in rivers and streams. Many would recommend this product for shallow water usage. EVen in highly mineralized areas, this metal detector is known to stand out amongst competitors as a reliable machine. 
6) Tesoro Sand Shark
An excellent VLF option from Tesoro, the Tiger Shark helps users who are on both land and in the water. Allowing great versatility and not keeping its user restricted to either water or land because it responds the same in either element. 
Since this model does not utilize the same PI technology that the Sand Shark model does, it is the top pick for fresh water searches, rather than salt water. This would be an excellent pick if you are avoiding salty areas, but also specifically has a salt mode on it when working in those areas. 
It is waterproof up to 200 feet, but just as capable on land as it is submerged. And as with all Tesoro models, it comes with a lifetime warranty from the manufacturer. Though it is nearly 5 pounds in weight, it is known to do very well when gold prospecting, so many are eager to buy this model with that in mind. 
Fisher claims the CZ-21 Quicksilver to be a premium metal detector, performing on both land as well as in water. They recommend it for use in both salt and freshwater as well. It is completely submersible to 250 feet, making it one of the deepest divers on out list. 
Even if you were in the woods hunting and came across and unexpected source of water, this metal detector would be able to perform regardless of the terrain. It is known to be great for beaches, streams, and lakes. Metal detector enthusiasts rave in reviews about how great this model is at being versatile, and highlighting it's pinpointing and discriminating abilities. 
Another excellent waterproof model from Fisher, the 1280-X is popular for users on land and in the water. It is submersible to 250 feet and has a powerful running time up to 75 hours! 
It uses an extremely low frequency of 2.4 kHz and allows for manual or automatic ground balance, making it fairly versatile in operation. Since this model also comes with a belt mount, it makes it a great option when traveling long distances or carrying through water, making it a little easier on the body for transporting the metal detector. 

As with the other Fisher model listed, this would be a great option for someone looking to use a metal detector in a variety of locations, including forests and streams. Although it does not have a pinpointing mode, Fisher makes excellent waterproof pinpoint tools to help make the hunt easier, but might not be appropriate for someone who would rather have the all-in-one capability. 
The Best Metal Detector?
We have looked at a few different options for metal detecting near rivers, streams, and in tough terrain like forests. As a requirement, they must be able to handle to water to allow for use in a river or at the beach. That means it will be slightly submerged in water, not necessarily all of it but at least the coil for underwater detection. 
All of the models listed have some sort of waterproof capabilities, whether it is the unit itself or having waterproof coils. Depending on the location of your searches, you may need a metal detector that has greater depth rating than others. 
Always be sure to check out a local area that you are going to be hunting in first, so that you can decide which tools are going to be to your greatest benefit. From the list, the top pick that I would recommend would be the Garrett AT Pro. This model is consistently highly rated, and is known to be a rugged metal detector capable of performing well in water. 
Since most hunts near rivers and streams will involve rocky, muddy terrain than can be covered in layers of dirt, leaves, twigs, and debris, the more rugged the design, the better. It needs to be built to withstand being dragged through these environments, as rivers are known to be rocky or gravely on the bottom. 
While the sand at the beach and small pebbles can wear away at the outer coil of your device. The AT Pro is built just for these kinds of environment. The Garrett AT Pro delivers a product that is versatile, easy to use, and lightweight for traveling long distances. All of this make the AT Pro the best metal detector for any river or beach hunts you might take it on. 
If you enjoyed this article, please "like" our brand new Facebook page!
You Also Might Like: