Minelab Vanquish 340 vs Minelab Vanquish 440
Minelab is an Australian manufacturer of metal detectors and accessories that has been creating leading edge technology for over 35 years. They are known for making metal detectors that can manage the most difficult soil conditions and terrains. 
Minelab has a team of 50 engineers working to make their metal detectors top of the line. Every product the company builds is certified military grade and are trusted by military forces globally for their ability to locate landmines and other dangerous items. They have dealers in Australia, Europe, Asia, the Americas, and the Middle East, many of whom are treasure seekers themselves! 
Minelab is one of the beset metal detector manufacturers today, and their Vanquish line of metal detectors shows their capabilities. 
The Vanquish line consists of the Minelab 340, Minelab 440, and Minelab 540. 
These were designed to be entry-level metal detectors with excellent features at an affordable price. In this article, we will discuss the 340 and 440, and see who ultimately wins in the showdown of Minelab Vanquish 340 vs Vanquish 440.
Below, take a moment to see how the Minelab Vanquish 340 and Vanquish 440 compare to some of the popular metal detectors on the market (listed below):
Minelab Vanquish 340
The Vanquish 340 is the simplest, and least expensive model in the Vanquish series. Do not let this fool you, though! It is still chock full of features that many entry-level metal detectors lack. The 340 features Minelab's patented Multi-IQ technology. This enables the metal detector to operate on multiple frequencies simultaneously. This allows you to search for all metals in all soils.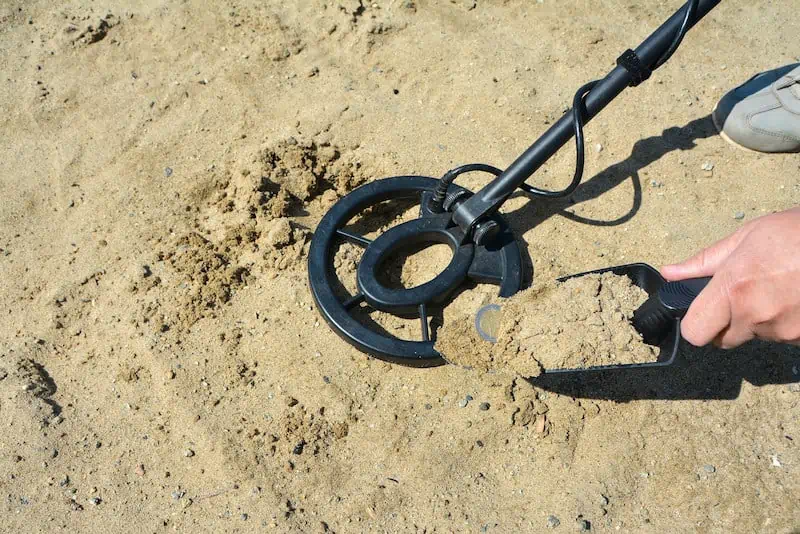 The 340 is an all-terrain model featuring 3 search modes: Coin, Jewelry, and All Metal. This model works extremely well in parks, fields, yards, rivers, mountains, wet sand, saltwater beaches, and gold prospecting. Saltwater, wet sand, and gold prospecting are all difficult for single frequency metal detectors to manage. The Vanquish 340 does not have this problem thanks to its multiple frequencies.
The entire Vanquish line has interchangeable search coils. The Vanquish 340 comes with Minelab's V10 search coil, which is a 10" by 7" Double-D waterproof coil. The control box on this model is not fully waterproof, so care should be taken around water. You can also purchase an optional rain cover to give the detector more protection from the elements. 
Audio control has s10 channels of automatic noise canceling, 3 volume settings, and a lag-free audio response. It does not have adjustable iron bias, so this feature is preset high. Sensitivity is adjustable with 4 levels and target ID tones have low, medium, and high.
The Vanquish 340 can be used with or without headphones, features a monochromatic numerical target ID, 5 segment discrimination, and 4 depth level indicators. The 340 does lack a pinpoint mode. The Vanquish 340 is compact and lightweight, at just 2.6 pounds. It features a large monochromatic LCD screen with numerical target ID, volume control, sensitivity control, and search mode. 
The face also has a graph at the top of the screen showing the potential type of metal found. It also features a unique collapsible snap-lock system to pack down the detector, so it is easy to carry in a bag or on trips. 
This model is extremely easy to use. You can literally turn it on, choose a preset program, and go. There are not a lot of complex settings to sort through, which can be frustrating and overwhelming for new detectorists. This model is also budget friendly, which is a huge bonus!
Minelab Vanquish 440
Minelab's Vanquish 440 is another excellent entry-level metal detector. As with the Vanquish 340, the 440 model features Minelab's Multi-IQ technology. This will, again, allow the detector to operate on multiple frequencies simultaneously. The 440 has 5 search modes:
Coin
Relic
Jewelry
All Metal
Custom
Each of these search modes is preset and fully optimized to allow the best performance. The 440 works very well in all terrains, including mountains, rivers, deserts, parks, fields, beaches, and gold fields. The Custom mode allows you to save your favorite settings. Multi-IQ and the 12 discrimination segments on this model allow the detector to work well in even the most difficult soil conditions, such as saltwater and gold bearing areas. 
The Vanquish 440 is lightweight, at just 2.6 pounds. It features 19 channels of automatic noise canceling, lag free audio response, 3 target tones, and 10 adjustable volume settings. The 440 comes with the V10 10" by 7" Double-D search coil, but like the 340, can be interchanged with another search coil. The control box is not fully waterproof, so exercise caution when metal detecting in or near water. This model features a pinpoint mode to help narrow down a target location quickly. 
Iron bias is another feature of the Vanquish 440. This helps filter out unwanted iron targets. It is not, however, adjustable, and is preset at high. Sensitivity has 10 levels of adjustment and there are 5 depth indicators. The control box features a large monochrome LCD screen with numerical target ID. This model can be used with wired headphones. It features collapsible snap-lock system to break down the detector to a smaller size for traveling. 
Minelab Vanquish 340 vs Vanquish 440
Both models are fantastic options for beginning detectorists. Now we need to compare the 2 so you can get a good idea of the difference in features on these metal detectors. The 340 has 3 search modes, while the 440 has 4. Both have automatic noise canceling and high iron bias. Neither model features Bluetooth connectivity, but both can use wired headphones. The Vanquish 340 features 4 sensitivity levels, while the Vanquish 440 features 10 sensitivity levels.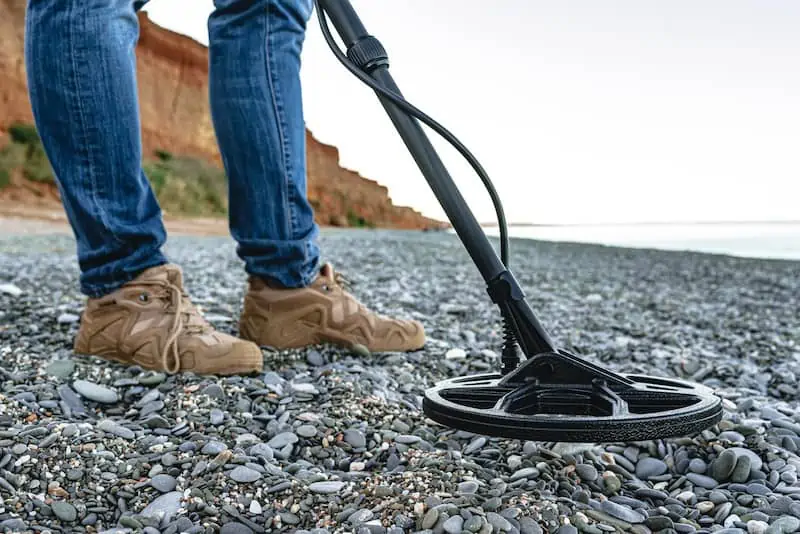 Volume is adjustable on both models, with the 340 having 3 volume levels and the 440 having 10 volume levels. Both have 3 different ID tones, numerical target ID, the V10 search coil, and weight 2.6 pounds. The 440 has a pinpoint mode, while the 340 does not. The Vanquish 340 is the least expensive model in the Vanquish line, while the 440 is mid-priced. Both are designed for entry-level detectorists. 
As mentioned, both metal detectors have interchangeable search coils. Each model comes with the 10" search coil. Other options include the V8 8" Double-D waterproof search coil, and V12 12" Double-D waterproof search coil. The smaller search coils work well in areas with high trash content, while the larger search coils will search deeper and cover more ground. 
Best Model?
So, after all this information, who wins in the battle of Minelab Vanquish 340 vs Vanquish 440? 
If it is within your budget to go for the Vanquish 440, I would purchase that over the 340. The 340 is still an excellent entry-level metal detector. But for less than $100 more, the Vanquish 440 offers many more features. It has more search modes, more sensitivity adjustments, more volume adjustments, more discrimination segments, and a pinpoint mode. 
The 440 is more advanced than the 340, yet not so advanced it would be confusing for a new detectorist to master. This model would even be suitable for an intermediate level metal detectorist. 
I would say the Minelab Vanquish 440 wins this round. 
Conclusion
The Minelab Vanquish series is perfect for beginning detectorists. If you do not want to spend over $200, the Vanquish 340 is perfect. If you are willing to spend a little bit more, the Vanquish 440 will not disappoint. Both models operate at multiple frequencies, which is a huge advantage over a single frequency metal detector. Both are great all-terrain models that find all treasure types.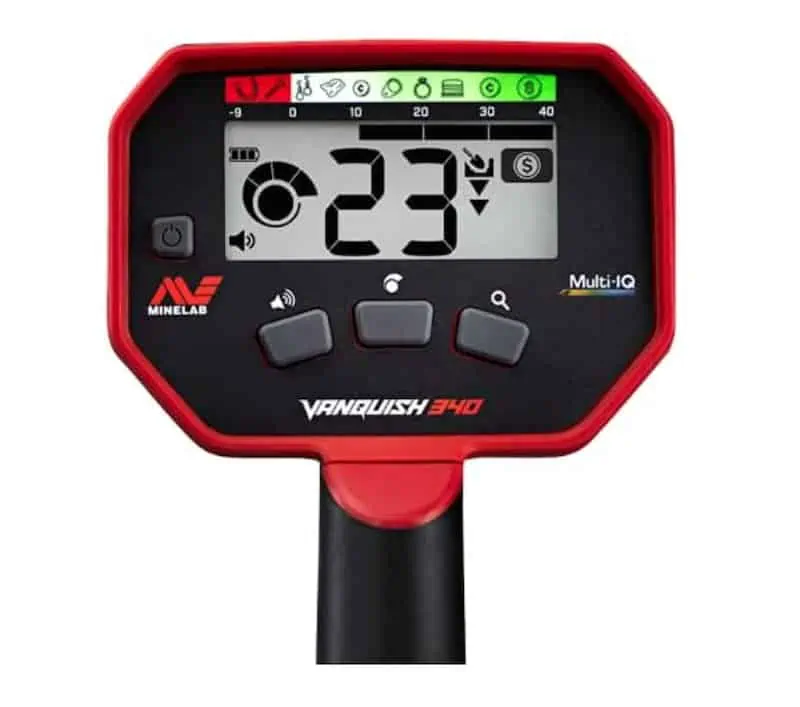 Many entry -level, and even more advanced metal detectors, struggle to mitigate the effects of saltwater, black sands, hot rocks, and wet sand. The Vanquish 340 and 440 can overcome some of these effects with Multi-IQ. 
Many single frequency detectors also struggle to find gold, if the operate at a super low frequency. The Vanquish detectors multiple frequencies range from 5 kHz to 40 kHz. The higher kHz on these detectors makes finding gold, even small gold, easier. Any detector operating at 18 kHz or higher has the potential for finding gold (you can still find gold with detectors on a lower frequency, but the higher the frequency, the more small and fine gold you can find). 
Minelab is one of the best metal detector manufacturers in the world. Most of their detectors are suited to difficult terrains. They are Australia based, and Australia is known for gold. Gold bearing areas typically have difficult soil conditions such as high mineralization, hot rocks, and black sands. Australia also has saltwater to contend with. Knowing this, their detectors are built to the highest quality for difficult terrains. 
Whether you choose the Vanquish 440 or the Vanquish 340, I do not think you will be disappointed! In the battle of Minelab Vanquish 340 vs Vanquish 440, there are no losers!
FAQ
Q: What types of batteries do the Vanquish 340 and 440 take? 
A: Both the Vanquish 340 and Vanquish 440 operate on 2 AA batteries. This makes the operating costs of the detectors incredibly low. The Vanquish 340 has a battery run-time of approximately 10 hours, and the 440 is the same. Some detectors have a higher battery life than the Vanquish detectors, but the multi-IQ technology takes more battery power. 
Q: If I cannot afford the Vanquish 440, will I still be happy with the 340?
A: In my humble opinion, yes! Especially if you are a new detectorist, you will find the Vanquish 340 perfect for starting out. The only real difference in these detectors is the Vanquish 440 has a few more features and settings. But that does not mean the Vanquish 340 is not a fantastic metal detector. This model is more than enough for someone just starting out. 
It still features Minelab's top-of-the-line Multi-IQ technology and has adjustable sensitivity and volume. These are all excellent features for metal detectors, and some that are not as common on entry-level metal detectors. You do not necessarily need more features; you need the right features when choosing a metal detector. So, if your budget is a bit thin, the Vanquish 340 will be a fantastic choice for you. 
Q: I do not see anywhere to purchase a detector on Minelab's website. How do I buy one?
A: Minelab does not sell metal detectors directly from its website. Instead, it relies on a network of authorized dealers. You can look up locations where Minelab products are sold on their website. Many sporting goods stores sell their products, and many online retailers. Minelab's dealer network spans the globe with sellers in the Americas, Europe, Asia, Australia, and the Middle East. 
Beware of counterfeit Minelab products being peddled online. If you find a Vanquish 440 metal detector for $50 online from a website you have never heard of, it is likely a fraud. Minelab has sued several vendors for selling counterfeit Minelab products. Always make sure you are shopping with an authorized dealer on a secure website or in person. 
Q: Will the Vanquish metal detectors work well in high soil mineralization?
A: Yes! I live in an area with extremely high soil mineralization. All metal detectors I have used in this area have struggled to give clear and concise target readings. I tend to get a lot of false signals, lost signals, and overloads when using a single low-frequency metal detector in my area. The Vanquish detector's multiple frequencies help a lot with this issue. 
You may still encounter some false signals, but overall, these detectors have more consistent target readings than some others in high soil mineralization. I cannot tell you how many times my detector has read strong on a target, only for me to dig, and dig, and dig, and find absolutely nothing. Rechecking the hole, the detector would show the target has moved a few inches one direction or another. Soil mineralization is difficult to combat and wreaks havoc on some single frequency detectors. The Vanquish metal detectors definitely make working in harsh soil conditions a little bit easier and more pleasant!
If so, please "like" our Facebook page and be sure to revisit Discover Detecting for new content surrounding the metal detecting hobby!
You Might Also Want to Read: