Bounty Hunter Land Star review
Bounty Hunter is part of the First Texas Products family. This company is the parent company of Teknetics and Fisher Labs. First Texas is an American company with a long history of delivering quality metal detectors and accessories. Bounty Hunter has been producing and selling metal detectors since 1988 and continues to be a top name, especially for beginning detectorists. Bounty Hunter detectors are often seen as low end or made for children. But they are great for beginners, children, or anyone who wants to metal detect with a machine that is simple to use.
One of the best things about Bounty Hunter metal detectors is their price. They are typically less expensive than other metal detector brands. They also make models specifically aimed at children and teenagers. These lower end models are great for a beginning detectorist! Bounty Hunter also makes more complex metal detectors that would appeal to intermediate or advanced metal detectorists.
In this article, I'm going to be reviewing the Bounty Hunter Land Star metal detector.  And to better help you, please take a moment to view our interactive guide below, where you can directly compare the Bounty Hunter Land Star to other beloved detectors in the market:
Meet the Land Star
Bounty Hunter's Land Star metal detector is a powerful yet affordable machine that gives users versatility. It is simple to operate and has a lot of features. The Land Star features a No-Motion Mode, which causes the detector sound to turn off when the target is under the search coil. This works similarly to a pinpoint mode as the metal detector does not have to be in motion. It also has automatic Notch Discrimination. 
The Land Star has a large screen with touchpad control. The screen shows the type of metal detected and the depth of the metal detected. It comes standard with an 8" waterproof search coil but can be used with other search coils. The Land Star features Ground Trac ground balancing, allowing the metal detector to continually balance itself to compensate for ground mineralization or electromagnetic interference. 
The Bounty Hunter Land Star operates at a 6.6 kHz frequency and is lightweight at just 3.5 pounds. It features 3 different search modes: No-Motion All Metal, Motion All Metal, and Auto Notch Mode. The shaft is adjustable, making it perfect for any size detectorist. Along with Ground Trac, the Land Star has manual ground balancing. Bounty Hunter offers a 5-year warranty on the Land Star. 
Is the Bounty Hunter Land Star Good for Gold?
The Bounty Hunter Land Star would not be the best metal detector to find gold. Gold is typically found when a metal detector operates at a frequency of 18 kHz or higher. This is not to say the machine would skip over gold completely. The Land Star would have no trouble picking up large pieces of gold or large gold jewelry. However, it would struggle to find, or even miss completely, small gold nuggets, flake gold, or fine gold jewelry. 
Bounty Hunter Land Star Price
Bounty Hunter's Land Star ranges in price via online sellers from $240 to $280. Make sure if you are purchasing a metal detector online that you use an authorized seller. Some manufacturers have reported counterfeit products being sold on Amazon and other online platforms. 
How to Use the Bounty Hunter Land Star
The Bounty Hunter Land Star is extremely easy to use. The buttons are straightforward and simple to understand. On the left side of the interface is the on and off switch. This is also where sensitivity is adjusted after the machine is powered on. The knob on the right side controls the discrimination. The top of the screen indicates the type of metal detected and the bottom of the screen shows the depth.
Target mode selection and Ground Trac are accessible by the touchpad on the screen. Ground balancing can be adjusted via the right lower knob, from preset to high. The lower left side of the screen features a headphone jack. Arrows point to the probable target ID and the depth from 2 small LCD windows.
Bounty Hunter Land Star Instructions
Putting the Land Star metal detector requires no tools. Simply twist the stem into the coil using the supplied bolt and knob, fix the upper stem to the lower stem, and attach the search coil wire to the control box and the detector is assembled. This detector uses 2 9-volt batteries. Bounty Hunter states users should only use alkaline batteries. The battery compartment is on the underside of the control housing. Simply open the hatch and insert the 2 batteries. 
It is important to test the metal detector after assembly. Power up the detector and turn the sensitivity knob to 3. Place the detector on a table or other flat surface with the search coil hanging over the edge. Use item around the house like a nail, different types of coins, and jewelry. Wave each item across the underside of the search coil and take note of the sounds the detector makes. This is where users can learn to discriminate items, too. Pass the nail over the search coil and use the Disc/Notch knob (turning it clockwise) until the nail no longer makes the detector emit a sound. Now the detector will not alert when finding items of similar composition.
The detector will emit 1 of 3 tones in All Metal mode. For more information about Notch and discrimination, refer to the Bounty Hunter Land Star manual. The detector should be ground balanced, especially in All Metal Mode. Turn the GB knob 100% clockwise and hold the search coil a few inches above the ground. Press the Ground-Trac button and lower the search coil to within an inch of the ground. The sound volume should increase (in most soil types). Turn the GB knob slowly counterclockwise until the sound is almost gone. The machine is now ground balanced. 
The Land Star is set up to show a variety of metal types:
Gold – Gold flakes will read as Iron/Foil, small and medium gold items will register as S-Caps, and large gold items will register as pennies.
Silver
Iron/Foil
Pull Tabs
S-Caps
Nickels – US nickels and newer pull tabs will register here.
Pennies – Zinc – Post 1982 pennies and non-US coins will register here.
Dimes – Dimes and pre-1982 pennies will register here.
Bounty Hunter Land Star VS Garret Ace 250
Garrett's Ace 250 metal detector is one of the best-selling metal detectors. It is easy to use and easy to assemble. The Ace 250 is a great beginner metal detector. It is specifically designed for finding coins, relics, and jewelry. It operates at 6.6 kHz, slightly lower than the Land Star. This means the Ace 250 will not be the best at finding small gold or fine gold jewelry. This metal detector has 5 operating modes:
Coin
Jewelry
Relics
Custom
All Metal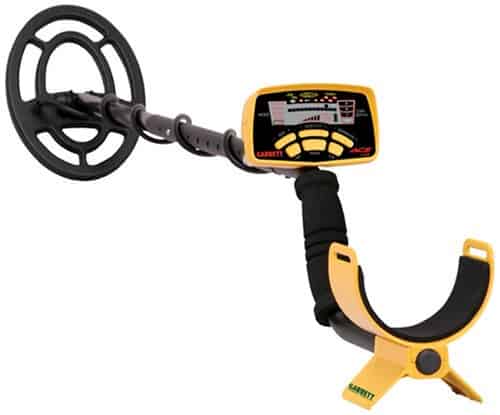 The Ace 250 does not have a numerical target identification, but does have a graphical target ID. It has a full LCD screen with target ID legend at the top showing the most likely target. When the detector finds a target, the graphic indicator points to the target type. It also has 3 depth indicators, adjustable sensitivity, and discrimination, and 12 graphical segments for target ID.
The Ace 250 saves the last used settings when the detector is powered down. This is extremely helpful when taking breaks or hunting multiple days in the same location. To clear the last used setting, hold the power button for 10 seconds. The Ace 250 has 3 audio tones and ELIM button, which is like notch discrimination. 
The search coil on the Ace 250 is 1" larger than the Land Star, at 9." This coil is also waterproof, but the control box is not. Ground balancing is automatic, and unlike the Land Star, cannot be adjusted manually. This model is lightweight, at just 2.7 pounds and does not have audio volume control. Garrett offers a 2-year warranty on the Ace 250.
Bounty Hunter Land Star VS Time Ranger
Bounty Hunter's Time Ranger is considered one of the top detectors in its price range. It has numerous features designed to make detectorists of all skill levels happy. This detector is slightly heavier than some others, at 3.5 pounds. The Time Ranger comes with an LCD screen with depth and target ID readout. It has 4 levels of iron discrimination, 3 tone audio control, Ground Control, and Sniff Mode. Sniff Mode lets users accept or reject certain items, like a notch system.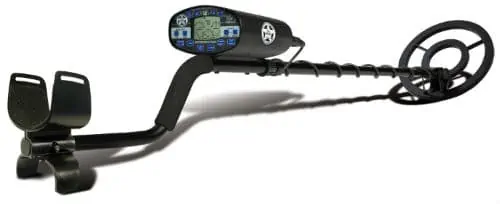 The Time Ranger has adjustable sensitivity, ground monitor, blanker system, and operates at 6.9 kHz. This is slightly higher than the Land Star, but still not in the frequency for finding small gold. The Time Ranger has 3 search modes: Motion All Metal, No-Motion All Metal, and Motion Discrimination. It features V-Flex Digital Technology, Iron Mask Discrimination, Noise Cancel, and Smart Trac Ground Control. 
The Time Ranger operates on 2 9-volt batteries and comes with an 8" waterproof search coil. Bounty Hunter offers a 5-year warranty on the Time Ranger. 
Bounty Hunter Land Star VS Fisher Gold Bug 2
The Fisher Gold Bug 2 metal detector is one of my favorite gold prospecting detectors. It was released in 1995 and is still the top of the prospecting list today. This metal detector operates at a vastly higher frequency than any of the Bounty Hunter metal detectors, at 71 kHz. This is the highest I have seen on the market for a single frequency metal detector. This detector is a gold sniffing monster. It will have no trouble finding large or small gold. In fact, it can find a gram weighing under 1/10th of a grain (there are 480 grains in a single ounce, so this detector can find gold as small as 4800th of an ounce!).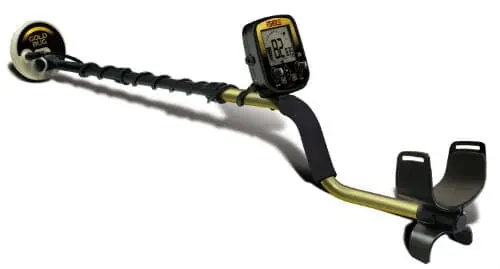 The Gold Bug 2 works very well in highly mineralized soil conditions. This is something the Bounty Hunter line of detectors struggles with given the low frequency and lack of features. This detector has great discrimination settings to filter out ferrous trash, and can filter interference from hot rocks, black sands, and minerals. This detector has 3 search coil options: a 6.5" elliptical, a 10" elliptical, and a 14" elliptical. The larger coil will find deeper buried gold.
The control box can be removed, and hip mounted making the stem and coil extremely lightweight at just 1.9 pounds. Even with the control box attached, the full detector only weight 2.9 pounds. The Gold Bug 2 does not have an LCD screen and is controlled by a series of knobs. These knob controls adjust sensitivity, electrical interference, ground minerals, ground rejection, and volume. This detector uses 2 9-volt batteries and comes with a 5-year warranty.
Minelab's CTX 3030 is one of my all-time favorite high-end metal detectors. This monster of a machine has a whole bunch of advanced technologies. FBS 2 is Minelab's multiple frequency rectangular wave transmission and it operates at frequencies from 1.5 kHz to 100 kHz. Again, the higher frequencies will be great at finding small gold or fine gold jewelry, while the lower end frequencies are best for high conductive metals like silver. This metal detector is fully waterproof up to 10 feet and is recommended for relic hunting, coin shooting, beach hunting, and jewelry hunting.
The CTX 3030 features 10 customizable detect modes and 5 preset modes:
Coins
Beach
Relic
Silver
High Trash
The CTX 3030 is great for all terrains and all treasure types. It has a built-in pinpointer and depth indicator. It features Smartfind 2™ discrimination which gives digital signal processing and FeCo discrimination. It has a full color target information screen with 10 tone profiles so users can accept or reject certain targets. Target Trace and Target Separation allow users to identify multiple targets at once for the most accurate detecting possible.
The CTX 3030 also has other advanced features. GeoTrails shows the ground already covered. WayPoints lets users mark points of interest on the map. FindPoints lets users mark treasure locations. GeoHunts records the entire metal detecting trip. Detector settings and treasure location can be uploaded to a computer with the Xchange 2 app. Users can attach text or photos to organize their settings and treasures. Google Maps locations can be downloaded and viewed on this detector. Wi-Stream is used for quick wireless audio responses with no sound quality loss.
The CTX 33030 is heavier than some other detectors, at 5.2 pounds. It uses a lithium ion battery pack with fast charger and comes with an 11" Double-D search coil. The LCD screen is backlit with adjustable brightness. It has built-in memory to save setting when the batteries die, or the detector is powered off. It also has options for use in 9 different languages. Minelab offers a 3-year warranty on the CTX 3030.
The Equinox 800 uses Minelab's patented Multi-IQ technology. This means the Equinox 800 is a multiple frequency metal detector. Added to that, it can operate on 5 single frequencies:
5 kHz – Best for large silver coins
10 kHz – Best for small Roman hammered coins
15 kHz – Best for general treasure hunting
20 kHz – Best for general treasure hunting and gold prospecting
40 kHz – Optimized for finding small gold nuggets and fine jewelry
The Equinox 800 features 4 detection modes: Park, Beach, Gold, and Field. Each detect mode has 2 options:
Park 1 and Field 1 – Best for maximizing ground balancing for best signal to noise ration; for coin shooting and general detecting.
Park 2 and Field 2 – Higher sensitivity to lower conductive targets; more susceptible to ground noise.
Beach 1 – Ground balanced for salt, best in areas with wet and dry sand conditions.
Beach 2 – Ground balanced for salt, best for use in surf and underwater.
Gold 1 and Gold 2 – Best suited for gold nugget hunting.
The Equinox 800 features automatic and manual noise cancelling, automatic and manual ground balancing, threshold pitch, level, and volume, and adjustable sensitivity. It has a 50-segment Target ID and 4 target tones. Tone volume, pitch, and break show ferrous and non-ferrous targets, and the detector has 5 depth indicators. This detector is fully submersible up to 10 feet, so it is perfect for shallow diving. The Equinox 800 has a monochrome LCD screen and comes with an 11" Double-D search coil with skid plate. It can be used with wireless or wired headphones. Minelab offers a 3-year warranty.
In my opinion, the Equinox 800 is not even in the same category as the Bounty Hunter Land Star. The Land Star is a beginner or intermediate metal detector, while the Equinox 800 is an intermediate of advanced metal detector. This detector has so many features that make it in a whole other class. 
The Excalibur 1000 is a discontinued model built for underwater coin and relic hunting. This detector uses Minelab's BBS technology. This technology, Broad Band Spectrum, enables the detector to transmit at 17 frequencies at one time. This detector can be set up as a standard detector or for diving. Diving mode requires a short fiberglass tube, purchased as an accessory. It operates on rechargeable battery pack. 
This detector has no LCD screen and is controlled by knobs. It has adjustable sensitivity, discrimination, threshold, and volume. It also has pinpoint mode. The Excalibur 1000 weighs 4.1 pounds and comes with a 10" search coil. 
Conclusion
The Bounty Hunter Land Star is a great beginner metal detector, or a detector for anyone who wants a simplified experience. Some detectors have a lot of complex settings and this can be overwhelming. Bounty Hunter detectors eliminate that problem with easy to use machines. This detector has more features than many Bounty Hunter detectors and comes at a great price.
My number 1 recommendation for beginning detectors is the Garrett Ace 250. This detector has been labeled as the best-selling detector in the world for a reason! It has enough features to teach users the important aspects of metal detecting without being overly complicated. The Bounty Hunter Time Ranger is another great detector for beginners or those looking for an easy to use machine. I would not recommend any of these 2 detectors for gold, however.
The Fisher Gold Bug 2 remains my favorite gold specific metal detector. The 71 kHz operating frequency is great for finding even the tinies gold nugget or flake. The CTX 3030 is a high-end metal detector, and not overly comparable to any of the detectors on this list. It is highly advanced and only recommended for advanced or professional metal detectorists. Have you ever seen the TV show The Curse of Oak Island? The metal detecting expert, Gary Drayton, on this show uses the Minelab CTX 3030. This detector is a beast of a machine and great for finding all types of treasure. 
Minelab's Equinox 800 is a great multiple frequency metal detector. Multiple frequencies are great for filtering out ground noise and electromagnetic interference. And with this detector there is no need to change coils or settings to change frequencies. It can also be used on 5 single frequencies. The Excalibur 1000 is a great diving metal detector but has been discontinued so it may be difficult to find. 
Overall, each detector on this list has pros and cons. The Bounty Hunter metal detectors are likely the easiest to use and the lowest cost. The Garrett Ace 250 is also reasonably priced and easy to use. The Fisher Gold Bug 2 is the best for finding gold as it is specifically designed for this purpose. The Minelab CTX 3030 and Minelab Equinox 800 are both higher-end and will not only cost more but have more complicated settings. The Excalibur is the best for diving but has been discontinued.
I always recommend pairing your metal detector, regardless of which one you purchase, with a handheld metal detector (pinpointer) for more accurate target location. This keeps you from unnecessary digging. I also recommend using a finds pouch and quality digging tools. It is important not to skimp on digging tools. It is awful when you are on a target and your crummy quality digging tool breaks!
You Might Also Want to Read: