In this Minelab E-Trac review, we're not only going to cover the notable specs and great features of this metal detector, but we'll also see how it directly compares to its competition in the market—namely, the Minelab Equinox 800, the Minelab Safari, the XP Deus and the Garrett AT Pro.
To better help you, please take a moment ti check out the table below, where you can directly compare the Minelab E-Trac to other notable metal detectors:
Meet the E-Trac 
Minelab's E-Trac is a multiple frequency FBS (full band spectrum) metal detector that emits frequencies from 1.5 kHz to 100 kHz. Minelab is an industry leader for multiple frequency metal detectors and offer several models that features this technology. This technology allows users to find deeper targets, ignore mineralization in the soil, and have a more precise discrimination and target ID. The E-Trac is known to be a silver magnet. 
Minelab's SmartFind technology allows users to see how ferrous and how conductive a target is which allows users to distinguish trash from treasure easily. This is helpful in determining silver from silver clad items. 
The E-Trac allows users to quickly shift between the normal discrimination pattern and Quickmask screen to check targets before digging. This helps with weak or iffy signals and those that are potentially masked by other nearby targets. It features 4 user modes so it can be used right out of the box. There are also 4 user mode slots allowing users to create and save their own programs and discrimination patterns based on needs. These settings can be offloaded onto a computer and shared with friends, or patterns can be downloaded from the internet. 
This detector features a monochromatic LCD screen showing target depth indicator, discrimination patterns, ferrous and conductive target values, sensitivity settings and recommendations based on ground conditions, power button, navigation arrows, Quickmask toggle, LCD backlight, noise cancellation, detect button, pinpoint button, and accept or reject targets.
The E-Trac can seem intimidating but it can be used easily and quickly right out of the box. More advanced users, and those who have become familiar with the detector and its settings, will be able to easily dive into the advanced settings of this detector. The 4 preset modes are coin, beach, relic, and high trash. This detector is heavier than some, at just under 4 pounds. It is well balanced so there will not be too much arm fatigue and a chest harness can be used with this model. 
The E-Trac has 10 discrimination patterns:
Coins
All-Metal
Fe Coins
Jewelry
Foil
Pull Tab
Iron
Crown Cap
Screwcap
Nail
Added to this, the E-Trac has 10 user slots. Ground balancing is automatic with advanced digital filtering. It features a pinpoint mode with 2 modes: normal and sizing. Sensitivity and threshold are adjustable. It should be noted that the E-Trac is not fully waterproof and should not be submerged in water. This detector operates on rechargeable or alkaline batteries and Minelab offers a 3-year warranty.
Minelab E-Trac Coils
The E-Trac comes standard with an 11" Double-D waterproof search coil. The E-Trac can operate with different search coils. There is an 8" FBS search coil made by Minelab that works with the E-series detectors. This smaller search coil can easily fit into smaller spaces than the larger search coil and comes with a lower rod making it fully submersible for use in shallow waters.
Coiltek makes a 15" Treasure Seeker search coil for this detector. This larger search coil will cover more area quickly and is deep searching. Coiltek also makes a 10" by 5: Treasureseeker search coil which works well in dry terrain. Lastly, Coiltek makes a 6" Treasureseeker search coil. This detector has great sensitivity, target separation, and good depth. 
Minelab E-Trac Battery
There are 4 different battery options for the E-Trac. Minelab produces a nickel metal hydride (NiMH) 1600 mAh 9.6-volt battery pack and an 1800 mAh 9.6-volt battery, both rechargeable. RnB Innovations makes a lithium ion battery for the E-Trac which is 12.5 volts, rather than the 9.6-volt Minelab batteries. It charges quickly, in just 2 hours, and gives users up to 60 hours of use before needing a recharge. Minelab also makes an AA battery holder (this detector requires 8 AA batteries).
Minelab E-Trac Modes
Mode settings define the E-Trac's performance for locations and metal or target type. The E-Trac is designed to allow uses to save these mode settings as a User Mode. User Modes can be saved in or retrieved from the E-Trac's memory or shared with other users online. The E-Trac has 4 search modes: coins, high trash, beach, and relics. 
These modes are starting points for the customizable user modes. When in one of the preset modes, a Minelab symbol will appear next to the mode number. If within one of the customized modes, a My User Mode iron will appear instead of the Minelab logo. The preset modes make specific sounds with preset audio. These can be adjusted for each user's hearing or preference. 
Along with these 4 modes and possible customizations, there are 6 discrimination slows ready for users to create their own discrimination patterns. This gives the E-Trac a total of 10 personal patterns that can be customized. Again, all settings and discrimination patterns can be shared online, or users can download other detectorists patterns for use on their own detector. 
Minelab E-Trac Depth
The general rule with metal detectors is however wide the search coil is, that is around the maximum depth. Some metal detectors have upgraded technologies to allow for deeper searching. The E-Trac has a solid history of finding good targets at depth. Larger search coils are notorious for missing small bits of gold, so unless prospecting is your intended goal, the larger search coil will be fine for most treasure.
The E-Trac has been known to find silver coins between 5" and 8" deep at a variety of angles. In perfect soil conditions, which are difficult to find, the E-Trac with the largest search coil could search 15" deep, but with the standard 11" search coil in normal soil conditions this detector will have no problem finding treasure between 8" and 10" deep.
Minelab E-Trac vs Minelab Equinox 800
The Minelab Equinox 800 is a great multiple frequency metal detector with fantastic features. This detector utilizes Minelab's Multi-IQ technology and can also operate on 5 individual frequencies:
5 kHz – Best for large silver coins
10 kHz – Best for Small Roman hammered coins
15 kHz – Best for general treasure hunting
20 kHz – Best for general treasure hunting and gold prospecting
40 kHz – Optimum sensitivity to small gold nuggets and fine jewelry
The Equinox 800 features 4 detection modes: park, beach, gold, and field. It also has 8 custom search profiles, 2 for each detect mode. The Equinox 800 has automatic and manual noise cancelling, automatic and manual ground balancing, threshold pitch, level, and volume, and adjustable sensitivity. It also has a 50-segment Target ID and 4 target tones. Tone volume, pitch, and break indicate ferrous and non-ferrous targets and the Equinox 800 has 5 depth level indicators. The Equinox 800 is fully submersible up to 10 feet.
Each of the Equinox 800's detect modes have 2 options: 
Park 1 and Field 1 – best for maximizing ground balancing to achieve signal to noise ratio, best for coin shooting and general detecting.
Park 2 and Field 2 – More sensitive to lower conductive targets, but more susceptible to ground noise.
Beach 1 – Ground balanced for salt and best used in wet and dry sand conditions.
Beach 2 – Ground balanced for salt and best used in surf and underwater.
Gold 1 and Gold 2 – Best suited for nugget hunting.
This detector has a monochrome LCD screen and comes standard with an 11" Double-D search coil and skid plate. It can also be used with wireless headphones. Minelab offers a 3-year warranty on the Equinox 800.
Minelab E-Trac vs Minelab CTX 3030
Minelab's CTX 3030 is one of my favorite high-end metal detectors. This beast of a machine features FBS 2, which is Minelab's multiple frequency rectangular wave transmission, with frequencies ranging from 1.5 kHz to 100 kHz, like the E-Trac. The higher frequencies are perfect for finding small bits of gold or very find jewelry. The CTX 3030 is fully waterproof up to 10 feet, which is an advantage over the E-Trac (if you will be hunting near or in water). Minelab recommends the CTX 3030 for relic hunting, coin shooting, beach hunting, and jewelry hunting.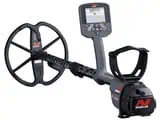 The CTX 3030 comes with 10 customizable detect modes and 5 preset modes: coins, beach, relic, silver, and high trash. This makes the CTX 3030 a great option for all terrains and all treasures. This detector has a built-in pinpointer and depth indicator. It features Smartfind 2™ discrimination which provides digital signal processing and FeCo discrimination. It also has color target information and 10 tone profiles allowing users to accept or reject certain targets. Target Trace and Target Separation allow users to identify multiple targets at one time for the most accurate detecting possible. 
The CTX 3030 has several other advanced technologies that help track user locations and allow for geolocation. GeoTrails shows the ground already covered, WayPoints lets users mark points of interest, FindPoints lets users mark treasure locations, and GeoHunts records the entire metal detecting trip. Detector settings and treasure locations can be uploaded to a computer using the Xchange 2 app (the E-Trac uses Xchange for sharing settings). Users can attach photos or text to organize their settings. Google Maps locations can be viewed and downloaded to the detector. Wi-Stream technology is used to create a quick wireless audio response with no loss of sound quality.
The CTX 3030 is heavier than the E-Trac, at 5.2 pounds. It operates on a lithium ion battery pack with fast charging capabilities. It comes standard with an 11" Double-D search coil. The LCD screen is full color with backlight and adjustable brightness. Built-in memory saves users' settings when the detector is off, or the batteries die. It also has 9 different language options. Minelab offers a 3-year warranty on the CTX 3030.
Minelab E-Trac vs Minelab Safari
Minelab's Safari is a simple to use, mid-level coin and treasure detector featuring enhanced multiple frequency technology and excellent discrimination. This detector operates on FBS technology (1.5 kHz to 100 kHz) and features 4 programed detection modes: Coin, Coin/Jewelry, Relic, and All Metal. Each mode has optimum settings for identifying the characteristics of the preferred target to maximize time in the field. It also has Trash Density, which helps ensure fewer false signals in typical coin and relic sites.
The Safari features a large monochrome LCD screen with adjustable contrast with no backlight. It features a ¼" headphone jack and external speaker. Purchase of the Pro Pack comes with headphones. Audio response alerts on conductive and ferrous targets, ground balance is automatic with advanced digital filtering. Sensitivity, threshold, and target volume are adjustable, and noise canceling is automatic. The Safari operates on 8 AA batteries or rechargeable batteries (included with Pro Pack). This detector weighs 3.6 pounds and comes with a 3-year warranty.
Minelab E-Trac vs XP Deus
The XP Deus is a fantastic all-purpose metal detector. It features exceptional comfort, performance, and speed. The stem of the Deus is ergonomic, so it is comfortable to use and it is foldable, making it easy to store and go. The Deus is the first wireless metal detector and can be customized with up to 3 wireless elements: the digital LCD display remote control, wireless headphones, and even a wireless search coil. These 3 devices all communicate via digital wireless link specifically designed by XP for the Deus. This gives crystal clear audio and delivers efficient power consumption. The detector can be controlled with the wireless remote or with XP's headphones.
The LCD remote controller has a backlight and can be hip mounted. There are 4 ground balancing options on the Deus: pumping, tracking, manual, and beach. This model can operate at several different frequencies: 4 kHz, 8 kHz, 12 kHz, and 18 kHz. The full detector is built into the search coil, so no wires are required to send target signals. The signal is digitized and analyzed at the source by specialized circuitry. The menu options include iron level, discrimination, notch, tones, audio response, and advanced features. 
The XP Deus' software can be upgraded by plugged the remote into a computer. Because this model is wireless, it is extremely lightweight at just 2 pounds. The Deus comes with a 9" by 11" Double-D waterproof search coil and rechargeable battery pack. The Deus has several package variations: The Deus Ws4, RC, and RC WS5. Each has a choice of search coil, 9", 11", or 13", and has different accessories. Users can also fully customize the kit and add or delete any item. This model is simple to use for beginners but has enough new technologies and features to appeal to more advanced detectorists. XP offers a 5-year warranty on the Deus. 
Minelab E-Trac vs Garrett AT Max
The Garrett AT Max is part of Garrett's AT line. It operates at a single frequency of 13.6 kHz. This frequency is adjustable, meaning it can go slightly up or down to compensate for highly mineralized soil conditions or electromagnetic interference. The AT Max will not find small bits of gold like a multiple frequency detector or a higher frequency detector would. But it will still find larger bits of gold or shallow gold easily. The AT Max features 44 iron discrimination segments, All Metal mode, a backlit LCD screen, adjustable volume, adjustable audio, adjustable discrimination, and 4 search modes. It has Garrett's Pro Audio, 8 sensitivity and depth adjustments, and threshold adjustments. Ground balancing can be done manually or automatically on the AT Max and it has a pinpoint mode.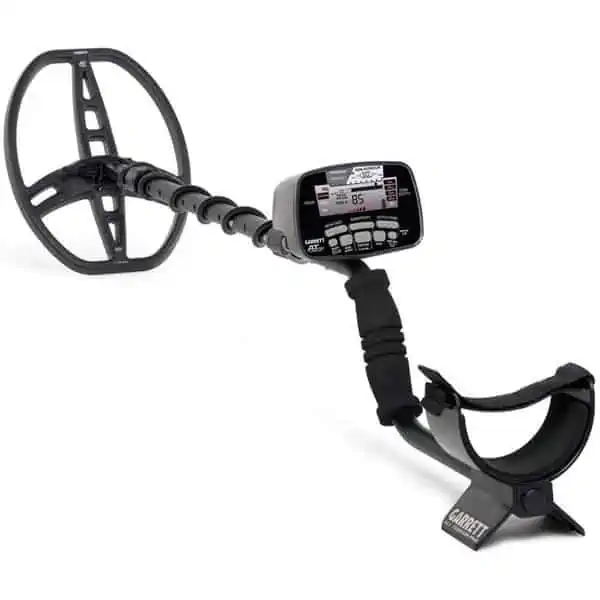 The AT Max is fully waterproof and can be submerged up to 10 feet. Many lower frequency metal detectors struggle in saltwater conditions, but the AT Max has several adjustments that make it work well in saltwater. This model is lightweight, at just 3.03 pounds and it operates on 4 AA batteries. The AT Max features Z-Lynk wireless technology and it can be used with wireless headphones. Z-Lynk wireless is quicker and more efficient than traditional Bluetooth technology so there will not be any lag between finding a target and hearing the signal when using wireless headphones. Garrett offers a 2-year warranty on the AT Max.
Conclusion
Minelab's E-Trac metal detector is a fantastic detector for all purpose treasure hunting. Minelab is an industry leader when it comes to multiple frequency detectors, and the E-Trac does not disappoint. The wide range of frequencies this detector operates on make it great for finding everything from highly conductive metals like silver to lower conductive metals like gold. Smartfind technology allows users to see how conductive a metal is prior to digging, giving users a better idea of what the target is. Multiple discrimination patterns make it easy to use and easy to discriminate in or out desired or undesired targets. 
Minelab's Equinox 800 is another great multiple frequency metal detector. This detector uses Multi-IQ technology and can also function on 5 single frequencies. This is the perfect detector for all terrains and all treasure types. The Equinox 800 is fully waterproof up to 10 feet, which gives it a slight advantage over the E-Trac if users wish to detect in or near water. This detector has enough features to keep intermediate or advanced detectorists happy, and enough preset search modes to allow new detectorists to use the machine easily.
Minelab's CTX 3030 is one of my all-time favorite metal detectors. It features all Minelab's top of the line technologies which allows users to track where they have been, where they should look next, and where points of interest are. Google Maps can be downloaded to the detector when in search of new places to hunt. The full color display makes this detector unique, too, as most detectors feature monochromatic LCD screens. This is more of a high-end metal detector and is not designed for new detectorists. This machine is tailored more toward advanced detectorists.
Minelab's Safari metal detector is another great metal detector featuring multiple frequencies. You may be noticing a trend here in that Minelab has several different metal detectors featuring true multiple frequency operation. This is a mid-level metal detector and would be appropriate for all detectorists. The multitude of frequencies mean this detector works well in all terrains and on all treasure types, as do the E-Trac, Equinox 800, and CTX 3030. 
XP's Deus metal detector is unique among all the other detectors in that it is the first completely wireless metal detector. This detector features a wireless remote LCD screen, wireless headphones, and wireless search coil. If you purchase XP's specific headphones, they can even control the entire detector! The lack of wires and fact that the remote can be hip mounted make the detector lightweight and easy to use for many hours with no arm fatigue. This detector is not a multiple frequency metal detector in the same sense as the Minelab detectors. The Deus has several different operating frequencies, but they must be used one at a time. 
Garrett's AT Max comes from Garrett's AT line of detectors. This is a well-known line and known for quality and performance. This detector is single frequency, but the frequency can be adjusted slightly up or down to compensate for poor soil conditions. This detector has great features and is fully waterproof up to 10 feet. Z-Lynk wireless technology makes this detector work well and with no lag when using wireless headphones. 
Each of these detectors would be a great choice. I would highly recommend giving one of Minelab's multiple frequency metal detectors a chance. They are great for all types of treasures in all types of terrains. They are also well made by a great company.
You Might Also Want to Read: