Minelab vs Fisher Metal Detectors: Who's the Best?
Minelab and Fisher are two of the most well-known and well-respected manufacturers of metal detectors on the planet. They are both known for producing models that are specifically for finding all types of treasures, underwater metal detectors, and models for gold, silver, and coins. 
Both have their merit, and both are great producers of fantastic products. Both companies have been in business for decades, and still continually dominate the field of metal detecting. Below, we will delve into some information and attempt to determine who is the top dog in the battle of Minelab vs Fisher metal detectors. 
About Minelab
Minelab is a part of Codan Limited, which is an industry leader in innovative technology in over 150 countries. They have a huge dealer network in Australia, Europe, the Middle East, Asia, and the Americas. Minelab has been manufacturing metal detectors for 35 years and they continue to be an industry leader. Their team consists of 50 engineers who are constantly looking for way to innovate metal detection equipment. Minelab has a solution for anyone looking for a detector that works in difficult soil conditions. Their equipment can conquer magnetic soils, iron rich soils, and even salt water. All Minelab metal detectors are built ruggedly and to military grade standards. 
About Fisher Labs
Fisher Research Labs was founded by Dr. Gerhard R. Fisher in 1931. Fisher was the first person to receive a patent for the metal detector. Fisher was a German immigrant who studied electronics at the University of Dresden. He was a research engineer in Los Angeles, California during the 1920s and received a patent for the first aircraft radio direction finder. Albert Einstein was familiar with Fisher's work and once stated that this technology would lead to worldwide usage of radio direction finders.
Fisher's first metal detector was called the metallascope, or M-Scope, and was not much like today's detectors. It consisted of 2 wooden boxes with copper coils, vacuum tubes, and various other electronic components. Increased demand for the M-Scope and the expiration of Fisher's patent on it allowed competitors to create their own versions. Fisher retired in 1967 but Fisher Labs continued to expand until it was purchased by First Texas Holdings in 2006. First Texas continues the legacy of creating state of the art metal detectors under the Fisher brand. 
Minelab's Vanquish 340 is the lowest model in their Vanquish line of metal detectors. This detector, like all the Vanquish models, features Minelab's Multi-IQ technology, allowing the metal detector to operate on multiple frequencies simultaneously. This is hugely helpful because different metals can be detected at different frequencies, so the Vanquish 340 is better than some metal detectors at finding all types of metals. This model is all-terrain and all-purpose. It does well in parks, fields, yards, mountains, rivers, streams, gold prospecting, and even wet sand and salt water beaches.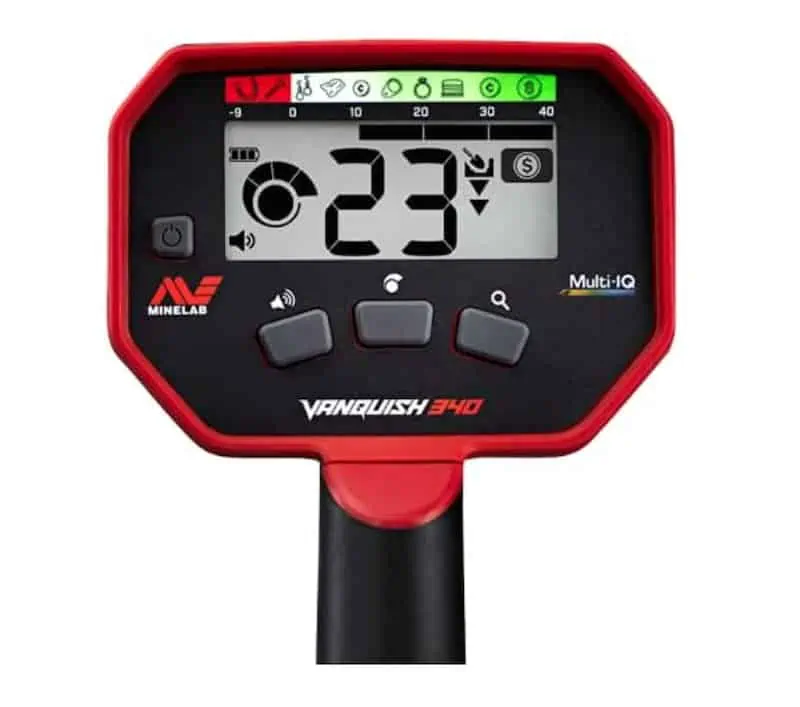 The Vanquish 340 is lightweight, at just 2.6 pounds. It has a collapsible snap-lock system, so it is easy to pack up and take anywhere. It comes with a 7" Double-D waterproof search coil, but the Vanquish line has interchangeable search coils so it can be customized to whatever search coil works best for you. The entire metal detector is not fully waterproof, so caution should still be taken near water. The Vanquish 340 features automatic noise cancelling, 3 volume settings, Iron Bias preset, 4 sensitivity levels, and 3 target ID tones. Discrimination features can be optimized to filter out unwanted objects, and it has 4 depth indicators. The Vanquish 340 does not feature a pinpoint mode.
Fisher's F22 is part of its well-known F series. This model is simple to assemble and is designed to be very user friendly. The F22 is a single frequency metal detector, operating at 7.69 kHz. This lower frequency will struggle to find certain metals, like gold, and will not do well in salt water or highly mineralized soil conditions. The F22 has 4 operating modes, 10 sensitivity levels, numerical target ID, and it is weatherproof. The standard search coil is a 9" concentric elliptical search coil. It does have more sensitivity and volume levels than the Vanquish 340 and is very lightweight at just 2.3 pounds. 
The Vanquish 340 mitigates some of the effects of salt water and soil mineralization better than the F22 can. The F22 has more adjustable sensitivity settings and volume settings. The F22 is slightly lighter weight than the Vanquish 340 and has a larger search coil (not interchangeable). 
The Minelab Vanquish 540 is the top tier metal detector in Minelab's Vanquish line. As with the 340, the 540 features Minelab's Multi-IQ technology. This detector operates on 5 different frequencies and can operate on single frequencies ranging from 5 kHz to 40 kHz. This makes the Vanquish 540 a fantastic all-purpose and all metal finding detector. Lower frequencies are perfect for finding highly conductive metals like silver, while higher frequencies are best for finding lower conductive metals like gold. Unlike the 340, the 540 comes with a pinpoint mode, which is very useful for narrowing down a search area and target. 
This model features a red LED backlight, 10 volume and sensitivity adjustments, 25 segment discrimination, and rechargeable batteries. This model is lightweight, at just under 3 pounds, comes with a 12" by 9" waterproof Double-D search coil, and Bluetooth connectivity. As with the entire Vanquish line, the search coils are interchangeable. The Vanquish 540 also comes in a Pro pack, which adds an additional search coil that is 8" by 5." 
Fisher's F44 is the ultimate weatherproof multi-purpose metal detector. The F44 is perfect for inclement weather hunting, coin shooting, jewelry or relic hunting. This model features Fe-Tone, which is adjustable iron audio. It comes with Ground Grab ground balancing, manual ground balancing, visual target ID, iron identification icon, backlight, and 5 operating modes. The F44 features 20 levels of adjustable volume and sensitivity, and 4 tone audio ID. This model operates on a single frequency of 7.69 kHz and is very lightweight at just 2.3 pounds. It comes standard with an 11" concentric elliptical waterproof search coil. 
The Vanquish 540 is going to be the best option for those prospecting for gold, or in areas with high soil mineralization or saltwater. The F44 has more adjustable volume and sensitivity settings but lacks the ability to mitigate the effects of high mineral content in the soil. 
The Minelab Equinox 800 is a beast of a metal detector. This detector, like the Vanquish line, features Minelab's patented Multi-IQ technology. It can operate on multiple frequencies simultaneously, or on individual single frequencies. Unlike the other metal detectors on this list, the Equinox 800 is fully submersible up to 10 feet, making it perfect for shallow diving and beach hunting.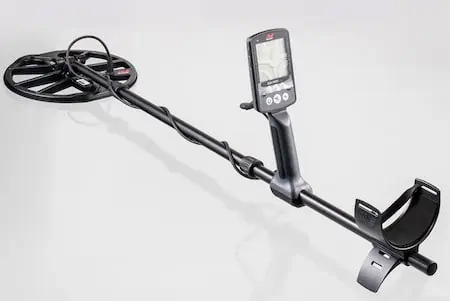 This model has 4 detection modes and 8 custom search profiles. It features automatic and manual ground balancing, automatic and manual noise cancellation, adjustable sensitivity, threshold, level, and pitch, and 50 segment notch discrimination. It also has 5 depth level indicators. 
The Equinox 800 features a backlight, updatable software, rechargeable battery pack, Bluetooth compatibility, and is lightweight, at just under 3 pounds. This model is recommended for all types of treasure hunting and has specialized detection modes for parks, fields, beaches, and prospecting. This model has 3 different search coil options:
6" round Double-D
11" elliptical Double-D
15" elliptical Double-D
This allows the user to adapt the machine to all types of terrain.
Fisher's F75 metal detector is an all-purpose metal detector perfect for coin shooting, relic and jewelry hunting. This detector operates at a higher frequency than the other Fisher detectors listed here, at 13 kHz. This is still not an ideal frequency for finding gold, but it will find larger pieces of gold and a wider range of metals with this slightly higher frequency. As with most of Fisher's metal detectors, the F75 is easy to operate and very user friendly. It is well balanced and ergonomically engineered. It features a backlit LCD screen, manual and automatic ground balancing, 3 search modes, and adjustable notch and discrimination. 
The F75 is not designed for use in saltwater areas, although it is good for freshwater beaches. This model has all metal mode, digital shielding technology to reduce electromagnetic interference, and FeTone iron audio. It comes with an 11" elliptical Double-D waterproof search coil, but the machine is not fully waterproof. It is heavier than the other Fisher models on this list, at 3.5 pounds. One feature I really like on the F75 detector is the magnetic mineralization bar graph readout. 
Because of the interchangeable search coil and multiple search frequencies, in this instance of Minelab vs Fisher metal detectors, Minelab wins.
The Minelab Safari is a user-friendly mid-level coin and treasure detector with enhanced multi-frequency technology. The Safari uses FBS, or Full Band Spectrum, technology, which simultaneously transmits, receives, and analyzes multiple frequencies. This allows the detector to be more sensitive and accurate. This detector operates on multiple frequencies, as mentioned, but these are much higher than the other Minelab models or Fisher models, ranging from 1.5 kHz to 100 kHz. This makes the Safari the perfect detector for finding even the tiniest bit of gold.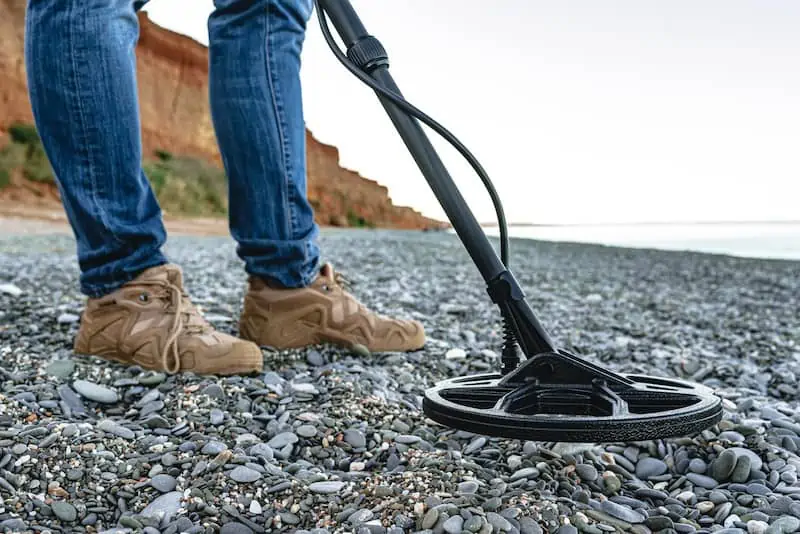 The search coil on the Safari is an 11" Double-D waterproof coil. It has a large LCD screen, depth indicator, 4 detection modes, adjustable discrimination, conductive and ferrous audio response, automatic ground compensating ground balance, adjustable threshold, adjustable volume, noise cancelling, and automatic and manual sensitivity adjustments. This detector is heavier than most on this list, at 3.6 pounds. 
Fisher's F75+ is a newer model with more technology packed into it. It has more versatility and greater depth than previous models, as well as better target separation and audio features. This model features Fisher's DST mode for electromagnetic interference suppression, FA fast process target separation, 3 levels of FeTone iron audio, adjustable audio pitch, embedded serial number, and 13 kHz operating frequency.
Again, this is better than the lower end frequencies, but will not be great at finding small or thin gold. The F75+ was designed to search deeper, is ergonomically designed, features a large LCD screen, double filter discrimination modes for trashy areas, magnetic mineralization bar graph, FASTGRAB ground balancing, and manual ground cancellation option. This is one of Fisher's most advanced models for traditional treasure hunting. 
Conclusion
So, who wins: Fisher or Minelab? Have we chosen a Minelab vs Fisher metal detectors winner? The answer is not very straightforward. On one hand, Fisher models typically cost less than Minelab models. Fisher models are often easier to use, especially for beginners, than Minelab models. But, Minelab has really stepped up and created easier to use machines for beginning detectorists. The Vanquish line was made with beginners in mind. Fisher has been making metal detectors for longer than Minelab, but Minelab is an Australian company.
Why is this important? Because their metal detectors are not only designed to be rugged, but they are designed to handle some of the harshest ground conditions on the planet. Many of their metal detectors can compensate for highly mineralized soil conditions, hot rocks, black sands, and saltwater with ease. Fisher detectors typically struggle with these conditions, unless you are using a gold specific or diving metal detector (which Fisher also makes, and they are fantastic!).
It really comes down to preference. I prefer Minelab metal detectors simply because I live in an area with extremely high soil mineralization. My first metal detector was a Fisher, and it continually gave me false signals and constantly overloaded. Once I tried a Minelab detector, it was noticeably better at mitigating the effects of the soils in my area. 
If you are looking for specific treasures, like gold, you will want one of the Minelab detectors, or one of Fisher's higher end gold prospecting metal detectors. Minelab is one of the best companies at designing prospecting metal detectors. Fisher's gold detectors, however, are nothing to laugh at. They are truly some of the best on the market. 
This is not to say Fisher does not make amazing metal detectors. There is a reason they have been in business for as long as they have, and continually remain at the top of the pack for quality metal detecting equipment. 
FAQ
Q: Are Fisher metal detectors cheaper than Minelab metal detectors?
A: It all depends on the model. Fisher's F-Series metal detectors range in price from $199 to $999. Minelab's Vanquish metal detectors range in price from $199 to $499, while the Equinox 800 and Safari are around $1,000. The prices on the comparable detectors in this article are close to equal. Each company has higher end, more expensive models. Specialty metal detectors, like those for gold prospecting, and those built for deep diving are typically among the more expensive metal detectors on the market. 
Q: Which detector on this list is the best for a beginning detectorist?
A: Almost all Fisher metal detectors are beginner friendly. Some have more settings than others and can be a little bit more confusing. But overall, they are all good for beginning detectorists. Minelab's Vanquish metal detectors are great for beginners, especially the 340. It is easy to use and has less adjustable settings. The Equinox 800 and Safari are more advanced than the Vanquish line and may be confusing to new detectorists because of the number of adjustable settings. One very good thing about all these metal detectors is they have pre-programmed operating modes. This means you can choose a mode and start detecting right away with minimal to no adjustments. 
Q: Which detector on this list is the best for saltwater beach hunting?
A: Saltwater is naturally conductive and many metal detectors struggle in these conditions. The Minelab metal detectors, because they feature multiple search frequencies, are better at mitigating these effects. You can adjust the detector to block out some or all the interference caused by saltwater. The lower operating frequencies of the Fisher metal detectors will cause a lot of interference in saltwater areas. Despite this, Fisher metal detectors are very good for freshwater beach hunting. Freshwater does not have the conductivity problems associated with saltwater. This means all these detectors would work very well in fresh water.
Q: Which detector on this list is best for prospecting?
A: Again, I must go with the Minelab detectors. Their multiple frequencies fall into the range best for gold (above 18 kHz is the best for gold: the higher the better). As I mentioned, Minelab is an Australian company and Australia is known for having vast quantities of gold. As such, their detectors are built to combat the problems associated with gold bearing soils and specifically to find gold. Fisher does make some gold prospecting metal detectors though, and they are honestly some of the very best on the market. 
If so, please "like" our Facebook page and be sure to revisit Discover Detecting for new content surrounding the metal detecting hobby!
You Might Also Want to Read: