10 Best Mid-Range Metal Detectors to Find Gold, Coins and Jewelry
Mid-range metal detectors can be found from all metal detecting manufacturers. Many companies make multiple models that fall in this category, and they range from entry-level to advanced skill level. This article will discuss the 10 best mid-range metal detectors, priced between $400 and $800, to find treasure.
And to better help you, please use our interactive guide to see and compare some of the best metal detectors on the market against one another: detectors on the market:
Let's begin our list with the popular Fisher F75
The Fisher F75 is one of my favorite mid-range metal detectors. The F75 is a very low frequency (VLF) metal detector that operates at 13 kHz and is recommended for coin hunting, relic hunting, gold prospecting, and beach hunting. This operating frequency may not be ideal for small bits of gold or in wet saltwater conditions but could still find some gold nuggets in good conditions.
This detector has FA technology, which allows for improved target separation. It comes with 4 levels of FeTone®: Iron Audio Off, Low, or Medium, and High. Audio pitch is adjustable in Discrimination Mode, and users can now activate and deactivate DST Mode (Digital Shielding Technology) for greater electromagnetic interference suppression. 
Serial number is embedded and stored electronically within the machine. The F75 comes with a large, easy to read backlit LCD screen with numerical Target ID. Discrimination Mode is double filtered so searching in trashy areas is easier.
The screen shows a magnetic mineralization bar graph and readout and trigger actuated FASTGRAB ground balancing. Pinpoint mode is trigger actuated and comes with variable audio pitch. The F75 has non-volatile memory so your favorite settings can be saved. 
This model runs on 4 AA batteries and weighs 3.5 pounds. It comes standard with an 11" open-frame elliptical waterproof Double-D search coil. The control box is not waterproof, but there is a rain cover for the control box available. 
The F75 comes with a 5-year warranty.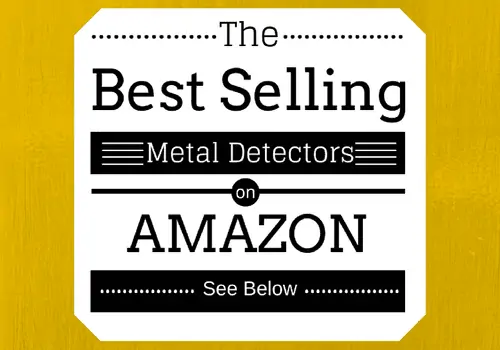 Below, please check out a handful of the best selling metal detectors currently on sale at Amazon:
The Fisher Gold Bug Pro is a great mid-priced metal detector. This VLF detector is designed to find gold and relics specifically, but works well for other treasures, too. The Gold Bug Pro operates at 19 kHz frequency (frequencies above 14 kHz are best for finding gold) so it can find small bits of gold easily.
The unit is very lightweight at just 2.5 pounds, meaning it is easy to pack around for long periods of time. It comes standard with a 5" Double-D search coil which can target 2 items at a time with good depth. There are 2 other options for coil packs: a 7" by 11" elliptical Double-D search coil or a 13" ultimate Double-D search coil (the price will vary depending upon coil type). It also comes with dual headphone jacks. 
The Gold Bug Pro features VCO Audio (voltage-controlled oscillator) in All Metal and Discrimination Modes, V-Break™ tone discrimination (the industry's first Variable Breakpoint tone discrimination system), computerized Ground Grab real-time ground balancing, and continuous ground condition readout.
Continuous ground condition readout contains Ground Phase, which shows the type of mineralization in the soil, and Fe3O4 graphics show the amount of ground mineralization. This is helpful when prospecting as gold bearing areas typically have high soil mineralization. The Gold Bug Pro also comes with a pinpoint mode and depth indicator. 
This metal detector is not terribly beginner friendly, so I would recommend this to more intermediate or advanced metal detectorists. But if you fall into this skill category and are looking for a gold-specific metal detector, I highly recommend the Fisher Gold Bug Pro.
Fisher offers a 5-year warranty on the Gold Bug Pro.
The Vanquish 540 Pro Pack is part of Minelab's newest line of metal detectors: The Vanquish series. This is an entry-level, mid-priced metal detector that would be appropriate for beginning or intermediate detectorists. The 540 comes with Minelab's Multi-IQ technology, which allows the detector to operate on multiple frequencies simultaneously. The operating frequencies are:
5 kHz
10 kHz
15 kHz
20 kHz
40 kHz
This range of frequencies allows the 540 to find everything from silver, gold, jewelry or relics in all terrains. The detector is rugged and easy to use. Using multiple frequencies simultaneously can help users scan areas that were previously considered "hunted out." You are really getting 5 different metal detectors with this technology as typical VLF detectors only operate on a single frequency.
The Vanquish 540 Pro Pack comes standard with adjustable audio control, pinpoint mode, Iron Bias control, Bluetooth connectivity for use with wireless headphones (included), rechargeable batteries, and red LED backlight. Audio control features 19 channels of noise cancelling. Iron Bias can be set to Low or High so iron can be filtered to users needs. 
This model comes with 5 search modes: Coin, Relic, Jewelry, All Metal or Custom. The 540 comes with 25 segments of discrimination, 10 levels of sensitivity and volume, and 5 target tones and depth indicators. This model weighs 2.9 pounds and collapses easily for storage and transport. The Pro Pack comes with 2 waterproof search coils: a V12 12" by 9" Double-D and V8 8" by 5" Double-D (the regular 540 only comes with the V12 search coil). 
Minelab offers a 3-year warranty on the Vanquish 540. 
As with the Vanquish 540 Pro Pack, the X-Terra 705 Dual Pack comes with 2 different search coils. Each search coil has a different frequency: a 10" by 5" elliptical Double-D coil that operates at 18.75 kHz, and a 9" concentric search coil that operates at 7.5 kHz.
The Elliptical coil provides better depth and ground coverage, and the frequency makes it better at detecting gold bits than other coils. The Concentric coil is best for beach and river metal detecting.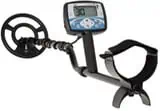 The X-Terra 705 features VFLEX technology which uses digital electronics to enhance single frequency detection technology. VFLEX helps eliminate electromagnetic interference and because it is simple and quick to change coils, this detector can operate at different frequencies.
This detector is recommended for gold prospecting, coin hunting, relic hunting, jewelry hunting, and beach combing. The X-Terra 705 comes with a large, easy to read LCD screen with backlight. 
The X-Terra 750 comes with 2 Prospecting modes, as well as a Coin mode and Treasure mode. It features 4 discrimination patterns that can be personalized, all metal and iron masking, and 28 segment discrimination. Audio tones include 4 single tones and 28 multi tones.
Ground balancing comes in several types: manual, automatic, beach, tracking, and tracking offset. Pinpoint can be done automatically and sizing, sensitivity is adjustable to 30, noise cancel can be manual or automatic, and threshold and target volume are adjustable. 
This model operates on 4 AA batteries (standard or rechargeable) and weighs 2.9 pounds. Minelab offers a 3-year warranty on the X-Terra 705 Dual Pack.
The AT Pro is a fully waterproof metal detector with professional level features at a great price. This model is fully submersible up to 10 feet, so it is great for searching ponds, lakes, creeks, river, or even the ocean. There is always a danger of slipping and falling when searching near or in water sources, but you don't have to worry about your machine getting damaged by water with the AT Pro. 
One of the best features on this machine is Pro Mode, or proportional audio. This feature can be turned on or off and emits more than one tone when over a target. Multiple, simultaneous tones show more of the characteristics of targets including conductivity, shape, and depth.
When turned off, the detector emits a monotone sound, like most other metal detectors. When you master this mode, you will dig less trash and more treasure! The AT Pro also has iron audio which allows you to hear discriminated iron. You will hear low grunts showing the target has a likely ferrous content and may be trash, unless relic hunting. 
The AT Pro has manual and automatic ground balancing and operates at a single frequency of 15 kHz. Because it is single frequency and only 15 kHz, the AT Pro is not the best metal detector for saltwater. It does work well on dry saltwater beaches but may encounter problems when in the wet sand or saltwater.
The AT Pro has 40 discrimination settings, adjustable notch discrimination, 6 search modes, 8 sensitivity and depth adjustments, and 3 audio tone ID levels. This model comes standard with an 8.5" by 11" Double-D PROformance™ search coil. The AT Pro weighs 3.03 pounds and runs on 4 AA batteries.
Garrett offers a 2-year warranty on the AT Pro.
The Garrett Sea Hunter Mark II is one of my favorite Garrett products. This is a pulse induction (PI) metal detector at a reasonable price. PI technology is great for hunting in saltwater and freshwater areas. This detector is fully submersible up to 200 feet and has neutral buoyancy, so it is easy to keep on the lake or sea bottom.
This makes it a great detector for underwater metal detecting or shipwreck diving and comes with submersible headphones. Most VLF metal detectors struggle with saltwater as it is highly conductive. Because it is a PI machine, there is no need to ground balance the Sea Hunter Mark II. 
Unlike many models, the Mark II does not have an LCD screen, but is controlled via knobs. It also has good immunity to electromagnetic interference. The Sea Hunter Mark II emits 750 pulses per second and has 22 frequencies.
PI metal detectors also work very well in areas with high soil mineralization, so this detector is great on land when searching areas for gold. Search modes on the Mark II are designed to eliminate trash. This detector is designed to find all targets including jewelry, coins, and gold nuggets. 
The Sea Hunter Mark II is a heavier machine, at 5.1 pounds, but it can be hip mounted when on land to ease the arm burden and has 4 total configuration: long stem with top stem mount, under cuff stem mount, hip mount, and short stem ScubaMate. The user manual provides great descriptions and pictures of each configuration making it easy to choose the one most comfortable for you. It operates on 8 AA batteries. 
Remember: if you are going to use this to its full capabilities (deep diving), be sure you are a seasoned diver, and Scuba certified. Garrett offers a 1-year warranty on the Sea Hunter Mark II.
The Goldmaster 24k is a great gold finding metal detector. This machine operates at 48 kHz, so it can find even small bits of gold. This model has a large, backlit display with Target Graph. Target Graph shows Ferrous, Gold, and High Conductor ranges, which is mirrored in the numerical Target ID.
The Goldmaster 24k features White's XGB ground balancing system so it can handle mineralized soil conditions better than other VLF machines. Ground balancing can also be done using TracLock and Ground Grab. This model even has a feature called Ground Scan, which can show where valuable paystreaks are in washes and stream beds.
The Goldmaster 24k comes with 10 levels of adjustable sensitivity, adjustable audio with 2 Boost levels, adjustable discrimination, vSAT (Variable Self Adjusting Threshold; basically, autotune mode), adjustable threshold, pinpoint mode, and Tone ID mode.
Despite all the advanced features on the Goldmaster 24k, it is a simple to use machine that can be used by beginners or experienced detectorists alike. While not fully waterproof, this model is weatherproof. 
The Goldmaster 24k comes standard with a 6" by 10" Double-D search coil and operates on 8 AA batteries. White's offers a 2-year warranty on the Goldmaster 24k. 
The MX Sport builds on White's well-known MXT line and is an all-purpose waterproof metal detector perfect for beach hunting, relic hunting, coin shooting, jewelry hunting, and even gold prospecting. This model operates at 13.9 kHz.
The MX Sport features adjustable Tone ID, Audio Modulation, and Rejection Volume to help you differentiate good and bad targets. Ground balancing can be done manually or automatically and features salt tracking, making it easier to use in saltwater areas.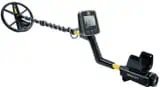 The MX Sport is fully submersible up to 10 feet and includes waterproof headphones. This machine is ruggedly built and functions well in all terrain types. There are 20 audio tones for sound identification on this model. It also comes with White's SAT function enabling it to regulate signals depending upon soil type.
SAT keeps the sound and tone on the same level to prevent misinterpretation of signal changes. The MX Sport has a large backlit screen with numerical target ID. While this is a single frequency machine, it can shift frequencies slightly to compensate for interference.
Search modes on the MX Sport are:
All Metal
Beach
Relic
Hi Trash
Pinpoint
The MX Sport weighs 3.97 pounds and operates on 8 AA batteries. This detector is designed for intermediate to advanced detectorists. White's offers a 2-year warranty on the MX Sport.
The Multi Kruzer is an all purpose all terrain metal detector that is waterproof up to 16.4 feet. This VLF machine operates on 3 frequencies: 5 kHz, 14 kHz, and 19 kHz. It features 6 search modes, adjustable audio frequencies, iron audio, notch filter, and pinpoint mode.
Ground balancing can be done automatically, manually, or tracking. One of my favorite features of the Multi Kruzer is vibrating target alert. This is a great feature for hearing impaired detectorists and for underwater detecting. This model has wireless compatibility so it can be used with wireless headphones.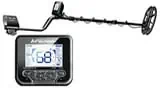 Iron Audio is one of the best features on the Multi Kruzer. When relic hunting, this feature comes in extremely handy. Users can adjust the iron sound down low or completely off, which is extremely helpful in sites littered with iron (as are most relic hunting sites).
The Multi Kruzer has great discrimination and unmasking ability, and decent depth. Extra Underground Depth Function (EUD) can detect metals masked by ground conditions at maximum depth. Depth level is adjustable with 3 levels. It comes with an advanced Beach Mode and is stable in dry or wet sand and underwater. 
The backlit LCD screen is large and easy to read with numerical target ID. The Multi Kruzer comes with an 11" by 7" Double-D search coil. Nokta Makro offers a total of 6 interchangeable search coils for the Multi Kruzer so you can customize it to your specifications.
While it is helpful to have a pinpoint mode on the Multi Kruzer, the location of the button makes it somewhat difficult to use. It is clustered in with all the other buttons and very small. If you are wearing gloves you may find you hit the wrong button when attempting to pinpoint. 
The Multi Kruzer weighs 3 pounds and operates on a rechargeable battery pack. This model can stay up to date with online firmware updates. Nokta Makro offers a 2-year warranty on this model.
The XP ORX is a user-friendly metal detector that comes with your choice of 2 search coils: the HF coil with 21 frequencies (from 13 kHz to 81 kHz), or the X35 search coil with 35 frequencies (from 3.7 kHz to 27.7 kHz). With these one of these coils there is no metal undetectable by the ORX.
This model is great for gold prospecting when using the HF coil due to the high frequencies it scans with. It comes with 4 factory programs (2 gold prospecting, coin, and relic) and 2 user programs.
This model has XP wireless technology, meaning the coil, remote, and headphones are all wireless. The search coil can process the signals by itself without sending them to a control box. The signals are digitized and analyzed at the source by a digital circuit.
The ORX is designed to be easy to use and can be used by all skill level detectorists. It comes standard with 99 levels of sensitivity, 99 levels of discrimination, 20 levels of threshold, 4 levels of reactivity, manual and automatic ground balance, iron tone, and pitch audio.
It also comes with salt mode ground rejection, allowing it work well in saltwater areas. The ORX comes with a pinpoint mode and is compatible with XP's Go-Terrain app. This model uses rechargeable batteries and software updates are available online. 
Because this model is wireless, it doesn't really have a control box. It has a detachable remote. This remote features an easy to read LCD screen with numerical target ID and ground mineralization index numbers.
The remote is also compatible with the MI-6 pinpointing device, which features 50 levels of sensitivity, adjustable audio tone, 2 audio modes, 3 factory and 1 user program, recovery of the pinpointer (if it is lost; even when it is turned off), target zoom screen and battery life indicator. This model is extremely lightweight, at just 1.7 pounds because there is no need for a control box. 
XP offers a 5-year warranty on the ORX.
Conclusion
This is by no means a comprehensive list of all the mid-range metal detectors available. But these are certainly my top 10 favorites. Each one is great in specific ways. If you ware looking for gold-specific machines, you can try White's Goldmaster 24k or Fisher's Gold Bug Pro. The other detectors are more all-purpose detectors and each one has its advantages and disadvantages. 
I am very impressed with the Vanquish line of detectors with Minelab's Multi-IQ technology. The ability to operate a machine on 5 different frequencies simultaneously at such a great price is a game changer.
Most multi-frequency machines are much more expensive and much more complicated than the Vanquish 540. I am also really digging XP metal detectors' wireless technology and the number of adjustable features on the ORX and other XP metal detectors. 
Whichever mid-range metal detector you choose, you won't regret one of these 10 machines! As with any major purchase, do your research and decide which features are most important to you.
You Also Might Like: