The 10 Best PI Metal Detectors for Gold
In this article, I'm going to present you with ten awesome pulse induction metal detectors that are great for finding gold. 
And, in order to better help you, please use the interactive table below to compare some of the best metal detectors on the market against one another:
What is PI?
Pulse induction (also known simply as "PI" for short) uses a single coil as both transmitter and receiver. Pulses of electricity travel through the coil of wire and penetrate the ground and create a magnetic field. After the pulse ends, the magnetic field reverses polarity and quickly collapses causing an electrical spike. 
The spike dissipates within a few millionths of a second, followed by another pulse. These are called reflected pulses. As the magnetic field collapses it will take longer for the reflected pulse to disappear if it strikes a target in the ground. This alerts the metal detector to the presence of a target.
PI detectors are great for use in fresh or saltwater and on all type of soil on land. They truly shine in saltwater conditions and highly mineralized soil conditions. PI detectors often detect deeper on saltwater areas than freshwater areas because salt is a great conductor of electricity. 
PI detectors are immune to the effects of saltwater interference and mineralization in soils. Despite this, they can be affected by electromagnetic interference to some extent. Sometimes cell phones, radios, TV receivers, power lines, and other electronic devices can interfere with detection. Most PI machines have built in technology to negate the effects of electromagnetic interference.
Why Should I Use Pulse Induction for Gold?
PI detectors are great for finding gold. They are often more sensitive than very low frequency (VLF) metal detectors and can seek deeper than VLF machines. Some PI metal detectors are tailored to finding small gold, while other PI machines are best for larger gold. Most gold field have highly mineralized soils, so having a metal detector that can fight this battle is especially important. If you are searching for gold nuggets or flakes on land, a PI machine will help you balance out the interference from soil mineralization. If you are searching for gold jewelry or coins at a beach, a PI machine will help balance out the effects of saltwater.  
Most gold nuggets found are small, which makes detecting them difficult for some machines. All metal detectors will find large pieces of gold, but many detectors will struggle with finding small, sub-gram gold, gold flakes, or fine gold jewelry. If there are large nuggets of gold in the ground, a PI machine will be best at finding them because they can search deeper and ignore more interference from ground minerals. 
Be aware, though, that most PI detectors are costlier than VLF metal detectors. There are specialized VLF metal detectors for gold, so weigh your options when deciding which type to purchase. 
I recommend a PI machine if you are in an area with high levels of ground mineralization, hot rocks, or black sand, or if you plan to hunt on saltwater beaches or underwater. I have used several types of metal detectors in Utah and Idaho. Both states are known to have had gold at some point, and both states have a huge amount of mineralization in the soil. 
Traditional, VLF machines have given a lot of false readings or overloaded when using in these areas. A PI metal detector, however, will negate these issues and allow more positive target identification. Keep in mind that many PI metal detectors have a learning curve and are best suited to more intermediate or advanced metal detectorists. 
Below, you will find my top 10 picks for best PI metal detectors for gold. 
Garrett's ATX is one of my favorite metal detectors on the market. This PI machine is a ruggedly built, all-terrain, military grade machine that emits 730 pulses per second, adjustable. The more pulses per second a PI machine emits, the more accurate and sensitive the machine is. It is fully submersible up to 10 feet and features 13 depth and sensitivity adjustments.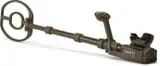 The ATX has a pinpoint mode, 25 discrimination settings, 25 settings of audio threshold, Iron Audio, and natural immunity to saltwater, mineralization, and electromagnetic interference. It features Garrett's Fast Track ground balancing and has 4 settings for automatic ground balancing. 
As with many PI machines, the ATX does not have an LCD screen. The control box is simple to use and makes it easy to change settings via knobs. Because this is a PI machine, it does not have to be in motion to detect. The stem is adjustable so it can be customized to all sizes of detectorists. The ATX comes with a rechargeable battery pack and users can expect up to 10 hours on a single charge. The ATX comes with standard headphones that are not waterproof. PI metal detectors are typically heavier than most VLF machines, and the ATX is no exception weighing in at 6.9 pounds. 
Garrett offers a 2-year warranty on the ATX.
The TDI SL High-Q has the highest pulses per second of any PI machine I have seen, at 3250 to 3370 per second. Unlike a lot of PI machines, the TDI SL High-Q is very lightweight, at 3.5 pounds. This will give less arm fatigue and extend hunting times. This machine has excellent depth and sensitivity and is perfect for gold prospecting or relic hunting. Ground balancing is manual on this machine and frequency offset is adjustable.
The TDI SL High-Q operates on a rechargeable battery pack with 8 AA battery backup and comes with a 12" search coil. There are optional coils in White's TDI family of coils for detectorists to choose from. This detector also comes with all metal mode with high or low tone. The TDI SL High-Q comes with specialized prospecting features to make finding gold easier with full-control ground balance that filters out hot rocks, black sand, and other ground mineralization or saltwater interference. 
White's offers a 2-year warranty on the TDI SL High-Q.
The GPX 5000 metal detector uses MPS (Multi-Period Sensing), which is Minelab's advanced PI technology. MPS transmits pulses of different time periods and receives signals at multiple time periods allowing for better separation of ground signals and target signals. This technology is remarkably effective at eliminating ground signals so even the most mineralized soil is not a problem with the GPX 5000. This metal detector was designed specifically for deep relic hunting and gold prospecting. It comes with 6 detection modes:
General
Deep
Hi-Mineral
Patch
Hi-Trash
Pinpoint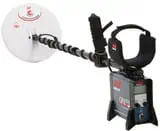 Unlike most PI machines, the GPX 5000 features a small backlit visual display. It has automatic, fixed, and tracking ground balancing, 10 segments of iron discrimination, adjustable sensitivity, and variable audio control. It features several timing settings including one for regular gold and fine gold. The GPX 5000 comes with a rechargeable battery pack and 2 search coils: 11" round Double-D and a 15" by 12" monoloop. Wired headphones can be used with this model. It weighs in at 5.3 pounds.
This model may be difficult to use for inexperienced metal detectorists. An Australian prospector near Ballarat, Victoria, Australia found a 12-pound gold nugget worth nearly $300,000 using the GPX 5000.
Minelab offers a 3-year warranty on the GPX 5000.
Fisher Impulse AQ (New Metal Detector!)
The Impulse AQ is a new PI metal detector that will be released sometime in 2020. This information was taken from a website where a detectorist got an early release of the Impulse AQ. This is the first in a new series of PI machines from Fisher Labs. This is a waterproof metal detector that will offer excellent depth and sensitivity to gold. The machine is optimized for gold jewelry. The discrimination is supposed to be better than any other PI detector on the market today. Discrimination will focus on gold jewelry and coins. 
This detector will come with a 12.5" mono search coil, knob controls for simple control, adjustable stem, volume, threshold, and sensitivity controls, and iron rejection. There is no information yet as to whether other search coils will be available for the Impulse AQ. It will have pulse delay and frequency adjustment to filter out ground noise. This model has an adjustable stem and weighs 4.2 pounds when mounted on the stem. When using a hip mount, it will weigh 3.4 pounds.
Warranty is unknown until release date.
Garrett's Sea Hunter Mark II runs on a microprocessor operating system for advanced operating quality, and is recommended for treasure diving, surf hunting, coin shooting, jewelry and relic hunting, beach hunting, or gold prospecting. The Sea Hunter Mark II emits 750 pulses per second, has 3 search modes, adjustable audio threshold, and non-motion all metal deep seeking mode. This unit comes standard with Garrett's Discrete Trash Elimination technology allowing the metal detector to eliminate the majority of pull tabs or foil without sacrificing sensitivity. The Sea Hunter Mark II is fully submersible up to 200 feet.
The Sea Hunter Mark II comes standard with an 8" PROformance™ search coil (also available in 10" x 14"), submersible headphones, and a hip mount. This model weighs 5.1 pounds and operates on 8 AA batteries. There is no ground balancing necessary on this model, so it does not have options for ground balance. As with other PI models, the Sea Hunter Mark II uses control knobs with no LCD screen and is inherently immune to electromagnetic interference, saltwater, and soil mineralization. This model has 2 trash elimination modes, but no iron audio. The stem is adjustable. 
Garrett offers a 1-year warranty on the Sea Hunter Mark II. 
Tesoro Sand Shark
The Tesoro Sand Shark is the first PI detector that used microprocessor technology. It is great for hunting in areas with high soil mineralization, saltwater, and underwater. The Sand Shark is submersible up to 200 feet and is designed for coin shooting, relic hunting, and gold prospecting. It comes with 2 operating modes: VCO (voltage-controlled oscillator) for pinpointing in all metal mode, and Normal mode. VCO mode produces a louder, high pitched tone as the coil nears a target. Normal mode uses a single tone. The Sand Shark emits 600 pulses per second and comes with a hardwired 8.5" or 10" search coil. The Sand Shark also has adjustable pulse width.
The microprocessing circuity is autotuning, but it does require slight motion to receive a signal. The Sand Shark uses 8 AA batteries and weighs 4.5 pounds. It also has options for hip mounting. Tesoro previously offered a lifetime warranty on their product line; however, the company has recently closed with little to no information on how or if these warranties will be honored. So, if you decide to go with this model, you will not only have to purchase through a 3rd party seller, but you will only get whatever warranty the seller offers rather than the lifetime warranty offered through the now defunct Tesoro. Even without a warranty, the fact that a lifetime warranty was offered shows the machine is well made.
OKM Black Hawk
The Black Hawk is perfect for finding gold nuggets, gold and silver jewelry, coin shooting, finding buried treasure, battlefield artifacts, and naturally occurring previous metals. This detector utilizes a high-power scheme to search deeper in different soil types. The Black Hawk uses an automatic varying Eddy current allowing the next pulse to be delayed making the transmission coil and receiver coil one in the same. The Black Hawk comes with a 14" mono search coil. The pulse delay means users can choose larger coils, like OKM's 5' by 5' coil, for very deep objects, or their 6.3" coil for small gold nuggets.
The Black Hawk features 3D imaging for use in archaeological surveys or treasure hunting, and can locate tunnels, voids, caverns, and precious minerals and ores. The LCD screen is full color and offers beautifully accurate 3D images of the ground. This detector emits 110 pulses per second, can be used in motion or non-motion mode, features wireless technology for use with wireless headphones, and has a built in LED lamp and adjustable backlit display for searching in low light conditions. Ground balancing is automatic or manual and the stem is adjustable. It is very lightweight at 2.2 pounds. This detector is not waterproof. 
The OKM Black Hawk comes with a 2-year warranty.
JW Fisher Pulse 8X
JW Fisher's Pulse 8X is a commercial-grade PI detector used by treasure hunters, diving salvage companies, law enforcement, and military agencies. This model is rated #1 by U.S. Homeland Security. The Pulse 8X can be fully submerged up to 200 feet and features a huge, 6-foot detection range. Because it is a PI machine, the Pulse 8X is immune to saltwater, soil mineralization, and electromagnetic interference. The standard package features an anodized aluminum handle for land use, a PVC handle for underwater use, a 9-volt rechargeable battery pack with AC and DC battery chargers, headphones, a carrying case, spare parts kit, and hip mount.
The Pulse 8X features 3 search modes and comes in 2 versions: Version 1 with hardwired, factory installed 7.5" search coil; and Version 2 with a bulkhead fitting allowing detectorists to change coils themselves. The Pulse 8X has visual and audio indicators and is loud enough to hear underwater without headphones. The buoyancy is slightly negative on the Pulse 8X, so it will not float away and will stay on the bottom while detectorists dig a target. 
JW Fisher offers a 2-year warranty on the 8X.
Minelab SDC 2300
The SDC 2300 is a compact, high performance gold metal detector. This detector is specifically designed to find even sub-gram gold nuggets on land or underwater. This PI machine uses Minelab's MPF, like the GPX 5000. This is a fast PI technology that switches between transmission and detection signals with minimal residual transmit signal. This allows for sharp, clear gold detection. This machine is ruggedly designed and built to military standards.
The SDC 2300 is foldable and is only 8.5" when collapsed so it is simple to transport. This model is fully submersible up to 10 feet. Because it is a PI machine, the SDC 2300 is inherently immune to saltwater and highly mineralized soils. This model comes standard with an 8" monoloop search coil and can be used with wired headphones. Audio is adjustable, it has automatic ground balancing and automatic scanning for noise cancellation, and 2 detection modes. Normal detection mode has 5 sensitivity ranges, and Salt mode, with 3 sensitivity ranges. The SDC 2300 operates on 4 C-cell rechargeable batteries and weighs 5.1 pounds.
Minelab offers a 3-year warranty on the SDC 2300.
Detech SSP-5100
The SSP-5100 metal detector is different than other PI machines. It comes with a 3-foot by 3-foot square deep search coil and magnetometer. The size and shape of this search coil requires that at least 2 people operate the machine simultaneously. This model can detect up to 13 feet deep and features a visual target identification system. The size and composition of the target are displayed on the high-resolution screen. Larger search coils are also available and extend the depth by 2 feet. As with all PI machines, the SSP-5100 is great for difficult soil conditions.
The SSP-5100 is designed for detecting gold, silver, platinum, and other precious metals. Ground balancing is simple on this model and it is more sensitive at increased depth than previous models. Headphones can be used with the control box and a holster is included with purchase. The SSP-5100 comes with a rechargeable battery pack and small round coils can be purchased to find surface metals. The large area this metal detector covers means searching can be done quicker than with other models. 
Detech offers a 2-year warranty on the control box, and a 1-year warranty on the search coil.
Bonus: Pulse Induction Pinpointers
Several companies offer PI pinpointers that can also help you find gold. Keep reading to learn more!
Fisher's F-Pulse pinpointer is a PI pinpointer that is waterproof up to 6 feet and can operate in soil conditions where other pinpointers fall short.
The F-Pulse operates on 2 AA batteries, has an adjustable LED light, 3 sensitivity levels, quick retune, heavy duty construction, and built in ruler. Fisher offers a 2-year warranty on the F-Pulse.
The PulseDive pointer is waterproof up to 200 feet, and pairs well with a fully submersible PI detector. This pinpointer is great in difficult soil conditions like saltwater or high mineralization. It comes with 5 adjustable sensitivity levels, an LED indicator, audio, and vibration detection, and is compatible with wireless headphones.
This pointer also features Dive Mode which ensures buttons will not be depressed by water pressure on deep dives. Nokta Makro offers a 2-year warranty on this pinpointer.
Treasure Products created the first vibrating pinpointer. They offer several different models that operate on PI technology. The Vibra-Probe 585 is a tip-only, tilt on or off pinpointer. It features automatic calibration, is submersible up to 100 feet, and has an auto-off timer that shuts the unit down after 1 minute of no activity. The Vibra-Tector 740 is also a tilt on or off vibrating pinpointer. It automatically calibrates and is submersible up to 100 feet.
This model has upgraded firmware to help find targets quicker and has all the features of previous models. Lastly, the Vibra-Quatic 320 is a tilt on or off, vibrating pinpointer with built in light and automatic calibration. As with their other PI pinpointers, the Vibra-Quatic is submersible to 100 feet, has a 2" detecting tip for greater depth and superior sensitivity. 
DetectorPro Land or Sea Pinpointer
The Land or Sea pinpointer is a PI pinpointer designed to precisely pinpoint a target. PI technology allows for smooth operation in freshwater, saltwater, or highly mineralized soil conditions. This model features 3 types of alert: sound, vibration, and light target alert, sound and light alert, or vibrate and light alert for silent searching. It operates in all metal mode, is fully waterproof, and comes with a 2-year warranty.
Each of these pinpointers is PI, so they work exceptionally well underwater, in saltwater, in wet sand, and on dry land.  
You Also Might Like These Articles: