Minelab Equinox 600 vs Equinox 800: Who is the Best?
Minelab has been at the top of the metal detector manufacturing world for nearly 4 decades. They are an Australian based company making metal detectors to military standards. Minelab has worked hard to build rugged, all-terrain metal detectors that feature technology to combat the effects of difficult ground conditions and electromagnetic interference. 
Australia is known to have a lot of gold, and a lot of difficult soil conditions. Minelab's technology counterbalances these and are available all over the world.
Minelab employs a team of 50 engineers who constantly strive to create better technology. Many militaries even employ Minelab products to keep their soldiers safe and find dangerous items like landmines. Minelab has dealers in Australia, Asia, the Americas, the Middle East, and Europe. 
The Equinox series of metal detectors are some of the best models on the market. They have advanced technology that is hard to beat. But which model is better? We will discuss that in this article and determine a winner in the showdown of Minelab Equinox 600 vs Equinox 800. 
Minelab's Equinox 600 features their patented Multi-IQ technology. This allows the detector to operate on multiple frequencies simultaneously. The Equinox 600 operates on frequencies from 5 kHz to 40 kHz, but it can also use 3 single frequencies: 5 kHz, 10 kHz, and 15 kHz. 
This allows you to tune out any excess ground noise in highly mineralized soil and give you the best opportunity to find all treasure types. The Equinox 600 has 3 detection modes:
It also has 6 custom search profiles with 2 per detection mode. Noice cancelling is automatic on this model. It has automatic and manual ground balancing, 25 adjustable sensitivity levels, and 50 segment discrimination. Threshold pitch is fixed, tone pitch, tone break, and tone volume are only ferrous. There are 5 depth indicators on this model. It is lightweight at just under 3 pounds.
The Equinox 600 is fully waterproof and can be submerged in water up to 10 feet. This makes it perfect for use in streams, lakes, and rivers, and even in shallow ocean diving. The Equinox 600 is Bluetooth compatible so it can be used with wireless headphones. It features Wi-Stream technology which uses efficient low-power digital audio transmissions to eliminate audio lag between the detector and wireless module. 
This model features a monochromatic LCD screen with backlight, rechargeable batteries, and upgradable software. Connecting the detector to a computer with a USB cable allows you to put any software upgrades you have downloaded from Minelab's website onto your detector. 
This detector comes standard with an 11" Double-D Smart search coil and skid plate. Search coils are interchangeable on the Equinox line, so you can also purchase a 6" round coil, or 15" elliptical coil for your Equinox 600.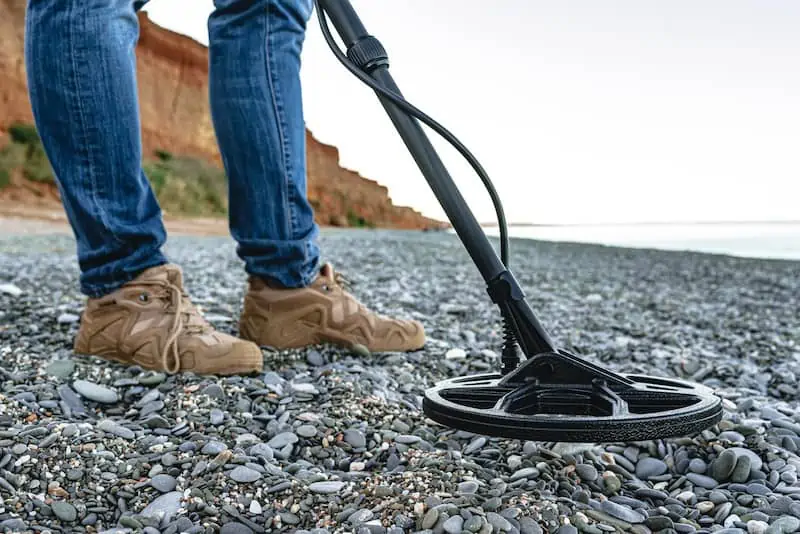 Minelab's Equinox 800 is one of their best metal detectors. It features Multi-IQ technology, like the Equinox 600, but with an added technology called 5Fx8. SFx8 is Five Frequency Times Eight, which provides 5 individual frequencies along with the multiple frequency operation. The Equinox 800 operates on the following single frequencies:
5 kHz – Great for large silver coins
10 kHz – Great for small Roman hammered coins
15 kHz – A good general treasure detecting frequency
20 kHz – Ideal for general treasure detecting and gold prospecting
40 kHz – Optimum sensitivity for small gold nuggets and flakes
The Equinox 800 is meticulously optimized to find all treasure types making it great for all users. It is a little more advanced than an entry level machine and would likely be tailored to intermediate and advanced detectorists. This model has 4 detection modes: Park Field, Beach, and Gold, as well as 8 custom search profiles; 2 for each mode. This allows you to save your favorite settings for use next time you metal detect. 
Park 1 and Field 1 – Maximizes ground balance to achieve the best signal to noise ratio, best for general park detection and coin shooting.
Park 2 and Field 2 – These modes are more sensitive to high frequency, low conductivity targets; has more ground noise than Park and Field 1. 
Beach 1 – Maximizes ground balance for saltwater conditions, best for use on dry and wet sand.
Beach 2 – Maximizes ground balance for saltwater conditions, best for use in surf and underwater.
Gold 1 and Gold 2 – These 2 modes use a separate set of parameters than other modes that are specifically optimized for prospecting. 
The Equinox 800 has manual and automatic ground balancing, automatic and manual noise canceling, adjustable sensitivity, threshold volume, level, and pitch. It features 50 segments of discrimination and 4 target tones, and 5 depth indicators. It has a large LCD screen with adjustable backlight and operates on rechargeable battery pack. This gives users up to 12 hours on a single charge. As with the 600, the Equinox 800 has upgradeable software via a computer and USB.
This model is lightweight, at just under 3 pounds. It features Bluetooth connectivity for use with wireless headphones and comes with an 11" Double-D Smart coil and skid plate. It can swap coils for any of the other Equinox brand coils. The Equinox 800 has fast and accurate target ID with fast recovery speed so you will miss less targets. 
Minelab Equinox 600 vs Equinox 800
These 2 metal detectors feature much of the same technology. The Equinox 600 is generally regarded as the Equinox 800 with simplified features. Both perform equally well under similar conditions. The Equinox 800 has Gold Mode, which the 600 lacks. The Advanced Settings on the Equinox 800 allow for finer tuning on assorted options. Both models have automatic noise cancel, but the 800 features a manual adjustment for noise cancelling. This is helpful in areas with high electromagnetic interference or near other metal detectors. 
The Equinox 600 has a good range of tone and volume options, including Single, 2, 5, and 50 tone options. The 800 adds the ability to shift non-ferrous tones and volumes, which is helpful when hunting by sound. 
The Equinox 800 can operate on 5 individual frequencies along with its multiple frequency capabilities. The Equinox 600 can operate on 3 individual frequencies. Both model have accessory coils that can be swapped out to make the detect work best for you. You can also buy aftermarket coils, as per Minelab, from Coiltek. 
The Equinox 600 has 3 detect speeds, while the 800 has 8 for more fine tuning. This helps it tune out even a field of nails or trash. The 800 features the User Profile button which allows you to jump to the alternative detect mode, which takes multiple button pushes on the 600 (you get to the same place, it is just simpler on the 800). Both models have backlit LCD screens, but the Equinox 800s is adjustable. Both metal detectors are waterproof up to 10 feet. Both models have 50 segment discrimination. Both models are ruggedly built and lightweight. 
Most metal detectorists would probably be happy with the Equinox 600. More advanced detectorists and those who like the ability to fine tune their machines would be happier with the Equinox 800. Both are extremely good metal detectors, and both would be a joy for most detectorists to use. 
So, who wins in the showdown of Minelab Equinox 600 vs Equinox 800?
And the Winner is…
This one was too close to call. So, I am choosing both! Both have their merit, and both are equally good metal detectors. It all depends on the features and customizability you are looking for in a metal detector. 
If you are looking for a fantastic metal detector at a slightly lower price, the Equinox 600 is perfect. It has enough features to keep intermediate and advanced detectorists happy without being overly complicated. It will operate the same as the Equinox 800 under the same conditions. If you like to really customize your metal detector and have a lot of advanced settings, the Equinox 800 is perfect for you. This model has all the capabilities of the Equinox 600 but with more advanced settings that can be changed. 
One major difference is the 600 can operate on 3 single frequencies, while the 800 has 5 single frequencies. This may be important to some, especially if you are gold prospecting. Gold Mode on the Equinox 800 is also a deal breaker for some. If you plan to gold prospect, I will absolutely go with the Equinox 800. The specialized Gold Mode on this model is calibrated for gold hunting and will mitigate the effects of poor soil conditions typically found in gold bearing locations. 
If you are relatively new to metal detecting, I suggest the Equinox 600 because it is slightly less complicated than the Equinox 800. This will be less frustrating for you as a newbie and give you a chance to learn your machine. These are tailored to a more intermediate or advanced detector, but they do have options that make them simple to operate by anyone of any skill level. 
FAQ
Q: Is the Equinox 800 a lot more expensive than the 600?
A: As of publication of this article, the Equinox 800 is about $300 more than the 600. That is a lot of money, but it does have a lot more advanced features than the Equinox 600. They are both great detectors, and the extra money is only worth it if you plan to prospect and need the Gold Mode, or if you really need the advanced settings offered only on the Equinox 800.
Q: Why is a metal detector with multiple simultaneous frequencies good?
A: A multiple frequency metal detector usually puts out 3 to 5 different frequencies at one time. The advantage is that a target missed at one frequency can be picked up at a different frequency. This increases your odds of finding a target. Multiple frequency detectors are also good for beach detecting and use in saltwater because they are more stable in these environments than most single frequency metal detectors. 
Q: Where can I get Minelab products? I do not see a store on their website.
A: Minelab has a large dealer network around the world. They do not sell products directly from their website. Instead, they rely on this dealer network to distribute their products. They have dealers in the United States, Canada, South America, Mexico, Europe, Asia, Australia, and the Middle East. Many sporting goods store, like Sportsman's Warehouse, sell Minelab equipment. You can get on their website and click the tab that says, "Where to Buy" and it will direct you to a reputable Minelab dealer near you.
Q: Are these models too difficult for a beginning detectorist to manage?
A: This is a tricky question to answer. Many detectorists will tell you to buy a metal detector that is in line with your skill set. Others will say if you want to learn, you must expand to learn more difficult things. I am middle of the road on this one. These are expensive metal detectors, and most entry level metal detectors are not. 
These have a lot of advanced features on them and, again, entry level metal detectors do not. Could a new detectorist learn one of these machines? Absolutely. Will it be difficult, confusing, and frustrating? Most likely. But if you are really set on buying one and are a new meal detectors, take your time. Learn your manual, watch videos, and be patient. 
Q: What types of batteries do the Equinox detectors take and what is the run time on each?
A: Both the Equinox 600 and Equinox 800 come with rechargeable lithium-ion battery packs. These offer users up to 12 hours of run time on one charge. This run time is dependent upon many factors such as heat, screen brightness, and search mode. But 12 hours is the average run time for these detectors. 
If so, please "like" our Facebook page and be sure to revisit Discover Detecting for new content surrounding the metal detecting hobby!
You Might Also Want to Read: