XP Deus vs Minelab Equinox 800
Choosing between 2 fantastic metal detectors can be quite a daunting task. Each one has its own features and settings, and each one likely has some negative things. So, how do you know which one to choose? In this article, we will discuss 2 models: the XP Deus and the Minelab Equinox 800. Both are top sellers for their companies. 
Both are great options for any metal detectorist. Both have a slew of features that are great for intermediate or more advanced metal detectorists, but can also be used by beginning detectorists, with a little time and patience. So, who will win out in our battle of XP Deus vs Minelab Equinox 800?
Read on to find out!
XP Deus
XP's Deus (pronounced Dey-uhs) is a great metal detector from the French manufacturer XP. This is the world's first entirely wireless metal detector. This makes it extremely lightweight, at 2 pounds. You can get wireless search coil, wireless display remote (control box) and wireless headphones. 

The control remote can be mounted on the stem or used off the stem, making the detector even lighter. The 3 wireless devices communicate with one another by digital wireless link and provide clear audio and efficient power consumption.
The entire metal detector is built into the search coil. No wires are needed to connect the coil to the control box. When the Deus finds a target, the signal is digitized and analyzed instantaneously and directly by an ultra-mini digital circuit. This gives the machine quicker speeds and more accuracy leading to faster recovery times. 
While the search coil and stem are waterproof and can be submerged, neither the control box nor the headphones are waterproof. Since the system is completely wireless, if the search coil is too deep, the control box and headphones will lose their connection. You can purchase an additional Deus underwater kit which will allow you to dive up to 16 feet.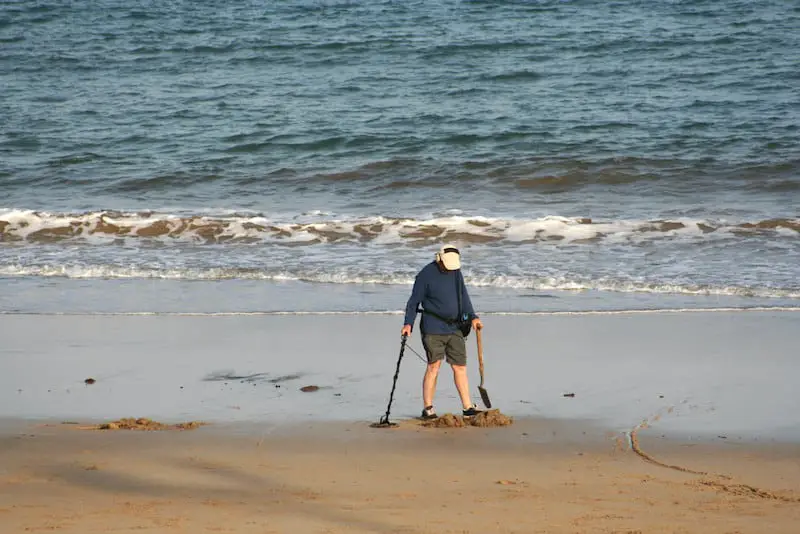 The Deus is an adjustable frequency metal detector and can operate at: 
4 kHz – Best for large ferrous and non-ferrous objects
8 kHz – General purpose frequency, good for coins and small to medium sized treasure in low soil mineralization areas.
12 kHz – Coins of all sizes, works well in medium areas of soil mineralization.
18 kHz – Bet for finding small and fine objects with low and high conductivity, such as gold nuggets, fine jewelry, coins, lead, silver, and copper. 
This is the equivalent of having 4 different search coils with different frequencies. This detector can be controlled with the remote display unit or the headphones. The Deus has 10 factory preset search programs and 8 customizable user search programs. These programs are:
Basic
GM Power
Deus Fast
Pitch
G-Maxx
Deep
Wet Beach
Dry Beach
Hot
Gold Field
This metal detector can be purchased in 3 different model configurations:
1) Deus comes with FX-02 wired back phone headphones, LCD Remote display, and 9" or 11" X35 search coil with telescopic pole. 
2) Deus comes with WS4 wireless back phone headphones, LCD remote display, and 9" or 11" X35 search coil and telescopic pole.
3) Deus comes with WS5 full sized wireless headphones, LCD remote display, and 9" or 11" X35 search coil and telescopic pole. 
XP offers software updates for the Deus. XP offers a 5-year warranty on the Deus. 
Minelab Equinox 800
Minelab's Equinox 800 metal detector was designed to be an all-terrain all treasure type detector. This detector uses some of Minelab's best technologies: 5Fx8 and Multi-IQ. Multi-IQ allows the Equinox 800 to search on multiple different frequencies simultaneously. 5Fx8 allows the detector to use 5 different single frequencies. 
Areas where the soil is too mineralized or there is too much ground noise benefit from the ability to use single frequencies. This technology can also help if you are looking for a specific metal type and want to search only for that metal. The frequencies this detector uses are:
5 kHz – Best for large silver coins
10 kHz – Best for small hammered Roman coins
15 kHz – Best for general treasure hunting
20 kHz – Best for general treasure hunting and gold prospecting
40 kHz – Optimum sensitivity to small gold nuggets and fine gold jewelry.
It should be noted that the newest software update released for the Equinox 800 contained a new single frequency of 4 kHz. This frequency enhances the detection of large and deep targets. So, newer purchased Equinox 800 detectors may already have this new frequency installed. 
Many single frequency metal detectors struggle to find small gold nuggets and fine gold jewelry because gold is best found using frequencies above 18 kHz. Most single frequency metal detectors use a frequency lower than this, making them good for general treasure hunting.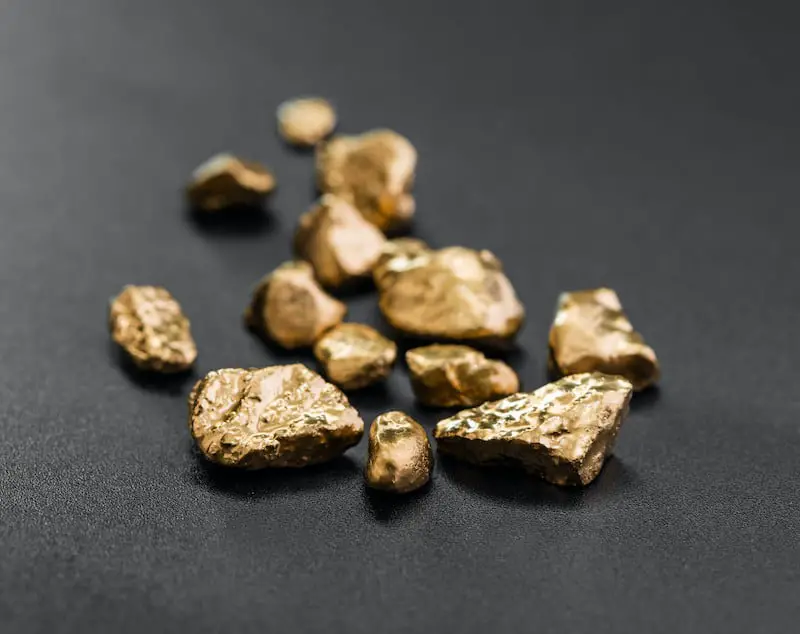 Typically, to get a detector that is good at finding gold, you need to buy a gold-specific metal detector. Most major manufacturers make models specifically designed to find gold. The Equinox 800, however, is fantastic at finding small gold because of its higher operating frequencies. 
One of the best features on this model is it is waterproof up to 10 feet, making it perfect for beach hunting, river hunting, and shallow diving. The Equinox 800 has 4 detection modes: Park, Field, Beach, and Gold. It also comes with 8 custom search profiles, 2 for each detection mode. This allows you to save your preferred settings within the custom profiles. The detection modes can be broken down as follows:
Field 1 and Park 1 – Maximize ground balancing to get the best noise to signal ratio. These modes are best for general metal detecting and coin shooting.
Field 2 and Park 2 – More sensitive to higher frequency, low conductive targets. These modes can have more ground noise.
Beach 1 – Ground balanced for salt conditions. This is best used on dry and wet sand.
Beach 2 – Optimized for salt conditions. Best for use in surf and underwater.
Gold 1 and Gold 2 – These modes are specifically optimized for gold prospecting. 
The Equinox 800 has both manual and automatic ground balancing, something some multiple frequency metal detectors lack. It also has manual and automatic noise cancelling, adjustable sensitivity, adjustable threshold volume, level, and pitch. 
The LCD screen uses numerical target identification, 4 target tones, and a 50-segment notch discrimination system. Tone pitch, break, and volume indicate both ferrous and non-ferrous targets. This model also has 5 depth level indicators. The LCD screen features a backlight, and the metal detector operates on a rechargeable battery pack. 
The Equinox 800 is lightweight, at just under 3 pounds and can be used with wireless or wired headphones. Another great feature of the Equinox 800 is it has updatable software. This is a great feature because any known problems can be addressed with a software update. Minelab offers a 3-year warranty on the Equinox 800.
XP Deus vs Minelab Equinox 800
One of the most notable differences between these 2 metal detectors are the operating frequencies. The Minelab Equinox 800 can operate on 5 single frequencies or on all 5 frequencies simultaneously. The XP Deus can operate on 4 different single frequencies. The Minelab Equinox 800 has a higher search frequency, so it will be much better at finding small gold nuggets and fine gold jewelry. 
The XP Deus does have a higher frequency of 18 kHz, which is the lower threshold for gold prospecting. So, it will be able to find gold. But the Equinox 800 will be able to find smaller nuggets, flakes, and fine jewelry easier. 
The XP Deus has a steep learning curve. While this detector can be used right out of the box with no prior metal detecting knowledge, to adjust any of the settings requires a more advanced detectorist. I would say this metal detector is catered more toward intermediate or advanced metal detectorists, although a beginning detectorist who is willing to dedicate time to learning the detector would be just fine. While the Equinox 800 has a lot of features and advanced technology, it is very easy to use for all skill levels.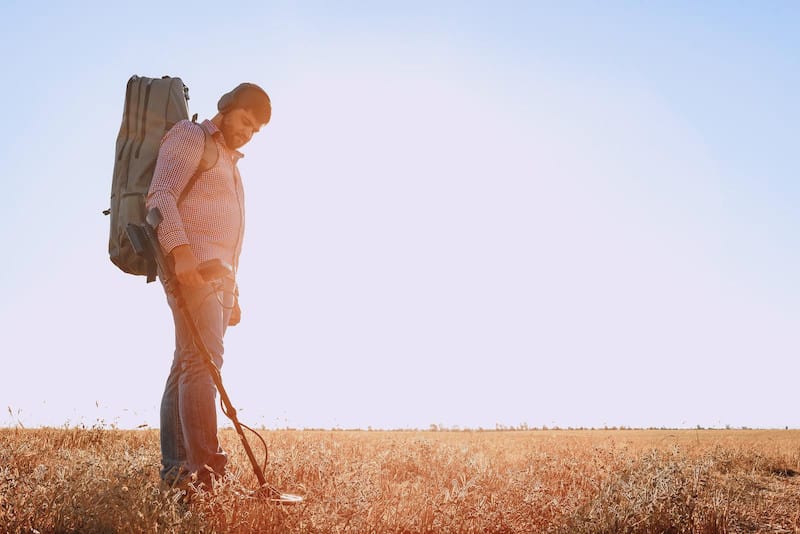 Both metal detectors are lightweight, although the Deus will cause less arm fatigue because it can be used with just the coil and stem, while the control remote can be hooked onto a belt or held in the hand. Even with the control remote on the stem, the detector is still only about 2 pounds. The Equinox 800 is closer to 3 pounds, so it may cause more arm fatigue. 
Both detectors have wireless technology that can be used with wireless headphones. They can both use wired headphones, too. You can purchase wireless waterproof headphones for both models if you plan to use them fully underwater. 
Be aware, however, that the Deus requires an additional kit to make the control remote waterproof. The detector cannot communicate with the search coil without this kit. The Equinox is fully submersible up to 10 feet by design, so it may be a better choice if you do not want to spend extra on a waterproof kit for the Deus.
The Equinox 800 can also be used with a 15" Double-D Smart search coil. This coil gives more depth and a wider search area for covering large areas. The Deus comes with your choice of 9" or 11" Double-D search coil. Both the Equinox 800 and the Deus have updatable software. This is a great feature for any metal detector as any problems with the detector can be fixed via a software patch instead of having to send the detector back to the manufacturer. 
When purchasing a new metal detector, whether it be the Deus or the Equinox 800, it should come with the latest software update. If it does not, downloading and apply the updates are simple. 
Conclusion
So, who is the ultimate winner in XP Deus vs Minelab Equinox 800? This is a tough call. Both metal detectors offer fantastic options and are well-loved in the metal detecting community. Both are from top-of-the-line metal detector manufacturers. Both are suited to all skill levels (the Equinox 800 a little more than the Deus).
So, who wins?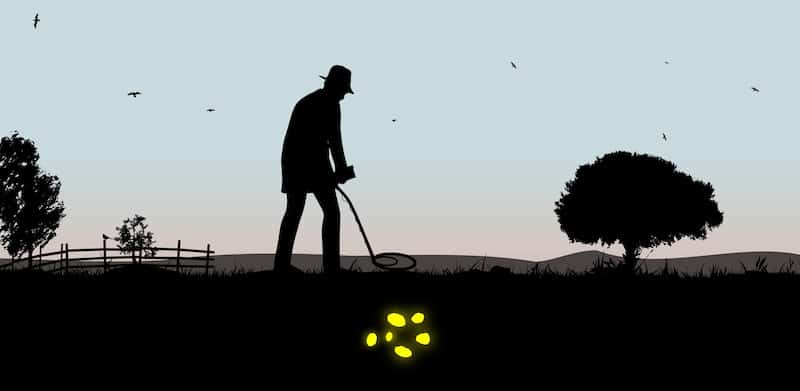 If I had to choose one over the other, I would recommend the Equinox 800. This tried-and-true model has some of Minelab's best technology in it. I like that it is fully waterproof without the need for additional kits. I like that it is multiple frequency and can run these frequencies simultaneously or individually. It is lightweight, has a backlit screen, numerical target identification, rechargeable battery pack, and plenty of search modes optimized to a variety of terrains and treasure types. 
Updatable software is another great selling point of the Equinox 800. In 2018, a patch was released which addressed a common user reported error of the detector completely missing silver targets and coins. In this same update, depth gauge indicators, user profile functions, and the user interface were all updated. 
Another update was released in 2019 that fixed the misidentification of ferrous targets, enhanced iron bias, and another fix that was specifically for the Equinox 800's little brother, the 600. The newest software update provides another single frequency for the Equinox 800: 4 kHz. This frequency was added to give more sensitivity to large and deep targets. The update also included a few stability enhancements. 
You really cannot go wrong with either metal detector. But I would still recommend the Equinox 800 over the Deus simply because of the multiple simultaneous and individual search frequencies. The area I live in has awful soil conditions. There is a lot of metals and minerals in the soil, and many single frequency metal detectors have a hard time in this area. The Equinox 800 helps eliminate some of the issues with mineralized soil. 
The Deus has features to help in areas of high soil mineralization too, but the Equinox 800 overall does a better job in these difficult areas. Minelab's are produced in Australia, which is known for its difficult soil conditions and the plethora of gold fields. This company knows a thing or two about making a metal detector for use in poor soil conditions!
FAQ
If you enjoyed this article, please "like" our Facebook page!
You Might Also Want to Read: