Minelab Vanquish 440 vs Fisher F22
There are many fantastic options when it comes to choosing a metal detector. It can be overwhelming and somewhat confusing, especially when you are a new metal detectorist. Two options you simply cannot go wrong with are the Vanquish 440 by Minelab and the F22 by Fisher. Both metal detectors are simple to use, designed for all skill levels, and have a variety of options to help you find treasure. Both are from top tier manufacturers and have proven themselves in the field.
The Vanquish 440 is one of Minelab's newest models and features multiple frequency detection (more on this later). The F22 is part of Fisher's world-renowned F-Series and features a variety of settings. We will compare the 2 detectors in this article and produce one winner in the battle of Minelab Vanquish 440 vs Fisher F22.
Minelab's Vanquish 440 is the mid-level detector in their new Vanquish series of metal detectors. This series consists of the Vanquish 340, 440, and 540. This model, and the entire Vanquish series, is designed, and tailored to beginning detectorists, but it also has many features that intermediate or advanced detectorists will appreciate. This detector can be used directly out of the box utilizing Minelab's pre-set search modes, or it can be customized to better suit your needs.
The Vanquish 440 features Minelab's patented Multi-IQ technology. This is a true game changer for VLF (Very Low Frequency) metal detectors. Most VLF machines are single frequency and to change the search frequency, you must change the search coil (if your metal detector has that option).
Multi-IQ technology allows the Vanquish 440 to operate on multiple frequencies simultaneously. This is extremely helpful in areas with high soil mineralization, electromagnetic interference, and for gold prospecting. The frequencies covered by the Vanquish 440 are:
5 kHz – great for silver, copper, brass, nickel, and aluminum targets
10 kHz – great for copper, zinc, cobalt, and stainless targets
15 kHz – great for large gold and medium to large targets
20 kHz – great for medium gold
40 kHz – great for small or fine gold nuggets or jewelry
The lower frequencies are best for highly conductive metals like silver, while the higher frequencies are best for finding lower conductive metals like gold. Many VLF metal detectors with a single frequency are not the best for gold prospecting because they have an operating frequency under 18 kHz (this is the frequency where gold really shines; higher frequencies are more responsive to smaller gold). There are gold specific metal detectors that operate at higher frequencies, but the bulk of VLF machines are lower frequency and best for general treasure hunting. 
In many areas where gold prospecting is an option, the soil is very mineralized and contains hot rocks, iron debris, and old mining debris. Traditional VLF metal detectors can give off a lot of extra noise in these areas and may even overload and have to be shut down. The first metal detector I ever bought operated at 7.69 kHz. The soil where I live is extremely mineralized and I was constantly getting false readings, digging holes only to find the target seemed to have "shifted," and overloading. A higher frequency detector, a pulse induction detector, or a multiple frequency detector all help alleviate this problem. 
Minelab is produced in Australia, where gold is very commonly found, so they know about difficult soil conditions. The Vanquish 440 with its ability to scan multiple frequencies simultaneously ensures that soil minerals do not give off as many false readings and that you will not miss those tiny gold nuggets!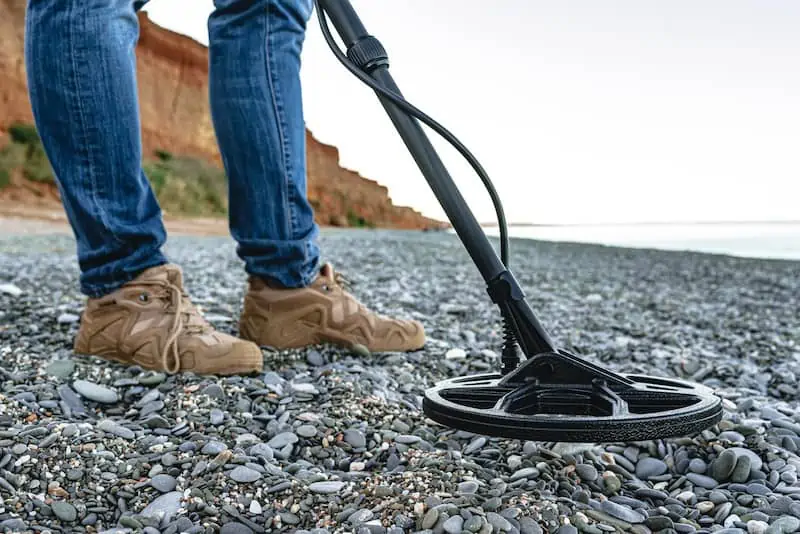 Multi-IQ technology also has better accuracy at maximum search depths than most single frequency metal detectors. The Vanquish 440 comes with 5 search modes and a non-motion pinpoint mode: 
Coin
Relic
Jewelry
All Metal
Custom
This detector works well in all terrains and for all treasure types. The Vanquish 440 features a large LCD screen with numerical target ID and 5 depth indicators. It features 12 discrimination modes, 19 channels of noise cancelling, 3 Target Tones, 10 adjustable volume levels, and is water resistant (not waterproof, so the control box should never be submerged). The V10 10" by 7" Double-D search coil is waterproof. The Vanquish 440 is lightweight at just 2.6 pounds. This model can be used with wired headphones and requires 4 AA batteries. This is a strong contender in our battle of Minelab Vanquish 440 vs Fisher F22!
Fisher's F22 is an entry-level metal detector designed to be used by beginning or intermediate detectorists. The F22 is simple and straightforward. This is a single frequency VLF metal detector operating at 7.69 kHz. This frequency is a good middle ground between depth and sensitivity. The F22 features an LCD screen with visual target ID, large numerical target ID, and iron identifier icon. 
When reading the LCD screen, FE will indicate iron targets, 2 – 5 will indicate gold, and 6 – 9 will indicate silver. Other metals will fall into these segments, too, and the manual will indicate where each metal will fall. Fisher has one of the most helpful manuals I have seen, and I always keep mine with me when I am detecting.
Lower numbers will typically indicate items like pull tabs, zinc coins, and jewelry, while higher numbers will indicate silver, copper, and relics. The F22 has 4 detection modes:
Jewelry
Coin
Artifact
Custom
It also features Fe-Tone iron audio. Iron audio is not typically found on entry level metal detectors. Fe-Tone allows you to adjust the volume of iron targets from silent to maximum, while keeping all other targets at maximum volume. The F22 comes with a 9" concentric elliptical waterproof search coil. The control box is weatherproof, but not waterproof. So, as with the Vanquish 440, be cautious around water and never fully submerge the F22. This model uses 2 AA batteries.
The F22 has 10 adjustable levels of sensitivity, 20 adjustable volume levels, and 4 tone audio identification. This model is lightweight at just 2.3 pounds. The F22 lacks a ground balance feature but does have Ground Cancellation which can help cancel some of the effects of high soil mineralization and electromagnetic interference. The F22 will not work well in saltwater areas because salt is highly conductive, and it will not be the best for finding small gold or fine jewelry. In areas with good soil conditions, however, it will have no trouble finding a coin-sized target up to 9" deep, and a larger target up to 12" deep.
The F22 has been on the market for many years and continues to be one of the best and easiest to use models in Fisher's lineup. This model is simple to use, has a respectable number of features, has a competitive price point, and has a proven history.
Comparison of Vanquish 440 to F22
So, how do these 2 entry-level metal detectors compare to one another? The most notable difference is the operating frequency. The Vanquish 440 uses multiple operating frequencies simultaneously, ranging from 5 to 40 kHz. The F22 uses a single frequency of 7.69 kHz. Both metal detectors are weatherproof but not waterproof. The Vanquish has a slightly larger search coil than the F22. Neither detector features ground balancing, but both have technology to compensate for poor soil conditions and electromagnetic interference.
Both models have adjustable sensitivity, adjustable volume, and audio tones. Both models have a pinpoint mode and different search modes. The Vanquish 440 has one additional search mode over the F22. The F22 features Iron Audio, which some detectorists prefer so they do not miss any targets. Both detectors are lightweight and feature easy to read LCD screens. Both use AA batteries, with the F22 using 2 and the Vanquish 440 using 4.
Both the Vanquish 440 and the F22 have great search depth in good soil conditions, but the Vanquish 440 will have an easier time in mineralized soil. Both have technologies to help alleviate electromagnetic interference. In terms of gold prospecting, the Vanquish 440 outperforms the F22.
The F22 does not operate at an ideal frequency for gold prospecting. It will nonetheless find gold if it is present so long as it is larger or closer to the surface. The F22 will not be able to consistently find small gold nuggets, flakes, or fine gold jewelry.
In terms of reliability, the F22 has proven itself repeatedly. This model has been on the market since 2015 and has consistently been one of Fisher's top sellers. The Vanquish 440 came out with the rest of the Vanquish line in 2020, so it has not had as much time on the market as the F22. 
Many people shy away from multiple frequency metal detectors because older versions had such long processing time. Processing time was slower which led to slower returns and slower treasure retrieval. This has since been addressed and the Vanquish line processors are much faster than older models. In terms of cost, both are close in price. They are again tailored to entry level detectorists, so the companies also kept the price points lower. 
Another point of comparison is the software. Minelab offers updatable software for their Vanquish series of metal detectors. Simply go to their website, find the downloads button, click software, and it will allow you to download any software update available for your Minelab metal detector. 
Once downloaded, you simply connect your detector to your computer viva USB cable and the update is applied. This is a great tactic as any bugs can be worked out and patch can be issued for all users. This lessens the need for manufacturers to issue large-scale recalls to address programming issues for their customers. 
Conclusion
While both the Minelab Vanquish 440 and Fisher F22 are great metal detectors, I would recommend the Vanquish 440 over the F22. The Vanquish 440 is a simple to use detector for any beginning detectorist but has enough features to keep an intermediate or advanced detectorist happy. The custom search mode will allow you to keep your favorite settings for repeated searches in the same area (also featured on the F22). The other pre-set search modes make it simple to turn on and go hunting.
The Vanquish has so many extra features and the Multi-IQ technology. Having a multiple frequency metal detector is basically like having 5 metal detectors at one time. You can search through all 5 frequencies simultaneously ensuring that you do not miss anything. You can adjust the discrimination, sensitivity, volume, and search in all metal mode. 
The Vanquish 440 is the best option for anyone wanting to prospect for gold, too. With the frequencies of 15 kHz to 40 kHz, you will find more gold while hunting. The F22 will struggle to find any gold other than large nuggets which, let's face it, are exceedingly rare in most areas. The bulk of the gold you will find will be small nuggets, flakes, or other fine golds. 
The Vanquish 440 works in all soils and all terrains. It is great for use in parks, fields, beaches, and even saltwater areas. Be aware, however, you may sacrifice some depth in saltwater areas to compensate for the saltwater interference. The Vanquish 440 will outperform the F22 on any saltwater beach, though. The Vanquish 440 also features a pack and carry configuration, making it fold up easily for storage and transport. You can also purchase a V8 8" search coil or V12 12" search coil for the Vanquish. 
Overall, the winner in the battle of Minelab Vanquish 440 vs Fisher F22 is the Vanquish 440. 
FAQ
Q: I have never used a metal detector before. Which of these 2 is the easiest to learn?
A: Either one of them! Both the Vanquish 440 and the F22 are designed and tailored to entry level metal detectorists. While they have a lot of features that can seem overwhelming if you are new to the hobby, they both have built-in search modes that will allow you to unpack the detector and immediately start hunting. 
The settings outside of the pre-set search modes can be learned at your own pace. For most areas and most soil types you can immediately start hunting with these machines. If you live somewhere like I do with high soil mineralization, you will quickly learn how to adjust your detector to filter out some of the noise from the soil and give better target readings. All in good time! 
Q: Can I use these metal detectors in state or national parks?
A: Most state and national parks forbid the use of metal detectors on their property. As with anything, this is determined by each park individually. Some state parks have areas where you can legally metal detect, while others outright forbid the use of detectors. A lot of national parks are historic locations too, and most historical locations are off limits for detectorists. 
As with anything, ensure you check with your local, state, and federal laws to keep within the boundaries. You will be fined and can have your equipment confiscated or even be charged with a felony for detecting or digging on most federal lands. So be sure to do your homework! You can, however, metal detect in most areas of national forests. Again, ensure you double or even triple check just to make certain.
Q: Why is multiple frequency metal detecting better than single frequency metal detecting?
A: Multiple frequencies are not necessarily better than single. They just offer more options. There are a massive number of great single frequency metal detectors out there that are faster than many multiple frequency detectors. The technology has advanced quite a bit making multiple frequency metal detectors quicker. 
Many times, a multi-frequency machine has better depth, and again, can overcome soil mineralization better. They can also give you more variety in searching in terms of treasure type because they can better find certain treasures. Traditionally, the only way to chance your search frequency is with another metal detector or another search coil. Multiple frequencies eliminate that need. 
Q: Where can I go for help with metal detecting?
A: One of your best options for metal detecting help, besides these wonderful and insightful articles, of course, is a metal detecting club. These can be virtual or in person. Nearly every major city in the United States and Canada has metal detecting clubs. Many of these club members have been detecting for years and they can help you with every aspect of the hobby from setting up your metal detector, identifying finds, looking for new hunting location, laws, and regulations to follow, and tips and tricks. 
A quick Google search of "metal detecting clubs" in your area will bring up all the clubs near you. You can also check social media sites for online versions of metal detecting clubs. It can be hugely helpful to have a veteran explain things to you and help you become a better and more confident metal detectorist.
If so, please "like" our Facebook page and be sure to revisit Discover Detecting for new content surrounding the metal detecting hobby!
You Might Also Want to Read: