Beginner vs Intermediate Metal Detectors Buying Guide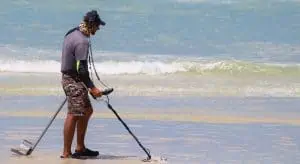 Being a newcomer in the world of metal detecting can be confusing. There's so many choices when it comes to equipment and so much jargon to keep straight. It feels like you need to be a rocket scientist just to figure out the basics.
Can't you just buy a machine, turn it on, wave it over the ground and find something without understanding all the mechanics behind it?
Yes, you can.
But first, you need to determine how far you want to dive into the pool of metal detecting -– are you the shallow end type or are you ready to splash around in the deep end?
In this article, we're going to help beginners and intermediates alike help find a metal detector that meets their needs, experience, and budget.
And to help us get started, please take a look at the interactive table below which contains a variety of popular metal detectors (some of which we will be discussing in-depth in today's article).
What kind of detector should you get?
Are you planning to be out there almost daily looking for treasure or relics? Or are you going to be the occasional weekend warrior type because you have so much on your schedule already? Ask yourself those questions before deciding which detector to buy.
Figuring out how much time you'll be spending with your detector in hand and digging in the trenches will help you decide how much money to fork over for a machine. There's two categories of detectors you'll want to consider –- low-end for beginners or mid-range for those who are more advanced or who want to jump into the hobby with both feet.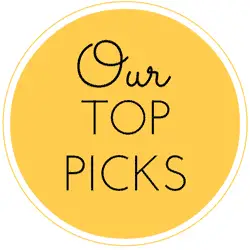 Below, please take a look at some of the best-selling metal detectors currently available on Amazon:
What can you expect if you buy a low-end machine?
The performance isn't as great with a low-end machine and you usually won't have some of the more advanced features like numeric target identification, but you'll still be able to find cool relics, coins and precious metals. You won't have to take out a part-time job just to afford your detector either.
You can find good low-end machines for well under $300, but I would suggest you stay at or above the $150 mark so you can get a machine that is able to reliably handle the basics. There are machines out there for under $100, but I wouldn't recommend them. I think of those more as toys for curious children.
My experience with a low-end machine
I went with a low-end Bounty Hunter for my first machine because I had cold feet – I didn't want to plunk down a lot of money for a hobby I had never tried. I didn't believe in the beginning that I would be able to find anything other than junk.
So I paid $150 for my Bounty Hunter Quick Draw 2 and went out into the field to test it, blissfully unaware of how a metal detector worked or how to use my discrimination mode. At the risk of sounding like a complete moron, did I mention I hunted in my backyard close to my house just a few months after we put a new roof on? Does anyone want to guess what I found?
My body weight in nails.
I pulled one after another out of the ground, firmly believing my next target would be my big find. After a couple hours of digging, it finally happened. I pulled something out of the ground that wasn't a nail. It was a garden stake, which might have made a lesser detectorist swear off the hobby altogether.
It didn't deter me, but it did make me smarter. I noticed the difference between the tones my detector made for the nails compared to the ones it made for the garden stake. I went inside, read the manual and realized I had a lot to learn.
Are mid-range machines better?
Although I did eventually upgrade to a better machine, I spent a couple years hunting exclusively with my low-end Bounty Hunter. Despite its low-end reputation, it was a good metal detector. I found some incredible coins, jewelry and relics with it, but there were some inaccurate signals and false positives that a better machine would have weeded out.
Even though a better machine would have saved me some time avoiding bogus digs that didn't pan out, I wasn't ready for that power yet. I wasn't prepared to put in the leg work that a better machine would have required, at least not in the beginning. I might have been discouraged and overwhelmed –- like a student on his first day in trigonometry class. It might have turned me off metal detecting forever. Instead, I went at my own pace with my cheap unit and upgraded when I finally figured out the ropes.
If your idea of a fun time is reading manuals, you might want to consider getting a mid-range detector for your first machine. I just didn't have the patience in the beginning to devote myself to studying -– I wanted to be out there digging.
If money factors in to what metal detector you'll choose, here's the scoop – you can expect a good mid-level machine to generally set you back $400 to $600.
For a first detector, I would never encourage anyone to spend more than $400 or $500. I like the idea of starting with a machine that isn't that expensive because you'll have some trial and error under your belt before you've made a significant investment. It will give you time to figure out what features are important to you in a detector and where you most like to dig.
Why is the location of the dig important?
Certain machines are made for general all-purpose metal detecting, but some units have additional features that help with the more challenging areas to dig – like beaches or soil with high mineralization.
You don't want to make the mistake of spending $200 on a low-end machine that can't handle sand hunting when you live two miles from the beach.  If you plan to hunt in streams, creeks or near lakes, make sure you take that into consideration and pick out a waterproof machine.
Don't let other detectorists' snobbery influence you
Rubbing elbows with other detectorists can be a great thing. You can learn a lot and you get to spend time with people who are just as passionate about detecting as you are. But, just as there are in every hobby, there's a lot of know-it-alls out there in the detecting world. They'll roll their eyes at your low-end machine or the brand you choose to buy. They'll try to make you feel as if you have selected an inferior machine.
I've taken so much crap over the years for using Bounty Hunter detectors because they have earned a red-headed stepchild reputation with some detectorists. I've never understood their attitude – my finds have been as good as theirs. Bounty Hunter machines have a lot of fans out there. I'm not claiming they are the best machines on the market, but for entry level purposes, I love them.
The most important thing, no matter what detector you choose, is this – spend time getting to know your machine. That's what will find you great relics—knowing the quirks and limitations of whatever machine you are using.
If you eventually decide to upgrade, it still wasn't a waste to buy a low-end machine to start with. You'll have a spare unit you can rely on and you can lend it to a friend so you can do some buddy hunts. Even though I've since upgraded from my low-end Bounty Hunter, I still get it out of the closet occasionally and use it. All these years later, it still pays for itself every single year.
If you're looking for some great entry level to mid-range machine suggestions, here are five great picks to get you up to speed.
5 low-end to mid-range machines to consider
Let's first begin with the Garrett Ace 200.
This detector has a waterproof coil, three search modes and four sensitivity adjustments. Great for beginners, you can purchase this unit for about $175. With one or two good hunts, you can have this machine paid for with your finds.
This light and easy-to-swing unit can be purchased for under $200. The Coinmaster has a decent depth reader. It also has five-range discrimination so you can weed out signals from iron and other metals you might not want.
Bounty Hunter Pioneer 505
This machine doesn't have many bells and whistles, but you can get it for around $250 and it has all the basic operations a beginner will want. You don't have to be a bodybuilder to carry this unit around on all-day hunts because it's light enough that your arm won't get tired.
It's user friendly for beginners – you won't have to invest much time into figuring out how to operate the Pioneer 505. I've used this machine a lot, and it has proven to be reliable and durable.
White's Electronics has earned a reputation as being one of the best metal detector brands out there. They've been making metal detectors in the U.S. for more than 60 years. This is one of their lower-end units, which you can get for under $300.
Although it costs less than their other units, it has the same quality White's is known for. There won't be any cramming required before you use the TREASUREmaster. You can turn it on and start hunting right away. There are settings you can tinker with, but it has some great automatic features like ground balancing to take some of the learning curve out of metal detecting. It also has a beach mode and waterproof coil, which makes it a good choice for hunting in the sand and in shallow water.
If you want to spend a little more to get mid-level performance, the Fisher F4 is just over $400. It has features you don't often see on basic models, such as a numeric target identification and a waterproof 11-inch search coil. Even with its more advanced features, it's still user friendly. And if you prefer to play around with the settings as you get more comfortable with your machine, this unit allows for that with manual ground balancing.
If you enjoyed this article, please "like" our new Facebook page!
You Also Might Like: