How to Go Metal Detecting in Florida Successfully
Each state in the United States offers unique possibilities for metal detectorists. Florida is no exception. Florida has miles and miles of beautiful beaches to relax on and can be the perfect location for metal detectorists. A lot of notable shipwrecks have been found off the Florida coasts. 
After storms hit land, you'll find that coins, jewels, and other relics often wash up to shore. This makes for exciting possibilities for metal detecting. Florida has its own set of rules and regulations for metal detecting, which vary by location. Always remember to research the area you want to metal detect and ensure you are following all the proper procedures. 
Metal Detecting Laws in Florida
Florida is relatively relaxed when it comes to metal detecting regulations. That is not to say that there are no laws pertaining to metal detecting. Every state has its own laws and rules, and there are federal level laws that cover metal detecting and finds. You are permitted to metal detecting on public beaches, except those connected to private property. Those are off limits now with a recently introduced bill called HB 631. Some items found in the Florida waters or sands for over 50 years are considered property of the state.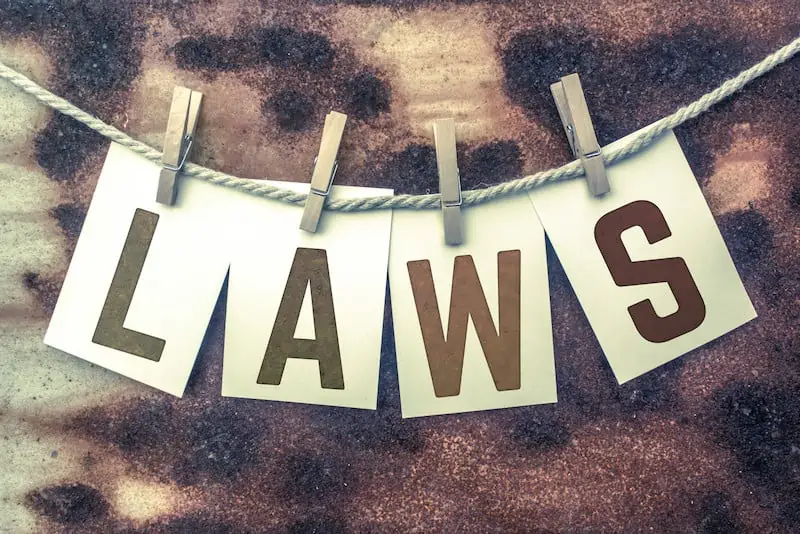 It should be noted that in Florida, the "Finders Keepers" law does not apply. It is technically a criminal offense to find something of value and not turn it in. They call this theft by finding. If you find an item in a public space, you are supposed to turn it into the local police. However, the police can charge you, the finder, with the cost of storing the item and advertising the lost item. If the rightful owner comes forward, they are required to reimburse you for any costs incurred. I am unsure how heavily this law is monitored considering Florida beaches are one of the most popular metal detecting locations and almost all treasure hunters keep the things they find.
National parks, national monuments, and many seashores in Florida ado does not allow metal detecting, Per the code of federal regulations, any possession of or use of a mineral or metal detector, magnetometer, side scan sonar, or other metal detecting device is strictly prohibited in all national parks. Florida State parks can allow metal detecting but not all of them. It is up to the park rangers where and when a person can detect. Any area deemed historically or culturally important is completely off limits to most metal detecting. 
Metal Detecting Clubs in Florida
Florida, like most states, has a variety of metal detecting clubs around the state. There are many good reasons to join a metal detecting club. You can get input from other members about the art of metal detecting.
You can discuss makes and models of metal detectors to help find the one that is right for you. You can get help with your techniques and help identifying your finds. Many members of these clubs have been detecting for years, so they have a wealth of knowledge to share. Some metal detecting clubs in Florida are:
South Florida Treasure Hunter's Club
Historical Recovery Association of North Florida
Ocala Metal Detecting Club
Dig & Find Coinshooters & Historical Club
Panhandle Research & Recovery
Suncoast Research & Recovery Club
Central Florida Metal Detecting Club
Treasure Coast Archeological Society
West State Archaeological Society
Villages Treasure Hunters Club
Gold Coast Treasure Club
Manatee Search & Recovery Club
GPAA Orlando Chapter
GPAA Starke Chapter
GPAA South Florida Gold Coast Chapter
This list is not all encompassing, so there are many more metal detecting clubs throughout the state of Florida.
Metal Detecting in Florida County Parks
As with most states, Florida county parks have different rules and regulations for metal detectorists. You will need to double check with your county or city to ensure that you are following all the laws pertaining to metal detecting. 
In Marion County, Florida, the use of metal detectors on county-owned or managed park facilities may only be undertaken with a permit from the parks and recreation office. These passes cost $10. The pass must be clearly visible while metal detecting, metal detecting can only be done during daylight hours or operating hours, archaeological or culturally significant items found cannot be kept, and you may not disturb other park users. Horseshoe Lake Park & Retreat, Fort King National Historic Landmark, and all county-owned sports fields are off limits to detectorists. 
In Orange County, Florida, you must obtain a permit to detect. Lifetime permits are granted for metal detecting at all eligible sites. An application can be found on the Orange County Parks & Recreation website. Polk County, Florida forbids the use of metal detectors on environmental lands unless an authorized special use permit is obtained or offered. Lake County, Florida bans the use of metal detectors on park property. 
As you can see, each county will have its own rules and regulations for metal detecting on county park property. Always ensure that you check with your local county authorities prior to metal detecting to make sure it is legal in the park you want to search, and that you obtain any proper permits.
Metal Detecting in Florida Keys
Metal detecting in the Florida Keys is a complicated issue. Again, there are restrictions and rules that apply to certain areas and metal detecting. Many of the beach areas in the Keys are gravelly and extremely hard.
You also must be aware of salvage claims and state parks within the Keys. These areas are strictly off limits for detectorists. Your safest bet would be to contact the Monroe County Parks and Beaches division and speak to them about metal detecting. They will be able to tell you exactly where you can and cannot metal detect in the Florida Keys. 
Metal Detecting in Florida Beaches
Florida is well known for its scenic beaches and beautiful weather. The Florida beaches are also one of the most popular places for metal detectorists because of the number of coins, jewelry, and other precious items found in the sands. Remnants from the 11 Spanish galleon ships that sank off the Florida coast in the 18th century wash ashore occasionally and these lost treasure can be worth millions of dollars. 
Metal detecting the dunes and water is prohibited in most places in Florida. You can, however, metal detect on public beaches between the edge of the dunes and the high tide mark. Always check with the park rangers or park managers before metal detecting on state or federal park lands. 
Here are some of the best beaches in Florida to metal detect:
Vero Beach
The area around Vero Beach is known as Treasure Coast. This stems from the gold, silver, and other ancient treasures unearthed in the area. In the late 1950s, Spanish coins began washing up on the beaches and treasures have been found in the area ever since. The McLarty Treasure Museum has a collection of coins, tools, and weapons salvaged from sunken Spanish treasure fleets. You can even rent a metal detector for the day from local stores if you wish to hunt in Vero Beach.
Melbourne Beach
Melbourne Beach is another treasure trove. It is a great spot for typical beach activities, and metal detecting the area is no exception. Pieces of Eight coins and jewels from old shipwrecks have been found along Melbourne Beach. It should be noted that you watch for private property lines along this coastline. You can be fined and have your equipment and finds confiscated if you are caught metal detecting on private property without proper permissions. 
Wabasso Beach
North of Vero Beach is Wabasso Beach. This is another fantastic location for treasure hunters. The famous 1715 sunken treasure fleet is nearby, as well as a Spanish ship that sank in 1618. Precious gems and ornaments have been found in this area. This beach is a popular metal detecting site, especially after a storm. Storms tend to wash up or uncover treasures, so that is a wonderful time to metal detect. A man named Jonah Martinez was metal detecting Wabasso Beach in February 2020. He uncovered nearly 2 dozen silver coins worth between $5,000 and $6,000.
Lori Wilson Park
Lori Wilson Park at Cocoa Beach is not as well metal detected as other beaches. This means there could be a variety of treasures waiting to be uncovered. There is a shop near Lori Wilson Park that rents metal detectors if you do not have your own. This area is great for detecting because it is frequently used by families and groups, so you have a good chance of finding something they dropped. 
South Beach
South Beach is popular among local Floridians. A suspected British pirate ship was caught raiding the 1715 shipwreck in the area, so you can find treasures from the 1700s and 1800s here, as well as more modern items people have dropped. 
Seagrape Trail Beach
Seagrape Trail Beach is a secluded beach where multiple silver coins from the 1715 Spanish Fleet wreck have been recovered here. The Turtle Trail Beach is a beautiful place to detect along the Seagrape Trail Beach area. Some notable treasures recovered from this area are gold Reales and other gold and silver coins. 
Aquarina Beach
Many 1715 Spanish coins have been found within the Aquarina Beach area despite the fact no shipwrecks have been discovered on the reef. This beach is close to Melbourne Beach so you can detect here during the same trip if you desire. 
Conclusion
Florida is a great state to use a metal detector in. You can search in parks, beaches, and some state parks. Many notable finds have been uncovered in Florida by metal detectorists. Shipwrecks off Florida's coasts wash up after storms and disperse new treasures. Many Spanish coins and relics have been found by detectorists in the state. 
Always make sure you follow all the rules and regulations set forth for metal detecting in Florida. You may need to do some research before you head out detecting to protect yourself. You can get in a whole lot of trouble if you are found metal detecting in a prohibited area or removing items from areas where archaeological or culturally important items are known to exist. 
Take a day and head down to one of Florida's many beaches. These areas are rife with treasures! You may find coins and artifacts from the 1700s and 1800s, as well as more modern finds dropped by tourists and locals who visit the area. 
Be sure you follow the metal detecting code of ethics. You are a representative of all metal detectorists so always be polite! Fill in any holes you dig, do not disturb plants or animals, be courteous of other people, and turn in any culturally or archaeological finds to the proper authorities. 
FAQ
If you enjoyed this article, please "like" our Facebook page!
You Might Also Want to Read: