Metal Detecting in Maryland – Where to Detect and Key Laws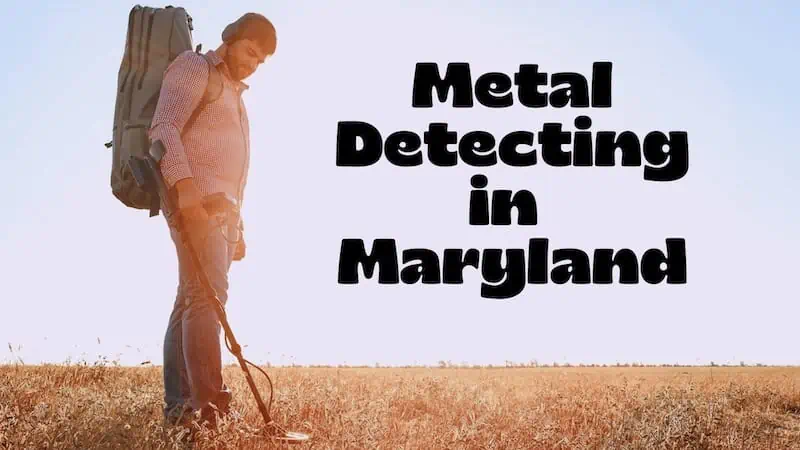 Maryland is a fantastic state to metal detect! Known as Little America, Maryland has a hugely diverse landscapes including beaches, mountains, sand dunes, forests, and farmlands. Maryland played a critical role during the Revolutionary War and Civil War.
Native American artifacts may also be found in the state. Be aware that Maryland can be a difficult state to metal detect as permits are required for nearly all areas within the state. Always follow the laws and if you are unsure, check with the local authorities to keep yourself out of trouble!
Despite the regulations upon metal detectorists, Maryland has a lot to offer. The state is beautiful and offers fantastic views while you search for treasure. You can hunt on many beaches within Maryland, and potentially find lost jewelry, coins, or items washed ashore from shipwrecks. You can also check out some of Maryland's ghost towns in hopes of finding relics from the past. 
Metal Detecting Laws in Maryland
As with all states, Metal detecting in Maryland requires detectorists to follow all federal and state level laws. Federal laws that must be followed include the Archaeological Resources Protection Act and the National Historic Preservation Act. Per these laws, any site or property considered historically or culturally important may not be metal detected. You also may not pick up any artifact over 100 years old without the proper permissions. Damaging these areas, including any digging, will result in fines, confiscation of finds and equipment, and even jail time. 
State property such as State Parks also have their own rules and regulations. Typically, you may only detect during normal park hours and must only be looking for modern relics. If you are an archaeologist, you can get special permits allowing you to find older objects or metal detect in areas you are normally not allowed to be in. 
Digging for any relic or treasure, or removal of prehistoric or historical artifacts, along with metal detecting within the lands, beaches, or under water in areas controlled by Maryland Park Service is prohibited without a permit, which is only issued to archaeologists or other qualified persons who plan to search in the name of science. You may metal detect for modern jewelry, coins, and other items on swimming beaches except for Point Lookout State Park and Calvert Cliffs State Park.
All other metal detecting locations require permits in Maryland. If you are looking for historical relics it must be specified when requesting a permit from the state. Permits are given by park rangers at State Parks, at their discretion. Local authorities in cities and/or countries oversee giving permits in their areas. 
When metal detecting on private property, ensure you receive written permission from the property owner. Written permission keeps you safer than oral permission. When detecting on private property, you are not bound by as many laws as if you detect on state or federal lands. 
As always, ensure you do some research before you head out metal detecting in Maryland. You can save yourself a lot of headaches and potential legal troubles if you do this step first. If you are unsure where to start, head to your local City Hall or County building to inquire about metal detecting laws in your area.
Best Places to go Metal Detecting in Maryland
So, really, what exactly are some of the best places to metal detect in Maryland?
Gold prospecting is one of the most popular hobbies for metal detectorists in Maryland. Areas like Great Falls are still operational gold mining locations, and metal detectorists like to search this area for scraps of gold. Many mines in Howard County, Baltimore County, and Frederick County are all home to old gold mines. Always be aware of dangers when metal detecting near old mining sites. Most gold found in Maryland is placer gold, but you can still find veins of gold in quarts. 
Today, significant gold comes from the Potomac area. Many abandoned mines dot the area. You can also find gold deposits in or near Woodbine and Libertytown. Keep in mind that whether a mine is operational or defunct, it is likely private property. You will need a state permit or find the owner of the property prior to metal detecting the area.
You can also metal detect on one of Maryland's many beaches. Beaches attract both locals and tourists alike. Because they are frequently populated, there is a higher chance of finding more modern trinkets dropped by beachgoers. Metal detectorists still find coins from the Colonial Era, Civil War, and Revolutionary War on Maryland beaches. Some of the best beaches to metal detect are: 
Ocean City Beach
The town of Ocean City receives approximately 8 million visitors annually, and as such, the beach is full of dropped items!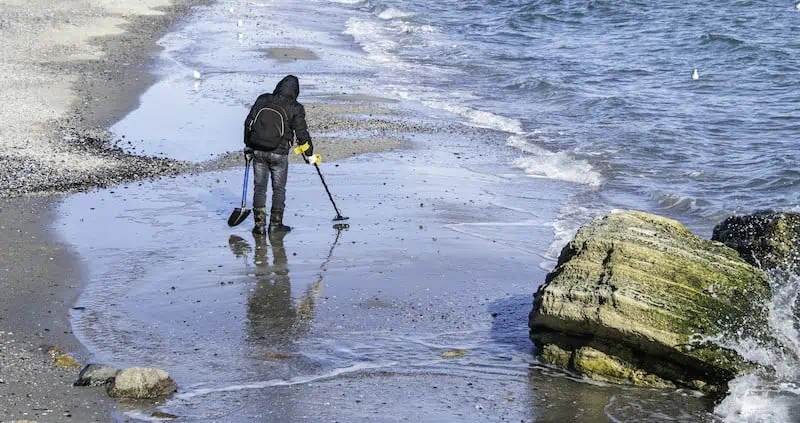 Assateague Island National Seashore
An undeveloped strip of land full of wildlife trails. The area is great for beach camping.
Sandy Point State Park
Popular area for fishing, hiking, swimming, and bay watching, also home of the Maryland Seafood Festival every September. Great area for dropped items!
North Beach & Chesapeake Beach
Twin beaches popular with travelers from Washington DC and other nearby cities. 
Gunpowder Falls State Park Hammerman Beach
A popular beach for swimming with concession stand, boat launch, and kayak and paddleboard rentals. 
Another great place to hunt for treasure in Maryland is Harmony Grove. Harmony Grove is one of the state's most popular ghost towns for metal detectorists. Settled in the 19th century, Harmony Grove had a mill, which kept the town afloat. It soon expanded to include more services and buildings, and even a railroad! The mill closed in the 1960s, which bankrupted the town. Crumbling buildings and abandoned railroad tracks are all that remain today of Harmony Grove. Metal detectorists often find artifacts from the former inhabitants of the town. 
Maryland Gold Mine is a good place to prospect in Maryland. This mine was established in 1867 after a Civil War soldier found gold in the area. The mine operated for many decades, eventually ceasing operations in 1939. Metal detectorists still venture to Maryland Gold Mine to find pieces of gold left behind by the old miners. This is a National Historic Site, so you must obtain the proper permit if you wish to metal detect here. 
Some areas you can easily search with the proper permissions include your own yard, schoolyards, old building sites, local landmarks that draw in tourists, parks, forests, beaches, underwater, old battlefields, and ghost towns. Many of these places have a lot of foot traffic so you will have a good chance of finding some dropped loot!
How to Get a Metal Detecting Permit in Maryland
Whether you are using a metal detector for hobby or archaeological study, you must obtain a permit to metal detect in most areas of Maryland. For archaeological purposes, you can apply for a permit with the Maryland Historical Trust. These permits will allow you to detect on state property or underwater, depending on your needs. 
Many cities will also require a permit to detect on city property. For example, the city of Baltimore requires you to apply for a metal detecting permit by downloading a form from their website, or visiting the Department of Recreation and Parks in person to fill out the form. The city of Emmitsburg prohibits metal detecting within city parks. 
As you can see, some cities will have different rules for metal detecting. Make sure you contact the proper authorities in the city or county you wish to metal detect to ensure you have the proper permit and are following all guidelines. If you plan to hunt in a state park, make sure you speak to the park rangers before you detect to ensure you have a permit and permissions. 
Metal Detecting in Southern Maryland
Many areas in southern Maryland are quite old, with some roads appearing on maps from 200 or more years ago. This means you have a good opportunity to find some older relics in these areas. However, if you are going to metal detect on public lands or state-owned lands, you will be subject to the federal level laws governing older relics. This means you cannot pickup any item over 100 years old. If you know someone in southern Maryland with their own property, or if you have your own property, you can metal detect for any items you want! 
If you have the right permissions, you can search near the Potomac River, which has always been a highly used waterway. You may be able to detect in the shallows and beaches, or, if you have a fully waterproof metal detector, deeper under the water. Rivers are great areas to find artifacts. 
Metal Detecting Clubs in Maryland
There are metal detecting clubs in all states in the US, and Maryland is no different. Some of the metal detecting clubs in Maryland are:
Maryland Artifact Recovery
South Maryland Artifact Recovery Team
Shore Seekers Artifact & Recovery
Eastern Shore Treasure Club
South Mountain Relic & Coin Club
Metal Detecting in Montgomery County, Maryland
All parks within Montgomery County have a rule stating that no person is allowed to use a metal detector or dig into the surface of park property without an authorized permit. Montgomery County, or MoCo, as it's known locally, is notoriously difficult for metal detectorists.
Most of the areas are off limits or require permits. There is not a whole lot of information on the internet about obtaining a permit or what type of permits the county issues. I would go into the city hall in Montgomery County to find out more information prior to metal detecting the area. 
Conclusion
Maryland is a great place for metal detectorists. Remember to follow all federal, state, and local laws regarding metal detecting. Most areas of Maryland will require you to obtain a permit prior to metal detecting. If you are caught metal detecting without a permit or in an area where detecting is not permitted, you can be fined, have your finds and equipment confiscated, or even serve jail time.
It is not worth the risk!
Talk to the local town or city hall, park rangers, or parks and recreation district to find out where you can detect and if you need a permit. Following the laws will ensure you have the best time metal detecting in Maryland!
Maryland is known for gold, so you may have some luck metal detecting near some of the old mines around the state. Old time gold miners often focused on larger nuggets, and their old spoils are full of smaller gold. You can also check out some of Maryland's ghost towns with your metal detector. You may find relics from the past!
FAQ