Metal Detecting in Oregon: Tips, Tricks, and Laws to Know
Oregon has an extensive history. Native American tribes inhabited the region for thousands of years. Native artifacts are found all over the state, as well as relics from the first European settlers to arrive in Oregon in the 1500s. 
Metal detecting opportunities range from beach hunting along the picturesque coastline, to remote ranch houses in densely forested eastern Oregon, and abandoned mining camps in southern Oregon. All of these come together to make metal detecting in Oregon a great hobby.
One particularly interesting relic Oregon is known for is the fabled Phoenix Buttons. These small brass buttons were designed and produced in Europe for the army uniforms of King Christophe of Haiti. They never made it to Haiti, however, ending up around the Columbia River and Puget Sound. 
These buttons, smaller than a US quarter, were brought to the area to trade with the Native population for furs and other items. Each Phoenix Button is a small piece of history. Oregon is full of amazing treasure like the Phoenix Button just waiting for a metal detectorist to find!
Tips for Metal Detecting in Oregon
Let's of course begin with Tip #1.
Metal Detecting Tip #1
Always contact the entity or person in charge of the land you wish to metal detect in Oregon. Some areas are operated by state entities, others by federal entities. Yet others are private and require written permission to metal detect. Whatever the case may be, one of the most important tips for metal detecting in Oregon is to ensure you have the proper permissions and follow all laws.
Metal Detecting Tip #2
When metal detecting in Oregon State Parks, you must use small digging implements only and ensure you refill all holes dug. You should never disturb any shipwreck, historical, or archaeological sites while metal detecting.
Metal Detecting Tip #3
Make sure you always have the right kind of metal detector when hunting. Areas along the beaches of Oregon will require a different type of metal detector than hunting in areas with no saltwater. Saltwater can really interfere with a metal detector's readings so it is important to do some research about different types of detectors and find one that will work well for where you are hunting and what you are hunting.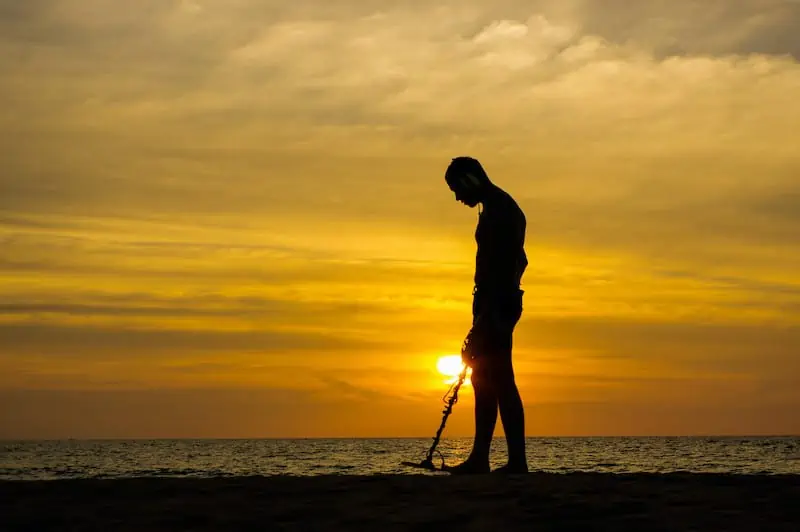 Metal Detecting Tip #4
Check along Oregon's rivers for potential gold. Oregon is known for gold production and the waterways in the state still contain a lot of gold. 
Metal Detecting Tip #5
Try metal detecting near old mining camps, mining towns, and old mines. Miners often left behind smaller bits of gold when they were prospecting, and these can be found all around these old mining sites. Try searching in old tailings piles left near mining locations. These are great areas to find potential gold!
Metal Detecting Tip #6
Because of Oregon's rich history, try metal detecting along old trails. Many settlers traveled along the same routes and the likelihood of finding some relics from the past is very good along the trails. If you are unsure where to start, take a trip to the local library and find old maps, or look online for maps and information about early settler's routes.
Metal Detecting Tip #7
If you are new to metal detecting, or new to detecting in Oregon, try searching videos and articles online of others who have detected in the areas you plan to search. Many detectorists online have good informational videos and blogs with great tips and tricks for newcomers to the hobby. There may also be some information you did not know about an area. 
Metal Detecting Tip #8
Try metal detecting in the fall in Oregon. Not only is the scenery spectacular in the fall, but there will be less activity in recreation areas during the cooler months. Summer is peak travel time, so detecting outside of the summer months can yield better results. Recreation areas have seen travelers all summer long and those travelers are almost guaranteed to have left something behind for you to find. 
Metal Detecting Tip #9
Try metal detecting in areas where Native Americans inhabited prior to the early settlers of Oregon. These areas are home to amazing relics from the Native American tribes that inhabited the area. Be aware, however, that many Native artifacts will be over 100 years old and must be turned over per the Archaeological Resources Protection Act.
If you find them on private property, you are free to keep them. If you do come across an artifact, and can positively identify it, consider donating it back to the tribe it came from. I live very near several Native Ute reservations in Utah, and many people donate the items found back to the tribe so they can showcase their histories. 
Metal Detecting Tip #10
Always take the proper tools with you when metal detecting in Oregon. You will want a good metal detector, quality digging implement, finds pouch, trash bag, plenty of water, and maybe a good pinpointer.
Pinpointers are handheld metal detectors that can help you more precisely narrow down your search area. 
Tricks for Metal Detecting in Oregon
1) Don't ignore faint alerts from your metal detector. Iffy signals are not what a detectorist wants to hear, but they can often be something valuable. If you have the time to dig them, do so. If it turns out to be junk, then at least you have cleared it away so you can rescan the area and not find as many trashy targets. You will always find more trash than treasure when metal detecting. Remember to always pack out the trash you find!
2) Never assume an area is hunted out. We hear it all the time as metal detectorists. How a site has been scanned so many times it is hunted out. If a site has produced finds, it will likely continue to do so. You can rescan and dig more to find additional targets. You may need to adjust the sensitivity and depth of your metal detector or try taking along a completely different metal detector to find any items you may have missed.
I know my metal detector has often missed items that someone else's has found. I have personally seen it many times. One detector may show no signals, while another, with different settings equipped, finds something. 
3) Check with your local library for information about the history of your city or town. This information can lead you to abandoned homes, abandoned towns, closed mines, any kind of battlefield in the area, old trails used by settlers, Native American locations, old river crossing, old town dumps, and much more. This is a great place to start your metal detecting trip in Oregon as you can obtain a better understanding of what you may find and where you may find it. 
4) f you come across an item, whether it be a relic, coin, or piece of jewelry, you will want to make sure you properly identify it.
There are many ways you can do this. With coins, you can use visible cues like the rim, edge, portrait, date, denominations, mint mark, and inscription to help you determine what it is. You can also take it to a numismatists or local coin dealer or search online for similar coins. You may even have luck talking to people in a local metal detecting club.
When identifying a relic, you can start your search online or by taking the item to a local museum or university. Jewelry can be trickier, as it may be historical or more modern. For more modern jewelry, a jeweler can evaluate the piece for you and tell you what it is made of. There is a coin shop in my little town that has an XRF analyzer, which is a handheld device that can tell the composition of metal objects. Do some research in your local area to find help identifying your finds.
5) Make sure you have a plan for searching locations. Many areas do not seem that large until you are out there swinging a metal detector with an 8" search coil and realize you have a huge area to scan. Break the site down and search in a grid pattern, slightly overlapping as you make your passes. This can help ensure you do not miss any targets that may be just out of reach during your initial pass.
Keep track of where you will start and end your search, then break down the site into smaller, easier to handle areas. When detecting on the beach, follow the towel line (where most people site) and grid your way down to the water, or up to the parking area. When detecting in the forest or park, find landmarks such as trees or water bodies to use as your end points. 
Metal Detecting Laws in Oregon
As with all states in the county, Oregon metal detecting is regulated by the Archaeological Resources Protection Act. This is a federal level law aimed at preserving historical and culturally significant artifacts. The Act prohibits the removal of man-made objects over 100 years old form public grounds.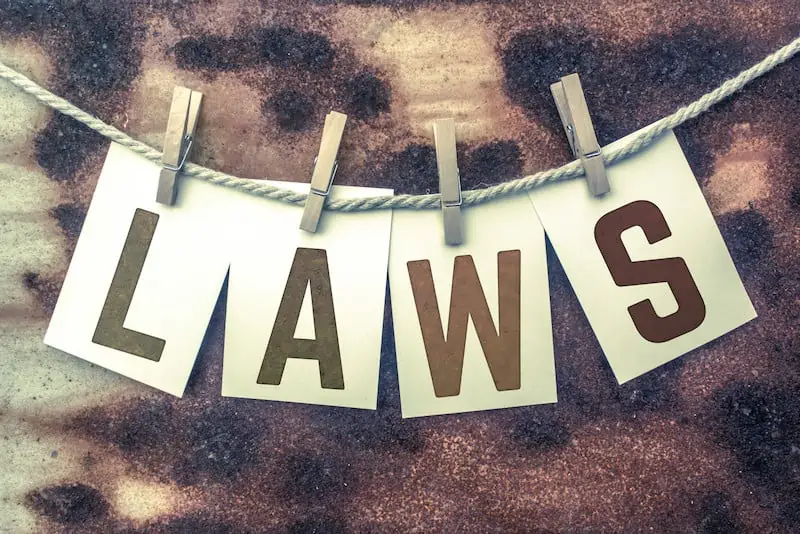 While the Act affects public lands, when metal detecting on private property, you can remove objects of any age. If any such item is found on state, federal or public land, it should be reported to the proper authorities. Failure to declare these finds, or keeping them, can result in heavy fines and confiscation of the finds and potentially your metal detecting equipment.
Metal detecting within Oregon state parks is allowed in specific locations. We will discuss more about that in the next section. As with most national forests, metal detecting is allowed in certain areas. 
For example, in the Umpqua National Forest, metal detecting is allowed in the Cottage Grove Ranger District, Diamond Lake Ranger District, North Umpqua Ranger District, and Tiller Ranger District. Ensure you speak with the ranger before you metal detect to stay within any regulations and laws. 
If you wish to metal detect in city parks, contact the parks and recreation department directly to verify the rules and regulations. These will vary by city and county. If you wish to metal detect on private property, it is critical to get written permission from the landowner. Written permission protects you much better than oral permission, so always get it in writing! 
Metal Detecting in Oregon State Parks
Metal detecting in Oregon state parks is allowed in specific areas of the parks with no permit required. Dozens of state parks allow metal detecting with no permit, including Ocean Shores beach area, Driftwood Beach lawns and developed picnic sites, Elk Creek Tunnel in all developed areas, Winchuck in all developed areas, and Jasper in all developed areas. 
Areas not included on the Oregon State Park's list may be open to metal detecting with an approved permit. Park staff retain the right to approve or deny any permit and ultimately make the final decision. 
For parks that are unstaffed, you may call the state park office to discuss a potential permit. They can be reached at 1-800-551-6949, Monday through Friday from 8 am to 5 pm.
While metal detecting on state park land, all federal and state antiquity laws must be followed. Shipwrecks are considered protected archeological sites and must not be disturbed. 
If you find an item on state park land of possible cultural or historical significance, leave the item where it was found and contact park staff. When probing and digging, you may only use an ice pick, screwdriver, or small knife. Large digging tools are prohibited.
All dirt or other turf must be left in its original condition after digging. Any item found in the park with an assumed value of over $100 must be turned over to the park manager. No person shall cut any vegetation when metal detecting, and no motor vehicles may be driven to digging sites. 
Metal Detecting at Oregon Beaches
Many beaches in Oregon allow metal detecting without a permit. Check with the Oregon State Parks' website to determine if the beach you wish to detect requires a permit. Beaches are great places to metal detect because the shoreline is constantly changing from the ebb and flow of the tides. 
Be sure you have a metal detector that works well on wet, sandy soil and one that can counteract the effects of saltwater. Saltwater is naturally conductive and can cause a typical metal detector to overload or give false signals. There are dozens of fantastic metal detectors designed to work well on beaches. Some of these include:
Garrett Sea Hunter Mark II (this one is great for underwater detecting too and is waterproof up to 250 feet! Great for diving).
White's TDI BeachHunter Extreme
Some of the best beaches to search are Roads End State Recreation Site, Cannon Beach, Cobble Beach, Pacific City, and Harris Beach State Park. 
You may also detect in Oregon rivers, depending on who manages the waterway. Burnt River and Powder River are popular places for metal detectorists, and both have been known to produce gold. 
Other rivers to check while detecting in Oregon are:
Chetco River
Clackamas River
Clear Fork River
Malheur River
South Santiam River
South Umpqua River
South Yamhill River
Best Places to Metal Detect in Oregon
As mentioned previously, Oregon has a rich history and a multitude of areas to use a metal detector. Here are some of the best places to metal detect in the state.
Trails Used by Early Settlers
There are many overland trails used by early settlers to Oregon. The Oregon Trail is the most famous of these, but there are many others. Most settlers followed the Columbia River to The Dalles, then went downstream toward Portland via the Willamette Valley. Many trails are long gone with little to no evidence they ever existed. 
Finding places where settlers stopped and camped along the banks of the river or springs can yield many treasures. Some trail sites and many artifacts are protected under various antiquities laws and these laws should be always followed. 
Eastern Oregon Mining Towns
Many old mining camps and towns in Oregon's eastern Blue Mountains are great places to metal detect. Gold was found in this area during the 1860s and several small mining towns dot the landscape. 
You may find lost coins and other mining relics here. You may also try gold prospecting in some of these mining towns. Look for old tailing's piles left behind by early miners. They were more interested in the large nuggets and often left behind smaller bits of gold in the tailing's piles. 
Southern Oregon Mining Towns
Southern Oregon also saw an influx of gold miners and there were mining camps along the Illinois, Applegate, Rogue, and Umpqua rivers. These old mining towns are found in the mountains near Grants Pass and Medford. Jacksonville was the largest and most productive mining town during the height of the southern Oregon gold rush and may be worth a look. 
Remote Ranch Homes
A lot of the state of Oregon is quite remote, especially in the central and eastern portions of the state. Some of the more remote ranch houses date back to the early to mid-1800s. You can easily find rubbish piles near old homesteads, and although it does not sound pleasant, old junk can be considered treasure today. Metal detectorists can find a variety of metal relics, lost coins, hidden valuables, and even jewelry. 
Searching for Lost Treasure
Oregon has no shortage of tales about lost, abandoned, or buried treasures. One of the most famous stories is the Lost Blue Bucket Mine. This mine is thought to be in eastern Oregon, but the exact location is unknown. Settlers passing through found sizable gold nuggets, which they did not realized until they had passed the area. As such, the site remains largely unknown. What a find that would be!
Florence and the Siuslaw River
The Oregon coastline is a beautiful place to metal detect. Tourists and native Oregonians flock to the beaches during the summer months. During the off-season, metal detecting in these areas can yield several lost items from the summer influx. 
Check areas where people lay in the sandy beaches, called the towel line. The fall and winter months also bring in Pacific storms, which can batter the coastline revealing lost treasures. 
Umpqua National Forest
On the western slopes of the Cascade Mountains lies Umpqua National Forest. It occupies almost a million acres of federal land. Ensure you check in with the ranger station nearby to determine if you need a permit, and what areas are open to metal detecting. National forests are some of my favorite places to metal detect. 
Oregon Ghost Towns
Oregon, like all other states, has its share of ghost towns. Ghost towns can be an incredibly rewarding area to metal detect. These places are full of history, and each has its own story to unearth.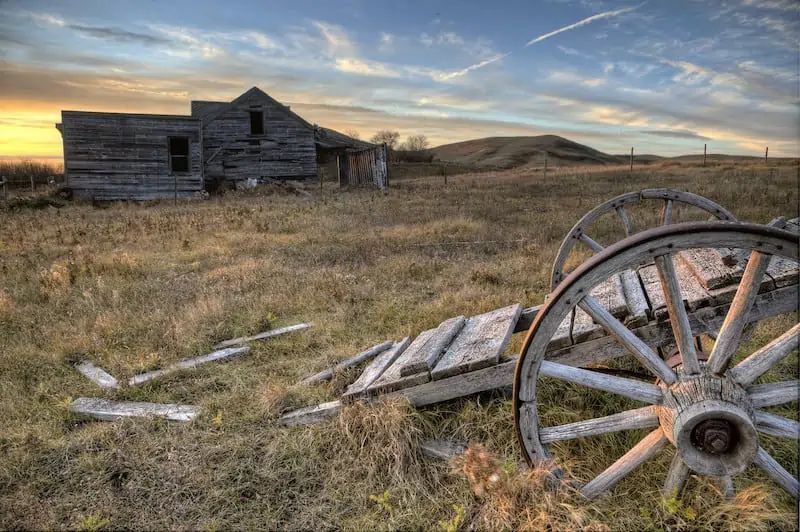 Ghost towns may be considered historical locations or may be private property. Ensure you have the necessary permissions before you metal detect in any of these locations. Check out some of Oregon's ghost towns:
Granite
Granite lies in the Blue Mountains in northeastern Oregon. Its population bloomed to around 5,000 in the late 1800s gold rush, and now lies near 40. It is one of Oregon's least populated incorporated towns. Many old buildings still stand. 
Golden
Golden is now completely abandoned. It was established during the 1840s as a simple mining camp along Coyote Creek in southwestern Oregon. There was a church, post office, orchard, and general store. 
It lies within the Golden State Heritage Site, so you may need special permission to detect here. You can search near the only 4 remaining structures on site: a home, a shed, a church, and the post office/general store building. 
Buncom
Buncom is one of Oregon's most well-preserved ghost towns. It was founded by Chinese miners in 1851 after gold was found. In addition to gold, silver, chromite and cinnabar were found. 
The town was home to a saloon, general store, post office, and mine. Today, a bunkhouse, post office, and cookhouse are all that remain. The buildings are preserved by the Buncom Historical Society.
Ski Resorts
Ski Resorts can be metal detected during the summer months with the proper permissions. People use ski areas frequently from late fall through early spring, and many items can be lost during these times. 
Oregon Cities
Many cities in Oregon allow metal detecting. Portland, for example, has a very active metal detecting community, as well as many detecting clubs. Check with the parks and recreation department in whichever Oregon city you wish to metal detect for more rules and regulations, and to see if you need a permit. 
Gold Prospecting in Oregon
Oregon is one of the best states for gold prospecting in the country. Gold deposits are widespread, and riches in the southern part of the state near the California border, and eastern Oregon near John Day and Baker City. Creeks and rivers are some of the best places to take your metal detector for gold prospecting. Ensure your detector is waterproof, or at the very least, water resistant, when hunting near a water source.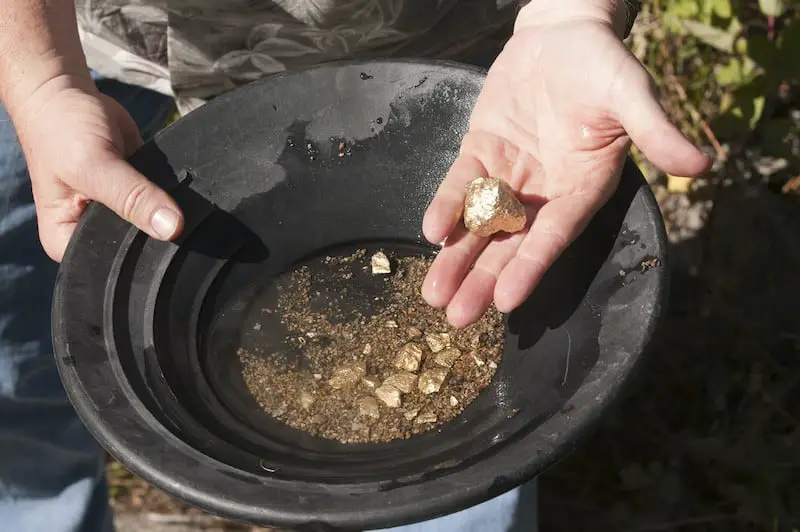 When you are searching for gold in Oregon, or any other state known to contain gold, ensure you are not encroaching on someone's claim. I went gold prospecting many times in Idaho, and there were several active mining claims along the rivers. Mining claims will be posted in plain view and prohibit any activity like digging or metal detecting. 
If you plan to metal detect for gold, ensure you have the proper metal detector. Not all metal detectors are created equal when it comes to gold prospecting. Gold-specific machines are designed to operate in the frequency best suited for finding gold and are inherently good at filtering out interference from black sands and hot rocks, both of which are commonly associated with gold bearing locations. 
The Fisher Gold Bug 2 is one of my favorite gold hunting machines. It operates at a high frequency, which is perfect for gold as it is a low conductive metal. 
Metal Detecting Clubs in Oregon
Like all other states in the country, Oregon is home to multiple metal detecting clubs. Metal detecting clubs are a fantastic resource for hobby metal detectorists. You can learn more about metal detecting, more about different types of metal detectors, and more about where you can legally metal detect. 
You can also learn more about laws, rules, and regulation, and get help identifying your finds. Consider joining a metal detecting club if you will be metal detecting in Oregon.
Millenium Diggers Club, Dayton
Coil and Diggers Club of Lane County, Dexter
Rogue Valley Coin Shooters, Grants Pass
Oregon Treasure Trail Society, Portland
Beaver State Coin Shooters, Albany
Finders Keepers Treasure Club, Roseburg
GPAA Brownville Chapter, Brownville
Eastern Oregon Miners and Prospectors, Haines
GPAA Portland Chapter, Portland
GPAA Oregon Gold Hunter, Rogue Valley
Willamette Valley Miners, Salem
GPAA North Bend Chapter, North Bend
GPAA Klamath Chapter, Klamath
GPAA Roseburg Chapter, Roseburg
FAQ
Q: Can I find gold with my metal detector in Oregon?
A: Yes! Oregon is one of the richest gold states in the country. There is still plentiful gold in Oregon's many rivers and streams. Try checking near or in these waterways, as well as near old mines. 
Check tailing's piles near old mine sites or near rivers. These often contain smaller bits of gold neglected by early miners and prospectors. 
Q: Can I metal detect in ghost towns in Oregon?
A: Ghost towns can be tricky. Some are protected as they are considered historical sites. This does not mean they are off limits to metal detectorists, though, if you have the right permissions. 
Seek out the owner of the property, whether it is privately owned, or state owned, and ask them. The worst they can do is tell you no. Often you will be allowed to metal detect near the site of abandoned towns, if not inside them. 
Q: Is metal detecting allowed in Oregon state parks and national forests?
A: Yes, with some exceptions. Specific areas of Oregon State Parks are open to metal detectorists, while others are strictly off limits. The Oregon State Parks' website has a comprehensive list you can refer to when finding a park to detect in. 
National forests typically allow metal detecting, so long as it does not interfere with any forest operations. Check with the forest ranger in the district you plan to detect to make sure. 
If you enjoyed this article on metal detecting in Georgia, please "like" our Facebook page and be sure to revisit Discover Detecting for new content surrounding the metal detecting hobby!
You Might Also Want to Read: