Garrett vs White's Metal Detectors: Who Wins?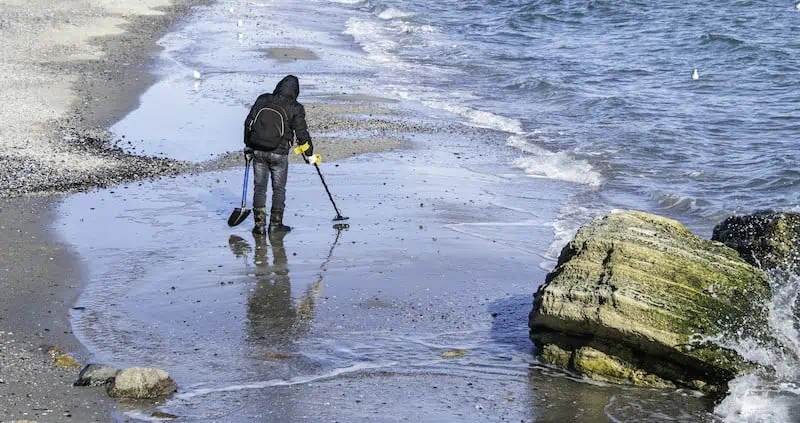 Garrett and White's Electronics are 2 giants of the metal detecting industry. Both offer a variety of metal detectors for specific treasures, al-purpose metal detectors, and for different skill levels. 
But which company is the best? Does one truly edge the other out of the running? We will discuss both companies and explore and compare their metal detectors and prices.  And to better help you, please take a moment to view the table below to see some of the top metal detectors currently available on the market:
Why Consider a Garrett?
Garrett was founded in 1964 by husband and wife Charles and Eleanor Garrett. Charles Garrett was determined to manufacture a better metal detector after using several that were on the market in the 1960s. Garrett soon became well-known in the metal detecting world. They were the first metal detectors to eliminate oscillator drift with their independently operated search coils. This helped improve hunting efficiency. "Zero Drift" technology soon became the industry standard for all metal detector manufacturers. 
Garrett today is one of the leading companies in the metal detecting industry. They are known for quality products and great customer service. They have consistently made metal detectors for all skill levels and have several models that are perfect for beginning detectorists. Garrett not only makes metal detectors for sport use. They also make metal detectors for security, countermine, school security, and government use. This makes them continuously one of the top manufacturers on the market today.
Garrett Models
Garrett has several popular models on the market. One of their most successful lines is the Ace line. This line consists of the Ace 200, Ace 300, Ace 400, and the all new Ace Apex. These metal detectors were designed with new detectorists in mind but are also good for intermediate detectorists. 
The Ace 200, 300, and 400 are lightweight, at just under 3 pounds, and operate on 4 AA batteries. Each of these detectors have adjustable stems so they can be tailored to each detectorist. 
The Garrett Ace 200 is the least expensive and easiest to use model in the series. It comes standard with a 9" concentric waterproof search coil and operates at a frequency of 6.5 kHz. This is a fixed frequency detector and this lower frequency will not be good for finding small gold. The Ace 200 does not have a pinpoint mode or Iron Audio but does have 4 segments of discrimination and 3 search modes. 
The Garrett Ace 300 and Garrett Ace 400 feature adjustable notch discrimination, 4 iron discrimination segments, 8 sensitivity and depth adjustments, and a stationary pinpoint mode. Neither model has Iron Audio. The Ace 300 operates at a frequency of 8 kHz and comes with a 10" concentric waterproof search coil. The Ace 400 operates at a frequency of 10 kHz and comes with an 11" waterproof Double-D search coil. Both models come with headphones, an Ace Cover-up, and coil cover, which the Ace 200 does not come with. 
The Garrett Ace Apex is Garrett's newest model in the Ace line. This is a multiple frequency metal detector, rather than the single frequencies featured in Garrett's other Ace models. This model can operate in multiple frequency mode or on 4 single frequencies of 5 kHz, 10 kHz, 15 kHz, and 20 kHz. The Ace Apex features wireless technology and can be used with Bluetooth headphones. It also has a connection for a 1/8" headphone for use with wired headphones. 
The Ace Apex features 8 iron discrimination segments, adjustable volume, 20 selectable notch discrimination segments, and 6 search modes. It features 8 sensitivity and depth adjustments and ground balancing can be done manually or automatically. One of my favorite features of this new machine is it has separate modes for U.S. coins and international coins. As with the rest of the Ace line, the Apex is not fully submersible. It comes with an 11" waterproof Double-D Viper™ search coil and an adjustable stem. It is lightweight at just 2.5 pounds and comes with a rechargeable battery pack. 
Garrett's AT line is more advanced than the Ace line, so it is most appropriate for advanced or intermediate metal detectorists. This line consists of the AT Pro, AT Gold, and AT Max.  
The Garrett AT Max comes with wireless headphone technology while the other AT models do not. The Garrett AT Gold and AT Max feature 44 iron discrimination segments and All-Metal mode. The AT Pro has 40 iron discrimination segments and does not have All-Metal mode. The AT Max features a backlit LCD screen and volume adjustments. 
The AT Pro and AT Gold do not have these features. Notch is adjustable on the Garrett AT Pro and AT Max, but the AT Gold's notch is preset. The AT Pro has 6 search modes, the AT Gold has 3 search modes, and the AT Max has 4 search modes. All 3 detectors are lightweight at around 3 pounds. 
All the AT model have proportional audio, or Pro Audio. They also have quick recovery speeds, iron discrimination mode, and 8 depth and sensitivity adjustments. All 3 models have manual and automatic ground balancing, digital target ID, and no-motion pinpoint mode. All the AT models are completely waterproof up to 10 feet, which is something the Ace line does not feature. This makes the AT line great for detecting in or near any type of water. 
Garrett recommends the AT Gold not be used in saltwater conditions, but the other 2 models are approved for use in saltwater. The AT Pro operates at 15 kHz, the AT Gold operates at 18 kHz, and the AT Max operates at 13.6 kHz. All frequencies are adjustable. 
One of Garrett's most advanced metal detectors is the ATX. This is a pulse induction, or PI, metal detector. This means the ATX offers superior depth and sensitivity over traditional very low frequency (VLF) machines. The ATX operates at 730 pulses per second, which is adjustable. PI machines are inherently immune to saltwater and operate extremely well in highly mineralized soil conditions. The ATX is one of the best machines for finding small, sub-gram gold or fine gold jewelry.
The Garrett ATX has Fast Track ground balancing, which is designed to help eliminate electromagnetic interference and ground mineralization interference. It also has GroundTrack ground balancing, which is a continuous setting that compensates in real time for ground conditions, with 4 adjustable settings. This model is fully submersible up to 10 feet and features motion and non-motion modes (as do all PI machines), and a pinpoint mode. PI machines are almost always heavier than traditional VLF metal detectors, and the ATX is no exception weighing in at 6.9 pounds. 
All Garrett metal detectors come with a 2-year warranty. 
About White's
Ken White began White's Electronics in 1950. Ken and wife Olive were involved in looking for radioactive elements during the uranium scares of the 1950s, leading to a long history of discovery and adventure. Geiger counters available at the time used headphones, and White learned that the headphones created problems when searching in rattlesnake country. This led him to build his own Geiger counter which proved popular with other searchers. When the U.S. government announced it would no longer purchase uranium from citizens, White changed his focus to making metal detectors.
The company is currently under the watchful eye of Ken's son, also named Ken, and his wife, Mary. The company is based in Sweet Home, Oregon, with a second facility in Inverness, Scotland, which serves European and Asian customers. White's Electronics makes metal detectors for use in sport, security, and industry. They utilize the latest research and development, making them an industry leader and a trusted name among metal detectorists. 
White's has consistently turned out metal detectors that are on par with any of the most popular metal detector manufacturers on the market. They have models designed for beginning detectorists through professional detectorists. Their original motto is still the motto they follow today, "Give the customers quality and value, and treat your employees like family."
White's Models 
The White's Coinmaster is a rugged machine designed to find coins and jewelry. It features a small LCD screen with Target ID showing what the target likely is. The Coinmaster features Five-Range Discrimination, so you can adjust the detector to hear everything or only chosen signal types. It is a simple to operate machine and would be a good fit for new or intermediate detectorists. It is a very lightweight model at just 2.5 pounds. The Coinmaster operates on 2 9-volt batteries and comes standard with a 9" Spider Coil. Ground balancing is preset, and it operates at a frequency of 8 kHz. 
White's Goldmaster 24K is a gold-specific metal detector that operates at a much higher frequency than most VLF metal detectors, at 48 kHz. The Goldmaster 24K comes with a large, backlit LCD screen with numerical target ID, Target Graph which shows Ferrous, Gold, and High Conductor ranges, and a ground balancing system called XGB which is designed to handle highly mineralized soil conditions.
The Goldmaster 24K also features TracLock and Ground Grab for additional ground balancing. Ground Scan can show detectorists where paystreaks are in streambeds and washes. The Goldmaster 24K features 10 levels of adjustable sensitivity, adjustable audio volume, adjustable discrimination, vSAT, adjustable threshold, pinpoint mode, and Tone ID mode. Although this machine packs a lot of features, it is a simple to use machine and would be appropriate for all skill levels.
White's TREASUREmaster metal detector is designed to maximize treasure at an affordable price. It features true Automatic Ground Balancing, which adapts to ground conditions during the hunt. This gives the machine great depth and sensitivity to small targets. It also features Beach mode, Tone ID, pinpoint mode, all metal mode, and adjustable target discrimination. This is a lightweight metal detector at just 2.8 pounds and operates on 2 AA batteries. This detector operates at a frequency of 8.2 kHz and comes with a 9.5" waterproof search coil. The TREASUREmaster features 4 search modes and large LCD display. 
White's TREASUREpro has all the features of the TREASUREmaster but features High-Trash programs to help more experienced detectorists in hunted-out areas or locations with heavy ground mineralization. It operates at the same frequency as the TREASUREmaster detector but features 5 search modes and a 10" waterproof Double-D search coil. Both detectors have enough features to make intermediate or experienced detectorists happy but are simple enough to use for even beginning detectorists. 
White's MX Sport is an all-purpose machine designed for beach hunting, relic hunting, coin shooting, jewelry hunting, and prospecting. It builds off the base of White's MX line by incorporating the latest technology. This is a rugged machine with selectable Tone ID, Audio Modulation, and Rejection Volume. These are designed to help advanced detectorists differentiate between good and bad targets quicker.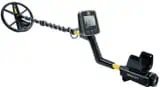 Ground balancing is automatic or manual and it features salt-tracking for use in saltwater. The MX Sport is completely submersible up to 10 feet and comes with waterproof headphones. This detector operates at a frequency of 13.9 kHz and comes with a 10" Double-D search coil. It runs on 8 AA batteries and features a backlit LCD screen.
White's Spectra V3i is their top of the line model. It features a full-color HD LCD screen full of information. The screen clearly shows depth and type of metal detected. It features a rechargeable battery pack and onboard reference guide. For newer detectorists, or those in a hurry, the V3i features 9 preset search modes for turn-on-and-go versatility. 
This machine is designed to be all-purpose, so it is great for finding coins, jewelry, relics, and gold. There are dozens of features for the more advanced detectorist that can be changed in real time with the dashboard controls. This machine offers the best depth and sensitivity of all the White's models. The V3i can operate at 3 different frequencies: 2.5 kHz, 7.5 kHz, and 22.5 kHz. It comes with a 10" Double-D search coil and ground balancing is automatic or tracking. It also features adjustable Tone ID. 
White's TDI SL High-Q is White's PI machine and operates at a whopping 3250 to 3370 pulses per second, far higher than the Garrett ATX. Unlike most PI machines, the TDI SL High-Q is lightweight, at just 3.5 pounds. This has the advantage over most PI machines. Higher weight will limit the amount of time you can detect without arm fatigue unless you purchase a chest or hip mount kit. 
This machine has great depth and sensitivity and is perfect for gold prospecting and finding relics. This metal detector is great in areas with high mineralization and comes with a rechargeable battery pack. As with most metal detectors, there is no LCD screen. The machine is controlled by knobs and target identification is done by tone ID. The TDI SL High-Q comes with a 12" search coil and operates on a rechargeable battery pack with 8 AA battery backup. 
White's offers a 2-year warranty on their metal detectors. 
Comparison of Garrett vs White's Metal Detectors
Garrett Models
Ace 200 – $200
Ace 300 – $300
Ace 400 – $400
Ace Apex – $500
AT Pro – $650
AT Max – $850
AT Gold – $750
ATX – $2,495
White's Electronics' Models 
Coinmaster – $250
Goldmaster 24K – $800
TREASUREmaster – $400
TREASUREpro – $500
MX Sport – $800
Spectra V3i – $1,500
TDI SL High-Q – $1,200
Garrett has more metal detectors that are lower priced than White's does. However, White's PI machine is less expensive than Garrett's.
Comparison of Garrett and White's Models
Garrett has the advantage of having "lines" of metal detectors, while most of White's products are unique. Garrett's Ace line is perfect for beginning detectorists, while their AT line is best for intermediate or advanced detectorists. Almost all of White's metal detectors have advanced features that are great for intermediate or advanced detectorists, but their machines are still simple enough to operate for a beginning detectorist, with the exception of the V3i. 
Often, new detectorists can be overwhelmed by the number of features and settings on machines, but White's machines come with either preset options or simple to understand features. Garrett's Ace line is the same way but does not have all the features of some of the White's models.
Garrett has more affordable models than White's does. Even White's entry level machines are more expensive than most of Garrett's models, except for the Coinmaster. White's PI machine is notably less expensive than Garrett's ATX. Garrett's ATX is top of the line and would be most appropriate for experienced metal detectorists. It is quite heavy compared to other Garrett models, and compared to White's PI metal detector. White's TDI SL High-Q is significantly lighter weight than Garrett's ATX (3.5 pounds compared to 6.9 pounds, respectively). White's metal detector also has thousands more pulses per second than Garrett's ATX. More pulses per second allows for better averaging and better signal to noise ratio. 
Most of these models are not directly comparable, and it truly boils down to user preference. Some people will always place Garrett at the top, while others will say White's is the best. Both companies have been in business for decades and there is a reason for that. Both companies offer multiple options for detectorist, and multiple, top of the line features. 
Conclusion
So, which company produces the best machines? Does one truly edge the other out of the running? In my opinion, no. Both companies are well known and produce quality product. Both companies have operated for many decades and continue to be industry leaders. Both have offered top of the line technology for the metal detecting industry. 
For the beginning detectorist, I would likely recommend Garrett's Ace line, such as the Garrett Ace 400. Not because they are better than White's models, but because they are simple to use and designed for newcomers to the sport. While many of White's models are good for beginners, or have preset search modes for beginners, the number of extra features can be confusing and frustrating for beginners. 
For intermediate or advanced detectorists, Garrett's AT line, ATX, or any of the models on White's website are great options. If you are in the market for a PI machine, the Garrett ATX or White's TDI SL High-Q are both fantastic options. The ATX is ruggedly built and can take quite a beating. The TDI SL High-Q is lighter weight and would be easier to pack around for long periods of time. Plus, the White's PI machine has a huge advantage in pulses per second emitted. 
This makes this machine slightly more accurate than the ATX. White's Spectra V3i is a more advanced metal detector and would be best for intermediate or advanced detectorist. The number of features and settings has the potential to cause beginning detectorists frustration. 
In the end, it comes down to user preference. Do your research on these 2 companies and speak with other detectorists. Watch as many videos as you can about the machines and see which one seems like it would be best for you. Find a machine that fits what type of treasure you are hunting and your skill level. You will do yourself no favors buying a metal detector that is far too advanced for your skills. 
If I had to decide about these 2 companies, I would say Garrett is the best company for beginning detectorists because they have more options for beginners than White's does. For intermediate or advanced detectorists, White's models or more expensive Garrett models would be best as they have more features and settings. 
When looking for a PI machines, I have always been partial to the Garrett ATX. However, the lower weight and higher pulses per second on the White's TDI SL High-Q has me rethinking that. Higher pulses per second will ensure accuracy, but the ATX is more ruggedly built.
As always, make sure you purchase your metal detectors through authorized dealers. Counterfeit metal detectors are constantly flooding the market despite being caught and fined. No matter which model you choose, you simply cannot go wrong with a Garrett or White's Electronics metal detector. Both companies have been industry leaders for decades for a good reason. Do your research and find the perfect metal detector for your needs.
You Also Might Like These Articles: