What's the Best Minelab Metal Detector?
For more than 30 years, Minelab has been making metal detectors that offer excellent quality, and the company continues to push the envelope with cutting-edge technology.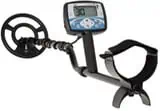 Minelab is known as one of the leaders in the metal detecting world, and anytime you buy a Minelab metal detector, you can feel confident about the performance your unit will give.
If you're looking at buying a Minelab, I'll warn you, they don't come cheap. The level of performance these machines provide sometimes justifies the hefty price tag though.
Luckily for Minelab fans out there, there are a wide range of product prices to allow almost every detectorist to work a Minelab into their equipment bag if they want to. Here is a look at five of Minelab's best detectors.
And below, please use our interactive table that displays some of our favorite metal detectors on the market today, and see how well they stack up to the Minelab detectors we'll discuss throughout this article:
If you talk to a handful of hardcore metal detectorists, at least one of them is going to own a Minelab E-TRAC. And they're going to probably boast about it because it carries a price tag of more than $1,500. While that amount isn't going to fit into the budget many average detectorists will have, it does come with a boatload of high-end features, including:
Highly-accurate target identification that uses frequencies that run the gamut from 1.5 kHz to 100 kHz.
You can take your favorite settings on the E-TRAC and download them onto your computer so you can send them to your friends who have the E-TRAC. It helps detectorists exchange information in a simple manner, which is a bonus for helping us all learn more about our hobby.
You can choose between neutral and difficult ground settings, which will help you avoid the problems with switching between soil conditions. It even works well in wet sand.
The display screen uses icons that are easy to spot and figure out.
It has a trash density setting, which can help you weed out junk and fake signals in ground that contains a lot of trash.
It comes with an 11-inch coil that is waterproof.
If you can afford it, the E-TRAC is a fantastic machine. It's one of those rare metal detectors that works both on dry land and wet sand. But one feature the E-TRAC doesn't have is that it's not submergible. So if you're the kind of detectorist who likes to take your hunt underwater, you'll have to find a different machine.
This isn't a machine that's well suited for a beginner, unless they are willing to put a lot of time and effort into figuring out how to use it. If you like some of the features of this unit, but you aren't sold on getting a Minelab, a comparable detector would be the Deus XP.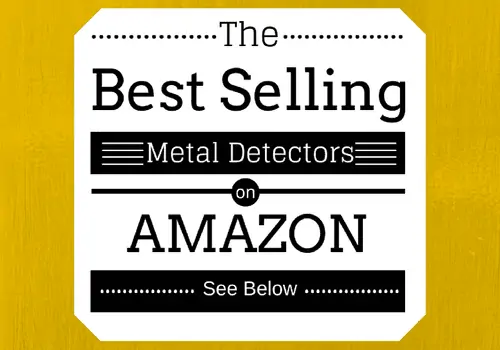 Below, please take a moment to view some of the best-selling metal detectors currently on sale on Amazon:
The Minelab Excalibur II metal detector also retails for about $1,500, but whereas the E-TRAC was made for land lovers, the Excalibur II was made for people who want to get a little scuba time in while they're looking for treasure.
The Excalibur is an excellent underwater detector, but it can also be used on land and wet sand. It comes with a rechargeable battery pack that will give you up to 12 hours of power for your hunts.
It has the ability to really hone in on faint signals and searches deep in the ground for your targets. Since it's designed to be used underwater, visibility is important. This detector's body uses fluorescent colors to help with that. It also uses multiple frequencies, ranging from 1.5 kHz to 25.5 kHz, which gives you the ability to hunt for a wide variety of objects and metals.
You'll be able to hunt well into the depths of the water with the Excalibur – it is submergible up to 200 feet. And when you're down there, you won't have to worry about using the contents of your air tank to chase false signals – the Excalibur uses powerful ground cancelling, which reduces the false signals you'll get.
If you enjoy scuba diving, even if you're a newbie to the metal detecting hobby, you'll like this machine. Just make sure you fully read the manual that comes with it and give yourself time to tinker around with the settings before heading into the water with it.
But if you're using this machine outside of the water, prepare to put some muscle into it. The Excalibur is heavier than the metal detectors I like to use. If you go on long hunts, that can be fatiguing after a while. The weight, obviously, isn't an issue when you're using it underwater.
If you're looking for a cheaper alternative that will still allow you to dive while metal detecting, you may want to check out White's Surf PI Dual Field pulse induction metal detector. It costs under $900, and it is waterproof up to 100 feet.
If you want to try a Minelab, but the thought of buying a metal detector that's more expensive than your house payment makes you cringe, there are more affordable options. The X-TERRA is one of those, and you can purchase it for under $400.
The X-TERRA is unusual because it uses True Digital VFLEX technology, which means you can change the frequency of the detector just by using a different coil. You can add a medium frequency coil, which has an operating frequency of 7 kHz, or you could even up it to an 18.75 kHz frequency coil.
What frequency you want to use is largely dependent upon what you're looking for. Higher frequencies are better at finding gold, for instance. Being able to swap out coils to control operating frequency is a great way to get additional frequencies without having to own multiple metal detectors. The one downside is if you want the additional coils, you'll have to buy them separately, which will dramatically add to the price of this unit.
The X-TERRA comes with a manual ground balancing feature that is easy to use.
Even a beginner should be able to handle the X-TERRA. It offers a great deal in terms of performance, and I'd say the performance compares to the one you'd get with the Garrett AT Pro. The big difference is that the AT Pro is waterproof up to 10 feet, which the X-TERRA is not.
If you're looking for a simple, lightweight, basic machine to test the waters of metal detecting with, the Minelab GO-FIND 44 is a solid option for both adults and kids. You can get it for under $200, and you can easily adjust the length to suit a wide variety of heights.
A simple green and red LED light tells you whether you've found a non-ferrous metal or an iron metal. That's an easy way to discriminate between which targets you want to dig and which ones you want to leave in the ground, and it's an easy enough method that a beginner will understand it.
The GO-FIND 44 is collapsible, which means you'll be able to store it easily in the trunk of your car so you'll have it available whenever the metal detecting mood strikes you.
It doesn't have enough advanced features for a hardcore detectorist to bother with, but for a newbie and for the price tag, it's a good value. It's right up there with a Bounty Hunter Time Ranger metal detector.
Minelab Eureka Gold
This is another expensive Minelab – it'll set you back more than $1,000. But it has some really neat features that advanced detectorists, or anyone with gold fever who has a strong desire to learn how to operate the machine, will love.
This detector features triple frequency – 6.4 kHz which will give you great depth, 20 kHz for overall detecting and 60 kHz which works as a gold-hunting beast. Plus, you can adjust the iron discrimination to eliminate undesirable targets. And while many metal detectors offer iron discrimination – this unit's discrimination is a notch above many of its competitors.
With the Eureka Gold, you won't have to keep buying batteries because it uses a NiMH rechargeable battery pack. It comes with a 10-inch elliptical coil that will search a wider area of ground.
This machine does have some drawbacks however. The coil isn't waterproof, which stinks if you want to check out a creek bed or stream. And if you're planning on an all-day hunt, you can count on your arm feeling tired and possibly even sore the next day.
If you're a bit hard of hearing, you won't like how low the volume on this machine is.
Detectorists who are looking for a comparable, but cheaper, option might want to check out the Garrett AT Gold detector. You can get it for about $650. The nice thing about the AT Gold is that you can take it in up to 10 feet of water. But the bad thing is it isn't great in saltwater.
And the Winner Is …
My favorite of these machines is the Eureka Gold. I don't do much metal detecting these days in water, which makes the fact that it isn't submergible a non-issue for me. But I absolutely love that you can get three different operating frequencies. It's like having three machines for the price of one.
Plus, the detector's superior discrimination abilities are great for those of us who are tired of digging square nails and bottle caps.
If I was going out on an all-day hunt, I'd want to bring a lighter back-up machine to use in case my arm became too tired to continue. But the main thing is, this is a powerful machine that will let you find gold at a great depth, and any other types of relic you're after.
You Also Might Like: