What's the Best Fisher Metal Detector?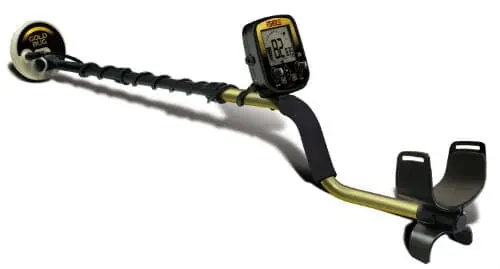 For more than 85 years, Fisher Labs has been a leader in the field of metal detecting. The company remains on the cutting-edge when it comes to features and technology. When you buy a Fisher metal detector, you are buying into a long legacy of quality and knowledge.
Choosing a Fisher metal detector isn't easy because there are so many quality detectors at decent prices. But here's a list of the five best Fisher detectors, ranging from inexpensive entry-level machines to pricier high-end models. There's a Fisher for every budget.
And to help illustrate this fact, we've created the interactive table below which allows you to compare some of the most popular Fisher detectors against one another based on price, special features and more.
This entry-level unit will run you just over $200, but it's a good detector for the money, giving beginners just enough performance to get the job done without overwhelming them with features.
It will detect targets up to 9 inches underground, and you can use it for relic hunting, coins or jewelry. While it has a pinpoint mode, I'm not a big fan of those modes – I've always had better luck using a handheld pinpointer to quickly narrow in on my target.
The Fisher F22 has 10 adjustable sensitivity levels. It has a nine-segment visual identification system, in addition to two-digit numerical target identification, which helps you move on to greener pastures when a junky target comes up.
It only has a 7.69 kHz operating frequency, which isn't good news if you like hunting for gold. If you want to be a gold digger, you should look for a machine with a higher operating frequency.
If you're the type of detectorist who loves to hit the beach, or if you dig in highly mineralized soil, you'll want a more advanced Fisher detector because this one doesn't have a ground balancing feature.
If you have back problems or weaker arms, though, you'll like how lightweight this machine is.
Detectorists who are looking for a comparable, but slightly cheaper, low-end machine might want to consider White's Coinmaster, which will only run around $175.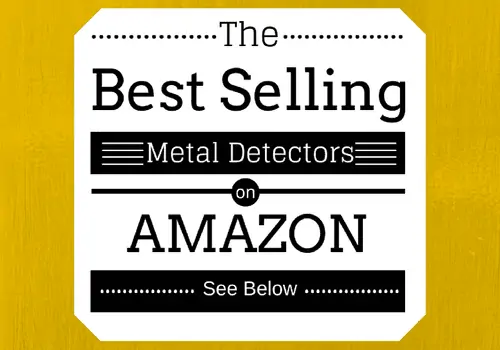 Below, please take a brief moment to view some of the best-selling metal detectors currently on sale at Amazon:
The Gold Bug is a good metal detector for gold prospecting.
It costs more than $300, and it was designed to find smaller nuggets of gold, even in mineralized soil. The coil is waterproof, but the control box isn't, which means you better cover up the box during rainstorms.
It has two-digit numeric identification that shows up in large print on the big screen. This machine keeps you posted on ground balancing with constant mineralization readouts. The 19 kHz operating frequency is decent for finding nuggets, although it won't be as good at finding smaller gold flakes.
In addition to finding gold, this machine is great for coin shooting. If you decide to go with this detector after using a more inexpensive one when first you started metal detecting, you should take this one back to your old haunts. You'll almost certainly find other targets that escaped you with your old metal detector. This one is a powerful unit for the price.
There's just one thing I really dislike about this machine – the coil size. It comes with a 5-inch coil. A coil that small will be handy while searching trashy areas that have lots of signals. But it will take forever to search a yard or a park with a coil that's only half the size of the 10-inch search coil many machines come with. With a coil that small, you'll lose depth as well. That can mean the difference between finding an old relic or walking right over it, unaware that it's even there.
Finding machines that specialize in finding gold for such an affordable price isn't easy. A comparable machine would be the Garrett AT Gold detector, although you'll pay more than $600 for it.
The F44 will set you back about $350, and it has some nice mid-level features. First off, it has a stellar depth performance, finding targets that are 10 inches underground.
When bad weather hits, you won't have to pack it up and call it a day. This detector has a waterproof design, which will let you detect in the rain.
It offers 10 sensitivity levels, plus pinpoint and discrimination modes. It offers ground balancing, which will allow you to hunt in tough ground conditions. You'll also get 1-99 numeric identification, which will give you a good idea as to what kind of target you're contemplating digging.
The display screen is backlit, which means you don't have to stop a great hunt just because it starts getting dark outside. With a backlit screen and a good headlamp, you can happily hunt all night. 
If you're looking for a comparable machine in a different brand, you could try the Garrett Ace 400, which is similar in price and function.
Detectorists who have an extra $600 burning a hole in their pockets may want to check out the Fisher F75. This is one sweet machine. Here's what it offers:
Great ergonomics: This lightweight machine sits comfortably on your arm and barely feels like you're lugging anything around. You'll be able to hunt all day with ease.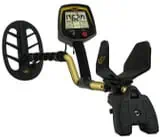 Large numeric target identification: There won't be any squinting going on when you look at the F75's screen. It features the numeric ids big and bold enough that they take front and center on the screen.
Double-filter discrimination mode: This feature makes it much easier to hunt in junky areas like old garbage dumps or parks. You can use your discrimination to get rid of the iron signals you want to skip, so you'll get straight to the good stuff.
Ground balancing: Ground mineralization will prove much less difficult to master with this feature on your detector. You can let the machine do the work for you or you can use it on manual settings.
Backlight: A backlight on your detector will mean that you won't have to stop detecting when night falls.
Waterproof search coil: You'll be able to hunt in very shallow water on the beach or in streams or creeks with the waterproof coil. You won't be able to submerge the control box, but in a little bit of water, this feature may help you score a big hit.
The size of the search coil is 11 inches: This will give you great depth and you'll be able to search yards quicker than you would with a smaller coil.
The F75 metal detector is fantastic, and you'll get a solid performance that in other brands would cost several hundred dollars more. It stacks up well to the Minelab X-Terra 705.
The only real downfall to the F75 is that you won't be able to hunt in deeper water with it since the control box isn't waterproof. But if you plan to stick to dry land, you won't be disappointed with this detector, if you take the time to learn its intricate controls.
Get ready to write a big check for this Fisher underwater metal detector. You'll shell out $1,300 for the Fisher CZ21-8, but with one good hit in the ocean, you'll be able to recoup your money.
You can take this detector up to 250 feet underwater, either in fresh or salt water. It uses dual operating frequencies – 5 kHz and 15 kHz. 
It has easy manual ground balance and a large target alert for when you find bigger items. This detector has three different audio tones, which help distinguish what type of metal you might be finding.
It's a good detector for the water, but it is a really heavy unit, weighing in at just under six pounds. If you're using it on land, you won't be able to swing it all day – it will tire you out too quickly. To get around that, you can buy a chest harness which helps take some of the weight off of you. I've also seen detectorists take the control box off the detector and strap it to a waist belt. That redistributes the weight and makes it much easier to carry around all day.
When you're underwater, you don't have to worry about the weight. The water will do the heavy lifting for you. It nearly has neutral buoyancy in the water.
One drawback to this unit is that it comes with an 8-inch coil. That's not a bad size for a coil, but some detectorists like to upsize for greater depth. But if you upsize too much, you start to lose your ability to find smaller targets.
Many machines use interchangeable coils, meaning if you want to spend the money to get an 11-inch coil or a smaller 5-inch to use in trashy areas, you simply take off the standard coil, attach the new one to your detector and you're good to go. But with the Fisher CZ21-8, you can't change the coil without sending it back to the company. That's a hassle for many detectorists.
If you're a Minelab fan and you want a similar machine, you can check out the Minelab Excalibur II 1000 underwater detector, but it will cost about $200 more than the Fisher CZ21-8.
And the Winner Is …
My favorite of these machines is the Fisher F75. It's a great value for the money. I love the whopping 11-inch search coil because of the depth it gives and the speed at which you can search properties. Even though it's a bigger coil, the machine doesn't feel heavy or imbalanced.
With its powerful discrimination mode and the ground balancing it offers, this is a hardcore detector for a mid-level price. The fact that you can use it in shallow water because of its waterproof coil is like icing on the cake.
The backlit feature will open up more detecting hours for you, especially on days where you get out of work just as the sun is setting.
The CZ21-8 is a great detector too, but it costs more than many detectorists will want to spend and it's a pain to swap out coils. While you'll spend some time learning all the features of the F75, it's a machine you'll be able to grow with as you become more comfortable detecting.
If you enjoyed this article, please "like" our brand new Facebook page!
You Also Might Like: