Bounty Hunter Land Ranger Pro review
Although they don't have the reputation among metal detectorists for being the best machines on the market, Bounty Hunter metal detectors do have a solid fan base.
Bounty Hunter fans appreciate that they offer machines that can get the job done, even without some of the higher-end features other detectors offer. Those detectorists are willing to sacrifice some of the bells and whistles for the low prices that they'll pay for their Bounty Hunters.
Bounty Hunter makes metal detecting accessible for would-be detectorists who don't have much money to spend on their hobby. These detectors are primarily aimed at beginners in the hobby.
In this article, we're going to review the Bounty Hunter Land Ranger Pro to help you determine if this affordable metal detector is worth your hard-earned money.  And, to better help your decision-making process, please use the interactive table below to compare the Land Ranger Pro to other popular metal detectors available on the market.
Land Ranger Pro
At almost $300, the Land Ranger Pro is one of the finest Bounty Hunter metal detectors. Let's look at what makes it a solid pick for new detectorists, and even intermediate-level detectorists who don't want to pay an arm and a leg for a solid machine.
It has a pinpoint mode, which if you take the time to learn how it works, helps you hone in on exactly where to dig.

It has an iron audio tone, which is valuable if you want to pass on iron signals in favor of more precious metals. In all, this unit has four audio tone identification.
It offers ground balancing to eliminate the false positives from mineralized soil.
The Land Ranger Pro features a large display screen so you can always see your readouts with ease.
It only weighs 2.4 pounds, which is really lightweight for a metal detector. That means you'll be able to hunt all day – your legs will want to quit before your arm will.
The machine comes with an 11-inch waterproof coil. You'll be able to use that in very shallow water, and the size of the coil is good for covering a lot of ground quickly when you don't have much time for a hunt. Plus, the coil is interchangeable if you want to try out a different size of coil.
This detector has 0-99 target identification, which helps you determine if a signal is worth digging.
It has an operating frequency of 7.69 kHz, which is good for overall relic hunting. It's not great for gold prospecting, but it will still find bigger pieces of gold, like coins.
It can detect coins at a maximum depth of 10 inches. That's good for a detector in this price range.
This detector is fine to use in dry sand, but you will have a harder time using it in wet saltwater sand, even with the computerized ground balancing feature.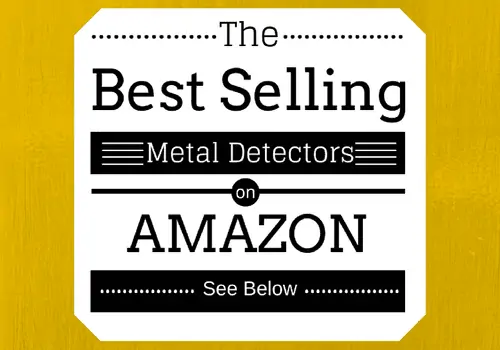 Below, please take a moment to view some of the best-selling metal detectors currently available for sale on Amazon:
Time Ranger vs Land Ranger Pro
The Bounty Hunter Time Ranger costs about $100 less than the Land Ranger Pro. Although the Time Ranger is a detector aimed at beginners, it does have some interesting features.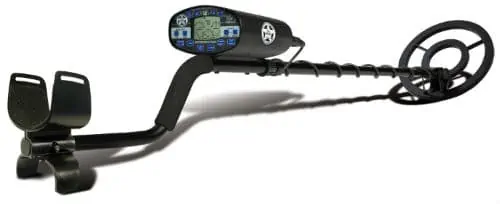 It has a blanker feature where you can dismiss targets you don't want just by pressing a button. I tend to dig even borderline signals, and that's a method that has netted me some great finds in the past. But this would be a nice feature to have on signals you are almost certain are junk.
It has three-tone audio to help you distinguish between kinds of targets. The Ground-Trac feature checks for ground mineralization. The waterproof coil is only 8 inches, which isn't a bad size, but a bit smaller than the 10-inch or 11-inch coils many higher-end machines sport.
The operating frequency is lower than that of the Land Ranger Pro. It's only 6.6 kHz for the Time Ranger. That's still fine for general relic hunting, although I prefer a higher operating frequency.
For people who like to support the U.S. economy, the Time Ranger is made in the U.S. and it carries a limited warranty for five years after purchase.
The Time Ranger has a padded armrest. Plus, it has a battery strength indicator, which I love because I've been caught mid-hunt with a dying battery and no replacements with me. Unless you're the super prepared type who always carries batteries with you, this might save you from cutting out on a hunt prematurely.
This is a rather hefty machine for an entry-level unit. Entry-level detectors normally tend to be lighter, but this detector weighs 4 pounds, and is more than 1 pound heavier than the extremely light Land Ranger Pro.
I don't mind lugging around heavy machines when I'm detecting, but I want them to be worth the effort. Between the two of these machines, I'd rather go with the features of the Land Ranger Pro. The fact that it's lighter would just be the icing on the cake.
Land Ranger Pro vs Quick Draw Pro
This Bounty Hunter Quick Draw runs just over $200, and it's got some decent features for that amount of money.
The Quick Draw Pro has the 0-99 target identification mode that many mid-level detectors employ to help let detectorists know what's a good target to dig and which targets they should skip to save time and frustration.
It gives three-tone audios to give you even more information about whether to dig your signal. The Quick Draw Pro also has a pinpoint mode that helps locate the signal more precisely. But even with this feature, I'd recommend a good handheld pinpointer. They're much more valuable than built-in pinpointers are.
It allows you to discriminate between the different metals, which can mean the difference between finding a valuable target or digging up a bunch of junk that leaves you tired and disillusioned with metal detecting.
This detector comes with a 10-inch waterproof coil with an easy-to-handle elliptical shape, and the whole unit only weighs 2.4 pounds. It also has an operating frequency of 7.69 kHz.
One nice touch to this detector is the volume control it offers. You can turn down the volume on the control box, which is great because sometimes the volume is pre-set at such a high level that you almost hear beeps in your sleep after a long day of hunting.
If you're hunting in a park or another public place, turning down the volume will help you avoid irritating other people who are looking for a bit of solitude and don't want to hear your detector beeping loudly every few seconds.
This detector can find smaller targets, like coins, at a respectable 9 inches underground.  Like other Bounty Hunters, it also has a padded armrest and a ground stand.
Land Ranger Pro vs Lone Star Pro
You'll only pay about $150 for the Bounty Hunter Lone Star Pro – it's almost half as inexpensive as the Land Ranger Pro.
As you would expect, this detector isn't exactly loaded with features for this price. It's a basic detector. A metal detectorist who is new to the hobby will probably outgrow this machine in just a few months if they do more than go out for the occasional hunt.
It doesn't have a ground balancing feature. That really hurts in any kind of difficult hunt situation, and that type of situation can crop up anywhere, depending on the mineralization of the soil. It will perform especially poorly at the beach, both in dry sand and wet sand. If you plan on doing any hunting along the shoreline of an ocean, this will be a frustrating machine to have with you. It will give you false positive signals and may completely miss legitimate signals.
But on the upside, it is extremely lightweight at 2.4 pounds. The operating frequency is a respectable 7.69 kHz, which is fine for general relic hunting. It comes with an 8-inch waterproof coil that can find signals of smaller objects, like coins, up to 8-inches deep. But you'll be able to find much bigger objects up to 2 feet underground.
It has three audio tones and an easy-to-operate display screen. The padded armrest will add to your comfort level during extended hunts. The detector also has a ground stand to prop your detector up off the ground when you're digging, which helps protect it.
It also has a notching feature which lets you get rid of whole categories of targets you don't want. The response time with this detector is quick to help you know exactly where your targets are.
Don't Be Afraid to Try Bounty Hunters
While some serious detectorists try to steer newbies clear of purchasing Bounty Hunters, I've had great luck with mine over the years. I got a lot of use out of the first low-end Bounty Hunter I ever purchased, and years later, it's still works just as well as the first day I bought it. I still bring it on hunts occasionally.
So don't let anyone scare you off from trying Bounty Hunters. You'll likely be pleased with the performance, especially when you factor in the low cost of Bounty Hunters.
You should try, however, to save up your money for the Bounty Hunter Land Ranger Pro if you're going to buy a Bounty Hunter. It's the best Bounty Hunter on this list, and while it isn't a high-end detector by any stretch of the imagination, it does have a ground balancing feature. By including this feature, you'll be able to use this detector a lot longer before deciding you need to upgrade.
You may even do well enough with this detector that you'll decide you don't have to upgrade.
If you need to stick to a cheaper machine than the Land Ranger Pro, you should consider the Bounty Hunter Quick Draw Pro. The 0-99 target identification mode will come in handy while you're hunting.
I frequently hear from new detectorists about how annoying the loud chatter from their detector can be after they've been hunting for a while. At least with this detector, you're in control of the volume.
If you enjoyed this article, please "like" our Discover Detecting Facebook page today!
You Also Might Like: