Minelab Equinox 800 vs Fisher F75
Metal detecting is one of the most rewarding hobbies. It gets you outside, exercising, and potentially finding treasure! It can be an expensive hobby initially, as you choose your metal detector. This article will help you decide between 2 fantastic models and hopefully make your journey easier. As always, make sure you are respectful metal detectorist, and you follow all laws and rules for archaeological relics! 
Every state, city, and county will have its own laws and regulation for metal detecting. For example, where I live in Utah, you can detect in town and in the county with no permit. When I lived near Boise, Idaho, you had to have a permit to detect in city limits. You are responsible for knowing the laws and rules for metal detecting in your area.
This applies to local, state, and federal laws. Trust me. The authorities will not take "I did not know" as an excuse! You can be fined, have your equipment, and finds taken away, or even be jailed depending on the infraction. Just do some research! Okay. Enough of the heavy stuff. Let us get on with the article. 
Minelab and Fisher are both industry leaders in the manufacture of metal detectors. Both have decades of work under their belts in creating world-class metal detecting equipment. Minelab is based in Australia while Fisher is based in Texas. Both have advanced engineers on their teams to ensure they keep up with new technological advancements.
This article will discuss one top-tier metal detector from each manufacturer and ultimately decide which is the best. From Minelab, we have the Equinox 800, and from Fisher we have the F75. Who will win in Minelab Equinox 800 vs Fisher F75? Let us find out!
About Minelab
Minelab is an Australia based company that has been making metal detectors specifically for use in difficult soil conditions for 35 years. They are an industry leader and constantly producing innovative technology. Some of their models have multiple frequency technology which allows metal detectors to use several different frequencies at the same time. Minelab's metal detectors are ruggedly built and adhere strictly to military grade standards.
Minelab is part of Codan Limited, which has bases in over 150 countries. Their products are sold in Australia, Europe, the Middle East, Asia, and the Americas. Many of their products are aimed at intermediate or advanced detectorists, although hey do have some entry level detectors.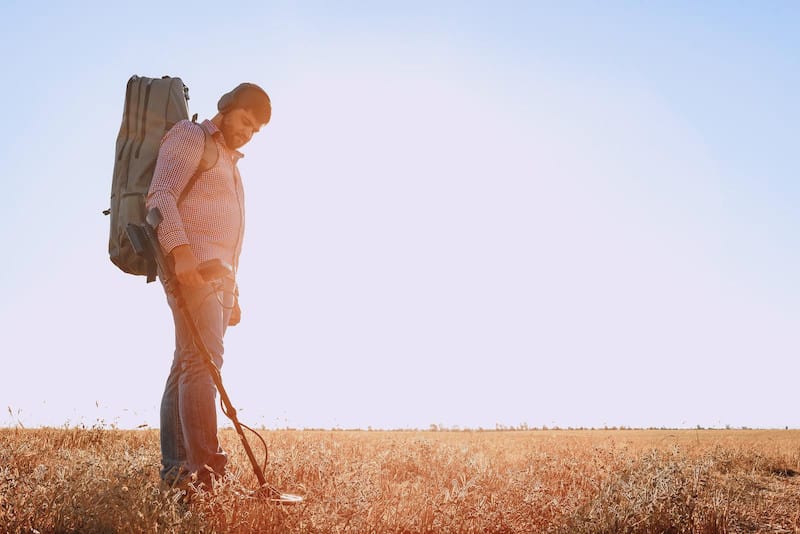 About Fisher
Fisher was founded in the 1930s by Dr. Gerhard Fisher. He was the first person to receive a metal detector patent. Fisher, a German immigrant, was a research engineer in California during the 1920s. He received the first aircraft radio direction finder patent. His first detect, the Metallascope, or M-Scope, consisted of 2 wooden boxes, copper coils, vacuum tubes, and other electronic components.
When his patent expired, the world had access to this technology and the field of metal detecting grew. Fisher is now owned by First Texas Holdings, and they continue the legacy of creating state of the art metal detectors for all skill levels. 
Minelab's Equinox 800 is one of my favorite metal detectors available today. This model features Minelab's patented Multi-IQ technology, along with 5Fx8 technology. Multi-IQ technology allows the Equinox 800 to search on multiple frequencies simultaneously, or 5 individual frequencies. 5Fx8 technology provides the 5 individual transmission frequencies in a single metal detector. This is the equivalent of having 5 different search coils on one metal detector. This detector can operate at:
5 kHz – great for large silver items or coins
10 kHz – Best for small Roman hammered coins
15 kHz – Great middle ground between low and high conductivity metal targets
20 kHz – Great for general treasure hunting and gold prospecting
40 kHz – Optimized for small gold nuggets and fine jewelry
Minelab's Equinox 800 has been meticulously optimized to find all treasure types. It comes with 4 detection modes: Park, Field, Beach, and Gold. It has 8 custom search profiles, with 2 for each detection mode. This allows you to save your favorite settings within the custom profiles. The Equinox 800 has both automatic and manual ground balancing, automatic and manual noise cancelling, adjustable sensitivity, threshold volume, and pitch.
Threshold, pitch, and volume each have 25 adjustable settings. Tone break is ferrous or non-ferrous, tone volume is ferrous or non-ferrous and there are 5 depth indicators. This model has a 50-segment notch discrimination with 4 target tones and 5 depth level indicators. This model is fully submersible up to 10 feet. 
The Equinox 800 features a large LCD screen with adjustable backlight. It uses rechargeable battery pack and can be used with wireless headphones. The software on this model is updatable by downloading from Minelab's website and installing with your computer. This detector is lightweight, at just under 3 pounds and has Bluetooth connectivity for use with wireless headphones. It comes with 3 different search coil options: a 6" round Double-D search coil, an 11" elliptical Double-D search coils, or a 15" Double-D search coil.
The smaller coil is the most sensitive to small targets and works very well in trashy areas. The larger coil covers the most ground and provides maximum depth. The middle search coil provides a good balance between sensitivity and ground coverage. The standard package comes with the 11" search coil and a skid plate. 
Fisher's F75 is one of its top-of-the-line models. It has more versatility and depth with greater target separation and audio features than any of its other models. This article discusses the base model F75, not the other 2 available F75 models on Fisher's website. This model features DST mode, or Digital Shielding Technology. This helps eliminate interference from electromagnetic sources. This is immensely helpful when searching in cities and towns with power lines and other sources of interference nearby.
The F75 has FA Fast Processing which is improved target separation. It features 3 levels of FeTone: Iron Audio off, low, or medium. This allows users to hear or turn off sounds for iron targets so you can focus on other types of metal.
This all-purpose metal detector is designed for finding jewelry, relics, and coin shooting in most types of environments. The F75 is a single frequency metal detector operating at 13 kHz, which can be adjusted slightly to compensate for interference. This model is not great at finding gold. It will find large gold or larger jewelry but will struggle to find or be unable to find fine gold jewelry or small nuggets or flakes. 
The F75 features a large LCD screen with numerical target ID. It has 3 search modes: Motion All Metal, Static All Metal, and Discrimination. Sensitivity can be adjusted in all metal modes, as well as audio and ground balancing. Static mode does not allow these adjustments. Discrimination mode allows you to adjust notch, discrimination, sensitivity, tone number, and process number. Fisher has put 65 discrimination segments on the F75 so you can customize what metals you hear or do not hear.
This model has automatic and manual ground balance, which helps eliminate ground mineralization noise and some noise from saltwater. This model is not designed for saltwater beach hunting so you will get a lot of extra chatter from the detector if you use it in this type of environment. The F75 comes with an 11" elliptical Double-D search coil. The coil is waterproof, but the control box is not. 
One feature the F75 has that is extremely helpful in high soil mineralization is the Fe3O4 graph, which shows the current mineralization factor of the soil. I live in an area with extremely high soil mineralization and many detectors struggle to search this area without giving false readings or overloading. 
Is this enough to keep the F75 in the running to see who reigns supreme: Minelab Equinox 800 vs Fisher F75?
Let's find out!
Minelab Equinox 800 or Fisher F75?
One of the most notable comparisons between the Equinox 800 and the F75 is the operating frequency. The Equinox 800 has multiple frequency mode as well as single frequency mode. This model has 5 individual frequencies and can use them all simultaneously as well. The F75 is a single frequency which can be slightly adjusted to compensate for mineralization or electromagnetic interference. The Equinox 800 is fully waterproof up to 10 feet, while the F75's search coil is waterproof, but the control box is not. The Equinox 800 has a specific gold mode, and a much higher operating frequency, so it is the best choice for gold prospecting. It will also do better in saltwater areas than the F75 will. 
Both metal detectors have manual and automatic ground balancing, adjustable sensitivity, adjustable discrimination, and large LCD screens with numerical target ID and backlight, although the Equinox 800 has an adjustable backlight. Both are approximately the same price, depending on where they are purchased. Both detectors are user friendly and will be good for beginning detectorists or more advanced detectorists. So, does one reign supreme? Is one truly better than the other?
Conclusion
The Minelab Equinox 800 wins this battle, easily. I really like Fisher metal detectors. My first 2 metal detectors were Fishers, and they are incredibly user friendly. If you are beginning detectorist, the F75 may be more user friendly to you. But the extra features on the Equinox 800 make it my top choice. The Equinox 800 will be good for new detectorists, too, as it has pre-set modes that you can turn on and go until you learn how to work the settings and adjustments. 
There is no comparison between the F75's single frequency and the multiple frequencies available on the Equinox 800. This detector is the equivalent of having 5 different metal detectors, or at the very least, 5 different search coils. If you plan to gold prospect, the Equinox 800 has you covered. This model has specific gold settings and mode that use different parameters than other modes. These are specifically optimized for gold prospecting. 
The Field modes allow the best signal to noise ration for general detecting and coin shooting. The Park modes are more sensitive to higher frequency and low conductivity metals. Beach settings are also a bonus above the F75, as they are balanced for salt conditions so they can be used in dry or wet sand, in the surf or underwater. This model is also fully waterproof up to 10 feet, so it is perfect for shallow diving. The Equinox 800 is lightweight, Bluetooth compatible, and can be used by all skill level detectorists.
The Equinox 800 will work the best in difficult soil conditions. If one frequency makes too much noise, you can use a different frequency. In my area, this is massively helpful. Our soil is so mineralized that almost all single frequency metal detectors give false signals and excessive chatter. My first metal detector would constantly overload from the overwhelming amount of minerals in the soil. When I use a multiple frequency detector, this problem is much more manageable now. It has not gone away completely, as you still must fiddle with it to find where the best mix of quiet detecting and sensitivity and depth is. But it is much improved!
Another thing I really like about Minelab metal detectors is the variety of language options available. This detector can operate in English, Russian, German, Dutch, Polish, Italian, French, Spanish, Portuguese, Czech, Japanese, Korean, Simplified Chinese, Mongolian, Turkish and Arabic. 
So, there you have it. In the competition of Minelab Equinox 800 vs Fisher F75, the Equinox 800 has emerged victorious. 
As a side note, if you are a Fisher fan over a Minelab fan, you will not be disappointed in the Fisher F75. This is one of their best all-purpose metal detectors. It is an excellent choice for any detectorist and will be great for beginners or intermediate hunters. 
Happy Hunting!
FAQ
Q: Fisher's F75 has different models on their website. What is the difference?
A: There are 3 F75 models on Fisher's website: the Fisher F75, the Fisher F75 Ltd, and the Fisher F75+. The F75 Ltd is a different color, all black, and features cache locating processes, making it the best choice for relic hunting or coin shooting. The F75+ is an upgraded version of the F75b with more depth and Boost Mode. Each version has the same F75 base, with some different settings and features. The F75 Ltd is the most expensive, then the F75+ and the F75.
Q: If I am a new detectorist, will the Minelab Equinox 800 be too advanced for me?
A: The Minelab Equinox 800 will certainly take some time to master. But if you are new metal detectorist, you will find this metal detector will work for you. Because it has pre-set search modes, until you learn all the fancy bells and whistles, you can utilize these. These are a good starting point as you begin your metal detecting journey. You can grasp the basics, then begin to adjust the settings to better suit you. Make sure you know your manual very well and you evaluate the machine at home so you know how it will react in the field to different metal types. 
Q: I have heard that multiple frequency metal detectors have slower recovery speeds and poorer depths. Is the Equinox 800 like this?
A: For many years, multiple frequencies were a tradeoff. You had slower processing, slower recovery speed, and less depth. Early BBS and FBS detectors were slow so the processing electronics could keep up. Advancements in processor speed created the Equinox line and the newer Minelab CTX3030 detector, which is the fastest and one of the best (in my opinion) detector Minelab makes.
The Equinox 800 detector, when left at a recovery rate of 6, will work extremely well at most sites with little to no loss of depth. Manufacturers are constantly working toward eliminating this problem and making multiple frequency metal detectors more stable and optimized.
Q: I have an Equinox 800. How do I update the software?
A: Updates are extremely easy on the Equinox metal detectors. First, go to Minelab's website and find the software update page. It will show if you have any updates for your metal detector. Any necessary updates can then be downloaded (works with Mac and PCs). Connect your metal detector to the computer using a USB cable and a window will open asking if you want to install the update.
The latest update is Software Update 3.0. This update adds a new single frequency of 4 kHz, which enhances the detection of large and deep targets. Various stability enhancements have also been included in this update. You must leave your search coil attached to the detector to perform the update. Computer requirements are: 
Windows 10: 50 MB or hard drive space, 20 MB of RAM
MAC OS: Greater than 10.13 High Sierra, 50 MB of hard drive space, and 30 MB of RAM
If so, please "like" our Facebook page and be sure to revisit Discover Detecting for new content surrounding the metal detecting hobby!
You Might Also Want to Read: