Who Makes the Best Metal Detecting Knee Pads?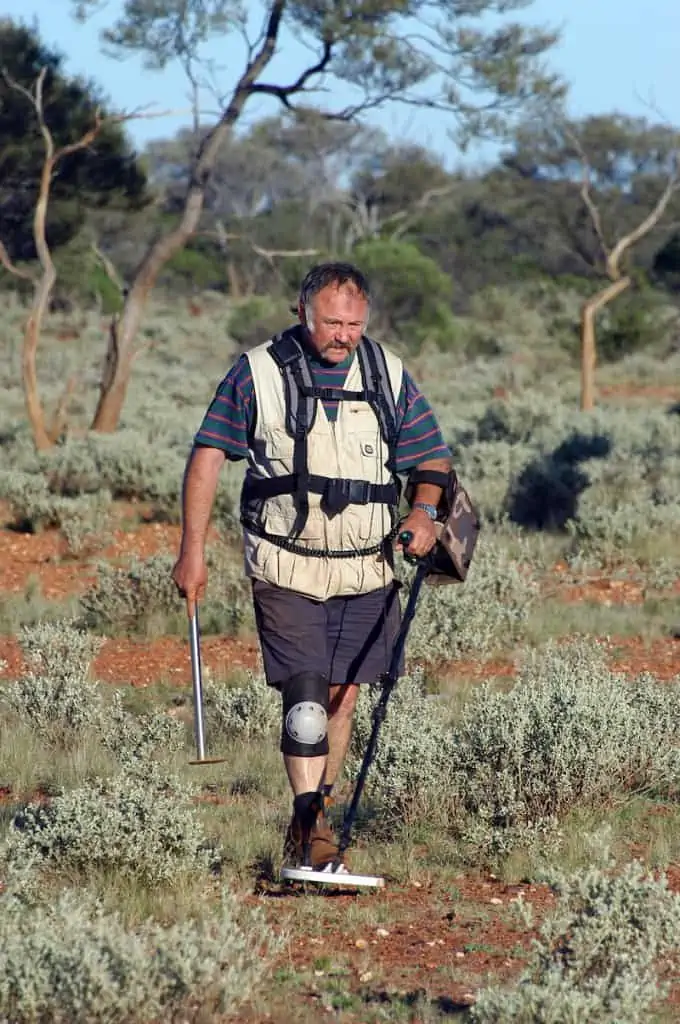 The knees are the largest joints in the body and are crucial for any type of upright activity like standing, walking, running, and kneeling. Knee pads are an often-overlooked accessory when it comes to metal detecting. They do, however, offer several benefits.
Often when metal detecting we are kneeling on the hard ground. Over time, this can cause issues with knees. In fact, 60% of knee injuries are caused by wear and tear of the knee. Bastyr Center for Natural Health reported that using knee pads is associated with a 56% decrease in the risk of knee injury. 
Metal detecting knee pads offer:
Protection – The patella, or kneecap, protects the knee, but is vulnerable to fractures. A good knee pad can minimize the impact on the kneecap, preventing patellar fracture. It can also help you avoid being hurt by kneeling on objects like nails, rocks, and jagged metal. Knee pads are designed to safeguard against impact and provide cushion when kneeling, helping prevent osteoarthritis in the future, too. 
Save Money – Knee pads can help you save money in long run. The cost of this accessory is much less than the cost of treatment or surgery to repair a damaged knee.
Confidence – When using knee pads, you will not have to worry as much about the potential of kneeling on something damaging or damaging your knees from contact with the hard ground. One less thing to worry about, so you can focus more on digging treasure!
Versatility – Knee pads are not only helpful for metal detecting, but they have a range of other uses including sports. 
Another often overlooked aspect to wearing knee pads is they help keep dirt and grass stains off your clothing and keep your clothing dry if you are hunting in wet grass or near water. While it may seem like it is unnecessary, knee pads are a great accessory for all metal detectorists. 
If you have bony knees, you are at a higher risk of damaging the patella as it contacts the ground. You may even find your recovery time after metal detecting is lessened with the use of knee pads, especially as you get older. 
What to Look for in Knee Pads
Knee pads for metal detecting should be comfortable enough to wear for long periods of time. You do not want to spend a lot of time taking them off and putting them back on. They should stay in place with very little movement, so you are not messing with them all day long. They should be strong and durable and offer a good amount of protection for the knee joints. They should be simple to put on and remove. 
One of the best options for metal detecting knee pads is a good, solid gel or foam pad. The pad is the portion that will go directly on the kneecap, so it needs to be comfortable. When kneeling to dig a target, you run the risk of kneeling on something hard or sharp. So, you also want to make sure you have a knee pad with a strong, durable, hard outer covering. 
Sometimes the best solution is knee pads built into pants. Some types of tactical pants have a pocket where knee pad inserts can be placed. This is a convenient all-on-one solution for wearing knee pads. You also want to make sure you have a knee pad that is breathable, so you are not sweating or causing the knee pad to slip from its place if you are wearing shorts. 
Best Metal Detecting Knee Pads
Let's begin with Kellyco's knee pads.
Kellyco Knee Pads
Kellyco is a well-known distributor of metal detectors and metal detecting accessories. These knee pads feature a gel padded inner cushion and hard outer shell. The elastic straps are 14" and stay where you put them. These are great for knee protection against rocks, nails, and other debris.
These pads are great because they were built specifically for metal detectorists, while many others are built for multi-uses. There is nothing wrong with multi-use knee pads, however, but Kellyco knows the strain metal detecting can cause on the knee joints and has worked hard to engineer a knee pad to mitigate these effects. 
Doc's Hard Knee Pads
Doc's hard knee pads are made from hard plastic and jointed for comfort. They feature foam lining for extra comfort and are non-slip. The double strap design in the back positions the straps so they will not pinch the back of your legs.
The upper portion of the knee pad blocks dirt, so if you are digging and flip dirt up, you will not get it inside your knee pad and kneel on it next time you bend down. The hard plastic covering also protects the knee in the event of a fall. 
NoCry Professional Knee Pads
NoCry knee pads are a great option. They stay in place, whether you are walking or kneeling. These pads feature slip buckle clips and flexible neoprene straps to avoid slipping. They can be adjusted up to 22" in circumference. The cushion is designed to give great protection to the knees.
The hard, non-slip PVC cap is backed with layers of EVA foam padding and an extra thick gel cushion to give maximum protection and comfort. They are sewn with heavy duty nylon thread making them durable. They are breathable for long-term use.
Thunderbolt Knee Pads
Thunderbolt produces top-tier personal protective equipment. They have several knee pad options designed for use in tough environments. One of their best models is the Platinum Pro. This model features a soft gel core and thick engineered foam to protect the patella. The outside cap is tough and made to withstand sharp objects. They are non-slip, so they stay in place where you put them. 
These are created from heavy-duty yet breathable neoprene, ballistic nylon, and engineered PVC. The Platinum Pro knee pad is ergonomically designed to give extra support to the patellar tendon below the knee and the quadriceps above the knee. They even offer a free 7" extension strap, so they fit nearly every knee.
ProLock Knee Pads
ProLock knee pads are durable and comfortable. They feature a compression gel to prevent shock to the knee. They also keep the knee stable and comfortable. These are easily adjustable from 12.5" to 29", so they fit all sizes of knee.
They are non-slip, so they stay where you put them. The abrasion free polyester structure is enhanced with TPE compression gel and EVA foam core to absorb impacts and evenly disperse bodyweight. The thigh and calf supports are hinged, so they do not cut into the leg at all.
Cogurd Professional Knee Pads
Cogurd knee pads are very heavy-duty pads perfect for a metal detectorist searching a rocky or trashy area. These knee pads have an adjustable hook and loop strap to keep the pads in place. The gel pads give you comfort all day long. 
They are non-slip and durably reinforced with nylon stitching. They offer a 3-layer padding system and gel cushion to protect the knees from injury. They are waterproof so they are good for metal detecting in inclement weather or muddy areas. The stabilizing cap and soft gel core allow more comfort when kneeling. 
Alta Tactical Superflex Knee Pads
Alta Industries offers a no-nonsense knee pad that is very subtle. The strong yet flexible outer cap gives great protection against sharp objects or stones. They feature a compression recovery neoprene foam padding, Cordura Nylon cover, and breathable fabric.
The Tactical Superflex knee pad has a dual strapping system designed to be non-slip, and easy on – easy off fastening system making them versatile and simple to use. 
Tactical Pants with Built-in Knee Pads
Tactical pants with built-in knee pads are a simple, all-in-one option for a good metal detecting knee pad. One of the best is the Aggressor Flex Tactical Pants with cargo pockets. These are a cotton, polyester and spandex blend with zipper closure.
They are machine washable, rugged, lightweight, reinforced seam, and knee pads. The knee pads are purchased separately as an insert, but well worth the convenience. Because these are cargo pants, they have a lot of pockets for storing your gear and your finds, too!
McGuire-Nicholas Gel-Foam Pads
These knee pads feature a gel insert for added comfort and are great for hunting in cold or muddy ground. The straps are wide and protect the pants from dirt and moisture, but they also work well with shorts.
These are slightly bulkier knee pads, but they are perfect for cold weather. They are reportedly not as breathable as some other models, so they are best for winter hunting.
SKL Knee Pads for Kids
These knee pads are designed for kids 8 and under. They are durable, soft, and flexible, and come in a range of colors kids will like.
The straps are Velcro and adjustable. They feature a soft EVA pad with hard plastic plates to minimize damage to the knees. 
Where to Find Metal Detecting Knee Pads
As with most things, you will find the widest variety of knee pads for metal detecting online. Most online retailers of metal detectors or metal detecting accessories will offer knee pads. You can also check with work safety companies as knee pads are used in many applications, such as construction. Knee pads are widely used in many professions and several companies make excellent, high quality knee pads. 
More locally, you can check with retailers like Wal-Mart, Lowe's, Home Depot, Harbor Freight Tools, Cabella's, Dick's Sporting Goods, or Sportsman's Warehouse, to name a few. You can also check with places that sell sporting goods, if you have a store dedicated to that. Knee pads are required and frequently used in many sports, such as volleyball, so these stores will have many options for good quality knee pads. 
Where Would I Use Metal Detecting Knee Pads?
Knee pads for metal detecting can be used in all metal detecting situations. You can use them on your every day simple hunts, like in city parks, yards, and beach areas. You can use them when in more difficult terrain like mountains, deserts, and rivers. Knee pads will protect the knee when kneeling on hard ground in all areas. Even if you do not have knee problems, repeated bending and pressure on the knee can cause injury.
When metal detecting in the mountains, there are a variety of things that can hurt your knees. For example, in camping areas and popular trails, there is likely to be a lot of trash on the surface. Have you ever metal detected near a fire pit in a campground? There are broken bottles, shredded cans, nails, and other harmful objects. 
Knee pads can help you avoid getting these items embedded in your knee, or at the very least, scratching your knees. These items are also very dirty and could carry germs with them causing infections. You may also encounter downed trees, branches, and roots, which when knelt on, can harm the knees.
When metal detecting in the deserts, knee pads are massively helpful. The desert floor is hard and unforgiving. Much of the desert area here in the west has a high clay content, typically a clay called caliche, so it is nearly as hard as concrete. I cannot speak for you, but my knees would never forgive me if I knelt on concrete 45 times a day! 
Another perk to wearing knee pads in the desert is you reduce the risk of being poked by cactus needles. Cacti are no joke and if you have ever been poked by one, you know why you do not want them in your knees! Many varieties of desert palm tree and plants also have spiny leaves which can stab you. Not to mention the variety of animals you may inadvertently kneel near or on, such as scorpions and snakes. Knee pads will protect your knees when kneeling on the desert floor!
When metal detecting in river areas, you may notice gravels and larger stones. Sometimes these can be quite sharp, especially when encountering the knees. Wearing a knee pad while metal detecting these areas can reduce your risk of damage caused by rocks. Did you ever fall as a kid while riding your bike, running, or skateboarding and have gravel embedded into your knee? Knee pads will prevent this!
When metal detecting in areas like yards, parks, and beaches, knee pads will save you from kneeling on trash or rocks and will also keep your joints safer. The constant bending of the knee to dig combined with kneeling on hard surfaces puts a lot of wear on the knee joint. The patella can only do so much! Do yourself, and your knees, a favor and find some good quality metal detecting knee pads!
FAQ
Q: Do I need knee pads if I do not have knee pain normally?
A: Yes. Knee pads are recommended for any metal detectorist. You may not have knee pain overall, but with the repeated stresses of bending, stooping, kneeling, and putting your entire bodyweight on your kneecaps, you run the risk of damaging the joints. Repeated movements are known to cause joint damage.
I had surgery for carpal tunnel syndrome in one wrist from repeated movements from typing and blow-drying hair. The same can happen to the knee joints, but it bears a lot more weight than the wrist does! So, do yourself a favor and protect your knees.
Q: Are there more knee pads available for metal detecting than the ones listed here?
A: Absolutely. Any type of knee pad will work to protect your patella. But when metal detecting, and kneeling for long periods in general, you want a knee pad with advanced support and protection. Many good quality knee pads have a gel lining and foam core. The gel adds a layer of comfort to the knee while the foam core adds support. 
Many also provide support above and below the knee to help stabilize it. There are hundreds of companies that make good quality knee pads. The ones listed here are all recommended by me and other metal detectorists. But in the long run, any knee pad is better than no knee pad. 
Q: I already have bad knees. Will knee pads help them from getting worse?
A: While I am not a doctor and cannot 100% guarantee your knees will be fully safe, quality knee pads should help your knees quite a bit. As mentioned, it is the repeated bending and pressure applied to the knee joint that can cause damage. 
Knee pads help to mitigate this but cannot fully erase the pressure or movement in the knee. If you have any concerns, if your pain worsens, or if you have sudden and intense pain, I suggest asking your regular physician about your knees, and see what they suggest you wear to protect them while metal detecting. Always see your doctor with any questions about your health!
If so, please "like" our Facebook page and be sure to revisit Discover Detecting for new content surrounding the metal detecting hobby!
You Might Also Want to Read: