15 Best Metal Detectors for Deep Coin Hunting
There is a wide variety of metal detectors on the market that are great for finding buried coins. All metal detectors will find coins in good soil conditions and in areas with good soil conditions. But many coins are lost in areas with high soil mineralization which can cause interference with metal detectors. 
The following list describes some of the best metal detectors on the market today for coin shooting. These detectors offer a decent number of features and are great for finding deeply buried coins. 
Newer coins are often all over towns and cities. In these areas, check parks, near sidewalks, lawns, and recreation areas. Anywhere people tend to gather or move, there is a good chance of finding newer coins. If you are searching for older coins, you may want to do some research about your area and find locations where old homestead sites were. 
You can also check town records and see where old buildings used to be. Old homestead sites and sites where buildings no longer stand are great places to find older coins. Check with local churches, parks, and old homes to see if the owners will let you metal detect (respectfully, of course). 
Below, please take a moment to view some of the top metal detectors on the market, and see how well they compare against one another:
The Treasure Pro is a turn on and go metal detector with enough options to suit detectorists in all situations. It features Tone ID, adjustable discrimination, Track-Loc ground balancing, and High Trash programs. The Treasure Pro has automatic ground balancing that adapts to ground conditions as you hunt. 
This gives users greater depth and sensitivity to smaller targets. Recovery speed and target separation are great on the Treasure Pro and the metal detector is easy to use. This detector works well in areas with high soil mineralization and is suited to beginning detectorists and seasoned veterans. 
The Treasure Pro features 5 search modes:
Beach Mode
All Metal Mode
Coin Mode
Jewelry Mode
High Trash Mode
The ability of this detector to record ground minerals in real time makes it perfect for finding coins. It features a high number of rejection ranges and unique features making it a great metal detector for coins. This detector operates at 8.2 kHz and can be used with the Coinmaster Family of search coils. It comes standard with a 10" Double-D search coil, so it can search up to approximately 10" deep in good soil conditions.
Fisher's F75 metal detector is a lightweight, easy to operate machine at a great price. The F75 has Digital Shield Technology, or DST, which lets users have maximum sensitivity with minimum background noise. Users can easily and quickly activate and deactivate DST according to user preference. This model has 4 audio tones. It also features 3 new levels of Fe-Tone which is a type of iron audio. This lets users hear and identify iron as a low-pitched tone regardless of signal strength. This model is recommended for coins, relics, gold, and jewelry. 
The F75 features a large, backlit LCD screen with numerical target ID, double filter discrimination modes, magnetic mineralization bar graph and readout, FASTGRAB ground balancing, and pinpoint mode. It operates at 13 kHz and comes with an 11" waterproof Double-D search coil. The detector is not fully waterproof so it should not be submerged. Users state the machine will find a U.S. coin up to 15" deep in good soil conditions, but realistically, more difficult soil conditions put this number right around 10".
The Coinmaster metal detector is a rugged machine built for finding coins and jewelry. It features Five Range Discrimination, which allows users to hear everything or only a specific signal type. It is an easy to operate machine and is tailored to beginning detectorists. The Coinmaster operates at 8 kHz. Ground balancing can be preset, manually optimized. The Target ID LCD screen shows the identification of targets as you hunt so you can hear and see the target and identify the depth.
The Coinmaster features adjustable discrimination and sensitivity and a pinpoint mode. The Coinmaster comes standard with a 9" Spider search coil, so in good soil conditions it will find a coin up to 9" deep. 
The Garrett AT Pro is an all-terrain metal detector and one of the best metal detectors for finding coins on the market. The AT Pro has automatic and manual ground balancing as well as a continuous coin depth indicator showing the approximate depth of buried coins. It comes with an 11" Double-D waterproof search coil. In fact, the entire metal detector is fully waterproof up to 10 feet making it great for beach hunting, surf hunting, river, or lake hunting. The LCD screen features a numerical target ID and operates at a 15 kHz frequency. 
This detector has a high-resolution iron detector to filter out trash targets and help users ignore items like tin foil and pop tabs while still finding coins. The AT Pro has quick recovery time. It is lightweight and easy to use. The AT Pro features 40 discrimination segments, adjustable notch discrimination, 6 search modes, and proportional audio. This detector is lightweight at just over 3 pounds. This machine is perfect for coins and will find coins between 8" and 9" deep. 
5. Garrett Ace Apex
Garrett's Ace Apex is the company's newest metal detector. This model features Multi-Flex technology, meaning it is a multiple frequency metal detector. It can also operate on 4 single frequencies when not in multi-frequency mode: 5 kHz, 10 kHz, 15 kHz, 20 kHz. The Ace Apex comes with wireless technology so it can be used with wireless headphones or standard headphones. It also features Iron Audio, Iron Volume, and 0 segments of iron discrimination. 
There are 20 selectable segments of notch discrimination on the Ace Apex, a large LCD screen with digital target ID, and automatic and manual ground balance. It also has a pinpoint mode, waterproof search coil, rainproof control box, and 6 search modes:
Zero
Coins
US Coins
Jewelry
Relics
Custom
One of my favorite features of this detector is its separate modes for U.S. coins and international coins. It comes with an 11" Double-D Viper™ search coil and is very lightweight at just 2.5 pounds. 
The CTX 3030 is one of Minelab's top of the line metal detectors. This model is waterproof up to 10 feet, so it is perfect for beach detecting, river hunting, or shallow lake diving. The CTX 3030 has a target trace feature which shows a real time animation that can be used to identify individual targets among other items. This is enormously helpful in areas with high levels of trash.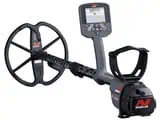 The CTX 3030 also offers target separation with 4 settings: Low Trash for Iron and non-iron targets, High Trash for areas with high levels of trash, FC (Ferrous Coin) for coin sized targets with low mineralization and Ground Coin for highly mineralized ground conditions.
This model features a unique GPS locating program called GeoHunts. This indicates ground already covered by the user. It also has WayPoints, which stores and saves points of interest on maps. Lastly, it features FindPoint, which stores location and other details of targets. The CTX 3030 also has many advanced features like FBS 2 technology. This allows the detector to function in a variety of ground conditions. It also features SmartFind 2 shows target identification, Fe-Co discrimination, and GPSi, used for geolocations. 
The CTX 3030 is one of the top coins and relic detectors on the market today but is pricier than some other models. This model has found coins at up to 15"!
The XP Deus is a unique metal detector that offers full wireless technology. The search coil, control box, and headphones are all wireless. The headphones from XP can also fully control the metal detector. This makes the detector extremely lightweight. This model operates at 4 different frequencies: 4 kHz (large ferrous and non-ferrous targets), 8 kHz (coins and small targets in low mineralization), 12 kHz (coins of all sizes in medium to highly mineralized soils), and 18 kHz (small coins made of alloy). 
There are also 4 ground balancing modes: manual, pumping, tracking, and beach on the Deus. The metal detector is weatherproof, but not fully waterproof. This model offers great target separation for coin and relic sites. The Deus can be set up to find large deep items or small deep items and offers an 11" search coil for deep searching. 
The Xterra 705 features Minelab's VFLEX technology. This allows users to change the operating frequency by swapping search coils. This model works with low, mid, and high frequency coils and all Minelab's Xterra accessory coils work with the 705. The search coils are waterproof, so the detector works well on beaches and shallow water.
The 705 has true automatic ground balance mode to help eliminate ground interference. This enables users to hear small or faint target signals. It also features automatic and manual ground balancing, along with tracking ground balancing. Tracking ground balancing allows the detector to perform very well in wet and dry sand transitions and hot rock/black sand areas.
The Xterra 705 has 2 pinpoint modes: auto and sizing. The sizing options allows users to obtain the size and shape of a target. This model is recommended for coin shooting because it features various discrimination patterns and has excellent accuracy. It is very lightweight and has multiple features and settings that make it a great detector for all types of treasure. 
9. White's MXT
White's MXT is recommended for coin and relic hunting and is easy to use and comfortable. It comes with 3 pre-programmed search modes: relics, prospecting, coins/jewelry. Coin and relic mode provide 5 different indications on the display and has automatic ground balancing, adjustable gain, and adjustable threshold.
The MXT features TRAC Toggle, which allows users to select the kind of ground mineral rejection required and provides automatic ground tracking for optimal searching. This all-purpose metal detector works well for all types of treasures. 
The Ace 400 has 5 discrimination modes, including separate modes for coins and jewelry. It features a digital target ID with numerical readout. It operates on a frequency of 10 kHz, giving the Ace 400 great sensitivity to low and medium conductive metals. This makes it perfect for finding coins. This model also has an adjustable frequency feature to help reduce unwanted interference from soil mineralization or electromagnetic interference. This model comes with an 11" Double-D search coil and weighs just under 3 pounds.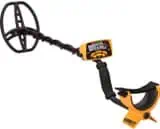 The Ace 400 features a zero-discrimination mode used to detect all metals. It also has a jewelry mode, relic mode, and coins mode. The coins mode is programmed to track U.S. coins and coins that are similar. The Ace 400 features notch discrimination which can be used in conjunction with the elimination button so users can detect a specific metal item while discriminating a new, unwanted trash item. 
The Ace 400 can tell users if a quarter in the ground is silver or clad, or if a penny is copper or clad. This is an amazing feature for coin hunters! 
The Equinox 800 features Minelab's patented Multi-IQ multi frequency technology. This allows the detector to function at multiple frequencies simultaneously, or at 5 single frequencies. Users will cover a much broader range of targets when operating in multiple frequency mode than in any single frequency. However, if there is too much ground noise from either electromagnetic interference or soil mineralization, switching to a single frequency can help eliminate the issue. This model features 4 search modes, 8 custom search profiles, automatic and manual noise cancelling, automatic and manual ground balancing, and adjustable sensitivity.
The Equinox 800 features a large backlit LCD screen with numerical target ID display. It is fully waterproof up to 10 feet and features several types of advanced technology: Multi-IQ, 5Fx8, Wi-Stream, Bluetooth, and aptX Low Latency. Software is upgradable via USB connected to a computer. With the 15" search coil, the Equinox 800 can find coins up to 15" deep in good conditions, but typically finds them more in the 8" to 10" range.
The Simplex+ was the first waterproof metal detector on the market that offered extreme depth and high-end features at an entry level price. This detector is simple to use but has enough features for a more advanced detectorist. This detector has automatic and manual ground balance, a large backlit LCD screen with numerical target ID, and is durably built. It is fully submersible up to 10 feet, features iron volume, notch discrimination, and 5 search modes:
Field
Park 1
Park 2
Beach
All Metal
The Simplex+ features wireless compatibility for use with wireless headphones, vibration target alert, frequency shift, and an LED flashlight for low light conditions. It is very lightweight at just under 3 pounds, comes with a rechargeable built-in battery pack, and a fully retractable shaft for easy transport. Firmware can be updated by connecting the detector to a computer. 
The Simplex+ operates at 12 kHz and is extremely sensitive to coins. It can find coins between 6" and 9" deep. 
13. Nokta Simplex CF77
The CF77 is a deep searching rugged metal detector. It is specifically designed to find coins and relics at deeper depths. It has 3 different choices for waterproof search coils: 9", 11" and 18" Double-D. The smaller search coil allows easier access to narrow areas and has good target separation. The medium coil provides a balance of depth and target separation. The largest coil provides the deepest possible searches in open areas. The CF77 works well on fields, beaches, and junky areas. 
The CF77 provides great depth while providing clear discrimination and great target identification. Differentiating between ferrous and non-ferrous metals can be done with the 3-audio tone system. It also features iron audio for use in heavily mineralized soils. This metal detector is very user friendly and ergonomic. It features simplified controls that both intermediate and advanced metal detectorists will appreciate. The CF77 has 3 operating modes: General, which is non-discrimination mode, Mode 1 and Mode 2 are discrimination modes that filter out unwanted targets and provide exceptional performance in highly mineralized soils. 
The CF77 operates at 17.5 kHz and weighs 3.5 pounds. 
The T2 features an easy to use interface and simple controls combined with a low operating cost and good battery life. It comes with FastGrab automatic ground balancing which measures the magnetic properties in the soil. The detector can then cancel the interference from ground mineralization despite what search mode it is in. It has 2 search modes: all metal and discrimination. Discrimination mode has 4 levels of Fe Tone to discriminate iron targets. The T2 also features Digital Shielding Technology and Fast Process, which is great for sharp responses in high trash areas.
The T2 can detect large coins up to 15" deep and its depth reading program is calibrated for coin-sized objects. It is designed to find jewelry, coins, and relics, and can even find gold nuggets. The T2 can find a variety of coins made from a variety of metals and is a good, deep searching metal detector.
The F4 is recommended for relic hunting, coin shooting, and beach hunting. It features auto-tune, 4-tone audio, automatic and manual ground balancing, and superior sensitivity in all ground conditions. The 4-tone audio system provides high accuracy in identifying targets. The lowest tone is for ferrous object, the low to mid tone is best for nickel and small gold, the medium tone is best for brass and zing, and the high tone is for silver and copper coins. Notch mode allows users to manually or automatically adjust settings to eliminate specific targets from detection.
The depth indicator on the F4 is most accurate for coin-sized objects and that makes this detector great for coin shooters. The LCD screen features a numerical target ID which shows specific values for each target. This mid-level metal detector operates at depth comparable to a lot of higher-end metal detectors. Users report a high level of proper target ID readings and superior depth readings. 
Conclusion
Each of these metal detectors is great for finding deeply buried coins. Be aware that many of these metal detectors will only reach their maximum depths if the soil conditions are good. Many areas, like where I live in southwestern Idaho, have high levels of soil mineralization which can cause a lot of interference. Many of these coin hunting metal detectors have features to balance out mineralization interference so they are great for finding a variety of coins. Many of these detectors are already preset with a specific coin mode so it is easier than ever to turn on and find coins!
Be sure when you are coin hunting that you remain respectful of your environment. If someone has let you metal detect on their property, remember to fill in all your holes completely so it keeps the landscape looking nice. Practice digging grass plugs to eliminate the need for digging large holes. 
If you are detecting in the woods or other rural area, be sure you remain aware of your surroundings and fill in any holes you dig. Be sure to research the laws and regulations pertaining to metal detecting in your area so you are not outside the law. You can be fined if you are detecting and digging somewhere it is not allowed. Some towns and cities require permits to metal detect within. 
Always do your research before heading out! If you have any doubts, check with your local city hall, police department, or park ranger station for more information about metal detecting and the laws surrounding the hobby.
Most importantly, have fun! Coin shooting is a rewarding hobby and you may come away from it with a neat piece of history!
You Also Might Like: