If you're a detectorist who has a Bounty Hunter metal detector or are considering buying one, be prepared for some negative comments from other detectorists you meet. Many detectorists don't have a lot of love for the Bounty Hunter brand.
While I concede they aren't top of the line machines, I don't think they deserve to be treated like the red-headed stepchildren of the metal detecting world.
My first metal detector was a low-end Bounty Hunter, and it opened up the world of metal detecting to me at a time when I couldn't have afforded a better machine. I became a treasure hunting enthusiast, looking for targets every chance I got. I was able to find some great stuff, including coins, jewelry and even Civil War relics.
But even though other detectorists were impressed with my finds, they still looked down on my Bounty Hunter, offering to lend me a "real" metal detector so I could see how superior it was. I've tested other machines and I've owned other machines since then, and have since settled on a mid-level detector that I like to use the most.
But I still have my first low-end Bounty Hunter and I like to use it once in a while even now. It's comfortable to swing and it makes me feel a bit nostalgic, thinking about my early years as a detectorist.
Plus, it's a good unit to whip out whenever any of my friends or family decide they want to go on a hunt with me. It's an ideal machine for that because it is so user friendly –- you can just turn it on and go, even without any experience or training.
If you're considering buying a Bounty Hunter, don't let other detectorists talk you out of it.  You'll be able to find some great things, even with low-end Bounty Hunter detectors.
Therefore, in this article, we're going to review the Bounty Hunter QSIGWP Quick Silver.  We'll discuss its features and usability out in the field, and whether or not this is a machine that's ideal for beginners. 
And to better help you, please take a look at the interactive guide below to compare the QSIGWP Quick Silver to other notable metal detectors currently on the market:
The QSIGWP Quick Silver
One of the most affordable Bounty Hunters on the market today is the QSIGWP Quick Silver, which you can buy for just over $100.
Here are the features of the Quick Silver:
Lightweight: You'll be able to comfortably swing the QSIGWP Quick Silver around all day if you want to. It weighs just under 3 pounds, which is light for a detector.
8-inch waterproof coil: An 8-inch coil won't cover a lot of ground, but it will be good in areas that have a lot of trash or multiple targets.
It has an operating frequency of 6.6 kHz: That's not great if you're looking for smaller pieces of gold, but it's adequate for general detecting and relic hunting.
Three tone audio identification: The detector has an internal speaker, and the three different audio tones will help you get an idea about the metal type you've found.
Padded armrest: That feature might not seem like a big deal, but after hours of detecting in a single day, you'll be thanking your lucky stars that the padding is there.
LCD display screen: The display screen isn't huge, but at least it's there.
This detector is aimed solely at beginning detectorists –- people with any experience whatsoever will be quickly wishing they had bought a more advanced detector that has ground balancing and better discrimination. But for an introduction into the metal detecting world, this is a cheap option and it will do the trick.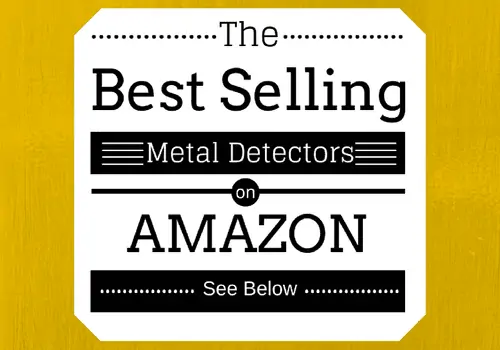 Below, please take a moment to review some of the best-selling metal detectors on sale at Amazon, and then see how well some of them compare to the QSIGWP Quick Silver:
QSIGWP Quick Silver vs Tracker IV
As inexpensive as the Quick Silver is, the Tracker IV is even cheaper. You can buy it for less than $100. If you can't afford anything better, you'll be okay with the machine for general metal detecting. It's very much a beginner's detector, but it has some good features considering how cheap it is.

The Tracker IV has a discrimination mode and two tone audio mode. It has a preset ground balance feature that will handle some mineralization in the ground, although it can still easily be tricked into giving false positives in areas of high mineralization.
The detector also has a disc/notch control that separates the desirable targets from the trashy hits you won't want to dig. It has the same size of coil as the QSIGWP Quick Silver and the coil is also waterproof.
I've used the Bounty Hunter Tracker IV, and it's a decent detector for the money. It's a great starter machine, especially if you aren't sure metal detecting is a hobby you'll enjoy long term. For a little bit of money, you can test the waters of the hobby and see if you plan to keep at it.
If you have a kid or a teenager in your life who you are trying to encourage to begin metal detecting, the Bounty Hunter Tracker IV would be an ideal unit to start them with. It's lightweight, inexpensive and can take a beating, which is especially a desirable trait in a detector if a child is handling it.
The biggest drawback to the Tracker IV is that you tend to get a lot of false positives and smaller targets aren't found much below a depth of six inches, although I have hit some larger coins at closer to eight inches.
But really, the two units are pretty comparable when it comes to performance.
QSIGWP Quick Silver vs Garrett Ace 250
The Garrett Ace 250 costs just over $200, so it is a little more expensive than the QSIGWP Quick Silver, but it's 100 percent worth the extra money you'll spend.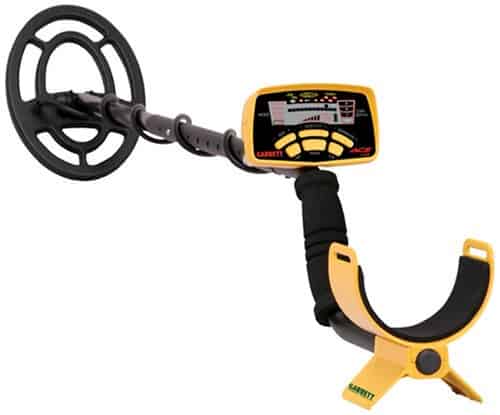 It comes with a 10-inch coil, compared to the 8-inch coil on the Quick Silver, and it has an electronic pinpointing feature on the detector. It has target identification with 12-element notch discrimination, which will give you greater accuracy when seeking your targets and will eliminate the trash signals you'll get.
The display screen shows targets up to 8 inches underground. The Ace 250 has five preset modes, including all metal, custom, jewelry, relics and coins. The all metal mode won't offer discrimination –- it will detect any kind of metal so you should be prepared to dig if you are in this mode. I wouldn't recommend using the all metal mode in an area where you suspect there might be a lot of trash.
The controls on the box are placed in convenient locations and you can easily figure out how this unit works, unlike some higher-end detectors that require extensive reading and tinkering before you figure out how to use it.
It's a comfortable unit to carry around –- it's under 3 pounds and it has padding to make it easier on the arm.
Like the Quick Silver, the Ace 250 is an entry level machine, but it's a step up from the Quick Silver. It's more accurate, and that will save you time and frustration when you're looking for targets.
The difference in operating frequency isn't huge, but it's higher than the QSIGWP, which has a frequency of 6.6 kHz. In comparison, the Garrett Ace 250 has an operating frequency of 7.2 kHz.
QSIGWP Quick Silver vs Discovery 1100
The QSIGWP Quick Silver and the Discovery 1100 will set you back about the same amount of money.
But I'd opt for the Quick Silver over the Discovery 1100 and here's one of the main reasons why. The Discovery 1100 only has a 7-inch coil. That's a bit smaller than I normally like to use for general metal detecting.
With a smaller coil like that, you won't be able to cover ground as quickly, and the speed at which you detect can make a big difference when someone grants you permission to hunt their property, but only gives you one day to do it.
Also, with a smaller coil, you generally sacrifice depth, and that proves true with the Discovery 1100, which can detect coins to a depth of 7 inches instead of the typical 8 inches you get with a slightly bigger coil.
If you plan to dig very trashy sites, then the 7-inch coil will come in handy, but overall, you want at least an 8-inch coil.
The other features of the Discovery 1100 are impressive for the money. It offers automatic ground balancing, digital depth display, a target identification system, three-tone audio and three-segment digital target display.
For me, though, the coil size is a deal breaker. I love to cover a lot of ground when I detect so I want a bigger coil size.
QSIGWP Quick Silver vs QSI Quick Silver
The Bounty Hunter QSI Quick Silver metal detector is about $30 cheaper than the QSIGWP, and I would recommend going with the QSI over the QSIGWP for beginning detectorists. The detectors offer the same features – the difference is that the QSIGWP comes with a pinpointer.
Pinpointers are a handy tool, and I'd recommend that every detectorist get one. It makes the hunt so much quicker, especially if you deal with tiny bits of metal that are camouflaged by all the dirt. Sometimes you dig a hole and your detector is going crazy and you just can't find where the metal is, even when sifting the dirt between your fingers. That's when a pinpointer is invaluable.
If a pinpointer is so great, why am I recommending the QSI, which doesn't come with one, over the QSIGWP, which does? Because the pinpointer that comes with the QSIGWP isn't worth the extra money. It's a poor excuse for a pinpointer, and it's not much better than not having one at all.
When you use this pinpointer, you have to practically be touching the tip of it against the piece of metal you're trying to find before it goes off. There are far more powerful pinpointers on the market, like my favorite, the Garrett Pro-pointer pinpointer. You'll spend just over $100 to buy the Pro-pointer, but it's definitely worth the extra money. You'll save so much time digging your targets, and you'll experience less frustration too.
If you enjoyed this article, please "like" our Discover Detecting Facebook page today!
You Also Might Like: