Garrett Ace Apex vs Garrett AT Pro
Metal detecting is an incredibly rewarding hobby and a wonderful way to spend time outdoors, get some exercise, and possibly find treasure! But how do you choose a metal detector? You need to assess what types of treasure you are seeking, what type of environment you will be hunting in, what features you are looking for, and what your budget is.
Some metal detectors are built for all treasure type and all terrains. Others are built specifically for gold or silver, coins, or relics, in saltwater or on land. It is important to sort out how and where you will use your detector before you buy one.
Garrett is one of the most well-known metal detector manufacturers on the planet. They have many models of detector for all skill types, several different treasure types, and different price ranges. Today, we will be discussing 2 of Garrett's metal detector models and decided who is the top dog.
One is a single frequency detector that has proven itself for over a decade, while the other is a newcomer with multiple search frequencies and a lot of potential. So, who will win in our battle of Garrett Ace Apex vs Garrett AT Pro? 
About Garrett
Garrett was founded in the 1960s by Charles and Eleanor Garrett. They sought to make a better metal detector than those available at the time. Garrett was the first metal detector manufacturer to eliminate oscillator drift with their "Zero Drift" technology using independently operated search coils. This soon became an industry standard. Garrett is one of the leading manufacturers of metal detectors on the planet. They make models for beginning detectorists through professional detectorists. They even make security, countermine, and government level metal detectors. They are constantly introducing modern technology and products.
Garrett acquired the company White's recently and are beginning to rename some of the products under the Garrett label. White's made some amazing metal detectors and Garrett will continue this legacy under their own branding.
Garrett's Ace Apex is one of the newest models available from the company. It is an advanced detector, especially considering its price range. This model features Garrett's Multi-Flex technology with broad-bandwidth digital platforming that gives more versatility to the detector. The Ace Apex sits above many rivals due to its multiple frequency options. This detector can operate at:
5 kHz
10 kHz
15 kHz 
20 kHz
Multiple Frequency 
Multi-Salt
The lower frequencies offer improved detection on larger and more conductive targets like silver. The higher frequencies offer improved detection on smaller and less conductive targets like gold nuggets and hammered silver coins. The Ace Apex features iron volume which allows you to decrease the volume of iron targets while non-ferrous targets remain at normal levels. Many detectorists like to hear all metal targets so having iron targets ring in lower allows you to determine what to dig or leave. This model has 8 iron volume adjustments. 
The Ace Apex has a large LCD screen with numerical target ID and 5-tone audible target ID. These tones provide audible target identification that correlates to the numerical target ID for better target identification. It also features a hybrid audio system which provides the simplicity of binary audio with the benefits of sublet proportional audio to better hear faint target signals.
The Ace Apex has 6 detection modes and a pinpoint feature: Zero, Coins, US Coins, Jewelry, Relics, and Custom. It features hi-resolution ground balancing, which offers 175 points of ground balance resolution ranging from ferrous ground to saltwater. This is extremely helpful in areas with high soil mineralization or saltwater. These areas are notorious for giving false signals with most single frequency metal detectors. The Ace Apex helps eliminate that issue. It also features hi-resolution discrimination with 20 notch discrimination segments and 8 iron discrimination segments.
The Ace Apex has 8 sensitivity and depth adjustments, headphone jack, iron audio, built-in wireless technology and Bluetooth connectivity, and rechargeable lithium-ion battery pack. This model is lightweight at just 2.5 pounds and has updatable software. This is done by downloading the update from Garrett's website and installing it via computer. 
There are multiple options for search coils and headphones with the Ace Apex. You can purchase a 6" by 11" Double-D Multi-Flex Viper search coil (the basic Viper package), the same coil with wireless headphones, an 8.5" by 11" Double-D Flex Raider search coil (the basic Raider package), or the Raider coil with wireless headphones package. The price difference among the packages is not great, so it is users' choice which search coil and headphone combo to purchase. The search coils are waterproof, while the control box is weatherproof and should never be fully submerged in water. 
The Ace Apex is a fierce contender in the ongoing battle of Garrett Ace Apex vs Garrett AT Pro!
Garrett's AT Pro is a tried-and-true model in the AT line of detectors that has been on the market for nearly 12 years. This model is an all-terrain metal detector that is fully waterproof up to 10 feet. This is advantageous for those who wish to detect in rivers, streams, lakes, and beaches. The AT Pro features Pro Iron Audio, which allows users to hear discriminated iron so you can decide whether to dig it or leave it. To use iron audio, some level of iron discrimination must be set. For example, iron audio does not work in all metal modes as all metals, including iron, will give an audible signal. 
The AT pro features Pro (proportional) audio modes. This allows you to hear very subtle changes in a target's response. This can help you better estimate a target's size, shape, and depth. This aids with quicker recovery times when targets are adjacent to one another. It also includes 3 standard audio modes which give full-strength beeps regardless of a target's amplitude. This binary audio system is preferred by some metal detectorists for its simplicity. Volume is not adjustable on this model.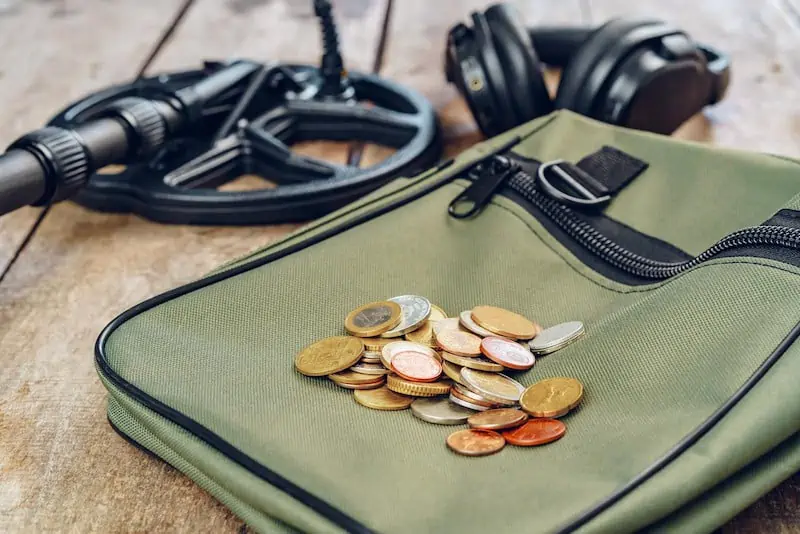 The AT Pro features 40 levels of iron discrimination which provides finer resolution to separate good targets from trashy targets. It features Fast Track ground balancing and manual ground balancing. It has 8 sensitivity and depth adjustments, digital target ID, pinpoint mode, and 3 audio tone ID levels. The AT Pro operates at an adjustable 15 kHz. This means it will do well with most metals and will be able to find some gold. Adjustable frequency is not the same at multiple frequency. What adjustable frequency means is the detector can have the frequency adjusted up or down slightly to help compensate for soil mineralization or electromagnetic interference. 
The AT Pro comes with an 8.5" by 11" Double-D PROformance search coil and weighs 3.03 pounds. This model operates on 4 AA batteries. This model is great for all skill levels, and all treasure types. It will struggle to find fine or small gold but will do fine finding larger pieces. 
Garrett Ace Apex or Garrett AT Pro?
One of the biggest difference between the Ace Apex and the AT Pro is the operating frequency. The AT Pro is a single frequency detector operating at an adjustable 15 kHz. The Ace Apex can operate on multiple single frequencies or multiple simultaneous frequencies. This gives an advantage when searching in difficult terrain. To change the frequency of a standard metal detector you must buy a new search coil. The Ace Apex has multiple frequencies built into a single search coil. The Ace Apex also has multiple search coil options, while the AT Pro has one option that comes with it, and one aftermarket search coil that is larger at 14.5" by 10.5." 
The Ace Apex features wireless technology for use with wireless headphones, while the AT pro can only use wired headphones. If you find cords annoying, this could be important for you. The AT Pro has automatic and manual ground balancing, as does the Ace Apex. This is a necessary feature when you are searching in areas with high soil mineralization or saltwater locations. 
The AT Pro is fully submersible up to 10 feet, while the Ace Apex is only water resistant and cannot be fully submerged. If you plan to shallow dive, then the AT Pro is the model for you. Remember, this model is only submersible up to 10 feet. Any deeper and the metal detector could be seriously damaged. For deeper diving, check out diving metal detectors. Many can go as much as 250 feet deep!
Conclusion
Which metal detector is better? The single frequency, tried-and-true AT Pro, or the all-new multiple frequency Ace Apex? Who reigns supreme in Ace Apex vs AT Pro? My honest opinion is they are both fantastic metal detectors. The AT Pro costs more than the Ace Apex but has been around longer and has proven its worth. The Ace Apex's multiple frequencies does give it an advantage in some search conditions. I truly do not think I can choose which one is the best because it depends on the application.
I live in northeastern Utah, and we have an extremely elevated level of soil mineralization here. I struggled with the same in southwestern Idaho, too. This can make single frequency metal detectors give false signals, give off excess noise and chatter, and even overload and need to be shut down. My first metal detector did not have ground balance settings and ran on a single very low frequency. I struggled a lot with that detector in these soil conditions. Detectors with manual and automatic ground balancing, and higher or multiple frequencies tend to perform better harsh soil conditions.
If you are prospecting for gold, I would recommend the Ace Apex because its frequencies go up to 20 kHz. Anything above about 14 kHz is good for gold, but the higher the better. This will allow you to find smaller and finer bits of gold. The AT Pro will still find gold at 15 kHz, but the multiple frequency mode and higher frequency of the Ace Apex will find smaller gold. The AT Pro has had the time to prove itself worthy as it has been on the shelves since 2010. Many people will gravitate to this simply because its popularity has not waned, and there is a reason for that. The AT Pro is one of the best-selling Garrett models and continues to be an industry leader. 
Both metal detectors are an excellent choice. You can go with the one that has proven itself repeatedly: the AT Pro. Or the new kid on the block with a lot of potential: the Ace Apex. Either way, I do not think you will be disappointed!
One more thing, make sure you are following all metal detecting etiquette and all metal detecting laws for your area. Most areas are under the rules imposed by the Archaeological Resources Protection Act which is aimed at protecting artifacts found on federal lands, Native American lands, and archaeological sites, especially if they are over 100 years old. It is your responsibility to know the laws in your area. Remember, laws change from city to city and state to state. There is no "one rule fits all" in metal detecting. Do your homework and save yourself a lawsuit and a fine! The authorities will not take "I didn't know" as an excuse. You are expected to know and follow all laws pertaining to metal detecting. 
Happy Hunting! 
FAQ
Q: Why is multiple frequencies a good thing on a metal detector?
A: Multiple frequency metal detectors put out 3 or more different frequencies simultaneously. This means a target missed on one frequency can be picked up by a different frequency. This increases the chances of making a find. Multiple frequency metal detectors are often more stable on beaches and in saltwater, too.
They do, however, require a lot of processing which can cause performance loss and impact depth and reactivity. If you do find performance loss or depth issues, you can always choose to use a single frequency on the Ace Apex, or eliminate this issue and go straight to the AT Pro.
Q: You mention soil with high mineralization. What does this mean?
A: Ground mineralization is the amount of magnetism the soil contains due to particles having the characteristics of metals. This makes the soil naturally produce a magnetic response when using a metal detector. Old surface soil is one of the most mineralized soils. This is caused by rainwater forcing iron compounds to move to the surface. New soils created by erosion or glacial action are lower in mineralization.
Therefore, in my area detectors without ground balance do not work well. We have prehistoric soils (so much so that there are dinosaur tracks and bones in the surface rocks in many locations) and areas where gold is known to be found. These areas are commonly the most mineralized. 
Q: Which of these metal detectors will work the best at a beach?
A: Both metal detectors should function very well in freshwater beach areas. They are both great for lakes, streams, rivers, and ponds. Just remember the AT Pro is fully waterproof but the Ace Apex is not so do not submerge it. If you are looking to search a saltwater area, the Ace Apex will work best for you. The AT Pro works okay in saltwater, but it is not very stable in saltwater or wet sand. You will get a lot of extra noise and may miss targets.
If you ground balance the AT Pro with the search coil submerged it will be more stable. While each of these can be used in saltwater applications, bear in mind that serious saltwater metal detecting has its breed of metal detectors specifically designed to compensate for saltwater. Always remember to clean your search coil thoroughly if you detect in salty environments to keep them functioning well. 
Q: I want to try the Ace Apex, but I am nervous because it is new. What can I do?
A: One of the best options for you is to find a metal detecting club or group and see if anyone has the Ace Apex and would be willing to discuss it with you. I understand the apprehension of spending a decent chunk of money on something and not knowing whether you will be happy with it. You can also do some research online and watch videos on the subject.
Many people post instruction videos and the like to platforms like YouTube. There will be many videos showing how the detector functions and other people's thoughts about the detector. It can be hard to pass up a detector like the AT Pro because it has been around for so long and continues to be one of the best detectors on the market, especially within its price range. Research is the key. Find information on various sites and sources and see if that helps you make your decision. 
If so, please "like" our Facebook page and be sure to revisit Discover Detecting for new content surrounding the metal detecting hobby!
You Might Also Want to Read: