21 Best Metal Detectors for Coins in the World
Finding coins with a metal detector is known as coin shooting. Coin shooting is a great hobby and one that, in some instances, can even be quite profitable. Some great areas to check for newer coins are parks, near sidewalks, lawns, and recreation areas—anyplace where someone may have accidentally dropped some loose chains (whether it was three days ago, three years ago, or three hundred years ago).
If you will be searching for older coins, you will want to do some research on your local area to find where old settlements and houses were. Old homestead sites, sites where buildings no longer stand, churches, and parks are all great places to search for older coins.
Metal Detectors for Coins
There are several metal detectors that are built specifically to find coins. Many metal detectors come pre-programmed with a coin mode. There are a few other important features to look for in a good coin shooting metal detector such as manual ground balancing, iron discrimination and notching, and maximum search depth of at least 6".
Many metal detector manufacturers have great models for coin shooting. Do some research on exactly what you are looking for in a coin shooting metal detector to start.
Below, you will find my recommendations for the best metal detectors for coins. And feel free use the Table of Contents below to find the exact detector you're interested in.
White's Coinmaster
The Coinmaster metal detector from White's is a ruggedly built metal detector specifically designed to find coins and jewelry. This detector features Five Range Discrimination, which allows the detectorist to hear all targets or just a specific type of signal. This makes it easier to discriminate between coins and other metals.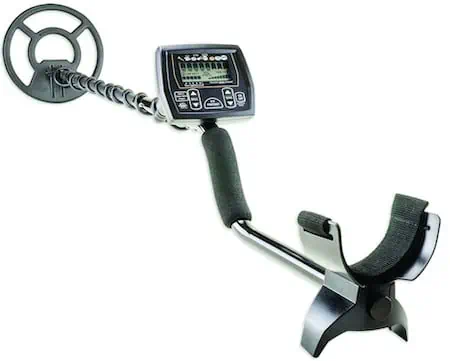 The Coinmaster operates at a frequency of 8 kHz and features preset ground balancing which can be manually optimized. It has an LCD screen with target ID which shows users targets as they detector, so it is easy to see and hear the target while identifying the depth.
The Coinmaster features adjustable sensitivity, adjustable discrimination, and a pinpoint mode. It comes standard with a 9" Spider search coil and can find a coin up to 9" deep in good soil conditions. It should be noted that Garrett recently purchased the brand White's, so availability and price of this detector are subject to change at any time.
Garrett Ace Apex
The Ace Apex is the newest metal detector from the well-known manufacturer Garrett. Fun fact, Garrett was the first manufacturer to create and hold a patent for metal detecting technology.
The Ace Apex features Multi-Flex technology, which is Garrett's version of multiple frequency. This detector not only searches in multiple frequencies but can search on 4 single frequencies also: 5 kHz, 10 kHz, 15 kHz, and 20 kHz. This makes the Ace Apex a great detector for all types of metals.
The Garrett Ace Apex has notch discrimination, a large LCD screen, digital target ID, and manual and automatic ground balancing. It also features a pinpoint mode. The detector itself is not waterproof, but the search coil is. This model has Iron Audio, and Iron volume, too, designed to easily pick out iron targets. The Ace Apex has 6 search modes:
Zero
Coin
US Coin
Jewelry
Relics
Custom
The reason for the 2-coin modes on the Ace Apex is one is for US coins, and one is designed for international coins. Coins manufactured in different locations contain different types of metal, so this can help immensely no matter where you are coin shooting. The Ace Apex comes standard with an 11" Double-D Viper search coil and is very lightweight at just 2.5 pounds.
Minelab CTX 3030
The Minelab CTX 3030 is one of my favorite metal detector models. This is a highly advanced, pulse induction metal detector, and not recommended for beginning detectorists. The CTX 3030 is fully waterproof up to 10 feet, so it can be used easily when beach detecting, river hunting, or shallow diving.
The CTX 3030 has a target trace features which shows a real time animation that can be used to identify targets among other items. This is hugely helpful in trashy areas. This model has good target separation with 4 settings: Low Trash for iron and non-iron targets, High Trash for areas with high levels of trash, FC (Ferrous Coin) for coin sized targets with low mineralization, and Ground Coin for highly mineralized soil conditions.
The CTX 3030 has many advanced technologies built into it. It features GeoHunts, which is a GPS location program showing where you have hunted. It has WayPoints, which will store and save points of interest on the map. And it features FindPoint, which stores location and other details or targets.
This makes is simple to track where you have been, what you have found, and where you found your targets. The CTX 3030 also features FBSs 2, which allows the detector to operate seamlessly in a variety of soil types and conditions, SmartFind 2 which shows target identification, Fe-Co discrimination, and GPSi for geolocations.
The CTX 3030 is one of, if not the top metal detector for coins and relics. Keep in mind this model is quite expensive. But it has been known to find a coin up to 15" deep!
XP Deus
The XP Deus is one of the most innovative metal detectors on the market today. This is the first detector to offer full wireless technology. The control box, search coil, and headphones are all wireless. The headphones from XP can also fully control the metal detector, so if you want to set the control box remote down, you can!

The wireless technology incorporated into this detector makes this one of the lightest weight metal detectors on the market, besides ones designed for small children. This detector operates at 4 different frequencies:
4 kHz – Large ferrous and non-ferrous targets
8 kHz – Coins and small targets in low soil mineralization
12 kHz – Coins of all sizes in medium to highly mineralized soil conditions
18 kHz – Small coins made of alloy
The Deus has 4 ground balancing modes: manual, pumping, tracking, and beach. The metal detector is weatherproof, but not fully waterproof. This detector features great target separation for coin and relic sites. The Deus can be set to find large deep items, or small deep items. It comes with an 11" search coil for the deepest search.
Fisher F75
Fisher's F75 metal detector is great for coin shooting. It features DST Mode (Digital Shielding Technology) to compensate for electromagnetic interference, FA (Fast Process), which improves target separation, and 3 levels of FeTone. This detector has adjustable audio pitch, trigger actuated pinpointing, a large LCD screen with numerical target ID, and double filter discrimination.
Along the top of the LCD screen, there are different metals and coins listed, and combines with the numerical target ID to indicate what type of coin you have found. Ground balancing is done with FASTGRAB technology or manually, and the screen is backlit. The metal detector is not fully waterproof but is weatherproof (with additional purchase of a rain cover).
Fisher's F75 has adjustable discrimination, adjustable sensitivity, notch, and operates at 13 kHz. The F75 comes with an 11" search coil with quick response time. Fisher recommends this detector for coin shooting, and it features some of the company's best and newest technology.
Garrett AT Pro
Garrett's AT Pro is an all-terrain metal detector and one of the best for finding coins. The AT Pro has automatic and manual ground balancing and continuous coin depth indicator. This detector has a high-resolution iron detector to help filter out trash targets. It also has a quick recovery time. This detector is great for finding coins on the beach and is fully waterproof up to 10 feet. It comes standard with an 11" Double-D search coil and has a large LCD screen with numerical target ID.
The Garrett AT Pro operates at 15 kHz, has adjustable discrimination, adjustable notch, proportional audio, and 6 search modes. The AT Pro can find coins up to 9" deep in good coil conditions.
Minelab Xterra 705
The Minelab Xterra 705 is a great coin shooting metal detector. It features Minelab's VFLEX technology which allows users to change the operating frequency by switching search coils. The search coils are waterproof, but the control box is not fully waterproof so care should be taken when beach hunting. The 705 has automatic and manual ground balancing, and tracking ground balancing. Tracking allows the detector to work well when transitioning from one soil type to another.
The Minelab Xterra 705 has 2 pinpoint modes: auto and sizing. Sizing allows you to gauge the size and shape of a target. This model features several discrimination patterns and has excellent accuracy for coins.
Garrett Ace 400
The Garrett Ace 400 features 5 discrimination modes, including modes for jewelry and coins. It has digital target ID with numerical readout and operates at 10 kHz. This gives the Ace 400 great sensitivity to low and medium conductive metals like coins. This model has adjustable frequency to dampen electromagnetic interference and high soil mineralization.
The Ace 400 features zero-discrimination mode to search for all metals. The coin mode is programmed to track U.S. coins and coins with similar shapes and compositions.
The Garrett Ace 400 features notch discrimination and elimination feature to eliminate unwanted trash targets. This model can even tell users if a quarter in the ground is silver or clad, or if a penny is copper or clad. This makes it a great coin shooting metal detector.
Minelab Equinox 800
Minelab's Equinox 800 is one of my favorite metal detectors. This model features Multi-IQ technology, which allows the Equinox 800 to operate on multiple frequencies simultaneously. It can also operate on 5 single frequencies from 5 to 40 kHz. It features 4 search modes, automatic and manual ground balancing, automatic and manual noise canceling, and adjustable sensitivity.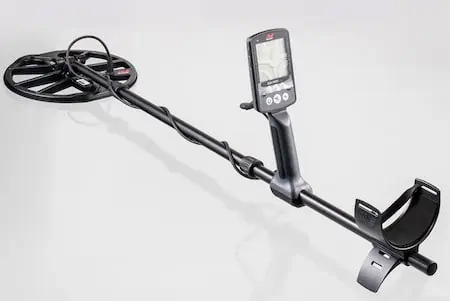 The Minelab Equinox 800 has a large backlit LCD screen with numerical target ID. It is fully submersible up to 10 feet, so it is perfect for beach combing. There are many other advanced technologies built into the Equinox 800 and it can find a coin up to 15" deep when searching with the largest search coil option.
Nokta Makro Simplex+
The Simplex+ is one of my favorite metal detectors. I have used this detector to find all sorts of treasures in the Utah and Idaho wilderness. This is a fully waterproof detector, up to 16.4 feet, with automatic and manual ground balancing, large backlit LCD screen, numerical target ID, iron volume, notch discrimination, and 5 search modes.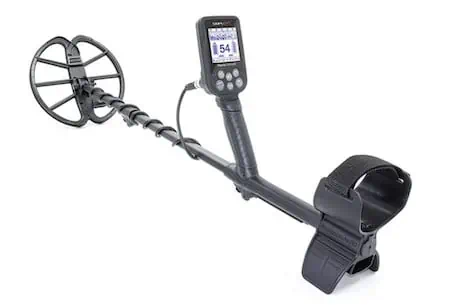 The Nokta Makro Simplex+ features vibration target alert, which is great for hearing impaired detectorists or anyone who is not looking to make a lot of noise when detecting. This model operates at an adjustable 12 kHz and can find a coin up to 9" deep in good soil conditions.
Nokta Simplex CF77 Coin Finder
As the name implies, the CF77 Coin Finder was built for finding coins. It has 3 search coil options to help you find the most coins: 9", 11", and 18" Double-D waterproof. The smallest coil allows easier access to small spaces and has great target separation. The medium coil gives a good balance of depth and target separation. The largest coil gives the deepest possible search. This model works well on fields, parks, beaches, and trashy areas.
The CF77 Coin Finder has 3 operating modes: General – non-discrimination mode; and 2 discrimination modes. This detector does very well in soils with high mineralization. It operates at 17.5 kHz, so it is good at finding all metal types.
Teknetics T2
Teknetics' T2 metal detector is a simple to use model. This detector has FastGrab automatic ground balancing to measure the magnetic properties of the soil. This is hugely helpful in areas with high soil mineralization. It has 2 search modes: All Metal and Discrimination. Discrimination mode has 4 levels of FeTone to discriminate iron and trash targets. The T2 also has Digital Shielding Technology and Fast Process, which helps give a sharp response in high trash environments.
The T2 can find large coins up to 15" deep in good soil conditions, and its depth readout program is fully calibrated for coin-sized and coin-shaped objects.
Fisher F4
Fisher's F4 metal detector is recommended for coin shooting by the manufacturer. This detector has auto-tune, 4-tone audio, and automatic and manual ground balancing. It has great sensitivity in all ground conditions, high accuracy, and good target identification. It also features notch mode to manually or automatically adjust settings to eliminate specific target types from detection.
The Fisher F4's depth readout is made for coin-sized objects, so it is perfect for coin shooting. It features an LCD screen with numerical target ID. This machine gives great depth, great accuracy, and more coins at a great price.
Bounty Hunter Platinum
The Bounty Hunter Platinum is a great option for coin shooting. It features a large LCD screen with depth readout and numerical target ID. This detector is made for coin shooting, jewelry, relics, and beach hunting. It operates at 7.69 kHz and has a pinpoint feature. It has 2 search modes, adjustable sensitivity, and adjustable discrimination. The Platinum features 4-tone audio feedback, mineralization readout, depth bar graph, and depth indicator.
The Platinum also features Ground Grab computerized ground balancing and comes with an 11" Double-D waterproof search coil. This is a great metal detector for coin shooters looking for a simple to operate machine.
XP ORX
The XP ORX metal detector is specifically made for finding coins and gold. XP detectors have some amazing technology built into them. This detector features HF coil technology, with 21 frequencies from 13 to 81 kHz, or X35 coil technology, with 35 frequencies from 3.7 to 27.7 kHz. This makes it great at finding all metal types. This detector has great sensitivity to small targets with the higher frequencies. It comes with 4 search modes: 2 gold prospecting modes and 2-coin modes.
One thing I love about XP detectors is their wireless capabilities. Like the Deus, the ORX features full wireless control. The remote, the coil, and headphones are all wireless, so the detector is extremely lightweight. This detector has a simple to use interface, and rechargeable battery pack.
Nokta Makro Multi Kruzer
The Multi Kruzer is a great coin shooting metal detector. This detector operates at 3 different single frequencies: 5, 14, and 19 kHz. It features 6 search modes, adjustable audio, adjustable notch, and frequency shift. It also has iron audio, tone break, notch filter, and pinpoint mode. As with the Simplex+, the Multi Kruzer features vibration upon detection.
The Multi Kruzer has a large backlit LCD screen with numerical target ID, gain settings, and pinpoint mode. Ground balancing can be done automatically, manually, or tracking. It comes standard with an 11" by 7" search coil. This is a great metal detector for coins.
Garrett GTI 2500
Garrett's GTI 2500 is an amazing coin shooting metal detector. This detector features Garrett's true size imaging, which gives target sizes ranging from A (smaller than a coin) to E (bigger than a soda can). This model features true all metal mode, fast track ground balancing, adjustable threshold, pinpoint mode, Scantrack optimization, and ground tracking.
The GTI 2500 features salt elimination, deep seeking mode, adjustable discrimination, hip mount, and LCD screen backlight. It even has a coin alert bell tone audio. This model makes it simple to see your targets using the graphic target imaging. This is a great feature for coin shooting!
Nokta Makro Impact
The Impact is a great multiple frequency metal detector. This model has 12 search modes and operates well in different soil types and terrains. It has advanced discrimination, unmasking ability, high performance, great depth, 3 selectable target ID depths, and online firmware updates. This detector operates at 5, 14, and 20 kHz. It features iron volume, tone break, notch filter, and pinpoint mode.

The Nokta Impact also has automatic, manual, and tracking ground balancing. The LCD screen is backlit, and it has a built-in flashlight for low-light hunting. It also has numerical target ID. The Impact comes with an 11" by 7" waterproof search coil.
Bounty Hunter Land Star
The Bounty Hunter Land Star is a great option for those on a budget. This detector is inexpensive, yet powerful. It features a large screen with touchpad control. This screen shows what type of metal it has detected and the depth readout. The Land Star operates at 6.6 kHz and has 3 search modes: No-Motion All Metal, Motion All-Metal, and Auto Notch Mode. It has Ground Trac ground balancing, which allows the metal detector to compensate for electromagnetic interference and soil mineralization.
Bounty Hunter recommends this detector for coin shooting. It features a digital coin depth indicator, 4 levels of iron discrimination, 9-segment target ID, and 3-tone audio.
You can read my Bounty Hunter Land Star review here.
White's MX Sport
White's MX Sport is fully waterproof up to 10 feet and operates at 13.9 kHz. It is recommended for coin shooting, relic and jewelry hunting. This model features selectable tone ID, audio modulation, and rejection volume. It has an easy-to-read LCD screen that is backlit and has numerical target ID. This detector has 6 search modes: Coin and Jewelry, Beach, Prospecting, Relic, Hi Trash, and All Metal. Coin and Jewelry mode is the most user-friendly mode.
The White's MX Sport features VCO, which increases the beep pitch as a target gets nearer. It also has a pinpoint mode, Iron Grunt, and readout to let you know what the target most likely is. For example, if the size, shape, and composition match a US Quarter, the readout will say "QUARTR" to indicate the find. This is hugely helpful for coin shooting. This model comes standard with a 10" round Double-D search coil but has other options.
It should be noted again that White's was recently acquired by Garrett, so pricing and availability of all White's detectors will vary.
Nokta Makro Racer 2
The Racer 2 is built on cutting-edge technology and boosted with all the features detectorists need to find coins. This detector operates at 14 kHz and features adjustable audio. It comes with 5 pre-set modes: All Metal, 2 tone, 3 Tone, Beach, and Deep. It features iron audio, tone break, notch filter, pinpoint mode, frequency shift, and vibration upon detection. Ground balancing is manual, automatic, or tracking.
The Nokta Racer 2 has a large LCD screen with numerical target ID. It has high performance, great depth, advanced discrimination, LED flashlight and backlight, and is built for all terrain types. This model comes with an 11" by 7" waterproof Double-D search coil and is fantastic at finding buried coins!
Best Coins to Find Metal Detecting
We're going to break this up into different countries. Let's first begin with the United States of America.
United States
One of the most fun things about coin shooting is the possibility of finding old or rare coins. Whether you intend to sell your finds or are just a collector, knowing the rarity and value of a coin is a plus. Many of the coins listed below are worth hundreds of times their original rate. Pay special attention to the years minted on the coins. Also, any anomalies minted into the coins ups their value. Some of the rarest and most sought-after coins in the United States are:
Indian Head Pennies
Lincoln Pennies
Liberty "V" Nickels
Buffalo Nickels
Jefferson Nickels
Seated Dimes
Barber Dimes
Mercury Dimes
Seated Quarters
Barber Quarters
Standing Liberty Quarters
Washington Quarters
Barber Half Dollars
Walking Liberty Half Dollars
Morgan Dollars; and
Peace Dollars
The value of coins is ever changing, so be sure to do some research on any coin you find to see if you may have one of the rarest! To put into perspective just how lucrative some of these coins can be, a Morgan Dollar, year 1895-P is considered an extremely rare coin. As such, its value is upwards of $20,000. Lincoln pennies, minted years 1943 Copper and 1944 Steel are valued upwards of $100,000 and $75,000, respectively. Always check your coins!
Even something as simple as the humble penny can be worth more than the originally amount. For example, pennies minted before 1984 are solid copper and worth between 3 and 4 cents each.
Europe
During the height of the Roman Republic, Roman territory extended from Italy all over the Mediterranean and into Western Europe and the British Isles. Therefore, Roman-era coins can be found all over Europe. Many coin hordes were buried during conflicts and the person may have been killed or otherwise conquered. This means there are coins just waiting to be discovered all over Europe!
I am not completely familiar with the laws for metal detecting or coin shooting in Europe, but Charles Garrett, original owner and operator of Garrett Metal Detectors, offers a free book for metal detecting in Europe which covers such important aspects.
Other Countries
There are many countries around the world where you can metal detect. There are also countries where metal detecting is completely banned. In fact, some countries have complete bans on even owning a metal detector. Do some research if you play to detect in another country.
There are websites with lists of where you can and cannot metal detect. Do not rely solely on them, though. Do your own research and make sure you are within the law. Some countries will not even allow you to bring a metal detector through customs.
Metal Detecting for Old Coins
There are a few important tips for finding old coins. Sometimes old coins can be found a couple of inches underground, most of the old ones will be 6" to 10" deep. So, dig every deep signal you come across! Even with discrimination, some trashy targets can interfere with a good signal at greater depths. It is important to dig a target when it is deep regardless of the detector's feedback. Swing the coil over the target area at a slightly slower speed and listen for mixed tones. You could be missing the find of your detecting career!
Revisiting places you have already detected can also lead to more coins found. There is no such thing as a "hunted out" site. You may think you have found all the good targets at a site, but a revisit may produce more. I like to visit a site several times before crossing off my list of good sites. Check places you neglected the first time you were there, like under bushes, near vegetation or fence lines, or water features. Slow down and really listen for weak signals.
Maximizing search coil depth is important for finding old coins. As mentioned, sometimes older coins can be found at shallow depths, but most are deeper. Make sure your metal detector is ground balanced and your sensitivity is at the highest level it can be without interference. The higher the sensitivity the more electromagnetic interference can alter your detector's signals. Another way to maximize depth is to turn off iron discrimination and hunt in all metal mode (if your detector has these options). This will not work well in trashy areas, however. Coin shooting after a rainstorm can help with depth too as moist ground is more conductive.
Always double check your holes and dirt plugs. Where there is 1 coin there are often more coins. You may be on top of a coin spill! Taking along a handheld pinpointer can help recheck holes and dirt plugs dug out of the holes. Coins, most specifically dimes, can be easy to miss in a large hole or dirt pile, especially with trashy metal targets mixed in.
Be careful not to scuff coins with your digging implements. Also, be incredibly careful when cleaning old coins and ensure you are using the lightest possible hand to do so. Scratching, denting, scuffing, or cleaning an old coin too much can diminish the value immensely. It is recommended to use only water if you can, or a little dish soap and water for dirtier coins. Remember: some coins are made of softer materials like silver and gold.
It may help to find a coin dealer in your local area. Coin dealers can give you information on coins that you may not know. They can also help you value the coins, as it is their business to be up to date on the valuation of coins. You can also join a metal detecting club in your area. Most states in the US have metal detecting clubs. Fellow detectorists can give you tips, tricks, war stories, and information that are invaluable to you as a coin shooter.
Best Metal Detector for Deep Coins
Let's begin with the Nokta Simplex CF77.
NOKTA SIMPLEX CF77 COIN FINDER
The CF77 Coin Finder is a deep searching and rugged metal detector. This model is specifically calibrated to find coins and relics at greater depths. It has 3 choices for search coils: 9", 11", and 18" Double-D. The smaller search coil will allow easier access to narrow areas and features good target separation.
The medium coil provides a good balance of depth and target separation. The largest coil provides the deepest search in open areas and covers more ground. The CF77 Coin Finder works well on fields, beaches, and high trash areas.
The CF77 Coin Finder features clear discrimination and great target separation without sacrificing depth. Differentiating between non-ferrous and ferrous targets can be done with the 3-audio tone system. It features an iron audio for use in heavily mineralized soils and high trash areas. This detector is extremely user friendly and quite ergonomic.
The CF77 Coin Finder has 3 operating modes: General, non-discrimination mode, Mode 1 and Mode 2, which are both discrimination modes that help filter out unwanted targets. The CF77 Coin Finder operates at 17.5 kHz and weighs 3.5 pounds. It is truly one of the best metal detectors for coins!
Types of Metal Detectors
There are 2 main types of metal detectors for coin shooting (and for all types of treasure hunting): Very Low Frequency, or VLF, and Pulse Induction, or PI. VLF metal detectors are the most common type of detector on the market. These detectors have 2 coils of wire within their search coils: a transmitter and receiver.
These work together to find a target and then relay the information back to the detector's control box. A magnetic field is sent into the ground and then changes direction. If it interacts with an object, the object will reflect the signal back to the detector. The number of times the magnetic field changes directions in the ground correlates to the operating frequency of the metal detector.
A PI detector works a little bit differently. It has a single wire coil to both transmit and receive. Powerful bursts of current are sent through the wire and these pulses create a short magnetic field. When the pulse ends, the magnetic field reverses polarity and collapses, which creates a sharp electric spike lasting just a few microseconds (called a reflected pulse). Another current then runs through the coil and process continues. When a PI detector finds a metal target, the reflected pulse takes longer to dissipate alerting the detector to the presence of metal in the ground.
VLF metal detectors are usually more beginner friendly. They are simpler to find at stores and are less expensive. PI metal detectors are inherently immune to the effects of saltwater (saltwater is highly conductive and can cause VLF metal detectors to give false signals, operate loudly, and even overload).
Where to Search for Coins
As with everything else we find with metal detectors, location is important. The type of coins you are searching for can help determine your search location. The best places to find coins, overall, are:
Churches
Schools
Riverbeds
Beaches
Playgrounds
Parks
Camping Areas
Old Towns
Ghost Towns
Setting Up Your Metal Detector for Coins
When you purchase a metal detector, or even if you have one already, make sure you are familiar with the user manual. The manuals contain valuable information about the various settings on a metal detector. Many metal detectors come with a specific coin mode, so that mode will be calibrated to finding coins.
However, many metal detectors have discrimination and notch settings within these pre-set modes that can be adjusted. These adjustments can help compensate for poor ground conditions, such as saltwater and high soil mineralization, and electromagnetic interference. If you are metal detecting in a city or town, you may find pockets of electromagnetic interference.
Testing Your Metal Detector
One of the best ways to set up your metal detector for coins is to do tests at home. Find different coins, different years, and wave them over your metal detector's search coil. Listen to the sounds the detector emits and note the readout it gives you on the screen (if it is a model with an LCD screen). Many coin shooters like to make test plots in their yards or on a piece of property somewhere.
Take several types of coins and bury them at different depths. Place markers nearby so you know what coin and at what depth. Run your detector over these areas to see if it can find and correctly identify the coins. This is a great way to become familiar with your metal detector's performance.
When doing tests with your detector, be sure to pay attention to the depth indicator (if your metal detector has this feature). The depth readout accuracy is important, so you are not wasting your time digging a target you thought was 2" to 3" down, when it is much deeper. Many inexpensive metal detectors will not read more than between 6" and 8" deep in good soil conditions. So, if you are looking for a metal detector that goes deeper, you will likely spend a little more.
Sensitivity Adjustments
Many metal detectors feature sensitivity adjustments. You will want to ensure your sensitivity is setup for the ground you are searching. The best way to do this is to experiment. Ground conditions change from location to location, and sometimes, many times within a location. For instance, I live in northeastern Utah, and our ground I highly mineralized. I am constantly fiddling with my sensitivity to achieve good readings in our crummy soil conditions.
The type and size of coil you are using has a lot to do with this. Some metal detectors have coil options, while others are hardwired. If your sensitivity is high, you will find every metal target, including trash targets. If you turn it too low, you will miss targets. You must find the elusive "Goldilocks Zone."
Ground Balancing
Ground balancing is an important feature on metal detectors. Many metal detectors come with preset ground balancing. The modes that are built into the machines will have the typical ground balancing that works for that type of metal. However, like sensitivity settings, the type of soil you are hunting in makes a big difference.
When you are first starting out, allow your metal detector to automatically ground balance (if this option is available). If you must do it manually, refer to your user guide for instructions on ground balancing. On many models, you simply hold the ground balance button and pump the detector a few inches off the ground up and down. This will allow the detector to read the soil mineralization and compensate. This helps give better readouts and more good target readings.
Searching for Ancient Coins
If you are looking for more ancient coins, like Roman coins, you will need to change your search location significantly. Ancient coins are typically made of bronze, silver, gold, and other precious and semi-precious metals. This means they retain their appearance and structure still to this day.
Not only would finding a hoard of ancient coins make your day, but it can also add to the historical understanding of societies across the world. Europe leads the pack in finding ancient coins, for obvious reasons. Their histories date back much further than the written histories of the United States.
Notable Coin Discoveries
17th Century Arabic Coins: These coins, believe it or not, were found in 4 US states: Rhode Island, Massachusetts, Connecticut, and North Carolina. A detectorist in Rhode Island found the first and once cleaned up, realized it was minted in Yemen in 1693.
Frome Hoard: A hoard of coins discovered in Somerset, England, in 2010 by a metal detectorist containing over 50,000 silver and bronze coins.
Shapwick Hoard: In 1998, an amateur treasure hunter was trying to teach his cousin to use a metal detector. He came across a Roman coin just near the surface. Upon more digging, the pair found over 9,000 Roman denarii from the 1st and 3rd centuries BCE.
While hoards like these are not discovered daily, there are many locations where ancient coins, or newer coins, have been spilled, dumped, buried, or lost.
FAQ
Q: Do I need to spend the money on a coin-specific metal detector if mine has a coin mode?
A: Of course not! A lot of metal detectors I have seen and used have a coin mode on them. These modes are already calibrated to find various coins. Test your detector at home with a variety of coins on coin mode and see if it reads them properly.
Take some coins into your yard and bury them at various depths (make sure to mark where you buried them). Test your detector in these areas to see how it responds to the coins. If it reads them well, or at least to your expectations, there is no need to find a different metal detector. Coin shooting is one of the most utilized hobbies within the metal detecting world, so most metal detectors do well at finding them.
Q: What do I do if I find valuable coins on public property or with permission on private land?
A: According to lawyers, your first step should be to contact an attorney. I have read several cases where finders of coin hoards are harassed or even have their finds taken from them (even legally obtained finds). Make an inventory of the coins. Next, have a professional numismatist make a detailed appraisal of each coin.
The attorney will search the public records for ownership of the property, most likely it will be the state, county, city, bank, or insurance company. Your lawyer will then send a memo to the property owner's and their lawyers to meet and discuss the disposition of the find. An agreement can be reached during this settlement process and what to do with the coins can be decided.
Some people sell them at auction, others sell them to museums. It is up to you, assuming you have been allowed to keep the finds. You should always stay well within the law when metal detecting to make a process like the above easier to handle should it arise.
Q: Where can I find information about the price of various coins?
A: There are many websites with coin pricing information on them. My favorite is PCGS Price Guide. You can also visit a local coin store to get some information. There are books published annually showing the prices of coins and any changes to those prices.
Make sure the information you review, and any information given to you from a coin dealer, are up to date and accurate. Sometimes, dealers may quote you lower in order to obtain a rare coin. This does not happen everywhere, of course, but has been known to happen. Be aware and alert!
Hopefully you enjoyed this in-depth article on finding the best metal detector for coins.  If so, please "like" our Facebook page and be sure to revisit Discover Detecting for new content surrounding the metal detecting hobby!
You Also Might Enjoy: